We all want to be better bloggers here right? I know I want to and what I'll be sharing with you today is a trick that I am using to improve my skill as a blogger and a writer everyday.
First off, I want to talk to you about habits and how they can significantly change our lives (for better or worse).
When people first start their blog, they're excited and motivated to write and publish content. I remember when I first started I easily could've done 5 or 6 articles in a day.
But there is a problem with that mentality and how to do things…
Motivation is a "feeling". It's just like any other feeling in the world (happiness, sadness, calm, energetic etc…)
Feelings are not permanent!
Starting a new blog, you're extremely motivated to make it work. You start writing and publishing content like crazy but in a few weeks time, you're going to get burned out and after seeing the lack of results from your work; that motivation is going to turn into despair.
This is when most bloggers quit and leave their blogs to ruin in the ether of the internet.
The method of writing blogs that I'm about to share with you today is nothing too fancy or super complicated to do but it does work!
Ready?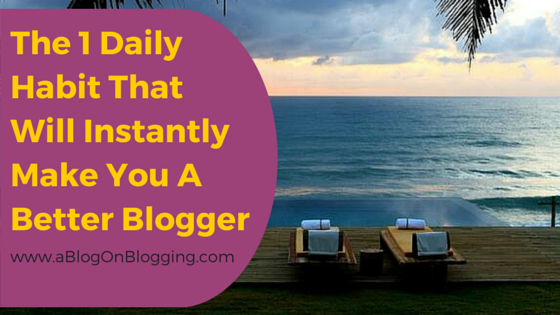 1 Daily Habit That Will Instantly Make You A Better Blogger
Commit yourself to writing 300 words day.
That's it, that's the whole tip.
---
I've been using this method for writing blog posts for the past few weeks now and I have been on fire lately.
If you haven't noticed, I'm pumping out fresh content every week without ever missing a week now and that's only because of this daily habit that I've developed.
I promise you, if you commit yourself to writing just 300 words a day, you're going to be surprised at what you'll be able to achieve in a week or a month.
Here are some of the benefits I've experienced (and I'm sure you will experience too) by committing myself to writing 300 words a day.
Fresh content daily/weekly.
Producing fresh content is the key to great rankings, high traffic and a successful blog that makes money.
You should aim to publish at least once a week on your blog (ideally once a day) and with this method, you're easily looking at enough content for 3 to 4 blog posts a week.
More content = more traffic = more sales.
The more content you produce, the more content gets ranked thus leading to more traffic and ultimately more sales.
Think of content as a net that you cast out in the ocean. The bigger the net, the bigger your catch.
Ultimately, more traffic leads to more sales which let's face it… is pretty awesome!
Increased skills in writing and communication.
Practice makes perfect and if you constantly write and push yourself to produce great articles, then you will become a great writer.
I've seen my writing skills improve tenfold simply by following this "300 a day" method.
You won't get burned out.
Constantly pushing out content is going to burn you out. After a while, blogging will be something you hate doing. That's not fun.
If you do this "300 word" technique I'm suggesting, you'll be able to write without pressure and still be able to constantly publish fresh content.
It gives you time to improve the article before you publish it.
It's never a good idea to write and publish an article in one sitting. When I save my posts and come back to them later, I always find flaws and ways I can improve my message.
Never, ever publish in one sitting, give it time to marinate in your subconscious before releasing it to the world.
You will actually enjoy it.
Writing 300 words daily is not that hard. If you're into blogging then you will definitely enjoy doing this. (If you can't even bring yourself to write 300 words a day, then blogging may not be for you *sorry*).
You'll  actually write more than 300 words.
Believe it or not, once you start off writing there is a much likely chance that you won't stop at 300. Blogging is a creative art so once you get your creative juices flowing, you can easily end up writing way more than 300 words.
---
Please note you'll only see these benefits if you commit yourself to doing this and you really write 300 words a day. No days off, no excuses.
Before I sign off, I'd like to leave you with one more tip that will boost your writing skills:
The 1 (Extra) Daily Habit That Will Also Improve Your Blogging..
If you do this "300" word challenge consistently, I can assure you; you will become a better blogger, but there is also one other thing you should be doing.
Reading.
Read as much as you can.
Reading other people's work will open your mind up to new ideas and new ways of writing your own posts.
I like to read anything that comes way, even things that do not interest me. I just want to read so I can see how others are getting their message out there.
I've written a separate post about the benefits of reading called: "The 1 Thing You Can Do Right Now To Improve Your Blogging." You should check it out.
Final Words
In closing, I want to challenge you to something today.
For the next 7 days, I want you to commit yourself to writing 300 words a day on your blog.
If after the 7 days are done you don't see yourself improving in all aspects of running a blog, then I want you to come back and tell me off.
Seriously…. Bookmark this page, try this method out and if you don't find it helpful, come back here and drop me a comment below telling me off for wasting your time.
If on the other hand, you do find it useful and it has helped your blogging, I also want you to drop me a comment haha!
Also if you managed to publish the 2 / 3 posts, you have my permission to leave a URL to the posts in the comment section. I'll be more than happy to check it out and return the favour with a comment.
Thank you for reading. I hope this helps you out in your blogging.
Talk soon
Chris.
PS: Subscribe to my email list! I want to get to know you better and send you a free eBook that will help you make more money with your blog!