Making money from a blog has never been easier so please.. do not make it difficult.
The "make money online" phenomenon has been blowing up in the last few years and for good reason… it's pretty awesome to see earnings like this before you've had your first cup of coffee.
The reason I'm saying it is super easy nowadays to make money blogging is thanks to two factors:
It's super cheap and easy to get started.
I've said time and time again here that the blogging business is the best business you can start if you don't have a big budget (at least to me).
You can get started with as little as a $10 domain (or you can even get started for free). Do you know how much it costs to start a real business out there in the real world? I don't have the exact figures but I'm pretty sure it's more than $10.
There are a bunch of tools to speed up your process.
I love things that make my life easier and help my run by business faster, smoother and more efficiently.
Back in the early days of blogging; you would have to know how to code a website, design graphics, setup hosting and all this other BS. Blahh!
With today's tools and resources out there available to bloggers, it is now easier than ever to just-get-started!
Why Do So Many Want To Make Money Blogging?
Take a look at this graph below, it shows the "boom" of the blogging business when it happened in 2007 till now (mid 2015), the interest is still pretty strong here.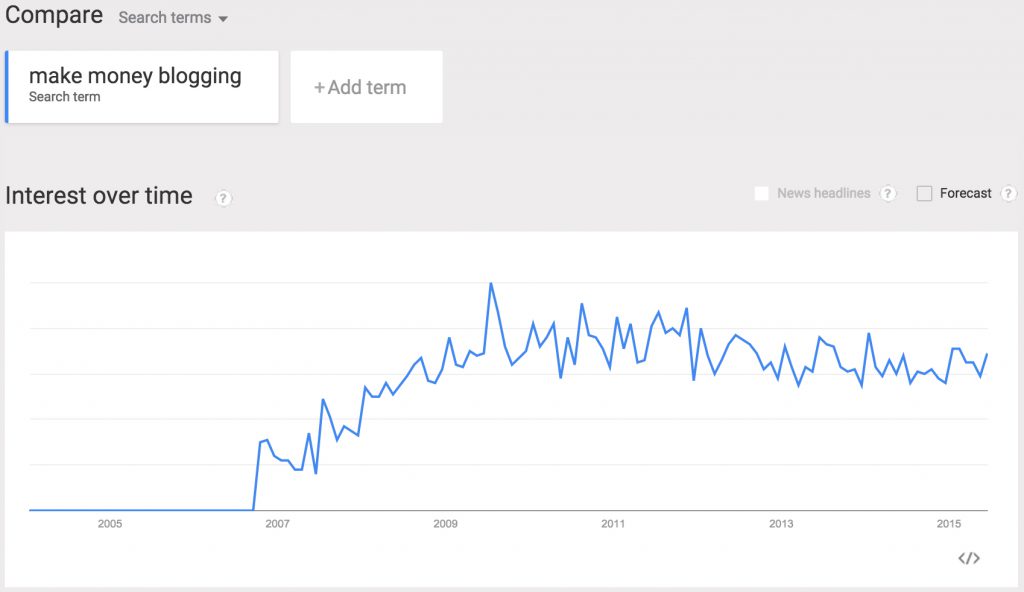 To me, blogging is the ideal business model for the "DotCom Entrepreneur" and here is why:
Cheap and simple to set up (we touched on that already).
It's easier than ever to get started.
You can talk about your passions and hobbies (work you love).
You can reach billions of people online with no extra cost.
Your business runs 24/7, even when you're sleeping or on vacation.
The earning potential is unfathomable (see what top bloggers make).
You get to be your own boss.
You get to run a full time, legitimate business.
It's super fun and educational.
These are all explanations as to why the make money blogging has exploded. They're also the reason I got into blogging in the first place and why I decided to create "a blog on blogging".
I love it!
It has given me so much benefits in my life that I can't even begin to explain (not only money wise).
Are you up to start making money blogging this year?
I'm sure you are, that is why you're here reading this article right? If you don't want to make money then you can leave because coming up are my….
4 Super Easy Ways To Make Money Blogging!
Before I continue though, I'd like to state that these methods only work if you have a blog set up already and you are getting traffic to it. You do not need a lot of traffic to make money but there has to be some sort of traffic coming in. If you have not yet started your blog or you are not getting traffic, please bookmark this page, take a look at my tutorials below and then come back to this page at a later date.
Let's get to it now…

1: Affiliate Marketing
I'm going to start with the second best option out there (I'll talk about the #1 further down), and that is affiliate marketing.
I call affiliate marketing the "holy grail" of blog monetisation and for good reason, it just works.. so, so well!
I've written countless blog posts and even a free eBook you can download that talk about affiliate marketing at it's many, many benefits.
It's the way I make money with my blogs and I have no intention of changing my business model anytime soon.
In short, affiliate marketing pays you when you sell a product that is not yours and you make a commission of the sale. Simple as that.
Here are some of my previous work that talks about affiliate marketing. Feel free to check them out:
2: Amazon Products
You can also make money with Amazon. This is also considered to be "affiliate marketing" but it has so much value to any new blogger starting out that I had to honor it with it's own paragraph.
Incase you didn't know; you can make money with Amazon by selling ANYTHING you find on there. Yes every item you can buy on Amazon can also be sold to your audience for a percentage of the profits.
The only problem with the Amazon Associates Program is that the commission rates are not so great.
But… with the high volume of products, brand trust that comes with Amazon and the fact that is super easy to get started makes it one of the easiest ways to make money blogging.
Here is my full guide to making money with the Amazon Associates Program.
3: AdSense
I don't focus much on my Adsense, I do have it on some of my blogs but the earnings from there are not so wonderful (for me).
Nonetheless, people do make good money from Adsense. I'm talking 4, 5 and even 6 figure incomes just from Adsense alone.
If you're a new blogger starting out (or even a seasoned pro), Adsense might be great option for you.
I don't see it as having too much value for me because my blogs are monetised using affiliate marketing but if you commit to making good money with AdSense, I'm sure you will.
4: Creating Your Own Product
The number #1 way to make money with your blog is by creating your own product.
Ever since I've joined Income Society and seen the step-by-step process of creating your own product, I'm fallin in love with the idea of creating some product of my own.
In 2016, I might consider doing this actually.
This option is not the easiest way to make money (especially for a beginner) but the return on your investment will surely be worth it (if done right).
If you have a special skill you can teach or you see an open gap in your market then definitely do consider this option.
As I've said, Income Society has a very well setup program to helping you get started.
---
>> See my #1 recommended product for building a blog business <<
So there you have it folks… 4 super easy ways to make money blogging.
These are just some of my favourite ways to make money online. There are more ways to monetise a blog but you have to find what works for you.
If you have any questions about blogging and the business behind it, don't hesitate to email me or send me a quick tweet.
Also since I have you here; I'd like for you to join my newsletter.
I will be sending you:
a great set of blogging lessons to help you get started,
my free eBook "How To Win At Affiliate Marketing" AND
you'll also be the first person to receive my second eBook which is still "untitled" but one that I am sure will help you get started and motivated to blog.
Thank you for stopping by… It was a pleasure having you here.
Keep learning and keep earning! 
CLV