If you want to make money blogging, one thing you definitely have to learn is how to write blog posts that convert readers into cash.
No, you can't make money just off any blog posts.
A blog posts that converts readers into customers is not done by accident, it takes a great deal of preparation, research and testing to get it working perfectly and have it make money while you sleep.
Today I want to share with you 4 types of blog posts that you should consider writing. If not all 4 of them then at least 2 or 3.
These types of blog posts will likely rank great in search engines (if you know basic SEO), have a ton of social shares (see how I dominate on Pinterest) and even make you money constantly!
The 4 Types Of Blog Posts That Make Money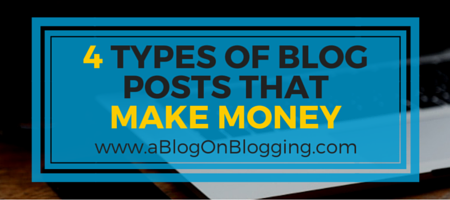 01: A Review For Your MAIN Product
*And ideally one with a recurring commission
One thing you might notice on blogs that make a profit is that there always seems to be that "1 product" that is constantly being promoted.
That is true for this blog as well, I like to point everybody over to Wealthy Affiliate.
WA is my main product to promote here but why?
Well because it is simply the best training I have found anywhere online. Read my review to see what I'm talking about.
WA is my number 1 recommended product because I have used it myself, I've seen how it has helped me and many others and I have full confidence in promoting it.
I also feel comfortable promoting it because it has a try-before-you-buy option so people can go ahead and try it out first before they invest in it.
This is why I chose WA as my main product to promote. Also the monthly recurring commissions are great!
Whatever your niche is, I urge you to find your "main product" to promote, and ideally it will also offer recurring commissions (but that is not necessary).
Find the product and write a long (1000 words+) review of it and link to it every time it you mention it in other blog posts.
You can also create your own product and sell that through your blog if you wish.
02: Reviews For Side Products
Apart from your main product that would be your #1 reccomendation, you should also have other (side) products that will make you money.
Apart from the Wealthy Affiliate membership that I promote, I also am affiliated with:
NameCheap (for registering domains).
Aweber (Email Marketing tool).
"Blogging With John Chow" (my second recommended product to learn how to start blogging).
"Income Society" (other product I've reviewed that explains on how to make money online).
Elegant Themes (My favourite supplier of premium wordpress themes).
and more (I've probably added more products since I've write this).
Remember.. monetizing "bad reviews" is ok too! 
One thing that most people fail to do is monetising a product they gave a negative review to.
If you didn't find the product satisfactory, there is no reason as to why you shouldn't make money off it.
Sometimes people are dead set on buying a product so your negative review won't change how they feel and they still buy it.. might as well be through your link right?
03: Tools and Resources Page
Another post that will make money for you is a post where you group all the tools and resources you use in one place.
I also a page like this, and you can see it in the menu at the top of every page on my blog. Click on the "Resources" page to see how it is put together.
Now even though a page like that can be used to make money, not all products on there will make me money if a reader decides to check them out. In fact, most of the tools and resources are free.
It's just a great way to showcase all the tools and products you use for yourself and that you recommed to others.
04: Sponsored Posts
I don't like accepting sponsored posts but they are a great source of income for your blog if you choose to go that route.
I receive at least 1 sponsored post request a week but in 2 years time I've only accepted once… and that is for my review of 'Wix Stores".
Remember.. if you are paid to write a review, the company will require you to write a positive one.
I like to be ethical in my business so I never accept to do a positive review on a product I don't feel is good enough for my audience.
However, you will also get (and much more frequently too) people offering you their product or service for free just so you can review it on your blog.
While this may not lead to you making money, it's a great way to get "free" services that would usually cost a lot of money to buy and you are at the liberty to review the product as you wish.
Alternative Blog Monetisation Techniques
Those were my suggestions of types of blog posts you must have to make money blogging. However, I would like to leave you with some more blog monetisation techniques that will surely make you money.
Making money online  is not hard!
Don't make it out to be this "impossible feat" that only the "elite" can achieve. There are many ways you can learn how to make money with your blog.
Check out this quick free guide that will show you how you can make money blogging by:
Affiliate Programs
Banner Ads
Email Marketing
Amazon Affiliate (see my guide on this)
Relevant Advertisments
Creating Your Own Product
As you can see, making money blogging is not that hard, all you have to do is write blog posts that convert!
Your Tasks For Today
Here are some tasks for you today that I would like for you to complete:
Find one product related to your product that you are willing to promote (ideally it will have a recurring income).
Make a list of other programs that you can review on your site. Write one review a week.
Write a "Resources" page. List all the tools you use that make life easier. (See my example here).
Thanks for reading.
CLV
---