So you're interested in starting a blog business right? What is stopping you? Don't you think you have what it takes to make it?
Well, it could be; an online business is just not for everybody. It's super hard work and even after you start making your first income, there is still much more to do.
On the other hand, you might be wrong you too; Online business can be the thing for you, you just don't know it yet.
Hmm…
Below are some ideas that would make obvious whether you should (or should not) start blogging and making money from it.
If any of these signs strike close to home, follow the instructions further down below as I want to get you started today.
5 Signs You Need To Start A Blogging Business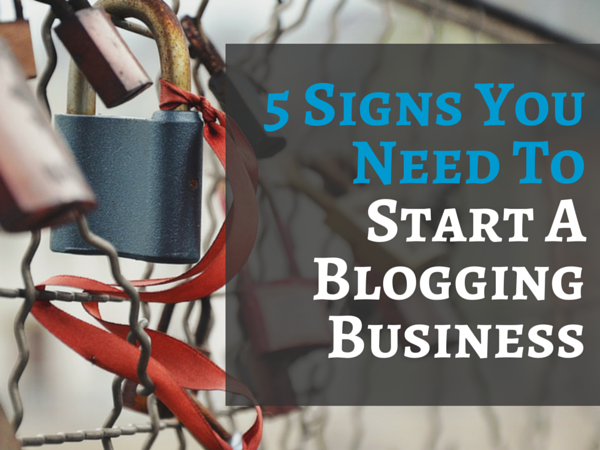 #1: Spend Most Of Your Time Online
When you decide to start a blogging business, you're going to spend a lot of time online. From research to social media to content writing etc… These tasks take up quite a lot of time.
Here are all the "jobs" you should look forward to as a full-time blogger.
If you already spend most of your time online but like most people; you "just play around", it's time to start using your time more productively. Starting your own business will be perfect for you.
Building a business takes time, effort, (and on to my next point) PASSION!
#2: Passionate About A Subject Or Hobby
If you're passionate about anything, you can build a blog around that and monetize it! Whatever it is…again; it could be ANYTHING!
If you're passionate about garbage cans (ridiculous example I know), you can start a blog reviewing smart garbage cans. You could make a KILLING on Amazon! No joke!
Just take a look at how this guy is making $10,000 a month with his blog after just 12 months.
If it's online, you can do it and you can sell it if you know the right formula.
There is nothing stopping you but YOU. If you have the passion for it and ready to give it it's due time to be successful, you WILL be successful. Easy as that!
#3: Desire The Freedom
Ahhhh I'm just gonna say it: "F- the 9-5!".
I mean seriously, who doesn't want to get away from the constant soul-sucking 9 to 5 routine!?
The reason I decided to make money online and start my own business is because I could not take a day more working at my old 9 to 5.
If you read my "About me" page, I reveal how I quit a well-paying job in my family business and decided to start my own online business. (Yes, I was working for my family and I still hated it).
My life has improved so much in the past few years (and so has my relationship with my family). It's incredible to look back and see how many times I thought about going for it but never did.
It's never too late, but you need to get started asap!
#4: Looking For An Exciting Challenge
Building a business is pretty darn challenging. It takes guts, drive, and determination.
If you want to spice up your life a bit and get out of a "boring rut" you may be stuck in, then maybe a new challenge is just what the doctor ordered .
If you're interested in learning how; you can take a look at my guide on getting started.
#5: You Know You Can Do It
When I started out, I knew that I was going to make it somehow. How? Well because I had to, I have no PLAN B!
And that is the motto I live by every day.
I still haven't made it to where I want to but at least I can now say that I'm a business owner and my own boss!
If you have a gut feeling somewhere in you that is telling you that you have a slight chance of succeeding with this, then I say go for it.
What the heck!? It's not like the start-up costs are big online. You can get started for free and you can do it today.
If the mind can conceive it then the man can achieve!
Closing Thoughts
If any of these 5 points have struck a chord somewhere with you and maybe you're saying:
"Oh WOW, this is possible"
then I invite you to join me over at Wealthy Affiliate and let me help you get started.
Wealthy Affiliate is a free online community that teaches folks like you and me how to start online businesses the proper way, I have written a post about it here if you'd like to know more.
Thank you for reading, it's been my pleasure as always.
Don't hesitate to drop me a comment below if you have any questions, I'd love to hear you insights.
I hope I brought you value today!
---
READ NEXT: