Don't be fooled; this blogging business is one tough job !
When first starting out, a lot of your time is going to be spent working away trying to get your blog "off the ground".
There will be many days when you'll consider just giving up and moving on but if you stick by it, I'm promise things will happen and they will make it seem all worth while.
Today I'm going to talk about some of the things that will make a blogger's day a bit brighter – I always talk about how much work is required but I rarely ever tell you what the rewards are.
Obviously if you're starting this as a home business, money is the reward you're after but after reading this you will understand that it's not just the money that will bring a smile to your face on your journey.
Let's explore some of my favourite events I look forward to with my blogging business;
7 Events That Will Make A Blogger's Day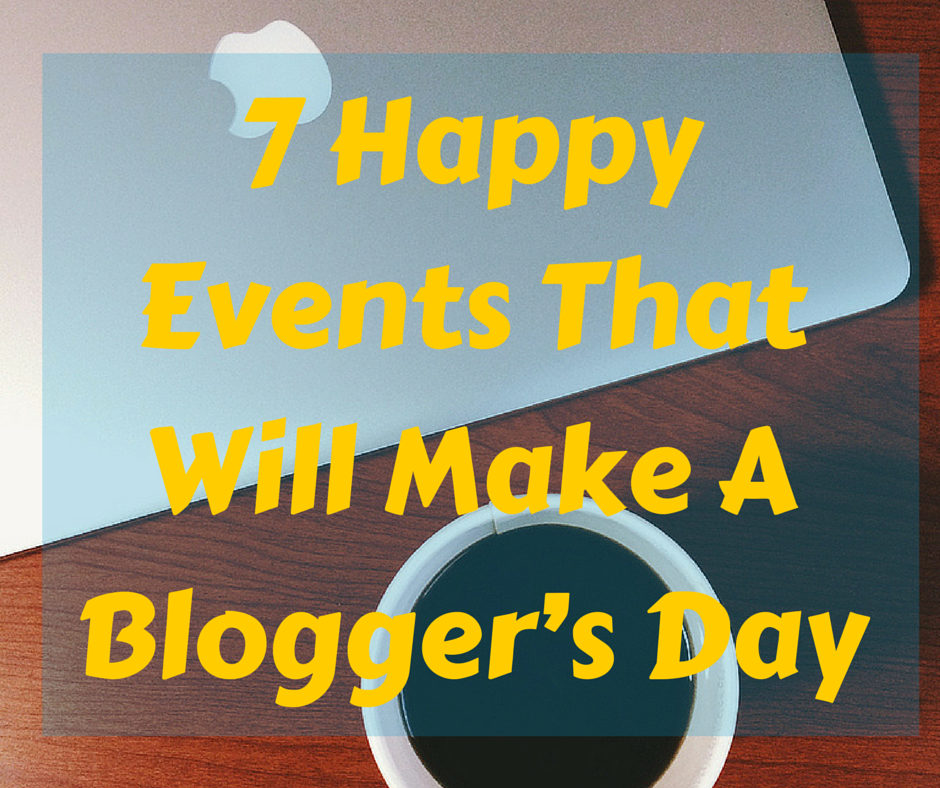 Finishing up a LONG post
After weeks of planning an article in my head, an hour or so of typing and another hour re-editing, adding images, proofreading and "polishing it" – a post is finally done and ready to be published !
Finally, you get to look over to the right of your WordPress dashboard and with immense pride you finally hit the "Publish" button!
Every new post published is a new opportunity to get ranked, get customers and make money. It's another brick laid in your growing empire!
There is just a simple, yet overwhelming satisfaction that overcomes a blogger when it's time to finally hit that sweet button.
Receiving Comments On Your Posts
I read a lot of blogs on a daily basis and whenever I can, I try to leave a comment on the posts I read – it's just the nice thing to do!
It's a great way to show "appreciation" for the time and energy spent by a fellow blogger writing out a blog post just so we can learn something from it.
Receiving a genuine comment can brighten up any blogger's day. It just shows that somebody out there is actually reading our stuff and cares enough to share their own 2c on the subject, whatever it may be!
You want to encourage a blogger? Leave a genuine comment on his/her blog – and not a just a "Hey cool post" type comment. Put some thought into it- we love that and you'll make our day!
Making Social Connections
We're all looking for more exposure. Even bloggers that get 100,000s of readers a month wouldn't say "no" to extra traffic and exposure. 
Getting socially shared is the "word-of-mouth" of the online world – it's a nice feeling to know that people like your work so much that they want to show it to their friends.
BTW feel free to share this post, I'll be forever grateful 🙂
Getting To The First Page of Google
Ahhh the mythical Google rankings – what some might consider the key to blogging success !
Yes, getting rankings in search engines will be a HUGE factor that will determine how well your business does in terms of readers. 
Sometimes we slave away for months writing blog posts targeting low competition keywords and when finally we start being recognized by the big G; it just makes our day!
Here's a very random example of how this usually works:
First your post debuts on page 14, then page 6, then 2 (if you're lucky), then 6 again (arghhh) then eventually onto page 1!
YEAH BABY I MADE IT !
Getting your post on page 1 for a search term is always an incredible achievement – especially if it's a keyword that gets lots of traffic!
Any blogger that is reading this will understand the amazing feeling you get when you see your work being ranked and awarded by the big G ! 
Getting A New Subscriber
Fellas, you know that feeling you get when you get a hot girl's phone number? Well getting a new subscriber to your email list is kinda the same thing for us bloggers LOL! 
I just love getting new subscribers!
Email is a big part of how I monetise my blogs and it's great to receive notifications letting you know that a new person just subscribed! 
If you setup your email follow ups correctly, a new subscriber can be turned into a customer down the road- just remember to provide value along the wa; Gain the trust of your subscriber, make them glad they gave you their email – just don't spam ok?
Earning A New Commission
Speaking of notifications; there is nothing like receiving a notification in your email inbox telling you you just made a new affiliate commission !
Apart from the obvious fact why this can make any blogger's day, it also proves that all your hard work is (finally) paying off and your business is beginning to turn into, well, a very real business.
Earning a commission should inspire you to work harder and harder than ever on your business – it all seems possible now !
Reaching Payday Every Month
YES ! Payday is here ! 
Some affiliate programs pay out when you reach a certain threshold, some payout on a specific date and some have the option of both. I like to save all mine up for one "big" payday at the beginning of each month – It's like waiting for my paycheck if you will.
I'm sure if you're a seasoned blogger than you know what I mean and if you still have yet to earn your first paycheck online, I know how much you're aching for this to happen but trust me; it will.
Yes it takes time to build up to monthly online paychecks and but I assure you it's damn worth it !
Unfortunately not every blogger gets to experience this joy. Around 97% of all bloggers fail to make an income (let alone a living) doing this work.
I guess you could say I'm part of the 3% that make a living from blogging. I'm not bragging here; I'm just telling you it's possible.
If you too would like to learn how to make an income from blogging than I suggest you take some time and read some of my blog posts here – the reason why I started this blog is to teach people how to turn their hobbies into business using the power of blogs.
Here are some recommended posts that will help you achieve success online:
---
Closing Thoughts
Thank you for reading. I do hope I've helped you realise that it's not just hard work here in blogland – we do have our fun LOL!
If you think there's something that I've missed, please be sure to drop it in the comments below, and as always; feel free to hit me up on email or twitter if you need help with anything.
Thanks again for your time.
Till next time..
PS: I'm glad to say that my free ebook is nearly finished and it will be released solely to my subscribers. If you're already a subscriber then expect the ebook very soon. If not than get yourself on my list so you can get it as soon as it's out. 😉