Unless you're a first-time reader of my blog, (in that case welcome), I am sure you've heard me mention an online program called "Wealthy Affiliate" before.
Well, today I'd like to share with you 8 reasons why you should join me on WA to start building your blogging business.
If you're really looking for a way to earn an income online, I really do suggest you consider joining WA, that way I can make sure you're on the right track to online success.
8 Reasons Why You Should Join Wealthy Affiliate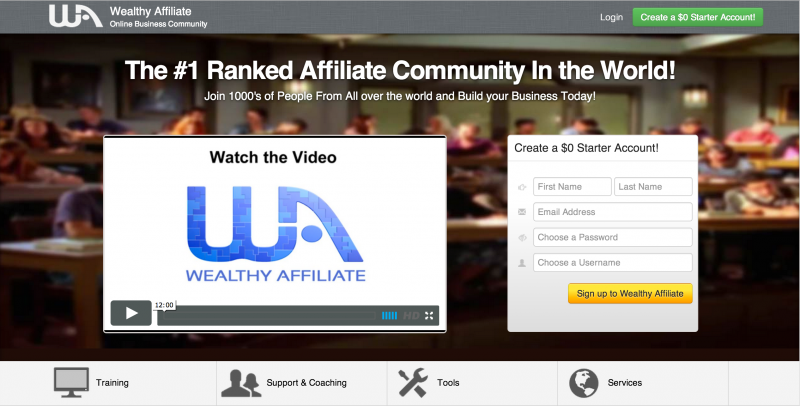 Reason #1: One on One Support From Me
I'm an active member of Wealthy Affiliate and I can be your mentor in there (if you wish).
In all honesty, I could help you outside WA too (if you ask nicely lol) but it's much better if you're a member thus I can refer you to the same training that taught me how to create my business.
I don't want to give you fish, I want to teach you how to catch fish.
Reason #2: 24/7 Support From The Community
Apart from my help, once inside WA, you'll be getting direct access to thousands of other online marketers that just like you, started at WA as a total newbie but now run their own full-time business.
Some of these folks decided to stay on WA for the simple fact to "pass it on" and help others. Other just to "stay on top" of the online business.
Either way, they're a very reliable source for information.
I can only thank my mentors in there for helping me get to this point where I now have my own business and I can pass the information they thought me to somebody like you.
Reason #3: Access To 1000s Of Training And Video Tutorials
There are:
WA offers you the best of the best when it come to tutorials and information about how to start your blogging business.
The information is current and is constantly being updated to reflect the changes happening in the digital marketplace.
No more out-dated info and washed up tactics; start marketing in ways that work today and in the future. Stop paying for "junk" that only worked 5 years ago.
Reason #4: 2 Free Starter Websites
With your free membership, WA offers you 2 free websites you can use to experiment on or to start your business.
The free sites you will get will be built on WordPress and if you decide to quit WA, you'd still own your sites and your content. Nothing will tie you down to stay at WA. Your blogs will be yours forever (or until you delete them).
Also, since it will be built on WordPress, you can build your blog in approximately 1 minute 10 seconds.
Yes, I timed it and I made a video of it too. Check this post and scroll down for the video!
Reason #5: Free Hosting For Your Blog
As I said, your free sites will always be free for you to use but if you want to have your own domain, you're going to need to buy a domain (it costs around $4 from NameCheap) and host it somewhere.
Well, if you go premium at WA (first month only $19), you can host an unlimited number of sites for free,
To put this in perspective; Basic hosting usually costs $12 per month from HostGator or GoDaddy and on Wealthy Affiliate you can host an unlimited number of blogs.
I have 9 running there (not all active blogs) so I should be paying $108 a month just for hosting but I get it all for free from WA .
Reason #6: Scam Free Environment
Scams are everywhere online, and especially within the "make money online" industry. It's riddled with ridiculously hyped up claims and promises of quick riches.
At Wealthy Affiliate, you'll get none of that. Once you join, you'll have everything you'll ever need to start your own online business and SUCCEED!
All is left is for you to work hard and put in the effort.
No upsells, no scams and no money hungry con-artists. Just the community helping each other succeed.
Reason #7: It's Free To Join
Yes, Wealthy Affiliate is free to join and you can stay on a free membership (and use your websites) for as long as you wish.
The premium subscription (which is offered to you at a discounted price in your first week) will unlock training in higher levels that will help increase your traffic and earning potential, BUT mind you: You can still learn how to build a website, drive traffic to it and make sales with the free subscription!
Here are the 4 types of membership available inside Wealthy Affiliate.
Reason #8: Because "Now" Is The Perfect Time
Now is the best time to make your first step, not tomorrow, nor next week! If you never take the first step, you'll never reach your destination.
I know that "starting a business" is intimidating but you know what else is "intimidating"?
Intimidating is:
Working for somebody that pays you minimum for you to work for their business.
Rush-hour traffic to and from work.
Having to book 6 months in advance to take a week-long holiday.
Seeing your family just 3 hours a day.
Just take the first step and then one after that, then another one. It will happen for you eventually just like it happened for me and all the others that put in the effort.
If you'd like to go ahead and join me on wealthy Affiliate just click on the link below or if you want to read more aboutWealthy Affiliate, see my full review here!
I'm online in WA right now, come say hello. 
See you on the inside. Expect a message from me as soon as you join!
Chris Lee
---
READ NEXT: 10 FAQs Regarding Blogging
READ NEXT: Start A Blog With Wealthy Affiliate