Deciding to start a blog, finding a topic you want to write about and then going out and buying a domain and getting it hosted is a daunting task.
I always say that you should always have a solid foundation on which you can build your "blog business" on and these very few steps are something you should really focus on right now for a strong foundation.
If you don't know what you're doing, you can be creating a foundation that is not really stable thus, all future work will be on shaky ground.
That is why today I decided to share with you this simple checklist for starting a blog. It's the step by step process that have helped me in the past (and still use whenever I want to start another project) and will hopefully help you too on your journey.
A Simple Checklist For Starting A Blog Business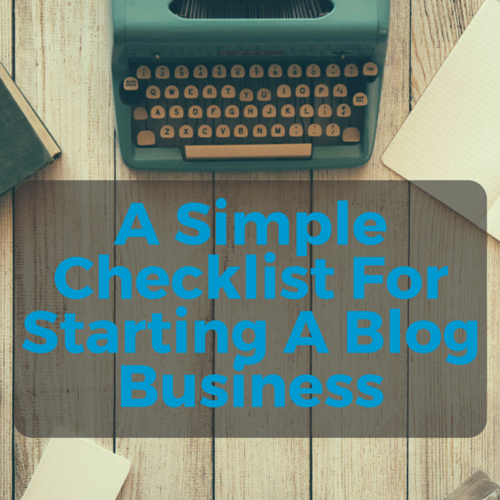 Let's have a quick look at the steps involved then we'll discuss each step in further details below.
Pick Your niche
Write Your Goals
Get a Domain
Get Hosting
Set Up On WordPress
Set Up Founding Pages
Write Your Content
Pick Your Niche
You can say that a niche is the "topic" of your blog but to be clear, it is more than that: a niche is a group of people looking for something. It's the topic you will be discussing on your blog to help others.
One thing to remember when picking a niche is that the broader the niche, the harder it is to get your blog noticed.
Remember: The more targeted you can be, the better.
Let's take the "clothes" niche as an example:
Having your business about "clothes" is way too broad and you'll be competing with established blogs like Zappos, Forever 21, ASOS, Amazon etc…What you need to do is target it down as deep as possible, say maybe: "
What you need to do is target it down as deep as possible, say maybe: "men's jackets". But that to can be a wee bit too broad so we might go for "men's leather jackets"
That might seem super targetted, and it is, but trust me; you want that. Also note that no niche is too narrow or too small either.
You can always expand to broader topics in the future but only once you have an established authority in one area of a niche.
Write Your Goals
In this step, you need to figure out what will your goals be for this business venture. Yes I am sure that "making money" is on everybody's list but believe me that comes second.
Your first goals need to answer these questions:
How many people will visit your site?
How many articles are you going to post a week?what are your plans for the first month and first year even.
What are your plans for the first month and first year even?
Most importantly your goal has to be how much people you can help. That is where the money is, the more people you're able to help with your informative articles, the more money you will make.
Remember: Help First, Profit Later! 🙂
Getting A Domain
This is an easy step, all you have to do is go to SiteDomains and get one for as little as $15. That is what it will cost you to purchase some internet "real estate".
A major benefit of starting a blog business is that as you can see, the start up costs are very low compared to other businesses.
Now there is a right way and a wrong way as to how your domain should be, you can take a look at this guide from Moz titled: "12 Rules for Choosing the Right Domain Name"
Get Web Hosting
You will also need to have a place to "host" all your content, media, etc… thus making your site available "online".
These typically would cost you around $12 p/ month but it's an absolute need if you want to run a blog business.
However, if you;re considering joining Wealthy Affiliate (a one-stop place to learn about online business) you will also have free hosting for up to 25 websites with your membership.
Worth checking out!
Setting Up WordPress
WordPress is a blogging platform used by millions. Even established sites and blogs like CNN, Forbes, Jay-Z, eBay and many others run their blog using this fantastic platform.
WordPress is free but setting it up on your domain can be a bit of a hassle but don't panic; I found this great post that shows you how to do it step by step here.
If you don't wish to spend any money on domains and hosting for now and want to avoid the hassle of installing WordPress yourself, I suggest you check out SiteRubix.
It runs on WordPress and you can start setting up your business instantly as it also comes with great community support and training direct from WA!
I also recommend you use some free tools to add some graphics to your website. Websites such as Canva will allow you to create most of the images you will need for your website.
You can use GoSpaces.com to design a logo to go along with your new website.
Writing Your Founding Pages
Ok so up till now we have got:
A niche
A domain name
A hosting package in place and
The foundation of a "blog business" set up.
We are now live….
Now it's time to set up the foundation of your content. These are your About Me Page, Contact Page & Privacy Policy Page.
You can see how to create an "About Page" here.
Yes you do need all three. Search engines like to see these three pages in place as they show that you are a legit source of information that did their research and know what they're doing.
Don't skip writing these pages. You can learn more about how to set up you founding pages in the free "Online Entrepreneur Certification" course.
Write Your Content
This is it, we've reached the final step in our checklist but I got news for you:
This step will never end or be completed.
As long as you want to stay in business, you need to keep on adding fresh and helpful content that will HELP and engage your readers.
One thing that I have learned from my many mentors is that a blog is never complete; it's a work in progress.
You keep on building and adding on top of it all, building brick by brick a business that if done right, will make your money for years to come.
If the foundation of your blog is set up right, even your children will continue reaping the rewards of your efforts today.
Closing Words
I hope you've enjoyed this mini checklist for starting a blog business.
If you have any questions about any of the steps discussed above, be sure to let me know and I will get back to you as soon as possible.
Thank you for checking my blog out, I hope I have brought you value.
---