Another day, another review.
Today, I want to discuss a product that has just launched this week which is said to be selling quite well, the product in question is "Affiliate Quick Cash" and this is my review of it.
Affiliate Quick Cash Review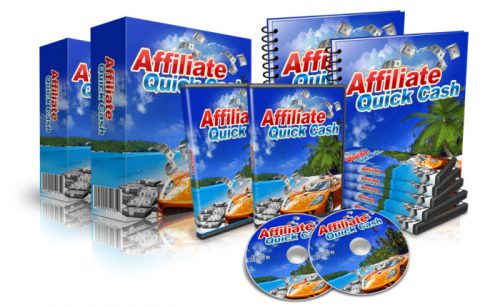 Product Name: Affiliate Quick Cash
Product Creator: Dan Ashendorf
Product Website: www.aqcfe.instapage.com
Product Price: $7 (+ 2 upsells)
My Final Rating: 1/5
What Is "Affiliate Quick Cash"?
Affiliate Quick Cash is an 8 part video course showing you how to make money as an affiliate marketer.
Okay, sounds good; But let's dig a little deeper here.
What Do You Get Wth Affiliate Quick Cash?
I paid $7 for it as part of a launch offer, I wasn't expecting much to be honest, but hey for $7, you can't expect it to be life-changing right?
What this product will teach you is how to build an affiliate marketing business online.
In the 8 part video course that you get, you will learn how to:
Get approved to affiliate networks.
Promote your offer.
Honestly, I am not impressed by this product at all. All it teaches you is how to sign up to an affiliate network and promote a high-selling offer.
Big effing deal. You can get that same information for free here.
If you think this system can make your money, you are wrong. Please don't try this at home.
Sure the information on how to sign up and use affiliate networks is a good lesson, but doing just that won't get you the results they claim this "system" does on their sales page.
You also don't get the full product!
To unlock the remaining 9-16 video courses, there is a charge of $17, which I've decided to opt out from.
Maybe the "secret" system in revealed in these locked videos but having seen the value of the first 8 videos, I highly doubt it.
Also, if you buy this product; expect some upsells;
Upsell 1 – How To Build A List – $17
This first upsell is for the other course you need to buy to learn how to build a list.
This is typical of products like this, promote you with a cheap entry price and then bombard you with other upsells for them to stretch your pockets and guilt you into buying more. Just don't ok?
If you want to build an emails list, check out this free guide I have for you.
Upsell 2- *No idea what this is* – $9.95
Upsell 2 costs $9.95 but I do not know what you get out of it, here is their offer, see if you can understand what this means: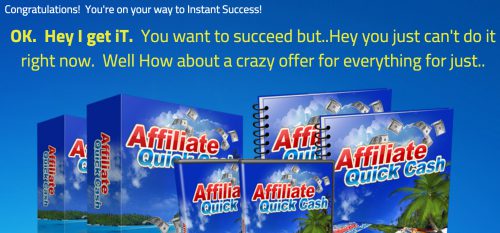 What I Liked About Affiliate Quick Cash
Nothing much, to be honest.
The information on how to sign up and use affiliate networks is ok but that's just about it.
What I Disliked About Affiliate Quick Cash
Their over-hyped claims is a turn-off.
You won't be learning anything of value.
The upsells.
The whole product.
Sorry to be so negative, but this has to be said; there is absolutely no value in buying this product.
Do I Recommend It?
I guess you already know my answer but if you're still wondering; no I don't recommend it.
If you still want to buy it, then go ahead but you'd be wasting your $7.
Any Other Better Alternatives?
Luckily yes there are some other products that I suggest you try if you want to start an affiliate marketing business.
My free eBook has a lot more information about this topic and it's free and also
Wealthy Affiliate; This is my #1 rated product and it is how I learned how to make money as an affiliate marketer (and I have been doing it for 4 years now).
Here is a comparison chart comparing Wealthy Affiliate to Affiliate Quick Cash, you can clearly see the difference between the products:
---
In Closing
Terribly sorry for the negative review guys but if you are interested in learning affiliate marketing, then this product is just not for you. As I've said, there are many better options than this and I can guarantee you that you what you will learn will work. If you want to get the same information you can get "Affiliate Quick Cash" for free, look at some guides on how to join affiliate networks and you'll be learning the same information. Thank you very much for reading, I hope this review was helpful to you and hopefully saved you some money too. Keep learning, keep earning. Chris Lee