Today I might be doing something that I'm not entirely sure I should!
In this post I want to give you an inside look into Wealthy Affiliate; the online community I'm always raving about in my blog posts; the community that helped me quit my job and taught me how to make money online.
If you do not know what I'm talking about, I suggest you check out my review of Wealthy Affiliate here. It will help you understand better what I'll be talking about below.
The screenshots below are a "window" into the community. It's what members get to see once they join.
I'm doing this because I wanted to show you as much as I could of WA but unfortunately, there is too much to show you so I'm only going to discuss the "important" stuff; stuff that I am sure you'll benefit from.
Please note that the blurs are there to protect the private identity and details of the community and also mine.
Enjoy the show….
---
The Activity Dashboard
This is the home screen of Wealthy Affiliate.
From here you can go explore all the components of WA with a simple click.
To the left you can see the menu where all the training is, in the middle there is your notifications, community activity, and the top 10 blog posts and to the right is the Live Chat area (we'll get to this later).
---
Get Started Here Course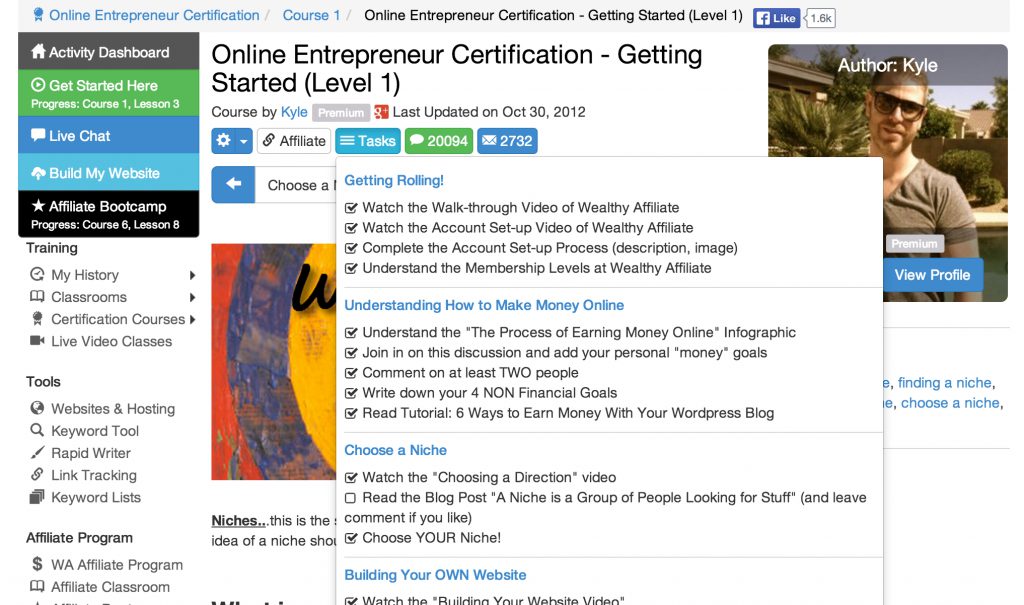 This is the first step you'd likely be doing once you join WA.
Here is where you learn how to build a website, set up its founding pages, add content, drive traffic and set up your site to make money.
The course has four levels; what you're seeing is just a tiny part of the first level (I could not fit them all in the picture above).
This training is written by community Ambassador and founder of Wealthy Affiliate; Kyle (you'll meet him inside).
This is a step by step process of starting your own business in ANY industry! Definitely worth checking out!
---
The Live Chat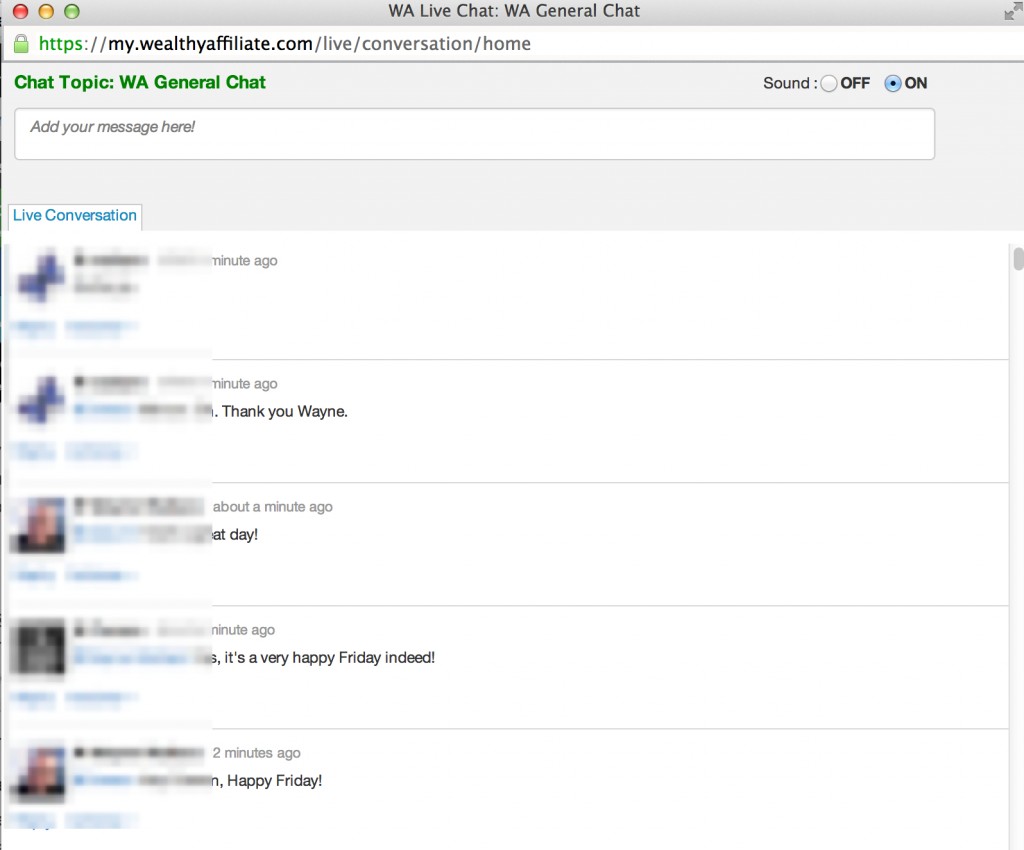 This is the LiveChat area of Wealthy Affiliate.
Here is where you can drop by to ask questions, chill out, discuss business and even help others if you wish. Think of it as the "water cooler" of WA! 🙂
Chat one-on-one with community leaders and people who turned their life around with the help on WA.
You can also find me there as well most of the time! 😉
---
The "Build My Website" Tab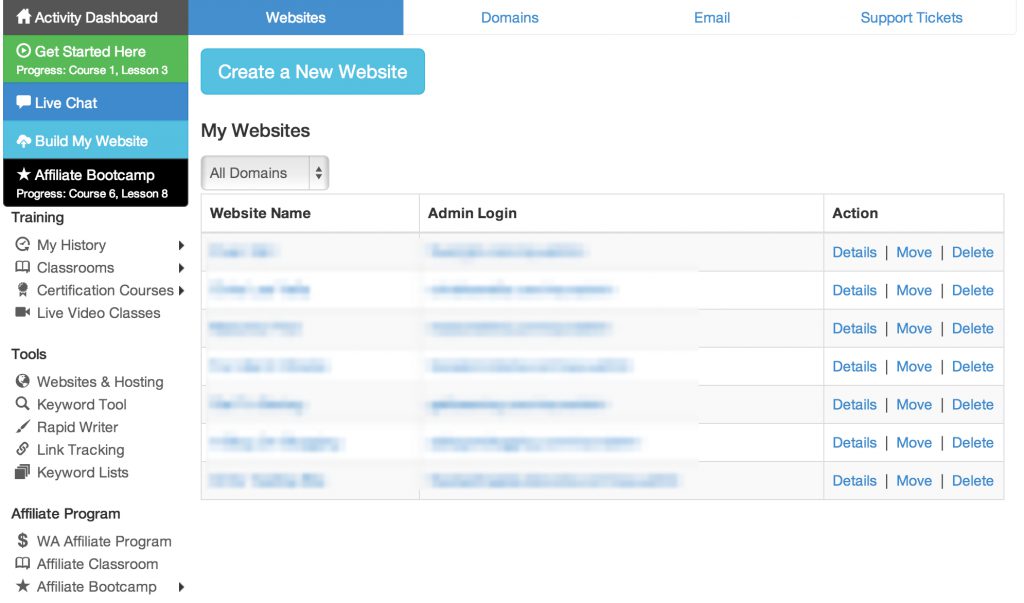 This component is the "website builder".
As you can see I have 7 sites hosted on WA (not all active).
When you go premium at WA ($19 first month) you can host UNLIMITED number of websites. Now hosting usually costs $12 p/month. I have 7 there. Do the math! 😉
In this area you can also set up domains, set up websites and respective email addresses and also submit support tickets to the WA technical team.
Continuing on…
---
The "Affiliate Bootcamp" Course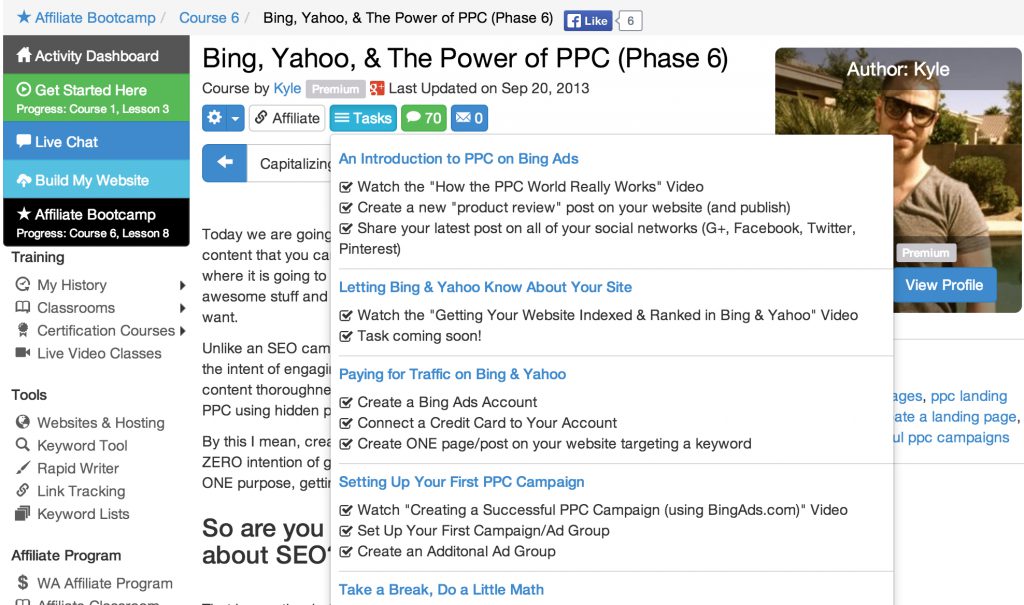 This is the second course that you will have access to at Wealthy Affiliate.
Unlike the "Online Entrepreneur Certification" course which teaches you how to start your own business in any niche, the Affiliate Bootcamp is for people who want to make money online by promoting WA itself.
Some choose to do this after they had success in other industries and niches and some decide to start off promoting Wealthy Affiliate from the start.
Both business models are great to make money online.
Personally, I started 2 profitable blogs before I decided to promote WA; I needed to be sure it works before I promoted it.
*Also note that the "Affiliate Bootcamp" lessons can be used for any niche you choose, they just use WA as an example but there's definitely lessons you can use to promote other products.
---
The 13 Wealthy Affiliate "Classrooms"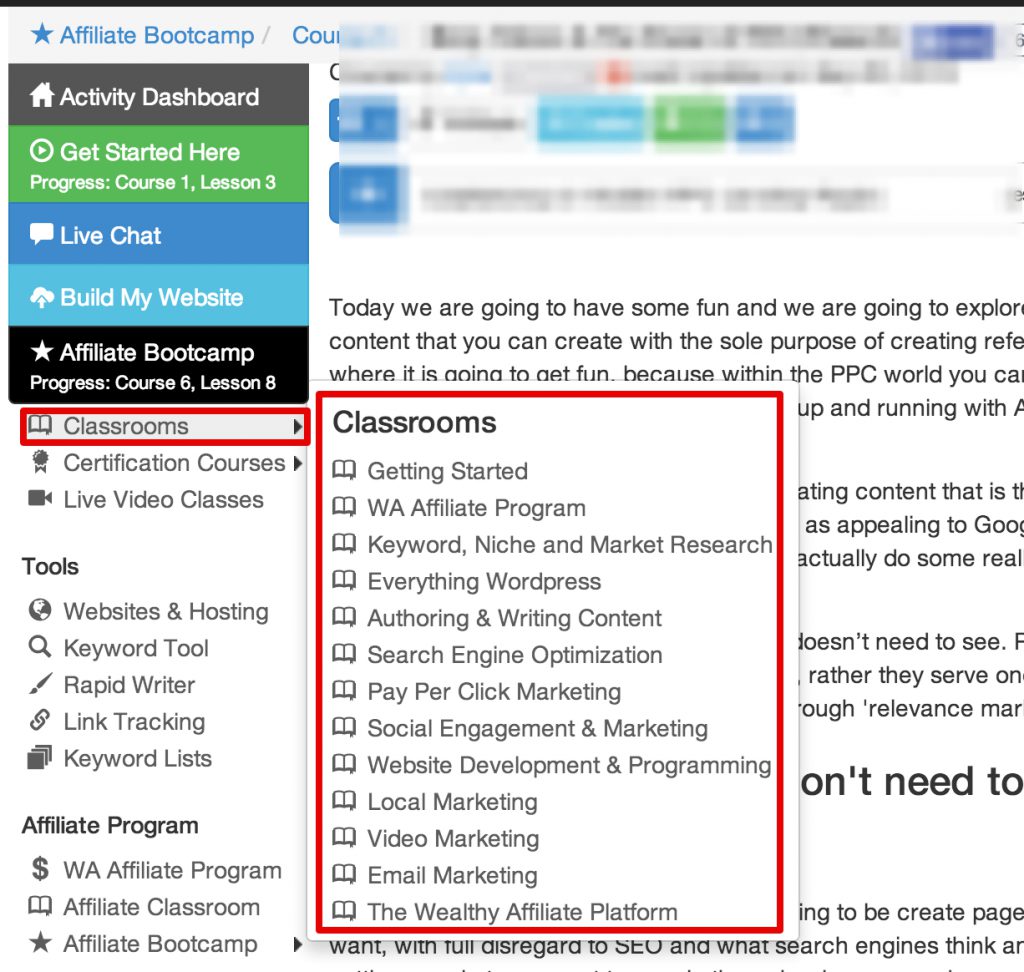 Just in case the 2 multi-level courses aren't enough to learn, there are also 13 different classrooms which you can join.
These are all free and in the classrooms, you can find tutorials about the subject and also ask for help by creating a discussion.
While LiveChat is generally used to answer a quick question, the classrooms are used to get a more detailed response / helpful answer.
An amazing source of information is in there and the amount of tutorials is insane! I think there's over 500+ now!
---
WA Affiliate Program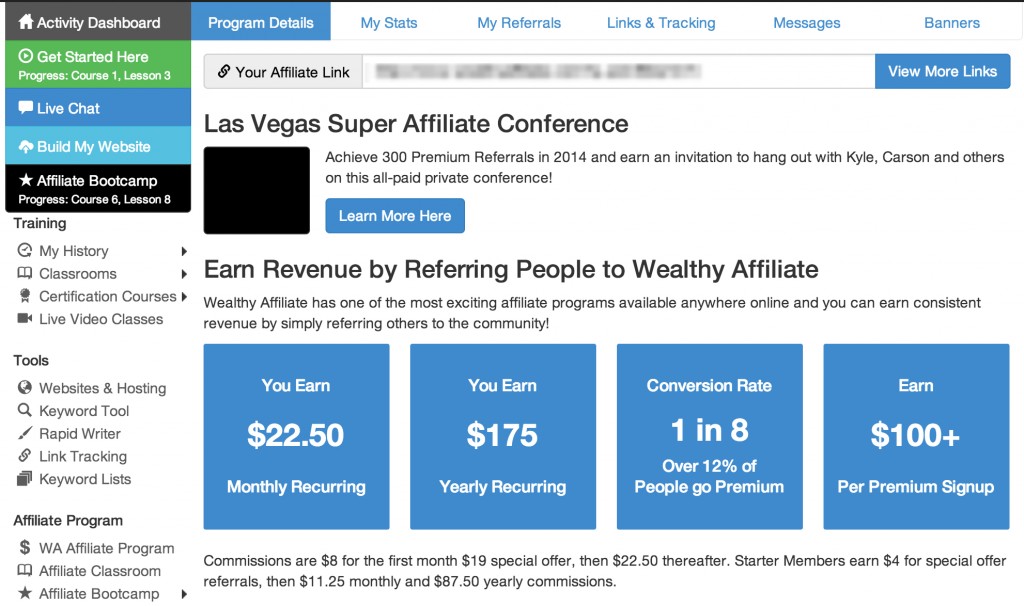 This is not for everyone. This is only for people doing the "Bootcamp" course and promoting WA.
Here is where you can see your stats, sales, referrals, etc…
As you can see the affiliate commissions are very good and it is a product that I feel great promoting. It's second to none in this industry and it changed my life completely.
I'm showing you this because if you have no idea about what you want to start your blog business about, I suggest you try going this route with Bootcamp.
---
Thank you for reading folks. I hope you enjoyed my 'tour" of WA. If you'd like to know more about Wealthy Affiliate make sure to read my full review of the program and see if it's something you can benefit from.
Also; I invite you to view this introductory video by Kyle. It shows you more of WA with commentary from its founder.
Till next time….
Chris Lee