Today we are interviewing Monika, from the blog Violet Roots.
In this short interview, she talks about how she has built up her art blog from the ground up and also some of the ways she is staying focused and working on improving her blog and taking it to new heights.
If you want to start a blog, or more specifically about how to start an art blog and make something out of it, I suggest you read this quick interview below.
You can see Monika's blog (Violet Roots) here and also follow her on Twitter.
I would like to take this time to thank Monica for accepting this interview and share her experiences with us, I am sure it will be very inspirational for our newbie bloggers readers here.
Art Blogger Monika On How To Build A Successful Art Blog [INTERVIEW]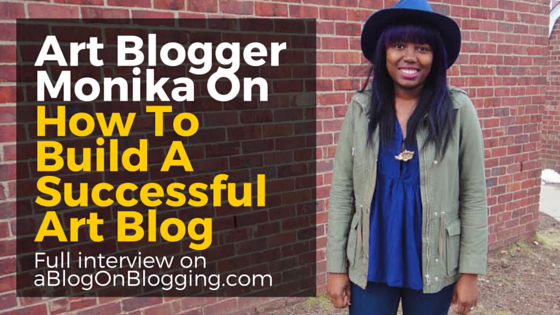 Monika, please tell us a bit more about yourself:
My name is Monika, and I'm the artist and blogger behind the creative lifestyle blog, violetroots.com.
On Violet Roots, I feature creativity, music and concert coverage as well as affordable style inspiration. Alongside my blog, I'm also a freelance writer as well as an abstract artist.
What is your blog about and how did you get started blogging?
My blog is about the overall creative lifestyle.
There is a focus on music, style and a growing emphasis on the creative community and life as a creative.
I started blogging a bit over a year ago in February 2015 and decided that I wanted to make a blog and not just be a blog reader.
Which traffic generating techniques do you use and why?
I've dabbled in quite a few different traffic techniques but I currently focus on social media promotion and using sites like StumbleUpon to generate traffic.
I also take part in networking within groups on Facebook and in other areas online with bloggers and artists.
My biggest traffic referrals come from Twitter and StumbleUpon so I try to spend more time there.
What are some great tool(s) you use to run your blog?
I use quite a few! My blog is on WordPress and so there are a few plugins that I use to make life a bit easier.
Some of those would be – editorial calendar, backup, cache. I also use Canva for graphics and Google Sheets to organize my plans for the year and month-to-month in terms of goals, tasks and projects I have in regards to the blog.
What is the most challenging thing you face while running a blog?
The most challenging thing that I face is not having enough time to tackle all of the things I'd like to do.
A very close second would be the learning curve that it takes to run a blog tech-wise. Every now and then a technical issue will crop up that becomes a struggle.
In the end, it all works out though and I develop new skills as I go.
Looking back at it, which was your proudest moment with your blog and why?
My proudest moment would probably just be starting it.
Plenty of things have happened since that have been great moments, like attending NYFW twice, but putting down the money to make my domain name official was more meaningful.
In the past, I debated a lot about whether or not to go through with it and I'm so glad I did.
Would you have done something different with your blog in the past? If so why?
Yes, I probably would have purchased a theme sooner instead of using one of the free options.
I used one theme that was basic in the beginning and then a couple of months in I upgraded to another free theme with more features that I liked quite a lot.
It worked but it still wasn't 100% in line with what I wanted so, at the end of last year, I bought a theme that was scalable and fit my goals.
Do you monetise your blog? (yes or no, please describe why and what were your results)
I do. Initially, I used style related affiliate programs and ads but I felt that the return wasn't worth the space it took up on my site.
So now, I monetize through the links I provide to my art shops on Etsy, Redbubble and Sociey6 as well as freelance writing and sponsored partnerships with brands.
Sponsored and freelance work has worked out much better.
What are your plans for your blog in the future?
To cater to the interest in my artwork I'll be expanding my art offerings and opening a shop on my site in the coming months.
As mentioned earlier, I also plan on bringing creativity to the fore and incorporating more of my artwork into the blog.
I currently run an interview series discussing the relationship individuals have with music and I'm launching another series discussing creativity and mental blocks.
It's received a great response so far and there is currently a waiting list for interviewees.
What is one last parting tip (on blogging) you would like to share with beginners?
The one tip I would give is to not worry too much about what else is out there.
Yes, you have to understand the trends but you should spend most of your time creating not overthinking and criticizing your own work.
You're the only person that can offer your perspective to the world and the only way your thoughts are going to get out there is if you share them.
---
Thank you for reading this interview with Monika. Again you can find her on Violet Roots and on Twitter. You can also leave a question for her down in the comment section below.
Till next time,
Chris Lee
READ: An Interview With Andrea Roa From MounEverBest.com.