A few days ago I've come across a product titled "Blog Profit Machine" that promises to teach you how to "finally" turn your blog into a real, money-making business online.
A quick look at the sales page will show you the usual claims of "super-quick payouts" and "instant results" and by now you probably now that such claims always raise a red flag for me.
However, I still decided to check it out as this product is definitely selling well and I want to see if this is something I can try to learn something from for my business, as well as yours.
In the review I have for you today, I will be going through:
What "Blog Profit Machine" is all about?
How much does it cost?
Will it work for you?
+ some other random thoughts and rants I have about this product.
Can "Blog Profit Machine" show you how to finally turn your dormant blog into a thriving business?
Let's find out:
"Blog Profit Machine" Review: Is It Really The System We've Been Waiting For?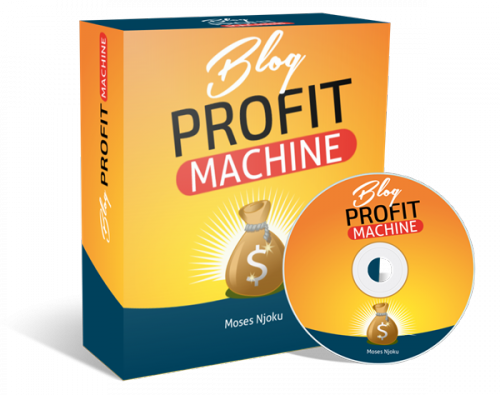 Product Name: Blog Profit Machine
Product Website: www.BlogProfitMachine.com
Product Creator: Moses Njoku
Product Price: $9.95
What Is "Blog Profit Machine"?
BPM is a series of interviews conducted with top-earning bloggers sharing their secrets of how they've built their blog from the ground up and how are they now making money.
The interviews are a series of 3 calls Moses conducted with these bloggers and the video provided is also a PowerPoint presentation where you will be able to follow along to what is being said.
Here are the "titles" of these 3 videos / interviews:
Video 1: "Exclusive Interview With Steve Wilson" – 56 minutes, 20 seconds.
Steve Wilson is the guy behind the SEO blog 'highpoweredseo.com"and in this "talk" he shares his experience and knowledge on how he got started with blogging.
From his own voice, you will be able to hear how he uses blogging to build a great community which he then promotes products to.
He will also walk you through how you too can start your blog + work towards making it something you can probably work at "full time".
Video 2: Exclusive Interview With Gael Brenton – 37 minutes, 3 seconds
This "short" interview is with Gael Brenton, founder of higherclick.com.
Although the information is not exactly as the first video, it's all about "how to monetize your blog".
This video has very bad sound quality though, so you might want to make use of the transcripts (available to download as .pdf) to understand what is being said.
Video 3: High-Level Monetisation Break Down – 45 minutes, 34 seconds
In this video, the product creator himself "Moses Njoku" talks about his own methods of blog monetization and what tools, services and methods he uses to make money online.
It's ok-ish information but till useful if you can filter through to the information through the many sound distortions in the video.
(Again go for the transcripts)
What Do I Think Of The Information Provided?
For $9.95, I wasn't expecting any "jaw-dropping information" being shared and I was right.
What the course talks about is how to start a blogging business and while most of the information is correct, you could have easily found that content for free online.
If you spend some time reading this blog and going through all the tips I share, you will probably have more information on how to get started and what next steps should you take.
Can This "Blog Profit Machine" Show You How To Make Money Blogging?
Yes it can, there's a lot of content in this product that yes, does in fact work but; do not expect any "instant results" or the ability to make automated income by tonight" as the sales page suggest: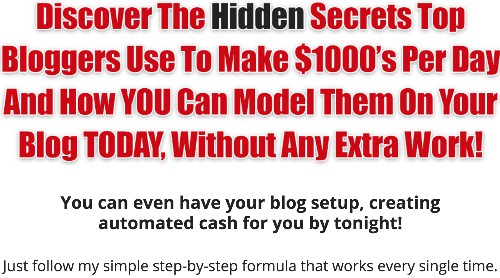 I hate it when products such as this one and the many others I have reviewed in the past claim that they can make people "rich" by following some "secret system".
Please note that:
There is no secret system (and there never was one) and
I am absolutely, 100% sure, GUARANTEED, you won't be making money by tonight using blogging (or any other "system" for that matter).
It's just can not be.
If you do have a blog up and ready receiving visitors, then there are some things you can do to increase your income (and they do talk a bit about that in "BPM") but to go from $0 to $1000+ overnight is a just false claim.
My Final Opinion On "Blog Profit Machine".
Is "BPM" really the life-changing system that we've all been waiting for?
Unfortunately; no!
But, while this product would not make you "instant" money, it does deliver some good information which you can use a "first step" towards making money with your blog.
Obviously making money online is possible, it's just not as easy as they are making it out to be.
If you can afford the $9.95 though, then I see no harm in buying into this product.
With the 3 videos available, which collectively make up about two and a half hours worth of content that you can learn from, you can easily say that $9.95 is worth spending.
(Also, you might probably want to avoid the upsells (if there are any). I'm not sure since I was invited to test this product out without buying it.)
Are There Any Other Alternatives?
Of course, there is.
While this product may not make you rich overnight, I dislike the fact that it claims that it has the power and knowledge to do so.
5 years ago I was in the situation you are in right now; desperately jumping from one $9.95 product to the other with the hopes of making something out of it all.
Needless to say, nothing happened until one day I came across Wealthy Affiliate, which I have talked extensively about here on A Blog On Blogging.
If you are seriously considering starting your own online business and learn how to make affiliate commissions with a simple blog, then I suggest you take a look at my review of Wealthy Affiliate and see if it's something you would like to try.
Unlike BPM, Wealthy Affiliate is free to try and you can stay a free member for as long as you wish.
In Closing
Thank you very much for reading my review of "Blog Profit Machine", I hope this review have answered some of your question about this program.
Feel free to drop me a comment below if you would like to know more and don't forget to join my email newsletter list where I will be sending you:
My free ebook "How To Win At Affiliate Marketing"
Weekly blogging tips and strategies that I use to make my online income +
A free invite to my #1 rated online marketing training course.
See you on the inside. Till next time.
Chris Lee