You probably know this already, but I am a huge fan of Pinterest and at the time of writing this, it's my number source of traffic for this blog.
I've also shared my tips on how to start winning with Pinterest marketing here if you would like to do the same.
A few weeks ago, on a private Facebook group, there was a thread about what tools we use for social media and one of the members suggested "BoardBooster" for Pinterest.
Me being the huge fan that I am of the red P, I've decided to try it out and see if I can use it to get better at my own Pinterest marketing.
Special Announcement: *I will also be releasing a new ebook called "How To Win To Pinterest Marketing" shortly so be sure to subscribe to my email newsletter so you can be the first to get it. You can join via the sidebar to your right (if you're on a desktop) or scroll down below if you're on mobile.
So What Is BoardBooster?
What does it do?
How does it do it?
Is it worth trying it out?
How much does it cost?
These are all the questions I will attempt to answer in this mini-review I have for you today of BoardBooster.
I call it a mini-review because I'm still testing it out but I am seeing some great results so far with using it so I wanted to get this out to you as soon as possible.
You can expect my full-on detailed review soon, if it's published, it will be linked to here.
How Can BoardBooster Up Your Pinterest Game?
BoardBooster is a tool that you can use to really make use of your Pinterest by allowing it to post content that you've posted a while back.
This is the main feature of BoardBooster, (there is more) but let's focus on this one right now and mention the rest later.
What BoardBooster does is this:
You decide which boards you want to give a "boost" and then have it automatically re-pin your older content again thus bringing in a fresh wave of traffic, re-pins and likes to your blog's posts and others.
I've Decided To Try BoardBooster for 7 Days, Here are My Results:
To say I had complete faith in this tool would be a lie, honestly I did not know f it can really deliver on its promise of boosting my Pinterest traffic but to my surprise, it did:
Here are the results I've had with BoardBooster after 7 days: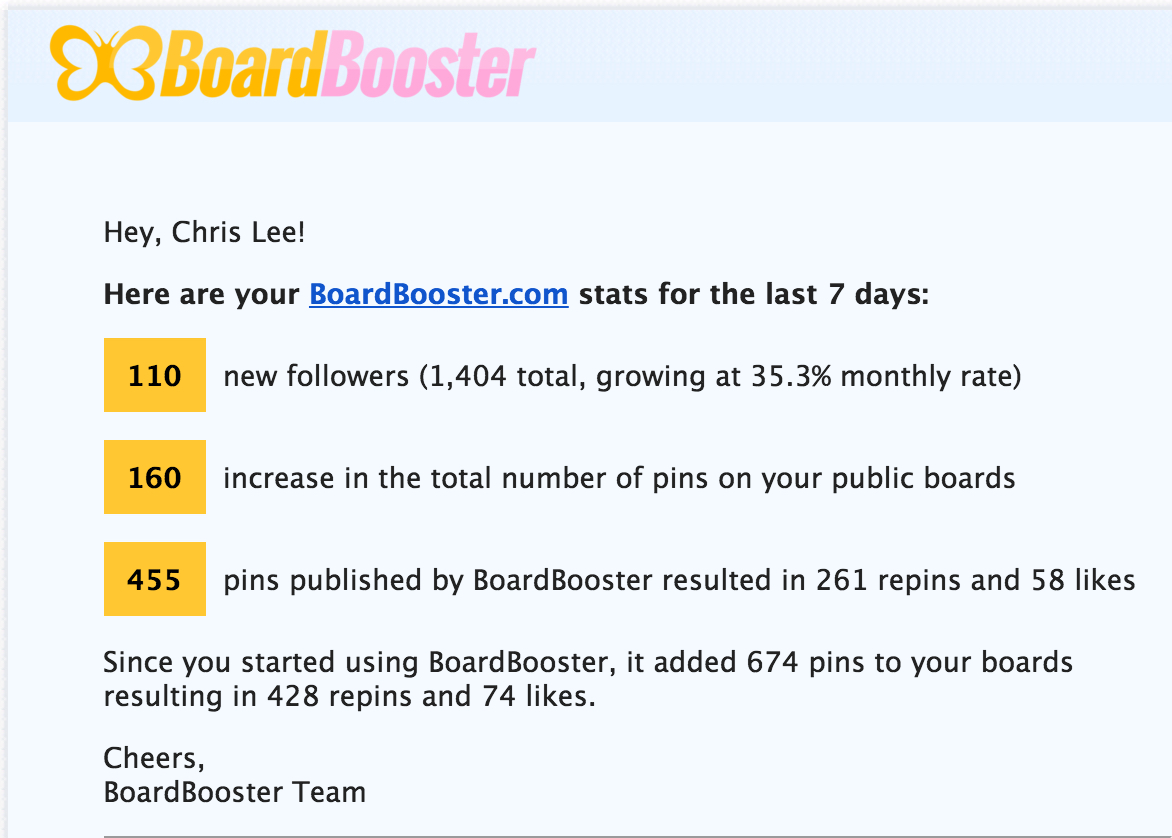 110 New Followers
Ok, this may not all be contributed to BoardBooster as I also get a lot of organic followers but I am sure this has probably been one of my best weeks yet as in follower acquisition.
In these past 7 days, I've got a total of 110 new followers and this means followers of my whole account, not just specific boards.
This means that whenever I post a new pin, 110 more people will start seeing it now, which is great.
Pinterest has huge "going viral" opportunities and if just one of those 110 new followers re-pins my post, this could open me up to 1,000s of more readers that I have not yet reached.
Awesome.
160 Increase In Total Number Of Pins On Your Public Board
This means that I have now increased my whole pin count by 160, my total pins at the time of writing this is 2672 pins (I will show you how BoardBooster contributed to this in a bit).
160 new pins in 7 days are 22 pins a day which may seem a bit too much thinking about it but remember, these pins are all spread out across 48 board with many different followers so it wasn't really a problem.
That is the beauty of Pinterest; you can pin almost anything to your account because it is categorized under different boards.
You can talk about blogging but then also have a board about coffee and it is totally acceptable.
Lovely! Moving on;
455 Pins Published By BoardBooster
BoardBooster was working hard for me these past 7 days and it has pinned (or rather re-pinned) an incredible 455 pins to my boards.
These are not new pins though, as that would violate the 160 pin increase in the last section.
What BardBooster actually does is it finds pins buried deep in your boards (sometimes even years old) and re-publishes them as new so they reach more audiences.
When you are setting up your BoardBooster, you pick the boards you want your pins from and then you let it do the magic.
There are many, many settings you can do when setting this up, including:
How many pins a day
How old must a pin be
Where to pin to and from
Minimum number of re-pins the pin has
The timing of the pinning
etc…
Having also watched my Pinterest and Google Analytics account, I also found that some of the older posts I have on my blog (some years old now) had a new bump of traffic coming in!
Some of these posts even I had forgotten about them, imagine my lovely Pinterest followers.
How Much Does BoardBooster Cost?
I like Boardbooster's pricing because you will only pay for how many pins you want to have re-pinned and re-shared.
Here are their quotas:
500 pins per month- $5.00
1000 pins per month – $10.00
2000 pins per month – $20.00
3000 pins per month – $30.00
4000 pins per month – $40.00
5000 pins per month – $50.00
For me, I think once I get past my free quota (which is your first 500 pins), I will go for the $10 package meaning (1,000 pins per month).
If you're a blogger that want to use this, I suggest you stick either with the 500 or 1000 pins package.
I really see no need (unless you have a huge Pinterest account with 100s of thousands of pins and followers) to go beyond the 1000 pins a month.
A thousand pins a month means over 30 pins per day which I believe is good enough.
Do I Recommend BoardBooster?
Definitely, go check it out right now and claim your free 500 pins, you have nothing to lose and all to gain.
If you set it up right, I am sure in a week's time you will look back at it and see how your traffic and engagement on Pinterest has increased.
I also advise you to spend some time on BoardBooset and see what other services they offer.
There's a feature called "Pin Doctor" which finds broken links in your pins and I will be trying that out next as well as I believe I do have some broken links on my pins! Yikes!
Obviously, the more I explore BoardBooster, the more I will know and understand the product but for the first 7 days, I'm super happy with my results.
I should also add that these results came in without me doing ant extra work on my part, BoardBoster did everything.
Thank you for reading my mini BoardBooster review, try it out here and feel free to join my email list so I will be able to:
Send you my blogging tips directly to your inbox,
Send you a free invite to my #1 rated online marketing training course,
Send you my free ebook "How To Win At Affiliate Marketing",
Put you on the waiting list for "How To Win At Pinterest Marketing".
You can use the form below to subscribe.
Till next time,
Chris Lee
---