It's was time to publish a new review here on my site so I looked at the "best selling" products out there to find a good one to review for you.
For the first time in my many years online, I have never felt so sorry for spending money as I did when I bought this product.
'Effortless Traffic Profits", although it's ranked #1 for "best selling products" (see chart below) is just one huge confusing scam that brings absolutely no value to anybody except the creators of it in terms on income.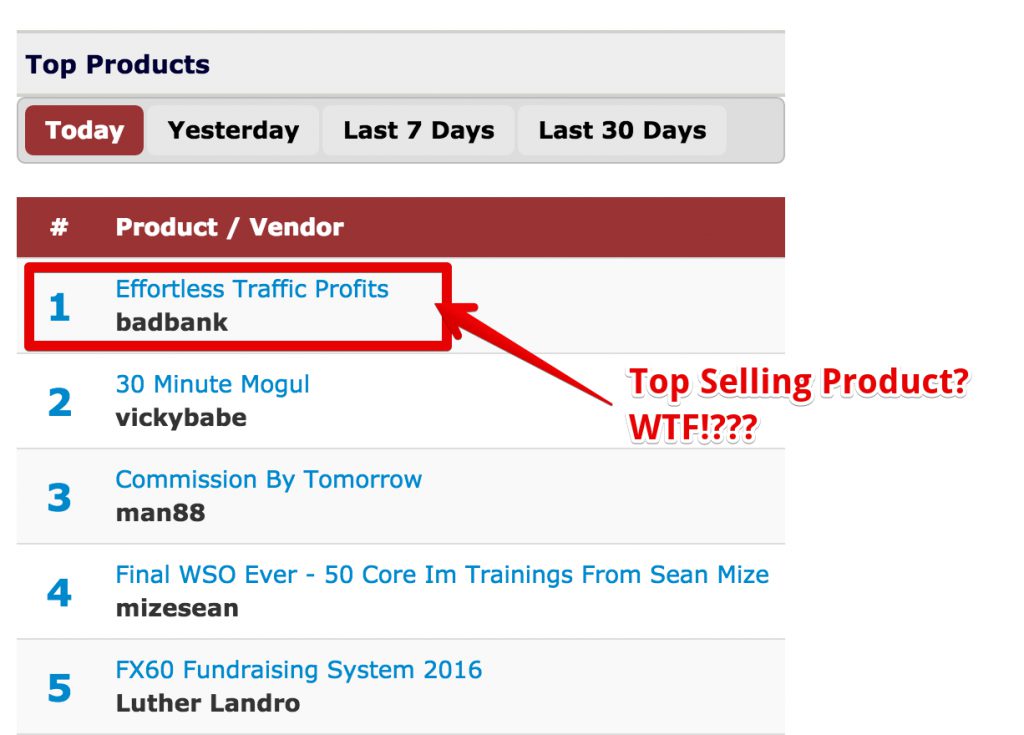 I do not like to write negative reviews, if you look at my reviews page, you'd see that I like to give the benefit of the doubt and try to find the "good side" of every product.
However, with "Effortless Traffic Profits", there just isn't one at all.
I was going to avoid writing this, just to keep my reviews "all positive" but then I said to myself;
"This product will be a perfect example of a BS, scam product for others to see."
I just had to publish this, for your own good and for the world's.
How Much Is "Effortless Traffic Profits"?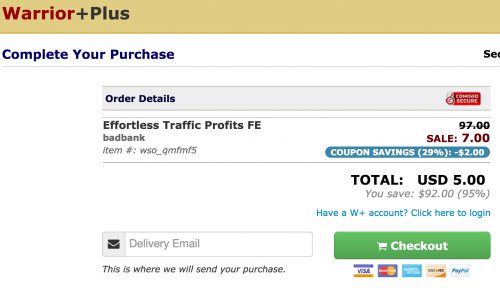 They say the normal price is $97, but somehow I got it for $5! Ok, fair enough I guess.
Now I've thought to myself, it's $5, surely I can't expect a life changing product for $5 but I am actually sorry that I've spent that $5 on this product.
The $5 I spent on this product would have given me much more value if I'd had burned it and got some warmth for 10s of my life.
No exaggeration, no trash talk, just reality.
What Do You Learn With "Effortless Traffic Profits"?
How to create a Gmail account, and IMDB account and a Scoop.It account.
Why? I have no idea.
The sales page claimed that this "hidden traffic source" will get you tons of traffic that generated over $20,000 for them.
Is that a BS claim? Who knows; I would've loved to find out but…
..most of the videos delivered where cutting off half way.
There was no explanation how to get to the magical, hidden source of traffic.
And I don't mean the video was buffering, no; the video was simply cut out mid explanation.
I still have no idea what this product is all about and how it can be used to bring you traffic.
What Do You Get With "Effortless Traffic Profits"?
A set of videos showing you how to bring in the traffic that was promised, but as I've said; videos are incomplete so the explanation is lost altogether.
However, if you want to learn how to register with Gmail or IMDB, you can buy this product as the videos dedicated to that happen to work perfectly fine.
Or you can find them for free online if you wish.
Would I Recommend This Product?
As I am sure you've probably already guessed;
No, I don't recommend you try "Effortless Traffic Profits". It's a poorly put together product with training that is not even there.
If I had paid the original $97 they claim the product is worth, I would've lost my s*it!
Do not buy this product at all, it's just worthless. Even if I had gotten it for free I wouldn't be happy.
Any Alternatives To 'Effortless Traffic Profits"?
Yes, luckily there are many other great alternatives, just take a look at my reviews page and you will find products that I have tried and tested myself and I can guarantee they will help you in some way or the other.
Here are some I would recommend:
Income Society.
Wealthy Affiliate.
Blogging With John Chow.
Here is how "Effortless Traffic Profits" compares to my #1 recommended product:
---
In Closing
I hate to be so negative, but I just had to share this.
It angers me that products like this are still being created and allowed to be sold to the public.
My $5 was wasted, but hopefully, yours will be saved and I hope that this does not put you off trying to learn how to make money online. As I've said there are a lot more products for you out there.
Avoid the junk and save your money.
Till next time, (apologies for the bitterness)
CLV