This past week, me and Nathaniell Brenes (fellow WA-er and blogger at One More Cup Of Coffee) had an interesting discussion about email open rates.
In his Google+ post, he shared a list of the average email open rates that one can expect in their respective industry.
I took a look at the list, but what I saw didn't seem right; The average across the board is around the 10%-30% mark.
Hmm that is interesting, so how am I getting an average of 46% open rates with my emails?
I'm no expert, I have no problem admitting that but somehow, I seem to be doing a good job at keeping my subscribers engaged and connected with me.
That is why today I want to share with you some tips that I think help me achieve such high open rates.
How I'm Getting A 46% Open Rate With My Email Marketing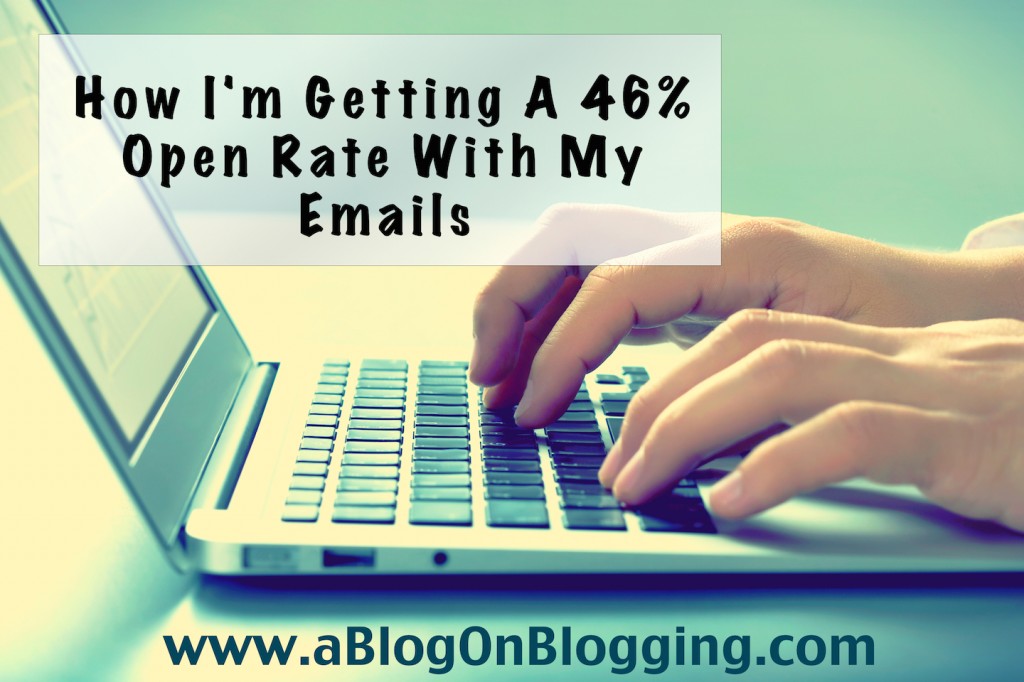 For the sake of this mini tutorial, I'm going to be using my email list for another one of my blogs (not this one).
My list for this blog is not big enough to provide useful data so I'm going to go with a list that has around 1200 subscribers on it.
Below is a screenshot of the last 5 emails I sent out: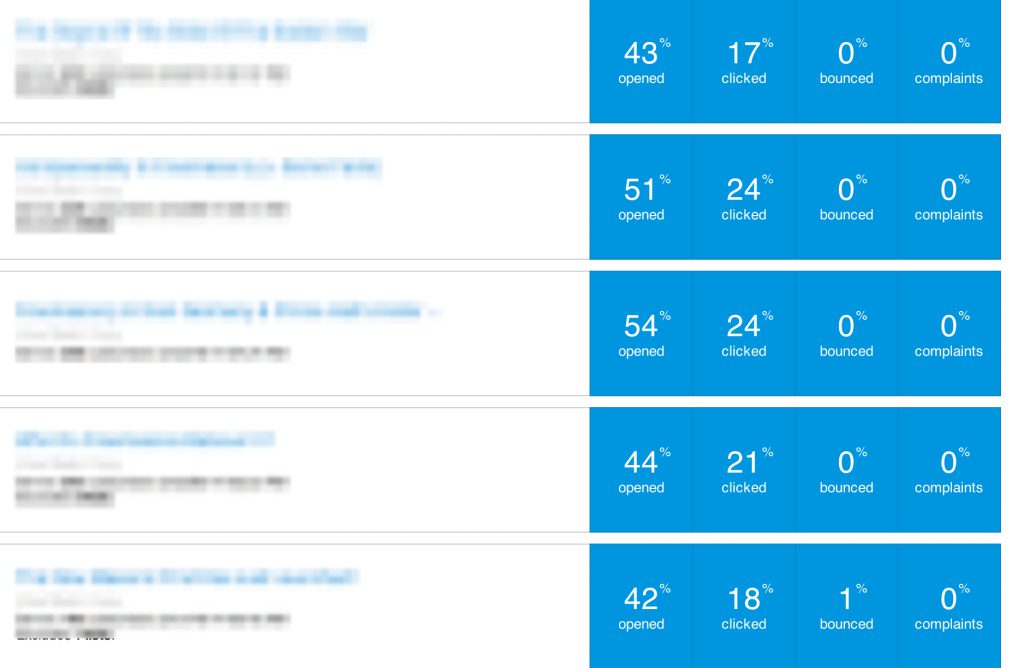 As you can see, the data shows I'm getting a great number of open rates and also high CTRs, but how? Well it could be because….
I Keep People Engaged On Social
Personally, I think social is the way to go when keeping a day-t0-day communication with your followers.
Sure there are many advantages to email over social but in reality, email open rates have been dropping since the rise of social.
For this niche in particular, I post two pieces of content daily on the facebook page which keeps me connected to my followers.
This keeps me connected with my audience without looking like I'm spamming them. Can you imagine if I send two emails a day? That open rate would surely drop!
Aso one great advantage is that when I'm about to send an email to my list. I announce it a day before and two things happen:
People will be on the lookout for the email.
I get a spike in new sign ups! Awesome!
I Don't Send Too Many Emails
This is probably another reason why I have such a high open rate for my emails;I don't send a lot of them.
Maybe once every 2 weeks? Sometimes even once a month. I only send an email when I genuinely have something important to share. Other than that, it's just noise.
When I tested sending two emails just a two days apart and I noticed the second email got only half the open rates. See below…

I Always Provide Value
There is that magic word again; VALUE!
As I said, I only send an email to my subscriber when I absolutely have something to say.
When people give you their emails they are taking a huge risk. Everybody is now scared to give out their emails in fear of being SPAMMED to death!
When I ask for sign ups on my blog, I make it clear that I will only send them emails if it's something worth sending. And I make sure to never break that promise!
Come Up With Attractive Titles
This is really a no brainer, but I had to mention it as I personally believe it is a key factor in your open rate success!
Which would you rather click on?
 "Popular April Posts"
or
 "10 Ground Break Tips You Never Heard To Double Your Blog Income "
Which would you rather click? If I only have a few minutes, I'd go for the second one and delete the first one without even opening it.
If your subscriber has only a few minutes to read their emails and receives an average of 30+ emails a day, you need to make sure that your title stands out among the rest.
Whenever I send an email out, I make sure that it is something that I would personally click on.
A great title can mean the difference from getting your message across and ending up in the trash.
It All Depends On The Niche
Also I have to add that the people that I'm sending these emails to are a very specific and targeted niche.
Your success with these tips will vary a lot depending on what niche you're working with. No industry is the same.
You can take a look at this list to see how your niche compares and what is the average open rate you can expect.
These tips work for me, but they might not work for you. Email marketing (although it produces some amazing results) is not my focus (for now) and it amounts to just a small percentage of my overall traffic.
Some might say that sending an email once or twice a month is not "email marketing" and I agree. It just all depends on what you want to achieve with your email marketing goals.
Got Some Tips For Me?
As I said, I'm not an email marketing expert so if you have any tips for me, I'd like to hear them out. Just drop me a comment below with your thoughts and ideas.
If you need any other help with blogging, make sure to contact me and if you'd like to be on the email list for this site, you can sign up here!
Thank you very much for stopping by, I hope I brought you enough value that you come back soon! 🙂