One of the hardest thing you're going to be facing both as a beginner and as a full-time pro-blogger is; coming up with blog content ideas.
I know I said there are a million things to write about in any niche, but sometimes you just can't think of any and when you sit down to write a post, your mind just says "Nope, not today!".
It has happened to me and many other people. Even ones I admire such as Darren Rowse and other top bloggers alike. So don't worry if it happens to you, it's just part of the whole experience.
Just know, if you want to get anywhere with blogging; you absolutely need to create content… and a lot of it. Ideally, it should be once a day, but 3-4 times a week is ok too.
PRO TIP: One of the things that are going to make this easier for you is if you're honestly enjoying what you're blogging about. If there is a hell for bloggers, it would be writing blog posts that don't inspire you…. for eternity. Urghhh !
Make sure you start your blog on the right foot following this checklist.
How To Get Blog Content Ideas From BuzzSumo
Generating blog content ideas is not easy…
But this is where BuzzSumo comes in, I have been recommended this tool by a good friend of mine and I have been using it for a while now, and I have to say, I have grown to love it.
No, It's Not Just Another Title Generator
I've talked about title generators before but this is nothing like it.
What BuzzSumo does is when you type in your target keyword, it gives you the most popular blog titles that match that specific keyword.
For instance, take a look at the example of the keyword "write a blog post" below: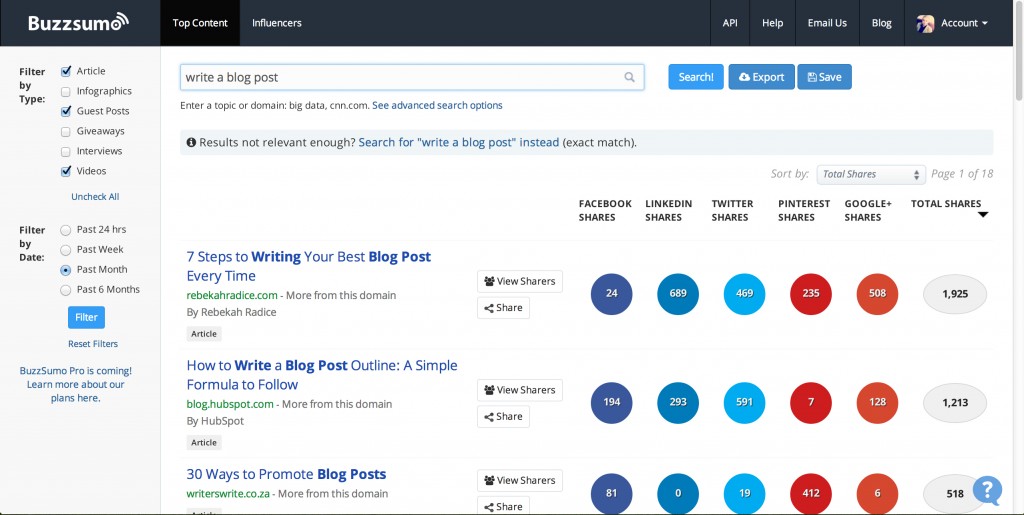 As you can see, not only it provided me with content ideas, but it also gives you the number of social shares for :
Facebook
LinkedIn
Twitter
Pinterest &

Google+
Basically, it gives you data on what is working and what is not on social media.
For someone like me that uses social media a lot in business, I find it an incredible tool to measure the reach I'm likely to get with such a post.
Applying Filters
To get the best data possible, BuzzSumo also has filters that will allow you to filter by "type" and "date". This is going to give you a clear idea of what's being talked about (or not talked about) lately, and in what form.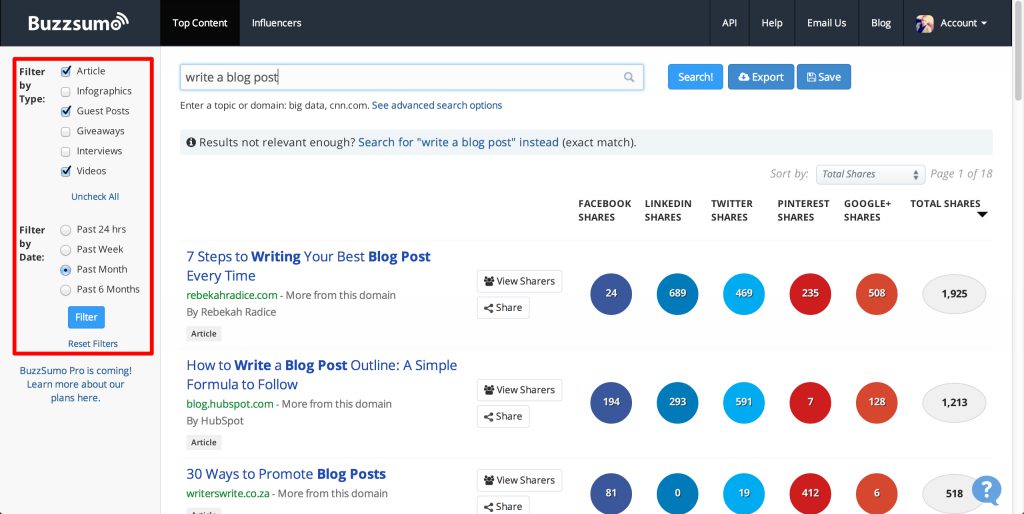 Putting BuzzSumo to Good Use
When I want to write a keyword-rich post, I make my research on Jaaxy and I find a keyword that would be worth trying to rank for. I then head over to BuzzSumo, feed it in and it gives me multiple title ideas.
Now you shouldn't copy the titles word-for-word but a quick browse and a quick look at the social shares will surely get some ideas popping in your head and your creative juices flowing.
You can even reverse-engineer the process and find keywords in BuzzSumo, then check them on Jaaxy. I've come up with multiple keyword ideas using this simple method.
How Much Is It? 
At the time of writing this, it is 100% free but a premium version is said to be "coming soon".
I'm not sure if they'll restrict the data to non-premium users but it would be wise to go check it out as soon as possible before it gets a price tag!
How Do You Come Up With Content Ideas?
How do you come up with fresh content? What type of research do you do?
Please share it with us below and also make sure check BuzzSumo and see if it can be as helpful to you as it has been to me.
Thanks for reading this quick post and if you still need help with your blogging, do not hesitate to contact me, I'd love to help you get over your "bloggers' block" !
As always it's been a pleasure having you on my blog and if you'd like some more blogging tips, make sure you get on my newsletter asap!  🙂
Till next time….
Chris Lee
---