Making money with affiliate marketing is probably the number 1 thing most bloggers out there are trying to do, and I don't blame them.
It's the number 1 recommended online income source there is. I call it the holy grail of blog monetisation.
If you want to know how to make money with affiliate marketing, then you've probably heard of how awesome life can be once you figure out how to capitalize off this profit machine.
All over the web, especially in "marketing forums", you see people boasting of success in affiliate marketing, yet most fail at it rather quickly.
I have failed many times as well. It's not pretty.
For years I've tried my best to make money with affiliate marketing but no matter how hard I tried, I never could make it work.
Around the two year mark, I realised I've invested countless hours of work and had exactly $0 to show for it. It just didn't look like it was going to happen for me.
That is until I learned how to properly do affiliate marketing.
One fine day I've stumbled across a training program that taught me all I needed to know to make money with affiliate marketing and the rest is history.
I've finally understood how to win at affiliate marketing.
I now understand that what I was doing before was all wrong and it was just pushing me away further and further from success.
In this post today, I'd like to share my tips with you and hopefully save you months (or years) of effort.
How To Make Money With Affiliate Marketing
What Is Affiliate Marketing
I'm guessing you already have a basic idea of what affiliate marketing is so I'm going to keep this short.
It's basically the "work-for-a-commission" model adapted to the online world.
You sell a product/service (that you did not create) and get a percentage off the sale. Anywhere from >5% to 50+%.
That is basically it. That's what it's all about.
If you'd like to know more about affiliate marketing before we go on, I suggest you check out this quick read on Wikipedia.
The 3 Simple Steps You Need To Know
The process of making money with affiliate marketing is divided in 3 (simple) steps:
Get traffic to your site
Recommend a product
Get paid
It's simple, but not as simple as it seems. A lot goes into perfecting steps one and two.
Getting Traffic To Your Site / Blog
First off if you do not have a blog, then you need to create one.
In order to make money with affiliate marketing, you need to have a website that you fully own / run.
Starting a blog is rather easy and I've written many times about it before. Check out my previous articles on how to start a blog.
Up next is getting people on your site reading your content. This can be tricky but there are many ways you can do this.
The top recommended ways to getting traffic is either with search engine optimization, social media and paid traffic.
READ -> How To Increase Traffic On Your Blog
Whatever route you choose, you will always need to create regular, helpful content so be sure to pick a niche (blog topic) that you're knowledgeable about.
Here are my 5 tips to pick a niche that will make you successful.
If you want to know more about the process of starting a blog and creating content that brings in traffic, then I suggest you check out the "Online Entrepreneur Certification" course.
It's a free course and it will teach you all the things you need to know to master this first step.
Once you start getting a healthy amount of visitors to your blog, then it is time to put affiliate marketing to work.
First off you need to join an affiliate network or program (ex: Amazon). This is where you can connect with product creators and start selling their product to your audience.
You can read all about my favourite affiliate programs in my eBook.
Once you select a product, then you can start recommending it to your readers. Always be sure you pick a great product. Never, ever sell a product that you do not think is good enough. Have some integrity.
Now, one of the best ways to do sell a product and maximize conversions is to create a pillar article about your product then link to it with your blog post updates.
This will help give the article a constant flow of visitors and a healthy SEO ranking.
PRO TIP: Doing so will also make your blog appear more of an "information blog" rather than a salesy website. This will have a positive effect on your readers thus increasing trust and ultimately conversions.
The bloggers that perfect the first two steps are the money makers in the business.
This step comes without having to work on it specifically. It's only the by-product of having a healthy, successful blog and a kick ass product to promote.
Affiliate Marketing is one of the most rewarding ways you can make money with your blog and here is why:
There is no limit to how much you can earn.
You can work from anywhere in the world.
It's a passive income.
Your business runs 24/7 – even when you're asleep.
and much, much more.
How To Win At Affiliate Marketing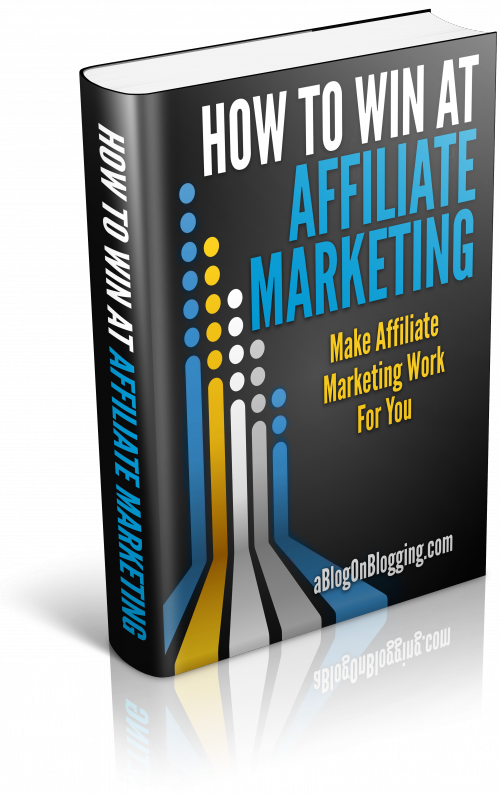 If you'd like to know more and discover the industry secrets on how to make money with affiliate marketing, then you need to download my free eBook: "How To Win At Affiliate Marketing"
Without any BS or hyped up claims, I share with you the most fundamental lessons I've learned that finally allowed me to make money blogging.
I will also teach you the tips and tricks me and my peers use to maximise our profits and build a long lasting business online.
It's free to download and you can do so by signing up to my email list. There is a form down below.
My Question For You
What is one major thing if you would do if you could replace your job income with affiliate marketing income?
Would you travel? Spend more time with family? Invest in something else?
Let me know your thoughts and if you have any questions, be sure to contact me or leave a comment below.
I'll get back to you asap.
Thanks for coming through.
Chris Lee
---
---