One of the major benefits of an online business is that the startup costs are very low. This is way different than starting a business offline as to open up a business in the "real word", you're going to need $1000s to even get going.
The online world has its perks, and yes you can get started with $0 money.
Today I'm going to be showing you how to start an online business with no money at all.
I will also show you how you can start making money online before your actual "business" starts turning a profit.
Are you excited? I hope you are. If I came across this information 4 years ago I would have avoided many, many mistakes.
Let's get into it…
How To Start An Online Business With No Money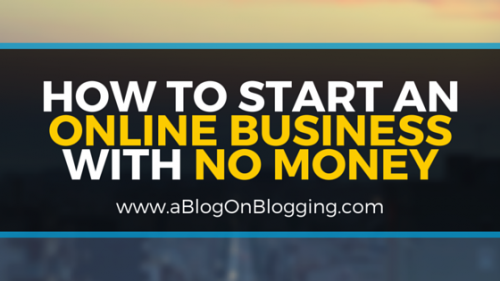 I've tried many ways to make money online.
Way before I started making money with blogging, I was a "freelancer" and I used to make a good income too, however being a freelancer is not what I call 'a business" because it is not scalable.
The reason I say it is not scalable because as a freelancer, you can't make money if you're not actually actually working.
Now the reason I love blogging so much is that it gives me freedom. Freedom to do anything I please.
Blogging was ideal for me as it can make you an income even if you're not actually "working", you can even make money while you're sleeping.
With that said, this is the business model I'm gonna share with you if you want to learn how to start an online business with no money. It's the method I know best and the one that makes me money.
If you want to know how to earn money as a freelancer online, then I suggest this awesome guide called: The Ultimate Guide to Being a Successful Freelancer.
[box] BUT I am going to talk about freelancing further down in this article to show you how it can be used to get some "start up" capital for your online business. Stay tuned. [/box]
---
Now, if you want to follow the steps I've taken to start my own online business (using blogging), please continue reading:
Step 01: Finding A Blog Topic
Cost: $0
First off you need to find a topic that you think you would enjoy blogging about. This could be either:
A topic that you are knowledgeable about.
A topic that you are currently learning about.
These are my main two suggestion when people ask me what should they blog about.
Whichever one you pick though, make sure that it's something you enjoy.
You don't want to know how horrible it is to write about a topic you dislike. I know it cause I did it and it's a freaking nightmare.
Come to think of it, no blog I started (that I didn't enjoy) ever became profitable. That's something to think about right there.
This "blog on blogging" topic is super competitive and very hard to get ahead of the competition. If I didn't enjoy "blogging about blogging", this site would have never lasted as much as it did.
Step 02: Start Your Blog
Cost: $0
If you want to start an online business with no money, you need to start a blog for free.
The difference between a paid blog and a free one is that as a free option, it would be hosted on another site.
There are many platforms that will allow you to start a free blog (here is a full list) but my personal favourite is SiteRubix.
If you choose Siterubix, this is how your blog URL address would look like:
www.youdesiredname.SiteRubix.com
The main reason why I always suggest you start with SiteRubix (if you want to take the free option) is because it uses WordPress and it also comes with free training from WA on how to set it up. Obviously all for free.
On the other hand, if you afford to start your own blog. i.e. www.yourdesiredname.com, I suggest you use NameCheap both for registering your domain and for hosting. Namecheap is cheapest option that I know.
Step 03: If You're A Noob, Get Some Training
Cost: $0
I'm going to take a wild guess and assume you're a complete beginner here which means you are going to need some training.
Why is getting training important?
Well because there is a right way and a wrong way to do things and I am positive you want to do it right.
There is nothing worse than investing your time and energy into something for 6 months then come to the realisation you've been doing it wrong all along.
There is plenty of resources out there that will teach you how to start your business, some paid and some free. You can even check out my page to get help with blogging. The posts on that page are all designed for the newbie blogger that wants to get started.
My suggestion though is that you do things one step at a time.
There is no reason to show you how to rank in the search engines if you still don't know how to set up your pages and your SEO of your blog.
That is why I suggest you take the free starter course at Wealthy Affiliate.
This is the course you will be taking as a free member and this is my review of Wealthy Affiliate if you want to check it out beforehand.
If you're serious about start an online business, then this is my number 1 recommendation to teach you how to do it.
There are other programs I can show you but they would either cost money or are not that good in the first place.
Step 04: Work Till You See Results, Then Keep Working
Cost: $0 (not counting your time and effort)
That's all you basically need to start your online business:
A blog topic.
A blog where to publish your content.
Proper training.
All the tools and tips I gave you above all work (they have been proven to work many times before), now it's all up to you. Do you "work" too?
With my above tips you can have your own blog up and ready in 5 mins (yes 5 minutes), and if you decide to join me at Wealthy Affiliate, you can start your lessons in about the same time.
[box] That means by tonight you will have the foundation of your online business DONE.[/box]
All that would be missing is your effort.
As soon as you complete all the steps above, it's time to start the real work:
Setting up your business (the right way)
Researching keywords
Writing content
Sharing it socially
etc..
If this sounds too complicated for you, don't worry. That is why I've suggested this training program.
How To Make Some Money Before You Start Your Business
Now that I've shown you how to start your online business with no money, I'm going to show you how you can make some "quick" cash online to help you get started even better.
Why do you need money when you can start for free?
Well yes that's true, as you've seen from above, you can actually start with $0 and build from there. However, it's much easier (and quicker) to reach success if you invest some money in your business.
You will find this money useful to buy your own domain in the future (you can transfer from SiteRubix to your own domain quite easily), invest in some of these blogging resources and enrol in more advanced training programs.
So, Here Is How To Make Some Money, With No Money
Back to the freelancing business…
Set up a free account on People Per Hour or Fiverr. There are more freelancing sites available but those 2 I've used before and I can promise you they work.
Take a look at what is being offered there and see if you can do something yourself.
The ideal "gig" or "job" to start would be to write content for other blogs.
Since practice makes perfect, this will give you the right opportunity to sharpen your writing skills and get paid to do it.
Of course, you don't have to offer a writing gig. You can do anything you desire on these platforms. It's insane what people are offering online (especially on Fiverr).
Here are some ideas for you to get started making money as a freelancer:
Word Translations
Article Writing (See our guide on becoming a freelance writer here)
Graphic Design
Video Product Reviews
Proofreading
One-on-one tutoring
and much, much more
The possibilities are endless.
Freelancing might not make you rich but if done right, you can make a significant amount of income: Way more than enough to help you "cover" the expense of your new online business.
In Closing
I really hope this article showed you that in fact yes, you can start an online business with no money.
I believe that if there's a will, there's always a way.
If you really want to have the freedom an online business can give, I am sure you will manage to make it work, even if you have $0 budget (you might also want to consider cutting back expenses is some other areas of your life).
I for one fully support you and I would like to mentor you but you have to have the will to make it happen.See how
See how this guy started making $10,000 a month from Amazon by simply taking action.
If you do have any questions on this topic and would like some one-on-one assistance, sign up for my newsletter below. That will give you access to my private contact information and you can get in touch with me anytime you wish.
Thank you for reading, I look forward to your success online.
CLV
---