Instant commission profits? Hmm, that sure sounds good.
Imagine being a total newbie and from your very first day, you start earning instant commissions coming through your bank account. That sure sounds like a good deal for $4.95.
I don't even know why I've spent over 4 years online carefully crafting and refining my skills as a blogger and affiliate marketer when I could've easily made it by buying Instant Commission Profits.
Sounds too good to be true? Well, that's because it is.
In today's product review, I am looking at the recently launched Instant Commission Profit products by Allen Martin.
Instant Commission Profits Review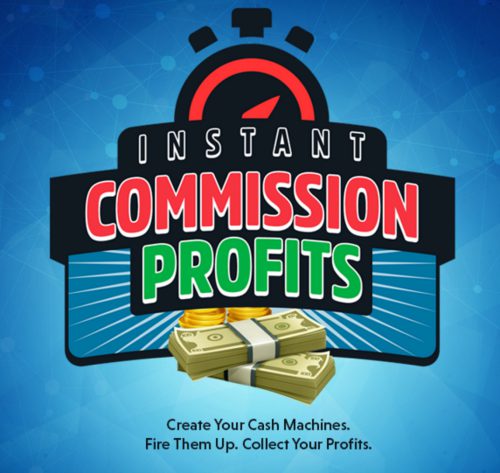 Product Name: "Instant Commission Profits"
Price: $67 $4.95
Owners / Creators: Allen Martin
Overall Rank: 2/5
What Is Instant Commission Profits?
According to the sales page, it's a "system" that will show you how to make instant commissions from your affiliate marketing efforts in your first few days of trying.
Obviously, I had to check out this product for myself after such a statement so I went ahead and bought into the initial offer of $4.95.
*I could tell this product is clearly over-hyping its powers but I had to see it for myself, this is why I can write this review today because I'm an actual customer and I will be giving you an inside look of ICP.
All "Instant Commission Profits" (ICP) is really is just a few videos (7 to be exact) that will show you how to make money online.
Here is what the videos are about: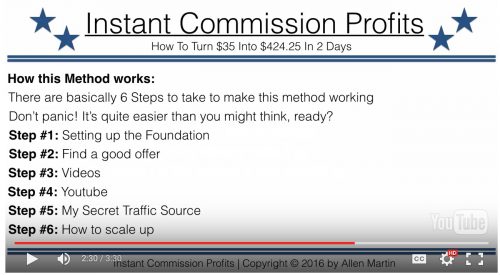 Intro:
A basic introduction about what "ICP" is and how it works.
Module 1:
How to set up the foundation of your business.
Module 2:
How to find good affiliate offers online and market them.
Module 3:
How to use videos to promote your affiliate offers. This basically shows you how to buy and use videos (from Fiverr.com) to sell your products.
Halfway through the course and nothing life-changing for now.
Module 4:
How to upload the videos you bought from Fiverr to YouTube and optimize it for search (Really??)
Module 5:
The "secret traffic source" is finally revealed in this module. Let's see:
The "secret traffic source" he is referring to is using Viral Content Buzz to share your articles and videos and have it shared by others within a system.
There; "the secret" has been revealed; pay me $5. Just kidding.
Actually, I never heard of "Viral Content Buzz" before so I will be trying it out later and writing a review on it.
At first look, Viral Content Buzz is just people sharing each other's links which might work in terms of getting traffic but I highly doubt that the traffic is of any value.
It's probably just poor quality traffic, but I will try it out.
Module 6:
This last and final module will show you how to scale your business higher by creating more content, more videos thus getting more traffic.
That's it! Moving along…
What I Liked About Instant Commission Profits
To be honest, not much.
The training is so-so. There is some good information in there but nothing life changing or anything that really shows you how to make instant commissions.
If I had to rate the training, I'll say 4 points out of 10 (1 extra for the effort). Nothing special, nothing major, nothing ground-breaking.
PS: I still do not know how I can turn $35 into, $424.25.

I understand that for the $4.95 I've spent to buy this product, I can not really expect a life changing lesson, that is true.
But I also hate the fact that they've marketed this product as a way to make instant commissions and make hundred of dollars a day.
It's just not possible and if you think you are going to buy this product and retire from work tomorrow, you're out of your mind.
What I Didn't Like About ICP
Hmm ok, I don't want to be so negative here so I'm not going to mention all that is wrong with this product, but I will say one thing:
Although it's only $4.95, there really is no information that you need to know in here that is going to help you make money with your blog and affiliate campaigns.
The claims made on the sales page are just not true. Just false advertising and over-promising at its best. a LIE!
Also, the product is riddled with upsells.
There is a total amount of 4 upsells which if you decide to buy them all, you're looking at another $125 in expenses, which is just not worth it.
Do I Recommend It?
As I'm sure you've guessed, no I don't.
I really hate giving products bad review but I have to be honest here.
This product won't teach you anything new and it won't make you money; it's just not worth the $4.95.
Any Other Better Alternatives?
Luckily yes, there are many other options for you if you want to learn how to make money online with affiliate marketing and blogging.
For started, I suggest you download my free eBook "How To Win At Affiliate Marketing", which I promise you (not because it's mine) but there is much more value in that little book than there is in Instant Commission Profits.
Also, if you are serious about starting your online business, check out Wealthy Affiliate.
You can read my review about it here to find out why I like this product so much or else see the comparison table of WA vs ICP.
I'll let you decide on which is the best option for you:
---
Thank you very much for reading this blog post, I hope my review of "Instant Commission Profits" has helped you saved some money. If you have any questions, be sure to leave them down below and I will get to you asap. Also while you're here, feel free to sign up for my email newsletter so I will send you that ebook I've just mentioned and also send you a step-by-step, day-by-day training course to help you get started.
I look forward to hearing from you.
Chris Lee