I've been focusing a lot on doing product reviews for you guys lately (and more is coming in 2016).
The reason I like to do product reviews is because I know that you may not have the time (or finances) to go try and research all the many "home based business" products out there.
It's just impossible to go through them all.
However, in my now 5 years+ experience online I have come across a lot of products and tested them all out.
In the post today, I am going to talk briefly about these legitimate home based business reviews I've written in the past.
I will give you a brief intro about each product and what it can help you achieve and also provide a link for you to read my whole detailed review.
Before I get into it, I would like to add that these products I'll be mentioning are products I've used myself and saw some (or a lot of) benefits in them.
I am not going to show you products that I have found to be absolutely rubbish and products that I have not used myself.
Also, I am sure there are many, many other products that are great in their own right but I have not tried them yet, so they won't be included below.
If you have heard of a product that you would like me to review, feel free to mention it in the comment section below.
I will review it and send you an email for you to check out once it's published. This will be a great help for me to find and review more products in 2016 and beyond.
Legitimate Home Based Business Reviews: My 5 Choices
These products are ranked according to what I think is the best product out there, #1 being my most recommended choice.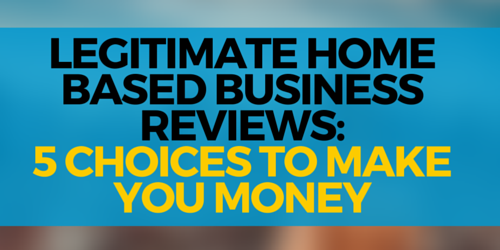 ---
#5 Blog Profit King
This was the first product that I've reviewed when I decided to start reviewing products that have been suggested to me by my readers.
There was a lot of hype about it and it had just launched so I decided to jump right in and see what it's all about.
This products costs only $10 and the value you get from it is well worth it. Just don't got for the up sells.
This business model for this product is to give you a lot of content for cheap then "guilt" you in buying the (expensive) upgrades.
However you might be interested in the up sells they offer so be sure to read my review so you can see what the up sells are and to see if they will be something you'd be interested in.
#4 Income Society
This uses the exact same business model as "Blog Profit King" but I really liked this product because of the way it is set up.
You have lessons to view then you have to answer questions correctly to get to the next lesson.
They also have lessons about how to create and market your own product. From coming up with an idea to marketing and selling it.
For that reason only, I recommend this product 100%. Again my recommendation is to avoid the up sells but for only $10, this product is well worth it.
#3 ProBlogger
ProBogger is an online community program from the creator of the ProBlogger blog (Darren Rowse).
I've tried this products with high hopes but unfortunately I was left feeling disappointed by it. There was really not much value being given.
However, a few months after I published my review, Darren Rowse shared on his own social media accounts that "The community is not providing as much value as was intended", so now it is completely free to join.
If it still had a price tag on it, I would't have added it to this list of products but since it is free, it's worth checking out.
You can see my views on it and Darren Rowse's official statement on my review:
#2 Blogging With John Chow
John Chow's "Blogging With John Chow" is a classic product that I think everybody should check out, as a matter of fact; I am officially naming it my #2 recommended product for legitimate home based business opportunities.
If you don't know why John Chow is, then you are not really into blogging.
He is the man that makes money by telling people how much he makes money (blogging).
He has built his blog from $0 to $40000 in a few years and now does way over a $1,000,000 a year with his blog. Incredible!
Some call him a genius for his marketing and blog monetisation techniques and he obviously has proved that his methods work.
I would make this product my #1 recommend product but there were some things I did not like + it doesn't even come close to my number #1 recommendation (which I am talking about next).
However if you want to check out this product;
#1 Wealthy Affiliate
Now comes my number #1 recommend product for the past 2 years and probably my #1 for many years to come.
It's been the place where I really learned how to make money online and I am still a member inside WA 4 years later (check out my profile and say hello).
Wealthy Affiliate is hands down the best product I've ever used personally and I can gurantee you will have success if you just follow the step by step training and take action on what you learn.
There is just no way you can fail with this product if you put in the right effort.
I can go on and on about how awesome Wealthy Affiliate is but I've done that in many blog posts before.
However, if you are looking to start a legitimate home based business, I do suggest you read my review of WA. You can also go ahead and try it for free using this link.
---
In Closing
I'm thinking of publishing more round up posts like this in the near future so if you've liked this post, be sure to give it a share or drop me a comment below.
Again, if you have any products you would like me to review for you; I will gladly do so. Just mention the name of the product in a comment below and I'll get to it as soon as possible.
I hope you've found this blog post entertaining and most of all, educational. If you are looking to start a home based business, then these are 5 products that I recommend you try.
Obviously some are better than others but there is plenty of valuable lessons in each one of these products and that is why they've made the list today.
Thank you very much, talk soon
CLV
---