I know a lot of you out there are looking for ways to make some extra money online or even replace your job and go full time from home.
One thing that I know you're also experiencing is the fear that making money online from home is just impossible.
Actually… you do know money can be made online, but for you.. you might think it's impossible.
I know all that because just a few years ago, I was like that. I knew people were making a lot of money online, but somehow "I could never do it".
That is not the right mindset to have and that ideology is just false.
Yes money is being made online (now more than ever, and YES you too can make money).
It's not as hard as you think it is either. In fact there are a lot of opportunities online being created for you to make money.
There are so much, that you can not possibly do them all.
I have been making money online for about 3 years now and I have tried many ways to make it happen, however in today's post, I'm going to be sharing what has worked for me.
My goal here today is to make you believe in yourself, in your capabilities, in your dream and in the power the internet has to make you money.
4 Steps To Get You Making Money Online From Home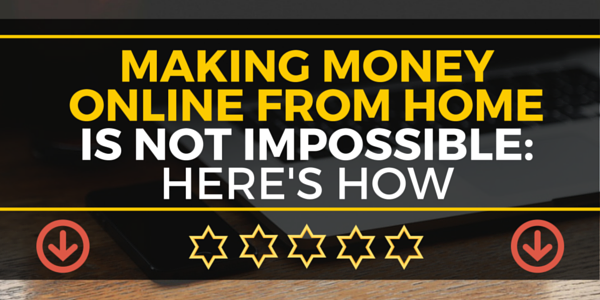 Paid Online Surveys
Although I know this works well, I have never succeeded at making money with paid surveys.
The main reason I could never make a solid income from surveys is because I am outside of the US and I think that most companies would just like to survey US residents.
I am sure other services exist for a worldwide audience but I never invested time to do look for them.
If you want to start making money with surveys, then I do suggest you sign up with a survey company and see if it works for you.
A lot of people make a good income doing this type of work from home (I was making about $50 per month) so I know it works to some degree.
Freelancing
Now this is more in my area of expertise.
Way before I got into blogging and affiliate marketing (which we'll get into that later), I was a full time freelancer online.
Me and my now ex-girlfriend built up a business online doing everything from translations, proofreading, video marketing, content marketing, reviews, photography, article writing, virtual assisting and more.
At the height of it, we were making around $3000 to $4000 per month!
I still do freelancing sometimes still and it's a good way to earn some "extra cash" here and there but I know from experience it could be turned into a full fledged online business if you know how to do it right.
If you want to get into the freelancing business, then sign up to sites such as Fiverr, People Per Hour, oDesk or all three of them (there are a lot more options too) and get to work.
See what kind of services you want to offer, set your price and get to work.
Most freelancing sites themselves offer guides on how to succeed in online freelancing so make sure to read those once you join.
If you do decide to get into freelancing, check out my guide on how to make money freelancing and also feel free to send me an email with some questions you might have. I'd be more than happy to help you get started.
Blogging
I get butterflies in my stomach from excitement whenever I am about to talk about how blogging can be used to make money.
I love blogging and I love the opportunities this brings to me and everybody out there that has taken the time to fully understand this art.
To me, blogging is the best way to make money online.
I have tried many ways but nothing compares to blogging. It just feel so… right!
Nowadays, 90% of my online income is through blogging. I have 3 blogs running right now (with more to come) and every year my business is improving.
So how can you make money from blogging?
That is an article in itself and there are plenty, and I mean PLENTY, resources out there to teach you how to make money from blogging.
Unfortunately though, since there is such a high demand from people wanting to learn how to make money blogging, a lot of products get pushed out that are just plain garbage.
Be very careful where you get your information from.
My 2 personal favourites that will teach you how start blogging are "Blogging With John Chow" and 'Wealthy Affiliate". Both links lead to my review of the products.
There are also many other blogs that are "blogs on blogging" that you should also subscribe too.
Here are my suggestions:
Also check out this great guide I always link to:
6 Ways To Make Money From Your WordPress Blog.
It's a wonderful guide that will show all the possibilities of making money with blogs (and how to).
Affiliate Marketing
I was going to include this part in the "blogging" section but it is such a deep subject that I thought it deserves it's own section here.
The ultimate goal for you if you want to make money is "affiliate marketing".
I call it "the holy grail" of online income because it is hard to master, but once you do… your life is going to be much, much better.
How would you like to make money while you're sleeping, eating, on vacation, etc… ?
Affiliate marketing provides all this!
Some people might associate "affiliate marketing" with spam, bad products, scamming people, pyramid schemes and such items… but is not.
Affiliate marketing is basically selling with a commission. You earn an income when you sell a product (created by others) and you make a commission on that. How, where and what to sell that is up to you.
Read my free eBook "How To Win At Affiliate Marketing". It is written with you in mind.. the beginner hungry for success.
It will show you how to set it up, scale and turn affiliate marketing in a full fledged business online.
---
Thank you very much for reading. I hope I proved to you that making money online from home is NOT impossible.
Nothing is really impossible… Just remember, whatever you want to do, somebody else has already done it and you can always ask for help.
Till next time.