I talk a lot about Wealthy Affiliate, and with good reason.
Wealthy Affiliate has helped me and thousands of others in achieving our goals of creating a full time income from home.
I've tried a lot of programs, products and courses but nothing compares to WA. A few have come close but the Wealthy Affiliate experience can not be replicated anywhere else.
From the community, to the one-on-one help, incredible training courses, live webinars and other great things; today I will discuss the 10 reasons why I love Wealthy Affiliate.
This is not a review of Wealthy Affiliate. If you want to read my review, you can do so here.
10 Reasons I Love Wealthy Affiliate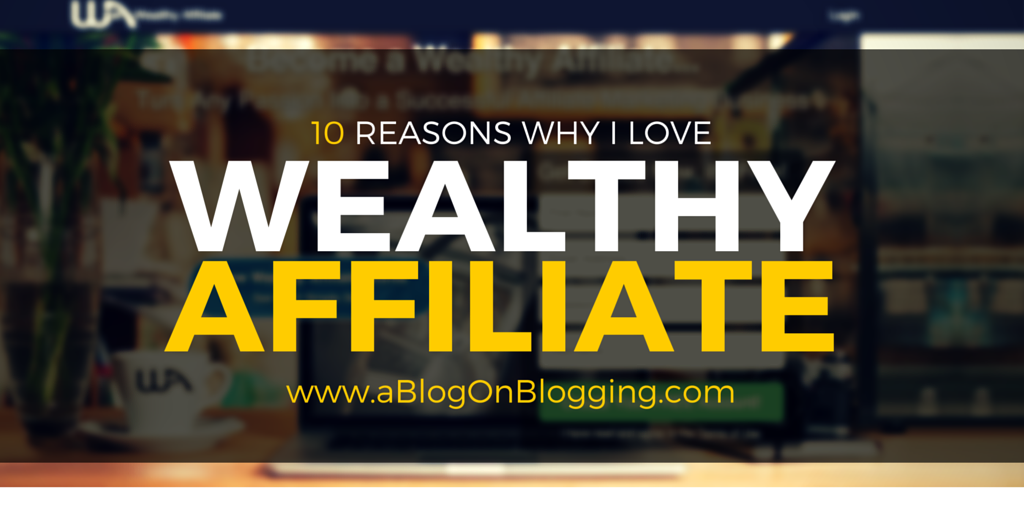 01: The Helpful Community
There is no other community out there that will hep you achieve your internet marketing goals more than Wealthy Affiliate.
Actually most products don't even come with a community that help each other with their goals.
While this may not directly help you in building your business, it's good to know that if you're ever stuck, you can hop into the chat or discussion boards and get help instantly, 24/7.
02: The 24/7 Live Chat
Live chat is a highly popular feature in WA. As I said it's super useful if you want immediate help with something and you can also consider it to be a bit of a social hangout where you can chill for a bit before starting a new task or finishing up the day.
Co-founders Kyle & Carson can also be found there chatting away with the community and you can talk to them directly and get an instant reply.
This is something I've never seen before outside WA. Especially direct access to the product creators.
03: The Many Training Courses
In WA you have 2 main courses that will teach you how to start a business.
One is called the "Online Entrepreneur Course", which teaches you how to build a business in any niche. I wrote a review about the "OEC" course specifically.
The other one is the "Affiliate Bootcamp". This shows you how to start a business promoting WA itself.
Before I continue I would like to stress that you do not have to promote WA. This is not an MLM type business.
But if you do wish to promote WA, and some do because it is a great product to promote, this course will teach you just that.
Also, the "Affiliate Bootcamp" technically is to promote WA but you can apply the lessons to any niche you want.
04: The Free Tools and WAbinars
Apart from the training, in WA you have access to a lot of tools that will help you reach success faster.
Some of my favourites to use are:
Site Health: This tool analyzes your website (or blog) and lets you know how well it's going. You can use this tool to learn how and where you can improve your site from a technical point of view .
Site Builder: Once you get accustomed to building websites, you would want to start and experiment in some more niches. This "SiteBuilder" tool will help you get a blog up and running in just over 1 minutes. Here's video proof of that.
Site Comments: Getting comments on your posts is a great way to accelerate your search engine rankings. If a post is getting comments, it means the blog post is popular and search engines will rank it faster and higher. With this tool you can give and receive comments so both yours and other blogs from other members will have higher rankings.
Site Feedback: "Site Feedback" is not to be confused with 'Site Comments". With "Site Comments" you get comments on you blog related to your content but in 'Site Feedback" you ask for feedback about the site. Community experts will offer you suggestions and tips on how to make your site better and more appealing.
Site Hosting: If you were to host your blog with servers such as NameCheap or GoDaddy, you're looking at around $12 per month. As a premium member of WA, you get free hosting. Yes free. I have 5 blogs on hosted on WA so the money I've been saving with this is just incredible.
WA Keyword Tool: One thing you will learn in WA is how to target keywords that are searched for on search engines. The nifty keyword tool will "spit out" highly searched, low competition keywords so you never have to worry about what to write about again.
Live WAbinars: As a premium membership, every friday night you will be invited to join a live webinar (WAbinars) that discuss a different topic each week. Seeing how much other services charge for such webinars, the premium membership fee is well worth the money just for the webinars themselves, let alone the other tools and courses available.
05: The One-On-One Mentorship
Nothing speeds up your learning phase as much as having a mentor inside WA.
When you come in, you're assigned a mentor (typically the one that referred you) and he or she will help you get accustomed to the WA way of life.
If you join through me, I will be your mentor in there but also all other WA members will be there to help. Including the co-founders of WA.
My mentor was Kyle (one of the co-founders) and the help and advice he provided me with has been instrumental in reaching success online (fast).
06: Instant Customer Support
Apart from the helpful WA community, the WA support system is top notch especially when it comes to troubleshooting with your site.
You can typically get a reply in less than 5 minutes. I'm not exaggerating this, they are this quick.
This has been very impressive to me since having site problems will affect your income… It's good to know that there is a team dedicated in solving any issues that come up.
07: The Innovation
One other reason I love Wealthy Wealthy is because it is constantly being updated with fresh new content, tutorials, video courses, tools and much more.
This means that the lessons you will be learning will be updated information about how to start a business.
Too many products that I see, review and used before have outdated info. Stuff that just doesn't make sense anymore.
These type of products will continue being available to buy simply because people would not know the difference thus these products still generate money. Try to stay away from stuuf like this as it is just a waste of money and time.
With Wealthy Affiliate I can guarantee you that any lessons and courses you do will be fresh, updated content that you can use in the present day!
08: Their Affiliate Network
As I said you can promote WA by building websites that relate to the subject of home business opportunities.
One feature that is a great opportunity for everyone is the fact you earn $1 every time a new member signs up and completes their profile.
This means that the customer doesn't even have to join a premium membership (i.e pay a subscription) and you still make some money.
When it comes to being paid a commission in the memberships you refer, Wealth Affiliate offers a very generous 50% commission.
And if that's not enough incentive to promote WA; how about an all expenses paid trip to Las Vegas?
Yes, if you reach 300 premium memberships in 1 year, you qualify for this prize.
Unfortunately I have not reached that goal yet but I expect I will be in the coming years. Fingers crossed !
09: The Try-Before-You-Buy Model
I promote Wealthy Affiliate and I earn a commission every time I refer somebody to the program. I admit it that. But I'm proud to do so because it really is the best when it comes to building home businesses.
I also feel comfortable promoting it because WA offers a try before you buy kinda deal. My referral doesn't have to spend any money to try out WA.
You can sign up for free with no credit cards and you can stay a free member for as long as you wish.
Even if you decide to try out premium, they will offer a discount of 50% just so you can try out how premium is without spending the full amount.
Can it get any better than that? Do you know other products and courses that do that ?
10: It Changed My Life
Ok the main reason why I love WA so much is that it changed my life. All my life I wanted out of the rat race and be able to live life just as I please.
With the help of WA, I'm 26 years old and I can say that I am living my dream. It's been a long way coming but it's finally happening and I only have Wealthy Affiliate to thank for, especially when I'm waking up to this kind of income.
I'm sure it can do the same to you and many others and that is why I like talking about WA so much. I want everybody in there lol.
I want everyone to see how their dreams of making money from home is not impossible at all. You just need the right training, the right mentors and your hard work.
---
Thanks for checking out this post. If you have any question be sure to drop them below. Also if you're a member (or have been a member of WA) please share your experience with the program below.
Get to blogging, keep learning and start earning. See you next time.
CLV