My biggest post ever was "How To Make Money As An Amazon Associate".
Though that posts goes well into detail on how you can start earning money with Amazon, it doesn't go into much detail as to why you should consider Amazon as one of the best online platform to make money online.
Amazon is a pretty huge deal online right?
It is well known to anybody that has ever logged in online and it has been a force to be reckoned with ever since it launched in 1994.
Thankfully, Amazon has allowed people like you and me to partner with it so we can build a business alongside it.
But why should you?
There are many other affiliate programs out there (which some might argue are better than Amazon) but to this day, people still are trying to figure out how to make money with it.
Today we are going to discuss the benefits of joining such a HUGE brand online.
The Benefits Of The Amazon Associates Program

Amazon is TRUSTED
As I've mentioned in the beginning of this post, Amazon is a well recognised brand, which means it is trusted by people.
The hardest thing you can do as a blogger (and why most people fail) is to figure out how to get your readers to trust you and your recommendations.
By partnering with Amazon, that comes a little bit easier.
People still feel that they can be scammed online, which is true, but many people out there trust Amazon and it is slowly becoming the go-to-place to finding the products you need.
Which brings me to my next point
Amazon Sells Everything
Whatever your blog is about, I am sure you will be able to find products on the Amazon marketplace that you can sell to your readers.
Think of any niche (blog topic) and type it into the Amazon search bar. Hundreds if not thousands of products show up in a few seconds and you can sell anything on there.
Every product, every book, every softwate, every little thing can be sold as an affiliate.
Once you join the Amazon program, on every page on Amazon you will find this toolbar (the bar marked by red):
This is where you will find your affiliate link (that is unique to you) and all you have to do is send traffic to that page or product, Amazon handles the rest.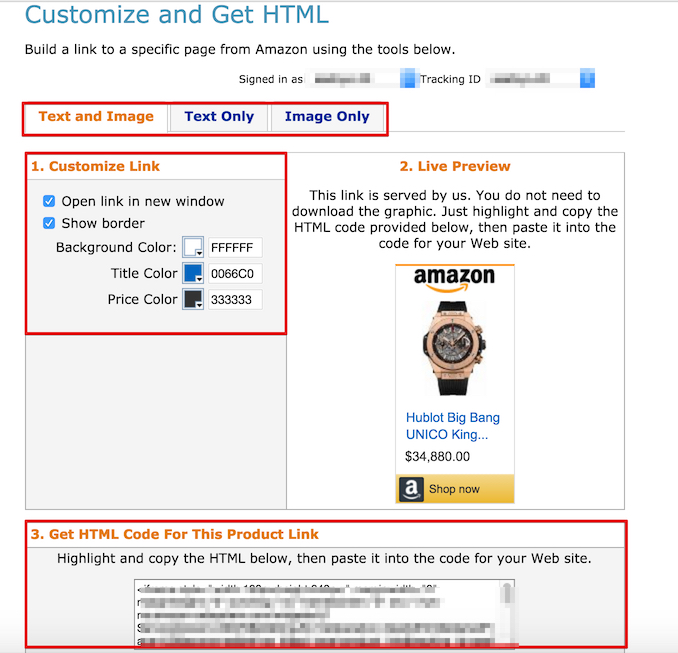 Amazon Is Great At Selling
I have never seen such an impressive sales funnel ever online. I guess that is why they are the number 1 online retailer.
Have you ever looked at a product on Amazon and suddenly you were getting emails, offers and discounts on products you searched for?
Or once you buy a single product, you are then sent a list of things that will compliment your new purchase?
This is the incredible Amazon sals funnel in action.
How is this good for you? Well if you're a customer you might hate it or love it but if you are a partner with Amazon, you should love this!
Their amazing selling process is going to be beneficial to you and your business.
All you have to do is drive traffic to that product (with a solid review or a mention in your posts) and then Amazon will take care of the rest + promote other products with it as well.
Any you know what's best? You get paid for everything.
Yes, You Get Paid For Every Purchase
The thing that makes Amazon so profitable is that you can send a customer to one product, buys something completely different, and you still make money off it.
Say you send your customer to but a new DSLR Camera, and he ends up buying a new coat for his wife.
Even if he didn't buy the camera, you will make a commission on the coat.
See how that works out for you? And how and why their sales funnel is going to be beneficial to you?
You Have Social Proof
One thing that people look for is reviews.
If they are buying a product online, they will ask their friend about it or research online.
Here is how to write great reviews that convert!
Amazon has this great built in feature where people leave their reviews on the products you are trying to promote.
That is why you have to be very careful which product to promote too. If you haven't tried and used the product yourself, make sure that it has more positive than bad reviews.
You don't want people to stop trusting your recommendations. That will destroy trust and is suicide for your business.
Remember that trust is above everything else.
Easy To Get Started
The Amazon Associate is free to use (as should be all affiliate programs) but it is also designed for newbie bloggers.
It's very simple to join and very easy to use.
They provide all the links and banners you will need to launch successful campaigns and all you have to do is just copy the link (which comes with your unique affiliate link).
Easy!
---
How To Join The Amazon Associates Program
Now that you've seen the benefits of the Amazon Associates Program, I'm sure you want in right? If you do, take a look at this guide by Amazon that will show you how to get started.
I also suggest you read my other Amazon post:
"How To Make Money As An Amazon Associate"
It will also show you what you need to get started and how to use the program once you join.
---
I hope this has helped you understand the benefits of the Amazon Associate Program. Amazon is a great way to monetise and you should really spend some time learning about it.
Here is a great video tutorial that I think will help you understand the game of online marketing.
You would want to see this video to understand the process of how a customer buys things online. Understanding what you customer needs and what they are looking for is half the sale done.
The sooner you understand this, the better.
Thank you for reading. Be sure to leave a comment below if you have any questions.
CLV