I haven't done a product review in a very long, but today I want to fix that by writing a review about a new product that has just launched a few days ago called 'Blog Profit King".

What Is The Blog Profit King?
Blog Profit King is an eBook that is designed to teach you how to get started with building a blog business.
I've heard some good reviews about so I decided to check it out for myself.
I wanted to see if it can teach me some new things when it comes to blogging and if it can be something I recommend here to my readers.
I must admit that while it didn't teach me anything new, it is a great, great guide for anybody wanting to know how to start a blog from scratch.
The "Blog Profit King" Review: An Inside Look
---
I will go into specifics of the eBook and what I liked (and didn't like) down below but before I do that, here are some of the lessons you will learn in "Blog Proft King":
Planning your new blog.
Researching your chosen niche (blog topic).
Keyword research.
Researching competition.
Finding and registering a domain.
Setting up your hosting and name servers.
A brief introduction to WordPress.
Setting up your pages.
Installing plugins.
Publishing your first post.
Editing and updating WordPress as you wish.
How to use Google Analytics and Google Webmaster Tools.
Where and how to find free traffic for your blog.
How to use social media.
An introduction to guest blogging.
Paid traffic sources.
How to monetise your site with different methods.
How to use affiliate programs.
Ways to engage with your audience.
How to create great content.
and more..
While these lessons are all the things you should know to know how to run a blogging business, you can probably find all the information on this eBook free online (including on this blog).
However, having it all on one place; in an organised, easy to read eBook is well worth the money.
How Much Does It Cost?
This product costs just $7 (+ upsells of $39 + $99.)
As I've said already, at just $7, this ebook is well worth the money.
The Upsells Explained
Personally I chose not to purchase the upsells but I will explain to you what they are in brief here:
50+ Hours Of Video Tutorials ($39)
Watch over the shoulder of Steve (Blog Profit King creator) as he shows you how to build and run a successful blog.
If you like this eBook and you would like to find out more about blogging, then I do recommend this upsell for you. At $39 with 50 hours of video courses is also worth it.
Blog Installation Service ($99)
If you want your blog created for you, buying this upsell will get you a turn-key blog ready for you to write content for.
Personally I would not like to have a blog built for me, I'd rather learn on my own. However if you want to take that route, feel free to do so.
Things I Liked About "Blog Proft King"
Clean And Organised
One thing that I like is that the ebook is very easy to read and simple to understand. The simple black on white colors, spaced paragraphs and easy to read font make this book very enjoyable to read.
Big thumbs up for that!
Good Information
This eBook has just been released in late 2015 so the information is quite fresh and correct.
I tend to see a lot of information out there that is simply outdated. That is not the case with this ebook.
The Free Checklist
Apart from the ebook, you will also get a free printable checklist that you can mark while following this ebook's lessons.
Here is a glimpse of it just to show you how it is: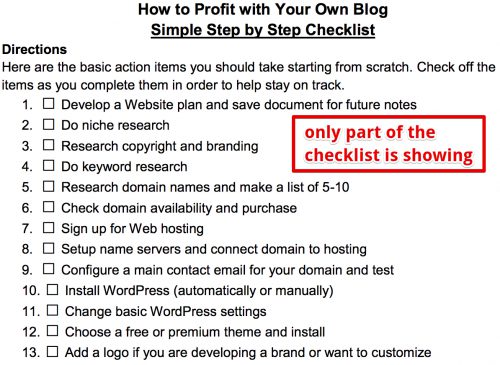 Things I Didn't Like
Starting Up Your Blog
In the eBook, you are shown how to start a blog with WordPress.
While all the information there is correct, I find it is much cheaper and faster to get started on a SiteRubix website (which also runs on WordPress).
If you want to build your blog independently, then you will find the information in the ebook useful.
Not Fully Explained
I've also noticed some points and chapters don't go into much detail. You just can not explain the whole process of 'social media" in just 2 short paragraphs.
But I do understand that you can not go into full detail about everything in one ebook either, especially when it's selling for $7.
Who Is It For?
This book is for the beginners out there that want to learn how to make money blogging.
If you want to start your blog with the latest information, tips and methods then this book is something you should read.
If you've already gone through (and mastered) how to create a blog, then this book may not be for you.
Do I Recommend This eBook?
Yes definitely (for beginners).
It's well worth the $7 and you will get a basic idea of how to start your blog.
I would personally consider it worth the money if I was just starting out and wanting to learn the basics of blogging.
How Does It Compare To Other Products?
I've reviewed some blogging products in the past and I would think this eBook is up there with most of them.
However, nothing can compare to Wealthy Affiliate. It is how I learned this business and where I learned to turn blogging into a full time job.
+ Most of the lessons in this eBook are covered in the first level of the "Online Entrepreneur Certification" course, which is available to anybody joining in as a free member.
While "Blog Profit King" is much cheaper than Wealthy Affiliate, as you see below in the graph, it doesn't come close to the value offered.
I suggest you read my full review of Wealthy Affiliate to find out why I like it so much.
However, if you're new to blogging and don't mind some extra knowledge, 'Blog Profit King" is well worth the money and you will walk away from it much wiser.
Thank you for reading my review. Leave a comment below if you have any questions.
Talk soon
CL