WordPress! If you want to start a blog business, look no further.
It's the easiest way to start a blog but I do understand that for some, it still can get a bit complicated dealing with domain registrars, hosting sites, installing WordPress etc…
I know some just want to blog and dealing with all these "headaches" prevents them from ever getting started with a blog.
Well stress no more because today I've got the perfect solution for you; I'm going to show you the easiest way to start a blog with WordPress and it will only take you just over 1 minute to set up.
See proof below…
The Easiest Way To Start A Blog With WordPress
The easiest way to start a blog with WordPress is with SiteRubix.
Siterubix is a website building platform powered by the folks at Wealthy Affiliate and you can literally create one without having a domain, hosting or the need to download WordPress.
*As a free user of Siterubix, you're going to have a ".siterubix" extension but if you want to purchase your own domain, you can do so at NameCheap and it will cost you around $10 a year.
If you want to create a free one (i.e with the extension) and then transfer it to your own domain later, that is also possible with SiteRubix.
The team behind this great product have simplified the whole process of creating and managing blogs.
What You Get With SiteRubix
Free Hosting
As a free member you get not one, but two free website and free hosting for them both (thus saving you $20+ a month in hosting packages).
I'll also be showing you how to get free hosting for your own domain further down in the article.
1000s Of Free Themes
You'll also be getting access to 1000s (yes thousands) of free WordPress themes you can install on your site to make it unique for you.
Here are some of the themes available for you as a SiteRubix member: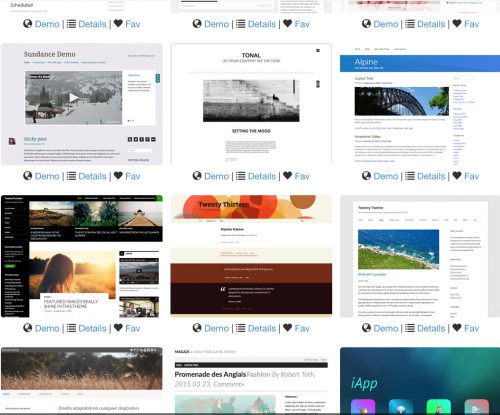 Training & Support
Still not sure what you need to do after you create your blog? Not a worry because SiteRubix comes with it's own training from the folks at Wealthy Affiliate.
It also get access to the "Online Entrepreneur Certification" course where it will show you how to install plugins, publish pages, create content, etc…
Full Use Of WordPress
Siterubix uses WordPress to help you start your blog.
You get 100% full access to everything WordPress is including the themes and plugins that go along with it.
Nothing will be restricted.
---
This is not another SiteRubix review….
I've already did a whole review of SiteRubix so I'm not going into the specific details of the program here again.
What I would like to show you however, is how incredibly easy it is to start a blog on WordPress with SiteRubix.
I have to be honest here; I've never set up a blog with WordPress the "traditional way", I've always used SiteRubix to build websites.
But for the sake of this article, I did some research on how to create one and the quickest (and hopefully easiest) method I found will have you set up and ready to go in 20 minutes.
Well… check out this video I did of me creating a WordPress website, it only took me 1 minute and 10 seconds!!
How Incredibly Easy Was That Right!?
If you'd like to check out SiteRubix for yourself, use this nifty little tool below that will allow you to get started right away.
Once you hit the "Build It Now" button, you will be directed to the same page as you've seen in the video where you'll be asked to re enter the name and pick a your theme.
Don't stress about the theme too much, you can always change it later.
---
The reason I tell my readers to use SiteRubix is because I truly believe it's the easiest way to start a website with WordPress.
It just is..
I hate to think that somebody that would like to start a blog doesn't because of how "complicated" it would be to get started.
SiteRubix is how websites and blogs should get started.
If you have any questions about SiteRubix or any other thing related to blogging feel free to drop me a comment below.
Also if you take my suggestion and start a SiteRubix website, please leave me a comment with how you found the service.
Turn your passion into a business: Start using SiteRubix.
Thanks a lot for reading.
Chris Lee