After the huge feedback I've been getting on my previous post about starting with Amazon Associatiates, I am glad to see that many of my students and readers are trying the platform to build their online business.
However, one question (or remark) that I keep getting is this (I'm paraphrasing here):
Hey, Chris, I've set up my Amazon Associates account but I am still not making any sales, can you tell me what I am doing wrong?
I am getting this message quite often so I've decided to write this post to save me some time and be able to send this post whenever I get asked this question.
Today, I will be sharing with you my tips in how you can increase conversions and be able to make MORE money from Amazon.
But before I do that, let me just say one thing:
[box] The Amazon Associates Program is not a "get-rich-quick thing" that you can set up once and have it bring in money 24/7. It takes a certain level of skill and effort for you to be able to make consistent money and earnings[/box]
So, if you're an Amazon Associate and you would like to start making money with it, listen up because these tips are for you.
How To Increase Your Conversions Rates And Make More Money On Amazon
Get High-Quality (Targetted) Traffic
Obviously, you can't control who's viewing your site but are you putting in the effort to try and get the best quality of traffic possible?
They key to making sales with any type of affiliate program is that you need to have traffic coming in.
You can have the best product at the best price but if you do not have anybody checking out your content, you will not make money.
Make sure you focus on getting visitors that are looking for what you are selling, reviewing and/or promoting.
To Get Quality Free Traffic, Target The Right Keywords
One very good way of getting the traffic you so desperately need is to target keywords that are designed for selling.
If you are trying to sell "food blenders" on Amazon, make sure you are targeting keywords such as:
"Where to buy a food blender"
'The best food blenders that you can buy:"
"Food blenders that cost Less than $50″
If you consistently write content (i.e blog posts) targeting these types of "buying keywords", you will eventually start getting ranked for these keywords and you will start to make money when people find you.
If you take a look at my example keywords above (which can easily be blog post titles), you can safely assume that a person that typed that into Google is looking to buy a food blender.
Nobody (or, at least; nobody that isn't bored out of their mind) is looking for food blenders that cost less than $50, but the person that is, you can be sure that they are very close to making a purchase.
This is where you come in. If your content is good enough and it "converts" these types of people, then increasing your conversion rates will come automatically.
In your posts or product review, you should consider these types of selling points:
Why do you think this food blender is better than the others,
What features does it have,
Your experiences with it,
etc…
The more information you can include, the more you have a chance of convincing the reader to buy.
How Many Visitors Are You Getting?
Due to the impeccable sales funnel and brand-trust Amazon has, you can easily make money if you just get people over to it.
From my own experience and what I see most online is that your visitors will convert at about 5%.
Meaning for every 100 visitors you send to Amazon, you will get around 5 sales.
(This ratio varies but it's a good average to go by but you can expect to be converting at a 20% ration in Christmas time which is awesome).
However, if you are sending 100 customers a day, making 5 sales per day this does not mean you will make a good income with it.
It all depends on what you sell.
I use Amazon to sell niche jewellery and as you can imagine, jewellery is not cheap. Most of the products I sell are above $100 which means I get around $6 per sale.
While this is good, 5 sales are not enough if you are selling Kindle ebooks for example, which their average selling price is $0 to $19 maximum.
So should you only promote high priced items?
Definitely not, as you will see from my next point, you should focus on having a wide range of products that you sell:
How Many Products Are Your Promoting?
In my niche jewellery store that I've mentioned, I make sure to include a huge price range of products: I have products that sell for $5 and go all the way up to $900+.
Why?
Because I can!
Promoting Amazon products is free and there is no limit as to how many products you can promote.
Why not have a lot of products and then let the customer pick and choose how much he/she would like to spend?
By having this huge range of products, people are more likely to find something in their budget and click through to Amazon, thus leading them to probably the best sales funnel in history.
Also by including more products, you have more chances of ranking (if you are doing individual posts about each product).
There is just no downside to having multiple products unless you are only focused on selling 1 particular item or brand (in which case, you might want to re-consider).
Include Your Links When You Can
While I would advise you to keep your affiliate links low (2 per 1000 words), try to include your links (which will have you Amazon Affiliate ID) in your content and your images.
If you are placing an image of the product in your content, make that image clickable with your affiliate link.
Also; make sure that your links are not the general link you find in the browser's URL bar, you have to click the "Link To This Page" tab in Amazon. Like so: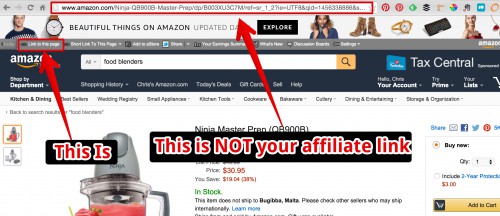 Main Take-Aways On How To Increase Conversion Rates On Amazon
Work on getting visitors that are interested in the product you are promoting,
Convince them to buy by providing valuable information about the product,
Increase your Amazon click-throughs by adding more products and links,
Make sure you add your affiliate link whenever is appropriate without over-doing it.
That is all you need to do to make more money with your Amazon Associates account.
The main takeaway here should be that you need a targetted audience.It is of no use to get the "general public" clicking on these links as they won't convert. However; get the right people to read your content and watch your sales explode.
It is of no use to get the "general public" clicking on these links as they won't convert. However; get the right people to read your content and watch your sales explode.
For more information I suggest you check out this story of how this 20-year-old blogger is making $10,000 a month with Amazon.
In Closing
Thank you very much for reading and I hope you've found this post informative. If you did, make sure to subscribe to my newsletter list so I can send you my free eBook "How To Win At Affiliate Marketing" (I also talk about increasing conversion rates in the ebook.
You will also get a free invite to my #1 rated training course that I believe you should try, all for free of course.
Till next time
CLV
---