Ok so my review convinced you on trying out Wealthy Affiliate as a free starter member; good for you, you've made a wonderful decision.
Today I'm going be discussing what you should be doing (and the steps you need to take) once you join Wealthy Affiliate as a free starter member.
First Off, Congratulations! 
You've just taken the first step to becoming a successful online business owner but the first step alone is not going to get you there.
However, if you follow Wealthy Affiliate's training, you can rest assured that you are well on your way to make it happen in the coming months.
There is no way you can fail if you follow the training laid out for you inside WA. It worked for me and many others and I am sure it will work for you too.
BTW If you just stumbled here and do not know what Wealthy Affiliate is, I suggest you read my review.
Here Is What You Should Be Doing As Soon As You Sign Up To Wealthy Affiliate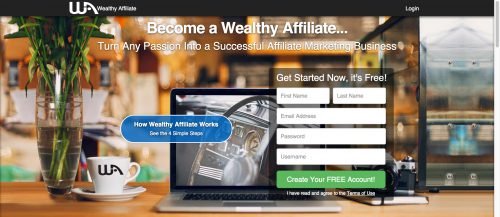 Complete Your Account Set Up
Think of WA as a social network for online marketers.
Now for you to be social and make social connections, people need to see you (a picture of you) and also a small bio. Something along the lines of; who are you, what do you do, what are your plans on WA, etc…
Here is my WA profile in case you are wondering what that is exactly.
As for the profile picture;
You can either upload one from your computer,
Pull your profile picture directly from Facebook or
Choose an avatar available from WA.
I would advise you to put your picture in there, it's nice to actually see who you're talking to. That is just my opinion though so feel free to put in whatever you like.
To help with this step, co-founder Kyle has created this video for you (you will be hearing from him soon too).
Drop By Chat & Say Hello
This is not a necessary step, but it's a good way to start.
Wealthy Affiliate is a community and we love to share, discuss and help each other out.
There is no better way to do so than in LiveChat.
Here is where you can chill out and discuss what's on your mind; Be it business related or about anything you wish.
It's sometimes referred to as the "water cooler" of Wealthy Affiliate.
If you do do this step, you'll likely make some new friends and get people to connect with you, but again this is up to you.
Also if you see me on there, be sure to say hello!
Start Discover Wealthy Affiliate
Now that you're done introducing yourself, look over to the left of your screen and start discovering the tabs there.
Those tabs hold all the information you need to make your blogging journey a success.
Here is where you can get access to the not one, but 2 step by step courses, the free tools, the classrooms, etc…
Go get lost in these components, find out what WA is really about and read some blog posts from other members and drop them a comment.
Discover how Wealthy Affiliate can help YOU!
Take The First Step
One of the tabs on the right is a green button with the words "Get Started Here" written on it. This is where your journey begins!
This is where you will learn in a step-by-step process how to build a website, how to get traffic to it, how to monetise that traffic and how to build a proper, legit online BUSINESS that makes money! Believe me, it's all there.
Take Necessary Action
Now all the information and courses in the world can't help you unless you take action and follow the course through just as Kyle shows you in the videos.
It's a very simple process that you have to follow, don't try to rush or skip lessons because you'll miss all the important information.
You can however do more lessons than 1 per day.
Trust me when I say that I am doing all the courses for the third time now and I still find lessons I didn't fully read through.
Just follow it step by step, I can't stress this enough!
Consider Upgrading to Premium
In this coming week you're going to see how Wealthy Affiliate is truly second to none. No other site on the entire internet can come close to the quality training available there.
As a premium member, you will able to access a lot more training course (the higher levels) and also make use of such tools as "communication" and the weekly live webinars which you can attend for no extra cost.
If you truly believe in yourself and in your dream of owning a blogging business, I suggest you take up the special offer available to you in your first week to fully commit yourself to your dream.
The success rate at WA is higher for those that commit themselves to monthly / yearly subscriptions because they have taken the plunge and took a "risk" with their money.
Personally I'm a yearly member and I plan on staying at WA on a yearly basis for as long as I can. Actually I never plan to leave LOL!
---
Wait For Your First Sale
And that's about it… from then on just continue doing the lessons and working on your site.
On one fine day, you'll get your first sale and you'll feel like you've just won the lottery. I;ve talked about my first sale in my free ebook, which I really suggest you get.
Then it'll hit you: "Ahhhh, so this is how it's done!!"! 
All is left to do then is to just scale up your efforts and continue reaping the benefits of your business.
I know you're eager to get started so I'll let you be…. Go and start your business!
If you ever need help, just drop me a message on WA and I will answer you as soon as possible.
Welcome to Wealthy Affiliate, and thanks for trusting my recommendation. All the best to you!
If you're still not a member of Wealthy Affiliate, click here to find out why you should be!
---