I am a huge fan of the Amazon Associates Program and be the looks of the success of my post "how to make money as an amazon associate" I am sure most of you reading this are too.
Luckily (or not so lucky depending how you look at it), technology has made it so easy for everyone to make money online that now it seems like everybody is starting to make money online.
Good or bad, I'll leave that to you to make that decision.
However, to make money online, you definitely need a website and today I am doing a review for a product that (with a few simple clicks) will build amazing websites specifically designed to make money as an Amazon associate.
In this AutoZon Builder 2.0 review (that is the name of this product), I am going to be showing you exactly what this product is, how it should be used and also if I think that it's something you should try.
To be able to use this product you need a website and for me to review it, I've had build one up from scratch as well (looks like I'm going to be running 6 websites now).
The reason I've built this new website is so you can see a step-by-step walkthrough of how to build amazon affiliate sites with ease using this product, which is a WordPress plugin you can buy.
But wait; is it worth it?
The AutoZon Builder Review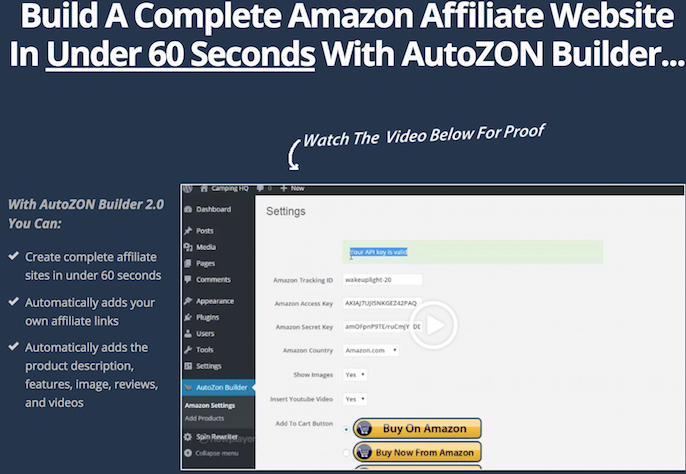 Product Name: AutoZon Builder 2.0
Product Website: www.wpmarketertools.com
Product Price: $19 + $141
Product Creator: Kurt Chrisler
My Rating Of AutoZon Builder: 5/5
Let's get into the review:
What Is AutoZon Builder?
"AutoZon Builder" is a WordPress plugin that you can buy and install on your own WordPress site.
What it does is it basically pulls products and their information from the main Amazon website and displays them on your site.
If you are going to be using this product, you would need to have an Amazon associates account, otherwise, you won't be making any money with this product at all.
So if you haven't got one yet, check out this guide on how to join and follow the steps.
If they ask you for your website's URL, you can create one for free in a just over a minute using SiteRubix.
Here are the steps I've taken to get this AutoZon Builder up and running. You can follow along with this review if you are starting from scratch;
Get A New Website
I could've got this from NameCheap along with hosting but that would've cost me around $20 just to get started, I decided to use the SiteRubx platform to start for free.
Don't worry; If you create your site with SiteRubix and then later you want to transfer all your content to a website you own, that can be done easily using the training that comes with SiteRubix.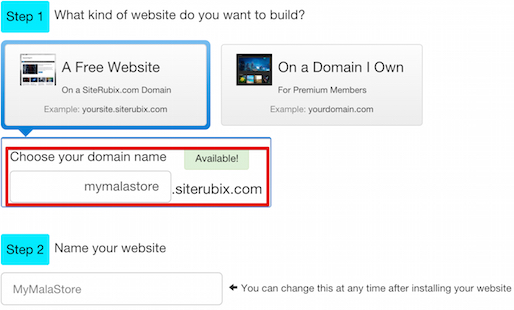 As you can see from the screenshot, the domain name is mymalastore.siterubix.com.
(I'm a huge fan of mala beads (I have over 50 pieces) so making a store about these was always interesting to me)
The next thing I needed to do was to install the plugin (i.e the Azon Builder 2.0 plugin) and test this baby out.
Installing The AzonBuilder 2.0 Plugin
This is a very easy thing to do and it will only take you a few minutes. There is a detailed video on how to set up, download and install the plugin.
Once you get it; here is what do:
Go to your newly launched websites plugins page and once you're on that page, you can look for the plugin you've just downloaded and upload it there: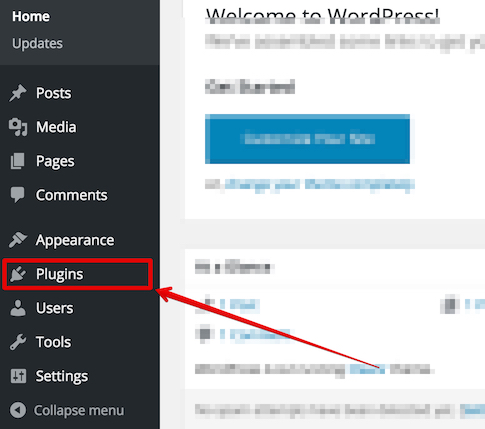 I know I'm being a bit quick with the info here but that's because I know that there are plenty of video tutorials inside the product showing you how to do these steps.
Once you upload the plugin, it will appear in your sidebar like so:

Once that step is complete, you just have to follow the instructions provided for you to fill out the details including your affiliate ID.
That is why it's useful to get a free website and sign up for the program first, then jump in and start using the product.
How To Add Products To Your Amazon Affiliate Site Using AutoZon Builder
Easy. Very easy.
I've tried a similar product and I thought that was easy but this product made it even more simple. All it takes is just a few click and you are done.
As a matter of fact, you can even populate a whole site within seconds. You may want to avoid this because as I will explain further down below, sites like this are usually super bad for SEO (but there is a way around it).
All you have to do to add products to your site is simply:
Type in keywords for the product you want to sell (in my case mala beads bracelets) and the let the plugin find them for you by searching the Amazon database.
All you have to do then is simply tick the products you want to feature, choose their category and click "Add posts" at the bottom of the page.
And like magic, my site is now filled with products: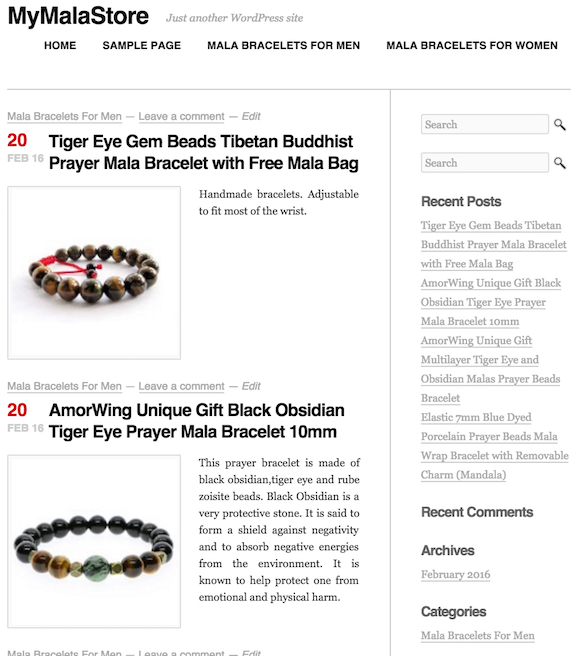 You can check out my mala store here if you would like to see it "in action"
So, let's recap for a minute before we move into the specifics of AutoZon Builder.
We got a free website.
Bought, setup, downloaded and installed the plugin.
Looked for products we want to feature.
Added them to the site.
That is it. Your Amazon Affiliate site is now ready to go and open to receive customers.
Now this all sounds too good to be true and that's because it is, let me explain why:
This Site Is An SEO Nightmare
Plugins like this one (including others) pull the data directly from Amazon which means your site it going to be 100% duplicate content, which is not ideal for SEO purposes.
Personally, I use sites like this to promote them on social media thus completely bypassing SEO.
If you have a Pinterest account that has a decent amount of followers, your strategy should be to pin images from your site and get traffic that way.
However; the good folks at AutoZon have made it easy for you to go into each individual post and re-write the content thus making it unique.
While this will take a lot of time to do, it is ideal if you want your site to be SEO friendly. Alternatively; you can use social media to get traffic and disregard SEO completely:
With that being said, let's now move on to what I think of this product in general:
What To Expect With AutoZon Builder
Expect Some Upsells
Yes, this product does come with a few upsells (3 in total) that you can buy if you want to do so and they are:
Upsell #1: $17
You can buy this upsell if you want to be able to sell or "flip" the site for a profit once you built it. If you just want to build this site for you to make money from, then this is not needed.
Upsell #2: $27
This upsell is a WordPress theme that you can buy so your products would look great on your site.
I also chose to avoid buying this as I know there are thousands of free WordPress themes you can use and you really do not need this one that they are pushing.
It might look better, but it's definitely not needed and I like how my site looks on a free theme.
Upsell #3: $97
If you want to avoid all the steps we've just talked about, you can pay Kurt Christis $97 and he will build the site up for you from scratch.
This is a done-for-you-process thus you will have no work to do on your own part but as you can see, it is really not that complicated to start and add the products yourself.
Things I Liked About AutoZon Builder
Very Easy To Set Up
As you've seen from my walk-through, this process of building your own amazon affiliate site is super simple, easy and it won't cost you a lot. So far I've only spent the $19 needed for the product.
Relatively Cheap
There is a product out there called FreshStore Builder and it is priced at $41 (AutoZon costs $18.77). Both programs do basically the same things so I am quite happy with the price of AutoZon.
Easy To Install WordPress Plugin.
Fresh Store builder is not a WordPress plugin like AutZon is; which means that when I bought FSB, I had to go through a lot of techie stuff to get my site only.
This is not needed with AutoZon as it's just a simple WordPress plugin that you can install in minutes.
Includes Video Review For Products
When you are setting up your plugin, you are given the option to include a "video" in your post about the product you will be promoting.
If you are promoting a product, the plugin will automatically go on YouTube, find a video review of the product and include it into your post.
This is great as video has been proven to improve sales. I chose not to have that option because there aren't many videos reviewing individual mala bead on YouTube so it didn't make sense for me to include a video with every post (product).
But if there are reviews for your products, this is a great tool you can use.
You Can Edit The Posts
As I've said, sites like these are just duplicate content spam sites but the fact that you can go edit the posts individually is a great feature.
Schedule Product To Appear Later
You can also schedule your products to drip-feed slowly onto your site which is great if you want to edit the content.
Rather than just filling it up with 100 posts instantly, you might want to schedule the plugin to upload a new product every day, thus giving you the time to make the necessary adjustments if needed.
Awesome.
Things I Didn't Like About AutoZon Builder
I really, really like this product so there isn't much I can say I've disliked.
The only thing that comes to mind is the "duplicate content" thing but that is to be expected and they have made it easy for you to change the content thus solving the problem altogether.
How Much Does AutoZon Builder 2.0 Cost?
I've got it at a special discount because when I did the review as the product was just launching so by the time you read this, the price had probably gone up.
However, the prices (for now) are like so:
$17 for one single site
$18.77 for multiple sites.
Obviously, I've chosen the "multiple sites" option because, for an extra $1.77, I can build an unlimited number of Amazon sites which is well worth it.
With the upsells (if you decide to take them all) will cost you an extra $141 + the original price you paid for it (find out the current price).
Personally, I do not see a need for the upsells but if it's something you want to add, then go right ahead.
Giving the quality of this product and the attention to detail it has I am sure that the upsells will be of high quality as well.
Any Other Alternatives To AutoZon Builder?
Yes, there are other Amazon affiliate sites builders out there but this product is by far the best I've come across.
Another product you can try is Fresh Store Builder (see my review) but I will tell you that I find this product (AutoZon) to be much faster, cheaper and easier to set up.
Can It Make You Money?
Believe it or not; yes I can definitely see this product being used to make a nice chunk of extra change per month.
If you manage to get a steady flow of visitors to your site, I see no reason as to why you won't be able to make some decent money with it.
I really like the Amazon Associates program because it has a lot of earning potential and if you can manage to drive visitors from your store to Amazon, you are bound to make some money.
Read -> How This 20 Year Old Blogger Is Making $10,000 p/Month With Amazon.
Do I Recommend It?
Yes, I definitely do and I am so glad that I bought this product for myself to experiment with.
I advise anybody that is looking to make money online to check this product out and spend a few hours learning how to use it.
If you do that, I can guarantee that you will love this product also.
Also; get some free basic training from Wealthy Affiliate on how to start a real business online.
By using the information you can find in Wealthy Affiliate + AutoZon to build sites, you will be building a real, legitimate online business in no time.
Final Thoughts
Thank you very much for reading and thank you to Kurt Chrisler for creating such an amazing product.
I hope you found my review of "AutoZon Builder 2.0" informative and if you have any questions, feel free to drop them down below.
You can also tweet me or email me if you wish,
I look forward to hearing from you.
Chris Lee