As a new blogger, there are plenty of things you do not need to worry about.
Do not be put off by the many online articles that give detailed and comprehensive advice on the many hundreds of things a blogger needs to do to maintain a successful blog.
Your job as a new blogger is to learn the ropes and to grow your web traffic (your audience). The recommend 10 best tools for beginner bloggers listed in this article have been specifically chosen because they are all "very" new-user friendly.
Plus, most of them are free, or they have free elements that you can use as a new blogger.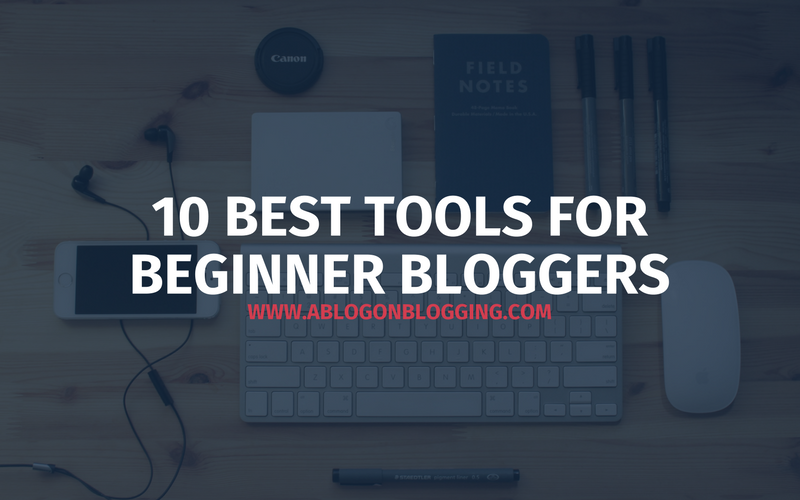 #1: Google Blogger
Why mention Google Blogger at the top of this list? Because it is probably one of the most basic and underrated blogging programs on the web? The great thing about Google Blogger for new bloggers is that it does all of the important stuff for you.
It doesn't have as many plugins or extensions that content management systems such as WordPress or Magento have, but that shouldn't matter to a new blogger.
Firstly, most bloggers give up within two years, so why spend hundreds on something when you can get it all for free from Google? Secondly, if you do become a professional blogger, you can upgrade, and buy a domain at a later date.
Thirdly, until you become a great blogger, what is the point in buying all the plugins and extensions anyway? Why have the most advanced analytics and most complex SEO (Search Engine Optimization) tools when you only have ten visitors per week?
Once you become a professional blogger, you can upgrade, and you can siphon traffic from your Google Blogger blog to your professional one.
It is no surprise that Google is riding high on this list. Google has optimized almost all of its web master services to suit novice, intermediate and advanced bloggers. Setting up advertisements on your blog as a beginner is a nightmare, especially if you have low traffic numbers.
Google Adsense has made it so easy to put ads on your blog that almost every content management system has shortcuts or widgets that do all the hard work (the coding) for you.
The money you get from Google Adsense is not much, but higher-paying affiliate programs will not accept your application unless you can prove you have hundreds of people visiting your blog every week. Google Adsense is not as strict, especially if you are blogging with the above-mentioned Google Blogger.
#3:  Buffer: Social Media Management Platform
Start Buffer with a free account.
It will only allow you to post to one social media platform for free, but that shouldn't be a problem in the early days of your blog. Schedule your social media posts to publish a few minutes after your blog post scheduling tool publishes your blog post.
Instead of writing social media posts when your blog posts are published, you may write them all in advance and have them publish to your social media accounts when your blog posts are published.
Add links to your new blog post so that people may find your newest posts. There is nothing stopping you from manually visiting your other social media profiles and promoting your website too, it is just that Buffer can take some of the work out of the process.
#4: GIMP Or Similar Free Image Editing Tools
There are plenty of free image-editing tools on the Internet, and GIMP is one of them. Ideally, each blog post should have a cover image and then two or three images within the text.
People have come to expect an image or two on blog posts these days. With an image editing tool, you may create your own images for your blog, which will make them more search engine friendly and make them more likely to rank up on the Google Images search engine.
Another great alternative is Canva. 
As a novice blogger, you do not need to get too involved with Google Webmaster Tools, especially since it is a rather tricky piece of software to operate.
However, having your blog linked to your Google Webmaster Tools account is helpful because it gives you advice and warnings. It may help you see where your SEO (Search Engine Optimization) is failing, and it will give you warnings if your blog is breaking any of Google's search engine guidelines.
#6: A Suitable Writing Company Or Freelance Blogger
The direction you take your blog is completely up to you. However, if you are a serious blogger, you may wish to cover topics in your niche area about which you are not 100% sure.
If that is the case, you may outsource the writing of certain blog posts to other people. If there is an issue you do not fully understand, then try a freelance blogger who specializes in that area. If you want academic content, then consider a writing company such as assignmentmasters.org.
#7: Drop Box (Or A Suitable Backup Service)
If you are a new blogger, you need to keep your costs down, and companies such as Drop Box offer a certain amount of online storage for free. Do not bother with companies that promise to back up your blog every week for a fee when you can do it yourself for free.
Every time you finish a blog post, save it on a word processor document, and drag that document over to your Drop Box icon. A copy of your document will be saved on the cloud so that you may retrieve it later if you lose your blog or if the content of your blog is wiped for some reason.
#8: A Suitable Commenting System
Ideally, you want a free commenting system on your blog.
You should also look for a commenting system the allows as many people as possible to make a comment. For example, the Facebook comment system is fairly easy to install on your blog, but only people who have Facebook profiles may use it.
Try to find a commenting tool that allows people to comment with a range of different accounts, from Gravatar to simply adding their email address.
How deeply you become involved with Google Analytics is up to you. It is not an essential tool for new bloggers, but it may help you see where you are getting things right and where you are getting things wrong.
Sadly, this tool is even more difficult and complex to use than Google Webmaster Tools, but there are easier-to-use sections that show you things such as your daily traffic and your traffic in real time.
The real-time analytics are helpful if you are a big social media user and you wish to see how much effect your online activity is having on your traffic right now as you are on social media.
#10: A Blog Post Scheduling Tool
It doesn't seem like much, but a blog post scheduling tool is a blogger's best friend. Having to come up with a new blog post every week and post it on time is hard work.
The ability to write a bunch of blog posts in advance, preferably when you are "in the zone," and then have them publish themselves automatically is like a gift from above.
It takes the pressure off, and it allows you to better organize the message you intend to disseminate. Plus, blog fans prefer a routine and may find your blog harder to follow if you post in an ad hoc manner.
About The Author:
This post was written by William Grigsby, an experienced freelance writer with skills in a variety of  different topics but mainly focused on blogging tips. Follow him on Twitter.