If you want to learn how to make money with your blog, more particularly with the Amazon Associates Program, then this post is just what you need to read.
Success stories are being posted daily on the Wealthy Affiliate dashboard but one that caused a lot of hype is the story of "Parre", a 20 yeard old blogger who after 1 year working on his site, now makes an impressive $10,000 per month with Amazon.
Parre was just like you; he had a dream to make money online. So he started a blog, got some training and worked hard for a year.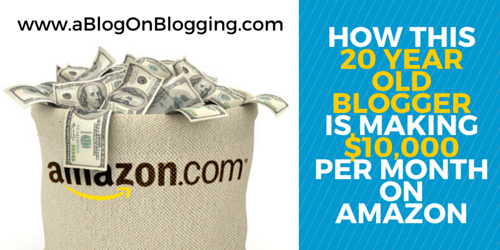 What Did He Do To Accomplish This?
Nothing you can not do yourself.
He followed the training inside Wealthy Affiliate, most specifically the "Online Entrepreneur Certification" course and got to work.
The training program, which you can access the first part (of 4) for free right now will guide you through the process of repeating everything Parre did.
Most specifically:
How to start your blog
How to get it up and running
How to choose a niche
How to write content that covers (super important)
How to use Amazon (and other affiliate networks) to make money.
You can read my whole review and what you will be learning with the "OEC" course here.
That is all you need to know. After you've mastered that course, your only job is to keep pumping out great content often (ideally twice a week ) and let the content work hard to make money for you.
Parre's Story Has Been A Huge Inspiration To A Lot Of People
Undoubtedly this post generated HUGE interest and his story has been shared plenty of times online, it's just so fricking awesome and inspiring.
Even I was inspired and motivated to step my game up as I am still chasing after the $10,000 in one-month goal!
What was even more impressive is how this guy grew his income from one month to the other.
(You can see al the details and proof by clicking the links above).
In December, he nearly doubled his income in just one month, but how does one possibly achieve this?
All he did was just keep creating the same amount of content and following his training.
As you will soon realize if you decide to start on this journey, success online takes time but the work is accumulative.
You can't judge your progress with what you do today. What you do today will help you achieve great results 6 / 12 / 24 months down the line.
That is why many people end up giving up, they fail to understand that the fruit of their labor will come later, rather than now.
But when you think about it, especially in Parre's case: is 12 months of work worth it to be making $10,000 a month in a year or so?
I'm pretty sure you'd agree with me on this when I say: Damn right it's worth it! 
How Can You Become Another WA Success Story ?
Step #1:
The first thing you should do is read this guy's story from his own words. I suggest you take a look at his last income report where he shares his tips and tricks on how he can make such awesome commissions with Amazon.
Step #2:
Second, sign up with Wealthy Affiliate, fill out a picture and a bio and start exploring this amazing platform.
(You can read my review of Wealthy Affiliate here.)
Step #3:
Your third and final step is to start learning, reading and viewing the tutorial posts and videos available to you. There's a lot of valuable information for you there.
You can access the training by clicking this "Get Started Here" button on the left of your WA dashboard.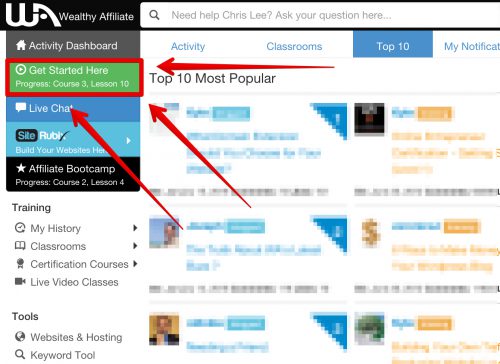 Luckily, WA is now free to join (it wasn't always the case) so make sure you take advantage of this opportunity you have.
Even as a free member there is plenty of training, informative blog posts and videos tutorials for you.
In Closing
I hope his post has helped you to realize that if you want to start an online business, especially one that's like Parre's, there is nothing holding you back!
I've decided to share this story with you because I know many wonder if they are capable of achieving such results, but I'm here to tell you that you can.
If you have any questions, you can leave them down below or you can even leave a comment on Parre's blog posts once you become a member.
I look forward to seeing you inside WA. I'd be a pleasure to help you get started and see you succeed!
All the best.
CLV