If you're a fan of Gary Vaynerchuk, and you're in the business of social media marketing, you'd know that he emphasizes a lot on utilizing where the attention span of the consumer is.
How is this related to Instagram? Well, it's because it's basically where the average internet user's attention is right now: Instagram and Snapchat (but we'll talk about Snapchat some other time).
So how can you use Instagram to get traffic to your blog?
That is what we'll be discussing today. I too am in the same shoes as you right now: using Instagram as a personal account and not fully utilizing my humble 2000+ followers to get traffic on my blog.
But that's about to change. Using these following tools and tricks, I plan to start using Instagram to increase traffic on my blog and hopefully help you increase yours as well.
Are you in? Want to take this challenge with me?

Please note that the methods I'm about to reveal are not a flash in the pan, get-followers-quick-type of marketing.
This approach will take time and effort but hopefully, it will be very enjoyable for you.
Also, avoid buying mass followers from sites like Fiverr.
These followers are usually fake accounts and although it would look good to have 10,000 followers, it'sn not worth the money as you will get nothing from those accounts.
If you want a reliable service that gets you real Instagram likes, then take a look at FuelGram.
Getting Started With Instagram "Marketing"
I'm sure you have an account with Instagram already right? So I will skip the part about showing you how to actually create an account but if you don't have one yet, just go on your phone, download Instagram and create your account.
This is what you should with it next:
Add A Profile Picture
Obviously, this is elementary but I'm also surprised as to how many followers I get without them having a profile picture.
Most often I think they are just spam accounts (which there is many on Instagram unfortunately) and that is the main reason why you should always, always add a profile picture on Instagram (or any other social network).
Fill out Your Bio
Instagram won't allow you to put your life bio or your whole about me page as your bio so keep it short, sweet and simple.
Tell the world who you are, what you do and where (your blog) and why you are sharing this content.
If you can fit all that info in a few sentences, you're good to go.
Add Your Link
Always add a link (URL) to your blog in your bio, we will talk about this later in more depth but it's a must that you add it.
Should You Use Your Personal Account Or Create A Separate One For Your Blog?

Good question.
I will be creating a new account for my blog but that is not necessary for you to do.
I like to keep business and personal affairs separate as much as possible, but if you have no issues with mixing them up, then go right ahead and use your own personal account.
But whatever you do (personal or business), make sure you include that link we've just talked about. That is the key to all the traffic we want to bring to our site.
How To Use Instagram To Get Traffic To Your Blog
Once you have your profile up and ready with all the pictures, bio and link, it's time to start getting followers.
Start Adding Pictures
Instagram is a fun, casual and "easy" online hangout so do not think you have to upload photographer quality photos all the time, keep that ideology for Flickr.
As a starter, add some pics of yourself, and even some photos of your blog as you can see it on your home computer.
The reason it's a good idea to add some content before you start advertising is so it shows you are an active part of the community, not just somebody that is here only to promote.
If your blog is about gardening or parenting, take a few "Instas" of your garden and of your family (if you feel comfortable).
The more you appear human, the more chances you have this whole marketing strategy working.
Start Following Some People In Your Area
Do a quick search on your favourite blogs and see which ones of them have an Instagram account. Go and follow each one you like and watch as your feed starts getting filled with more and more pictures.
Why do we do this?
This is where you will be creating your engagement, which is key to any social network if you want to get traffic out of it.
Ideally, follow blogs that have a lot of followers and thus they have a lot of comments on their photos.
Your job now is to jump into those comments and reply (with tagging who you want to reply to) and leave them a comment, question or drop your own opinion.
Whatever it is, you're good. Just do not "promote" or spam in the comment section. That is:
Rude

Annoying to the person you are replying to and

Disrespectful to the account that loaded the picture.
Just leave a small comment and leave it at that. Trust me, if you do it right; people will click on your profile where they will find your images, bio and link too.
Look For Hashtags On Your Subject Matter
One other thing you can do to find pictures you can engage on is to use the hashtag search function and look for hashtags that are related to your niche.
Let's take gardening again for example. You can type any of these keywords below and you will find thousands of photos in hundreds of hashtags across Instagram.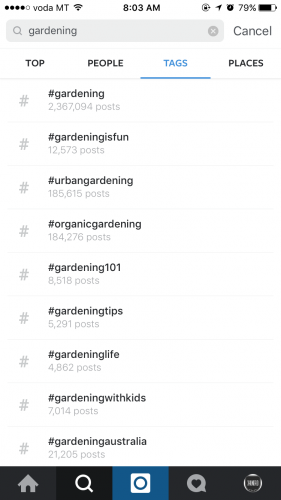 Turning Followers Into Blog Readers
One thing that has put me off advertising on Instagram is the fact that there is no direct linking to your website from the images.
If somebody wants to read your content, they will have to go to your profile page and click the link to the article.
Which makes it annoying that you have to change your link every time you publish a new post.
Alternatively, you can also leave the link to go directly to your homepage but for better results, try the following:
When you publish a new post, take a photo of your screen on your computer with your post showing and add it to Instagram with a photo description similar to this:
[box] Hey, folks, I've just published a new post on my site titled "INSERT TITLE"  It will really help you understand the process of "ENTER YOUR BLOG"S SUBJECT HERE". There is a link to the article in bio if you'd like to check it out.[/box]
That should work quite well if you have some followers already that are engaging with your photos with likes and comments.
There are some great examples of how well this works but as I've said, you constantly have to go in and change your link.
Unless you start:
Using Instagram Ads To Promote Your Business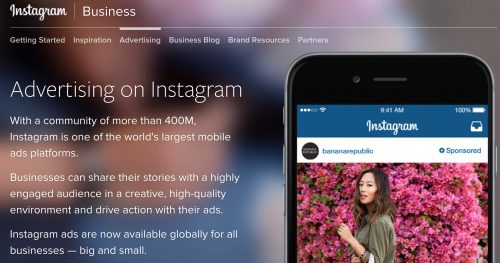 That's right; if you have some advertising budget available, the option to start advertising in Instagram is now possible by using the "Ads Manager" on your Facebook.
FYI, Instagram is owned by Facebook and they have used their current "Facebook Ads" platform to be able to set up ads on Instagram
This method, that will cost you money, will allow you to publish an Instagram image that is CLICKABLE. Yes, your image can be clicked and the user will be sent directly to your article or offer.
I've been dabbling with this method and although I've seen some positive feedback, I have not yet used it to it's full capability but I am planning to do so.
I'm working on a full-on how-to guide on using the Facebook Ads platform for blog promotion, I will let you know when that comes out but if you are interested in learning now, I suggest you check out this guide by Facebook on how to create Instagram ads.
Sharing Your Instagram Pics On Other Social Networks. Is That Acceptable?
One thing I learned about social media is that not every picture will work on every social media platform.
When it comes to using social media, I always encourage my students to pick one main platform and focus on that.
You absolutely can not fully optimize your marketing across EVERY social media out there, it's just impossible and even if you do, you will be neglecting the major part of your business; your blogging.
Proper social media marketing takes time because it involves a lot of engagement with the followers so if you are running 10 platforms, it can take a lot of time out of your day.
Once you go "full time" with blogging, which can happen easier than you think, then you can then consider expanding to other social networks or hire somebody to manage it for you.
If you're a newbie blogger, then I suggest you stick with one or 2 maximum.
However, if you are using social management tools such as Buffer, posting on multiple networks can be possible, but should you?
Should you link Instagram to Facebook?
Yes if you have a Facebook page, you can auto-publish your Instagram post on your Facebook page. Just do not forget to check in with your Facebook page and engage with your audiences there
Should you link Instagram to Twitter?
Also yes, but do not publish it automatically from your Instagram app. Rather, go to Twitter and tweet the saved image in your camera roll.
If you do it automatically, all you will "tweet" is just a link to your Instagram page.
I don't know how you feel about that but I prefer to have my images ready to be seen on Twitter without the extra step of clicking a picture.
Should you share Instagram pics on Pinterest?
Ideally no. Images that work well on Pinterest are tall "skyscraper-like" images and if you just have a square image, it's not going to get the attention it deserves.
If it's just an image (with no text), you might be able to pull it off but ideally, if you make Pinterest one of your main social networks, I suggest you use Canva.com to create high quality images that are designed for Pinterest.
In Closing
All these methods I've just shared with you are ideas, tips and tricks that I've been trying on for myself with my new Instagram account. Feel free to check it out to see how I am doing and also give me a follow if you wish 🙂
I will also be publishing a detailed post about my results after applying these same methods I've shared with you today.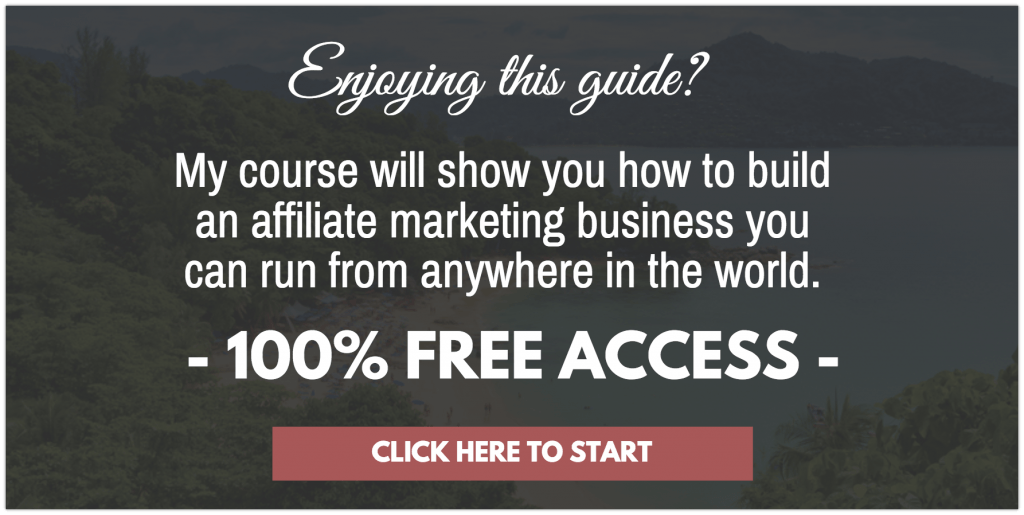 From there onwards, I will be able to deliver much more concrete evidence that this stuff actually works and hopefully we'll prove once and for all that in fact yes, you can use Instagram to get traffic to your blog.
Thank you for reading my post, I hope this has brought you value. As a reward for taking the time to read my post, I will allow you to post your Instagram link down below in the comment section.
You should also consider following some other profiles that are on there thus helping each other grow.
PS:. Make sure you sign up for my email newsletter so I can send you my free eBook and a free blogging course to help you get started with your blogging business.