WordPress is the most widely used platform for blogs and websites, especially with easy-to-use website builders such as Wix and SiteRubix
Several estimates suggest that up to 27.5% websites on Internet are all based on WordPress and WordPress has been rated as the best user friendly website platform again and again.
WordPress has numerous advantages over other similar platforms and is more SEO friendly than its competitors.
Due to the popularity of WordPress platform thousands of developers have created millions of plugins, themes and other ancillary items which further enhance the appeal of WordPress.
If you are a beginner and are looking forward to creating your first website than WordPress is ideal for you in many ways. In this article, we will discuss few simple tips on using WordPress (as a beginner).
How To Use WordPress For Beginners: A Quick Guide To Get You Started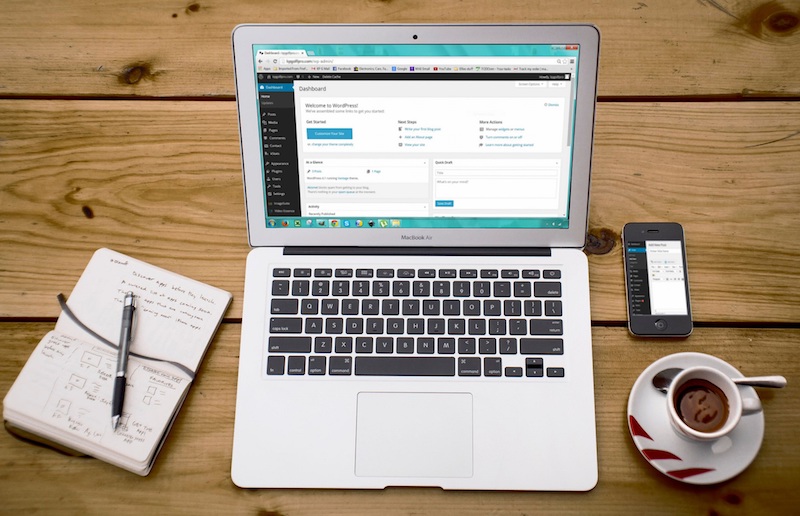 WordPress.com or WordPress.org ?
Most new comers assume that all versions of the WordPress are same, but this is not the case as WordPress features depending on whether it is a wordpress.com or wordpress.org version differ significantly which we will explain here.
WordPress.org is the self-hosted solution which means that you'll need to buy your own domain name and hosting and will also allow you to use millions of free and paid plugins.
WordPress.com on the other hand is best for you if you are looking for a free website as it doesn't require you to buy a separate domain name or hosting.
Although, with a wordpress.com installation your options will be quite limited and wordpress.com will also use space on your website for showing ads which you may not want. WordPress.com also doesn't allows you to install or upload plugins.
WordPress.com also doesn't allows one to sell ads on their site until the pageviews are more than 25000 per month. WordPress.com also restricts website themes and you need to rely on their own analytics platform as using outside analytics services is also forbidden.
A brief analysis will show that in the long run a wordpress.org installation is in every way superior to wordpress.com.
A wordrpress.com installation will make sense only if you are interested in using a free CMS for publishing few blog posts without any intention of selling a product/service.
Your ability to manoeuvre will be severely restricted with a wordpress.com installation.
So, we'd advise you to go with a WordPress.org self-hosted solution and will explain rest of the steps needed for establishing your first WordPress.org website below.
Domain Name
A domain name is the address of your website on Internet. You can choose a domain name with an ending .com, .org, .co.uk, .biz, .info etc. per your needs.
Domain names are registered by a number of entities and there is usually a yearly fee payable. Although, you can decide to pay registration fee for many years upfront and ensure that you have the control of the domain name for many years to come.
Find Hosting For Your Blog
Hosting must be selected carefully depending on the expected number of visitors as most hosting providers will require you to cough up higher charges for higher bandwidth consumed.
Although, for a new business or website, you will be good to go even if you select the basic hosting packages offered by hosting providers. You can later on sign up for the package with a higher pageview limit if your website traffic increases significantly.
Namecheap, Godaddy, Hostgator and similar other companies offer cheap hosting packages and you can also buy a domain name through these web hosting providers easily.
Most hosting services offer extensive technical support and you can also use the associated design and development services offered by these companies if your budget allows.
Although, do it yourself has been the craze for years as hosting companies routinely charge anywhere between $30-100 per hour for design and development.
Want free hosting? Take a look at Wealthy Affiliate.
Installing WordPress
You can easily install WordPress from your hosting providers dashboard and the installation process depends on the type of hosting you are using.
Most new users sign up for shared hosting and as a result follow a similar installation process.
For shared hosting accounts, most hosting providers offer a 1 click WordPress install option which makes the process extremely easy even for people with limited technical skills.
In rare cases you may also need to install WordPress manually by ftp or file transfer. All you need to do is to download the WordPress package to your computer and then upload it to your hosting server through ftp software.
Choosing Your WP Theme & Installing Plugins
After installation, you'll see the default theme and will be able to choose the theme for your site from thousands of free website themes available through WordPress dashboard.
Once you login into the WordPress dashboard you will see a number of tabs on the left side of the dashboard panel. Here you can locate the themes panel which will allow you to choose from hundreds of free themes.
You can also decide to upload an outside theme which you may have. Premium themes are often costly and may or may not be suitable for you depending on your needs.
WordPress also allows you to install various plugins for managing spam, comments, social media, analytics etc.
As the most popular website platform, WordPress has a vast library of free and paid plugins for you to choose from which can significantly reduce the time spent in managing your site as most plugins are designed to automate certain tasks without a need to manually edit the code.
Website Analytics
Once you have installed theme and plugins, the next step is to add analytics to your website.
In order to benefit from your website you'll need to study the number of visitors arriving via various channels, the time they spent on your site, pages which they visit etc.
A website analytics tool such as Google Analytics comes really handy in such a situation as all you need to do is add a small code to your WordPress site which will allow you to monitor all the analytics related to visitors.
Google Analytics is considered among the best in the industry and is the most widely used analytics software in the world. The best part is the cost as Google Analytics is free to use.
See more free (and awesome) blogging resources here.
Pages, Categories and Posts
The last step will be to add various pages such as a home page, contact us page, and add categories and tags for various to be published blog posts. This can be easily done from the WordPress Dashboard.
You can design and edit the content of most pages and posts on your website from the dashboard easily as this doesn't require any technical skills.
Final Words
WordPress is one of the most widely used platform for building websites globally, it's also one of the easiest one to use and most beginners decide to build their first website using WordPress due to the simplicity of the process and minimal number of steps involved.
Thank you kindly for stopping by and reading this article. If you have any questions or need some help with getting started with your WordPress site, do not hesitate to get in touch with me below in the comment section or else send me a private email.
I am here to help so if there is anything I can help you with, please do not hesitate to get in touch.
---