I've been thinking about reviewing the "Online Entrepreneur Certification" course for quite some time now.
This course has literally changed my life. After many years and failures, I've finally made it happen and it's all thanks to this course I'll be talking about today.
It's also the main course I encourage members to do when they first join Wealthy Affiliate, and I believe it's by far the best program to teach you how to make money with your blog.
I'd like to invite you to join me at Wealthy Affiliate, but first I need to let you know what you're getting yourself into here… So without further ado, here is my review of the "Online Entrepreneur Certification" course at Wealthy Affiliate
The "Online Certification Course".
By doing this course, you will be learning this business from the ground up. It's very beginner-friendly and in the course of a few months, you will have a blog up & running and hopefully getting traffic and making a few sales.
Disclaimer: Yes I said months. This is not a get rich-quick scheme. Contrary to popular belief, online success take time to build and monetise. Money can definitely be made sooner than later but it all depends on your work ethic and a little bit of luck.
(Please note that every 1 lesson is considered 1 day but if you have time, you're welcome to do more than 1 lesson per day. Just make sure you'll NEVER skip a lesson)
Level 1 – Getting Started.
This is the first of four courses you'll be getting yourself into when signing up for the course.
Here are the first 10 lessons you'll be doing.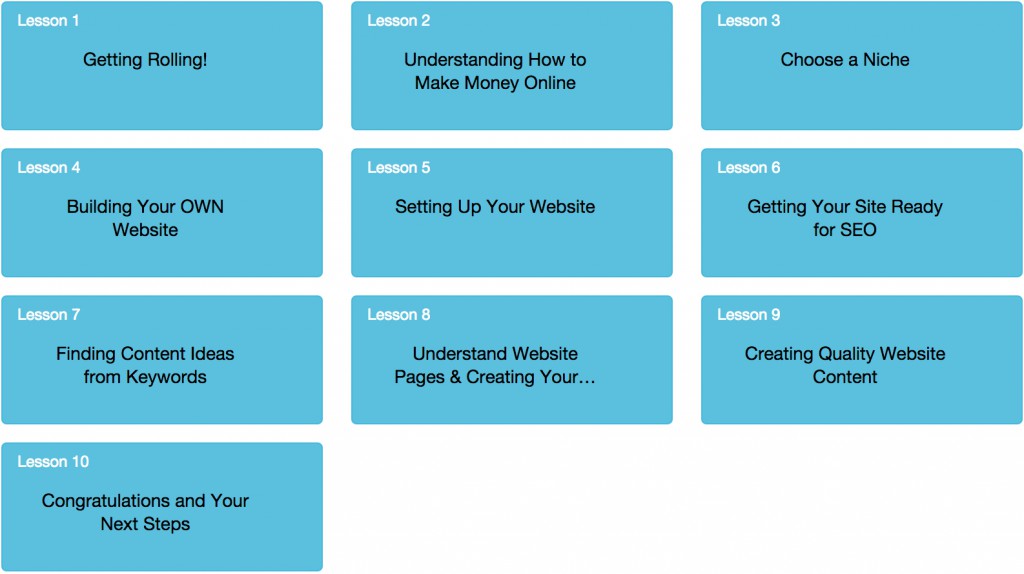 As you can see, level 1 is all about making you familiar with how online business actually works. You'll be learning all about:
Niches.
SEO.
Website creation.
Keyword Research.
Creating content.
and more…
My thoughts on Level 1:
Good solid information here. Might be a bit too "beginner-ish" for anybody that has been dabbling online for sometime but for the complete beginner; this is pure gold.
The lessons are easy to follow with a step-by-step action task you have to take before moving on. It's fun, exciting, inspiring & helps you learn all you need to know at your own pace. Awesome!
---
Level 2 – Building Your Own Traffic Producing Website.
On to the second one now.
Work is getting done and things are getting serious now. You're well on your way to become an "online entrepreneur". Let's take a look at what you'll be doing in your second "week" at Wealthy Affiliate.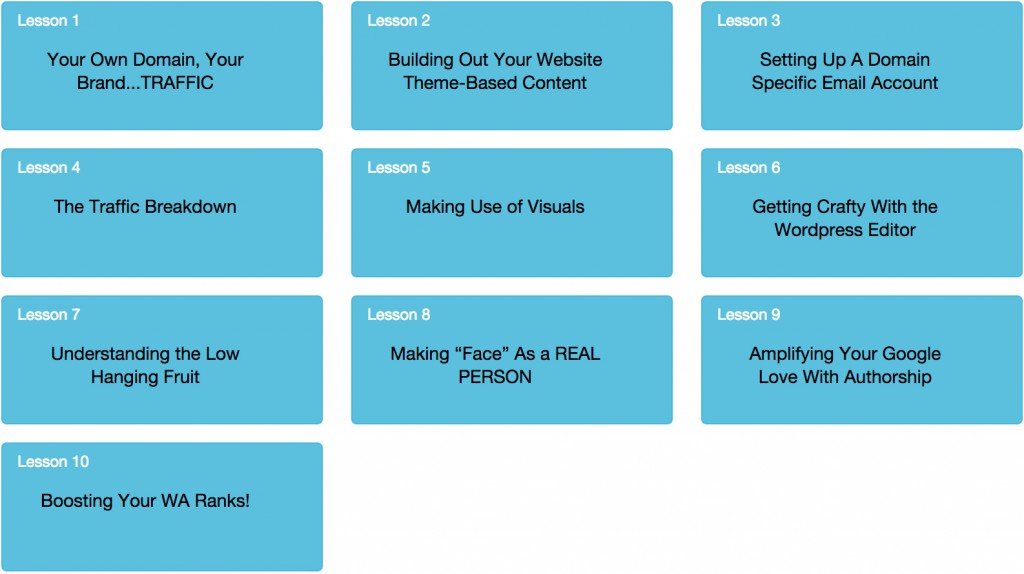 Things may start getting a bit complicated here but if you followed all the lessons and completed all the tasks on level 1, you shouldn't have any problem following these 10 lessons.
Here you'll be learning how to:
Create content that converts into $ (YAY).
Getting traffic from low competition keywords.
Setting up your own email address for your site.
Understanding exactly what the principle of online traffic is.
How to use the WordPress dashboard.
How to build a website visitors will enjoy reading/browsing.
My thoughts on Level 2:
Hmm, definitely a bit more advanced but I can tell you that if you just follow Kyle's advice, you'll be in good hands.
Understanding the concepts of keywords, driving traffic and how to use the WP dashboard are going to be with you forever and you can use them anytime in the future to build more than 1 site. So make sure you understand completely what is being said to you here.
At this level, you'll be "getting your hands dirty" and that's good. Time to get to work!
---
Level 3 – Making Money!
This is where the real fun starts to happen.
By now you should have a solid website built up, you're creating content and you may have some visitors dropping by. Ok you're not receiving Huffington Post traffic but you've got to start from somewhere right!?
Now that you've got traffic, it's time to cash in; we need to monetise that traffic.
And that's where level 3 of the online certification course comes in. On this level you're going to learn how to make money off your blog!
This is what you're up against:
You're going to have so much fun going through this course. Here's what you'll be learning:
The mentality of an online customer.
What are affiliate networks and how to find them.
How to make money by being an affiliate marketer.
Understanding the numbers game that goes into making money online.
How to use Google Adsense to make money.
My thoughts on Level 3:
I've did the level 3 four times so far and I have to say it's my personal favourite. Whenever I re-do the tasks, I always stumble across something that I quite didn't catch before.
It's exciting and it will open you up to the earning potential of the internet. There are so many ways you can make money with a simple WP blog that it's mind-numbing.
There are just so many ways that you can monetise your audience without being your average internet spammer.
---
Level 4 – Mastering Social Media.
If you think the only way to get traffic is through SEO, then you're living in 2005.
Although SEO is super important and by now you should have already understood the basics of it all in levels 1 and 2, social media is another powerful force when it comes to getting traffic.
There's Pinterest, Facebook, Google+, Twitter etc… These all have millions of users you can connect with and direct to your website and you'll be learning how to do it in level 4.
Here's a screenshot from WA of your lessons: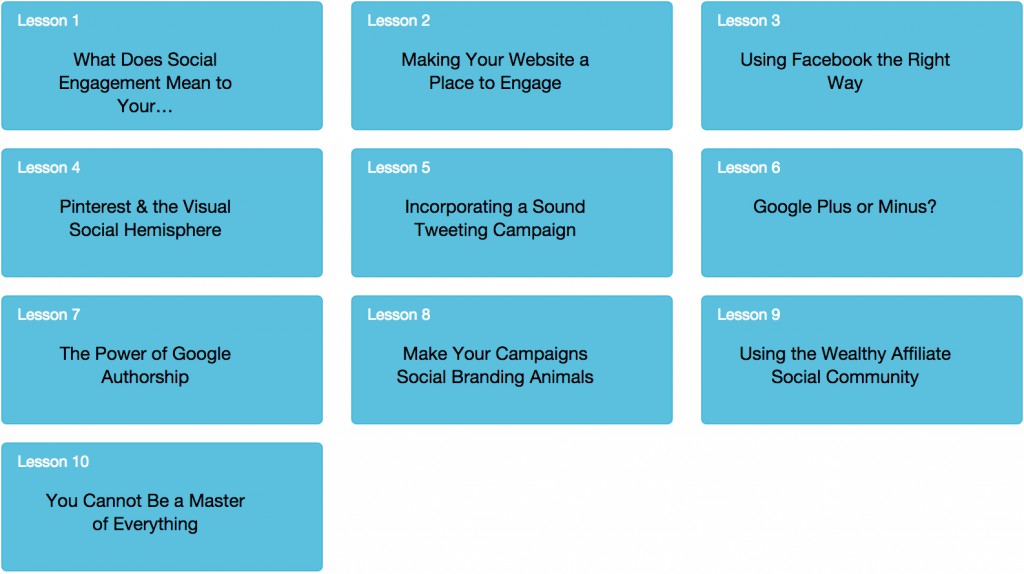 Becoming knowledgeable in the world of social media is going to be influential in your success and if you think you "don't need it" or "you don't have time for it" then you're not going to get far – sorry it's true. Don't bite the messenger.
After completing this level you're going to be able to:
Understand how to make your content do well on social.
How to create visual content that will appeal to SM users.
Build credibility and authority using social media.
How to drive traffic and sales using all the major social networks.
Have your blog posts shared for maximum exposure.
My thoughts on Level 4:
I think dedicating a whole level on social media is proof of how forward-thinking Wealthy Affiliate is. Long gone are the days of just doing SEO.
There are millions of sites out there and the competition is fierce. You can't put all your eggs in one basket and hope for the best anymore.
I'm a big fan of social media. I guess I have to when close to 50% of all my traffic comes from social media.
I've thoroughly enjoyed this course and I'm sure that you will see the benefits of social media by using the techniques thought here.
---
Level 5 – The Business Of Content.
Released in late 2014, this course is the latest addition to the "Online Entrepreneur Certification" course at WA.
On level 5, you will be learning all about content!
Yes, you did already learn about how to create content but with level 5 you're going to understand how to make that content create a full-time business for you.
See content is KING, I'm sure you've heard that before. If you're not producing content, your blog is going to die and so will your dreams of earning money online. Again, sorry to be so blunt.
Here's what the 5th (and final) level looks like: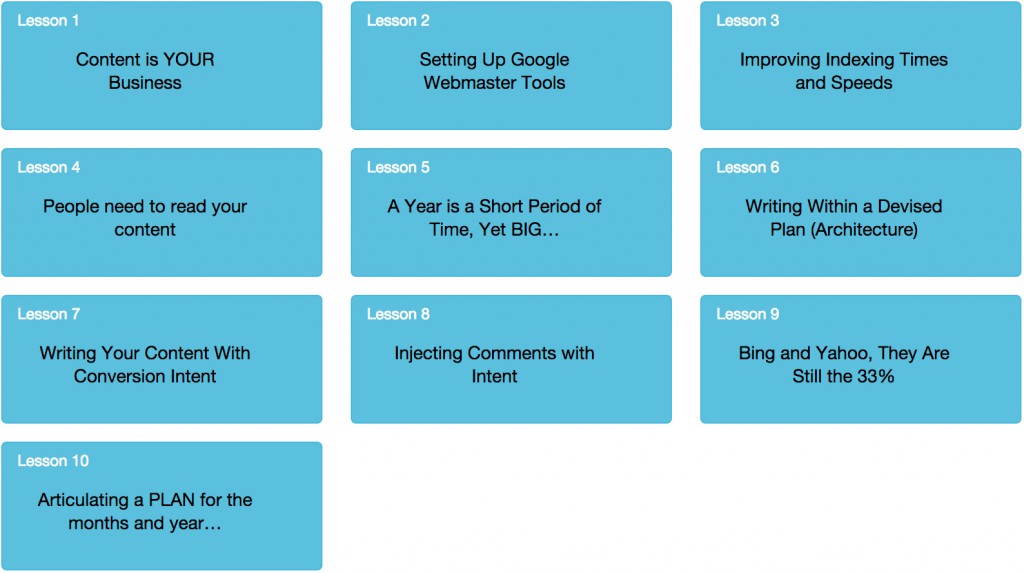 The learning outcomes of this level:
How to produce content efficiently
How to use Google / Bing webmaster tools
How to use your content to maximise conversions
How to continue to grow your business by producing content.
My thoughts on Level 5:
I've only did this level once yet because it has only been released for a few weeks but I have to say that is has helped me view content in a whole different way.
I now understand what it takes to truly produce content that is valuable to readers.
I think this level has been a much needed update to this course and I'm sure it's going to help thousands of aspiring bloggers learn how to build a long-lasting business using the content they produce.
---
Wealthy Affiliate Member Reviews: Proof of Success
Below are some screenshots of reviews that people left after doing the "Online Entrepreneur Certification" course. If you'd like to see more of them, you can do so by clicking here.
(The name and picture of the reviewer is blurred out to protect the identity of the users.)
The Affiliate Bootcamp Course & More.
As a member of Wealthy Affiliate, apart from being able to do the "OEC" course, you can make use of hundreds (if not thousands) of training created by the members of Wealthy Affiliate.
WA has many experienced and successful bloggers that still hang about WA creating content that will help others succeed. It's kind of a "pay-it-forward" thing.
But, WA does have another course which you can take and it's called "The Affiliate Bootcamp". This course is for members that wish to create a blog promoting WA.
While all the lessons in there are designed to help you sell WA, it can be applied to just about any niche out there.
It has 7 levels (or phases) and it is also an incredible course that I think you should consider. While I do recommend people start with the "Online Entrepreneur Certification" course, the Affiliate Bootcamp will be very beneficial to anybody that is hungry for more knowledge and success.
I've started this blog using the lessons I learned in Bootcamp and while I do have to say it's been a struggle, it's now one of my biggest earners.
More Features Inside Wealthy Affiliate.
So is WA just about learning online marketing?
Well yes and no. WA is a place where like-minded people go to achieve success online. There is a community vibe with it all that I've never seen anywhere else in all the products I've tried and reviewed.
Apart from all the training available, you also get; free tools, sitebuilders, free hosting, live chat and much, much more.
For my official Wealthy Affiliate review, check out this page.
Try It Out For Free.
Is Wealthy Affiliate that good of a deal?
Well don't just take my word for it. Try it out now for free and let me know what you think.
It's 100% free to join, no credit cards required and there is no obligation whatsoever. This "try-before-you-buy" mentality has really been one of the main reasons I trusted WA in the first place.
Final Thoughts
Thanks for reading to all the way down here. I know this is quite a long read but I hope I've been able to help you understand the "Online Entrepreneur Certification" and Wealthy Affiliate better.
If you're not sure about something or wish to ask me a question, you can do so by dropping a comment below or contact me privately.
While you're here I'd also like to invite you to join my email list so hopefully we can be better connected and I'll be able to give you one-on-one support.
Thanks for reading, till next time..