Excuse the European here, but I have never heard of S'mores bars? Are these some kind of American delights?
Recently, in one of my recent Pinterest pinning marathon, I came across these marvellous things and I have to tell you; they look absolutely delicious.
I've done some digging around and found several ways you can do s'mores bars so here are 7 of the best s'mores bars treats that I am sure you would love to check out.
Golden Grahams S'mores Bars
These Golden Grahams S'Mores Bars are gooey, chewy, a little crunchy, and the perfect way to enjoy s'mores indoors.
They're like rice krispie treats and s'mores all in one.
Continue reading on JustSoTasty.com
S'more Bars = S'more S'miles
What has the delicious combination of rich milk chocolate bar chunks, bits of graham cracker and melty, toasted gooey marshmallows baked in cookie dough with a graham cracker crust as well?
Continue reading on TheBakingChocolotatess.com.
S'mores Bars
Summer and S'mores just belong together!
These S'mores Bars are thick, chewy and delicious… and taste like s'mores and a chocolate chip cookie combined!
Continue reading on Glorioustreats.com.
S'mores Fudge Bars
S'mores Fudge Bars have a thick layer of buttery graham cracker crust, fudgy chocolate filling, and a homemade toasted marshmallow topping. Incredible!
Continue reading on HandleTheHeat.com.
S'mores Bars
S'mores Bars made with homemade graham cracker cookie dough, melted marshmallow fluff, and milk chocolate.
A soft, ooey-gooey dessert that is even better than a s'more from a campfire!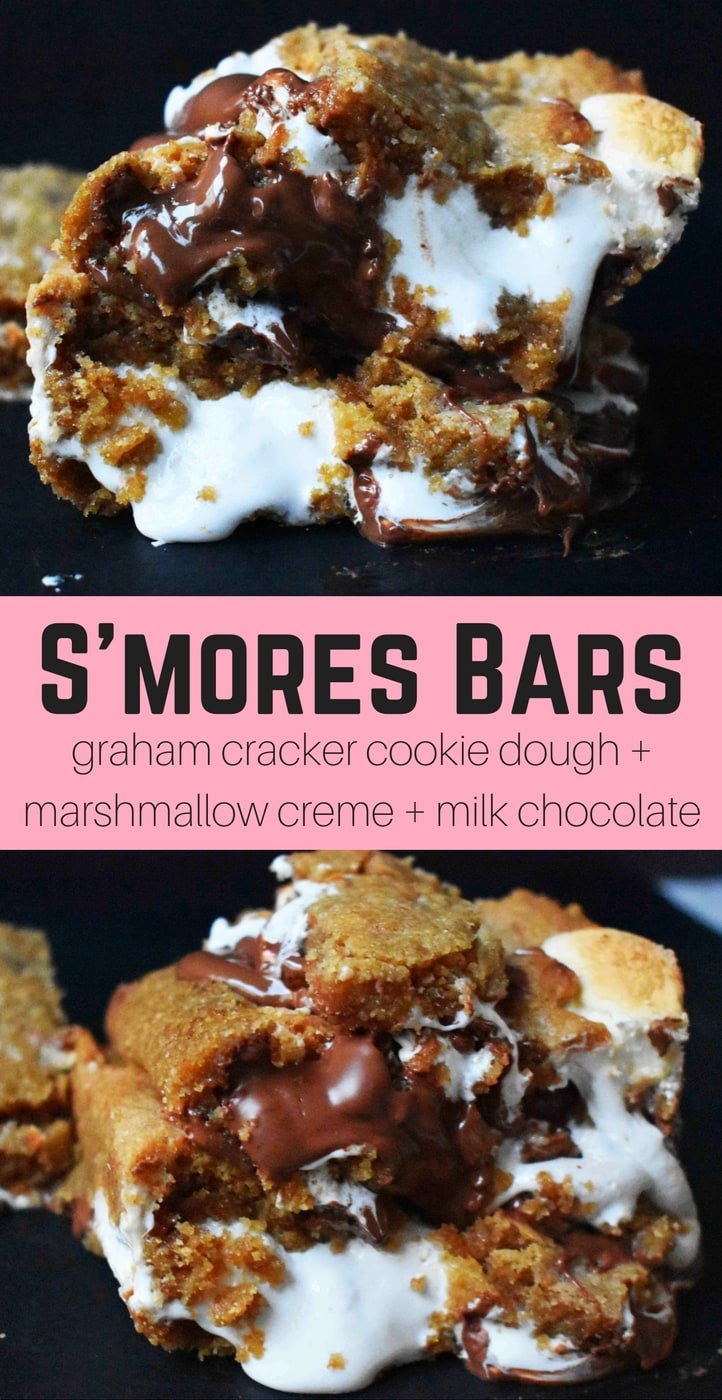 Continue reading on ModernHoney.com
No Bake S'mores Bars
Super simple (15 minutes prep!), no baking required, s'mores bars — graham cracker flavored cereal, marshmallows, and milk chocolate.

Continue reading on ChealseasMessyApron.com.
Easy S'Mores Bars Cookie Recipe
Easy S'mores Bars Cookie recipe, one of the best potluck desserts full of chocolate, marshmallow fluff, and graham crackers.
People go crazy for these easy dessert bars!
Continue reading on SnappyGourmet.com.
[iscwp-grid username="toasted.mallow"]