If I had to pick one thing I can credit with the success I had online, it has to be Wealthy Affiliate.
Wealthy Affiliate is an online community that teaches people how to start profitable blogs and online businesses in any industry.
It's not an MLM or a pyramid type scheme. It basically gives you the all the tools, knowledge and confidence you need to get started with your business.
As you're about to see from my review, Wealthy Affiliate will be the ONLY thing you'll ever need as there is SO MUCH offered there. From free sites to community support, webinars (we call them WAbinars btw), classrooms, etc..
The best part about it, is that it's FREE to join! There is a Premium option which is for people who are looking to GROW their business but all you need to START is right there for FREE!
Make sure you read till the end of this post, I have a special "something something" for you at the end regarding membership! 😉
READ: 8 Reasons Why You Should Join Me In Wealthy Affiliate.
But before I go into all the things WA can do for you, I'd like to share with you my story with Wealthy Affiliate….
A Review Of Wealthy Affiliate: Starting A Blog Business With WA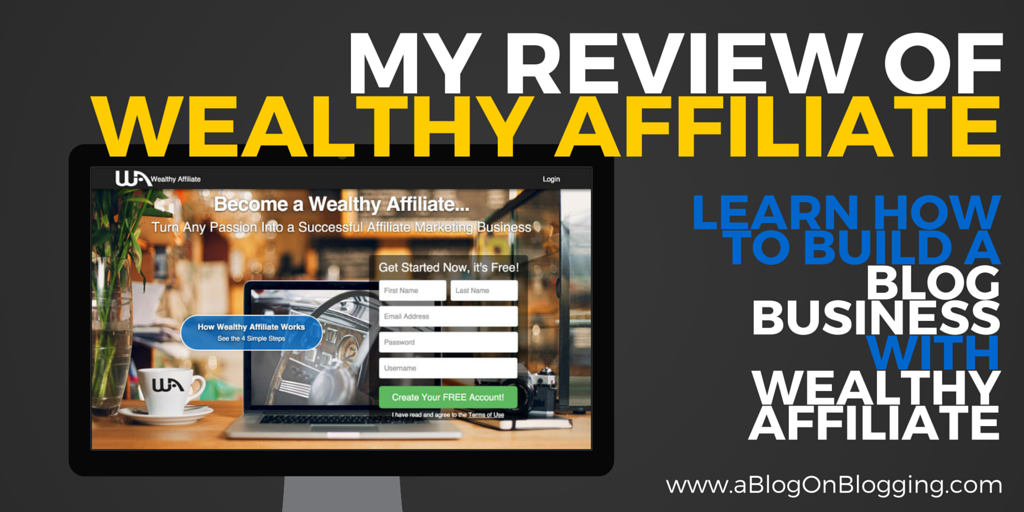 ---
My Experience With Wealthy Affiliate
I am such an idiot!!
Back in the day around 2009/2010 I joined WA but being the dumb teen I was back then, I quit after a week because I saw it required hard work.
It didn't promise me riches that I thought were the norm in the online world!
"Why should I work hard at WA when I can simply earn a thousand a day with just 3 clicks!?"
Please don't do what I did!
Fast forward to February 2013 and I am back in WA, knowing damn well that I'm in the right place to build my business. It hurts to think where I could be right now if I had stuck with Wealthy Affiliate back in 2009. Anyways…
I am glad to be here now and that's all that matters, it's the best (and ironically one of the smallest) investment I have ever made in my internet marketing career and it has paid major dividends!
In about 8 months I was able to quit my day job (which I utterly hated) and I now focus on building up my three blogs, one of them being this one right here.
Anyways enough about me, let's see how Wealthy Affiliate can help you!!!
---
What Do You Get?
Live Chat:
One of the coolest features in Wealthy Affiliate is the LiveChat area. WA is on 24/7. Meaning if you're working on a blog post at 3am (I do that sometimes) and you're stuck, you can just jump into chat and ask your questions there.
It's also great if you want to "chill out" and just have a chat with fellow WA member discussing business, sports and news! 🙂
2 Main Training Modules:
Wealthy Affiliate has two major courses for you to follow step by step. One helps you build a business in any topic or niche that your heart desires and one is aimed at helping you promote Wealthy Affiliate. Unlike most other programs: you are not required to promote WA.
Both these training courses are planned out for you in a step by step and day by day tasks that you can mark off while doing them. This is great to help you make sense of all the new exciting stuff you'll be learning.
Access To Training Created By Members:
WA is an open education platform meaning you too can create training and resources to share with the community.
As a member of WA, you'll be able to access this vast ocean of information that was created by the many successful members there and leverage them to build up your own success story. In total there are about 500+ courses and how to videos available!
Access To A Community Of Experts:
It really is a beautiful thing when you see experts taking the time to help others that need help. It's a community designed to help bring people up not put people down.
I can't really describe how awesome the community at WA is and I sure can't count how many times I needed help and folks went out of their way to help me!
Free Websites:
As a free starter member you get two free websites. In reality you only need one to make money but WA gives you two! Now while I do recommend people invest $3.99 a year to buy their own domain, the free sites WA gives you are more than capable to help you make money blogging.
Free Hosting:
Just for Premium members, WA gives you free hosting for all your blogs. FREE HOSTING! That's insane! I used to pay close to $30 on hosting per month and now it's all free! Plus I get all the tutorials and community help.
I'm pretty sure nothing can beat that!
Keyword Tool:
This is a free tool for both free and premium memberships. Keywords will be a major factor for you to drive your blog business forward.
Don't worry: If you do not know what keywords are and what they can do for you, it's all explained in the first phase of the training.
Blogging Platform Within WA:
You also automatically get your own WA blog once you sign up. This can be used to document and detail what you're up to and what you plan to do.
Some people like to do it and some don't. Either way it won't have an impact on your success. It just a nice feature that will help you communicate with other members.
Spam Free Environment:
You and your money can feel safe in WA as any type of promotion to the members is strictly forbidden. When you sign up to WA, you only need WA.
All other programs will be a waste of time and money. Now I'm not suggesting that all other programs are bad, it's just with the amount of value offered at WA for free, there is no need to look anywhere else.
Weekly Live WAbinar:
Every friday night, one of the top ranking members inside Wealthy Affiliate (MagiStudios) hosts a live wabinar where he discusses everything related to online business, blogging and eMarketing.
Here are some of the previous wabinar titles:
Branding & Traffic with Google+ Communities
Entertaining Your Readers Through Information
Tips on Improving a Site's Ranking
Creating a Long Term Content Strategy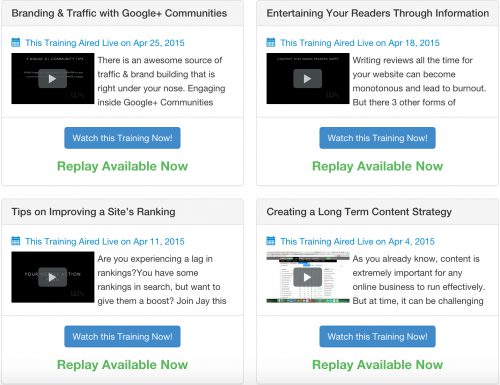 Interaction With The Founders:
Kyle & Carson are the team behind WA. They created the platform back in 2005 and to this day, they interact daily with the users and the community. This is a very, very rare thing in this industry.
Most often creators of "spammy products" hide away from interacting with their users because they know that their product is not as great as they marketed it to be!
Having the both of them there to ask for directions is like having David Beckham teaching you how to kick a football.
---
What You Don't Get
No false hopes & promises:
Wealthy affiliate isn't just another flash in the pan product or system, as I previously mentioned: It's an online business community dedicated to helping you build up a real business. It's not an online job or occupation, it's about building a business!
Now I don't know if you heard but building a business actually takes time and effort. WA doesn't try to blind you with quick riches and false hopes.
No upsells:
There is the free membership and the premium membership, that is it. Nothing extra, you're welcome to stay as a free member for as long as you'd like but to take advantage of other tools like the free hosting and premium training, you need to be a premium member (I'll get to the cost in a minute).
No hyped up claims:
One of the things that really made me trust WA more when I returned is that I didn't see anybody "boasting" about earnings. The "sell" at WA is not the earnings but the ability to build a business.
No sales video with the same old boring drawn up cartoon characters:
If you've ever seen a sales video of these one-off products that promise you riches, you know what I mean! There is none of that in WA!
---
Who Is Wealthy Affiliate For?
WA is for anybody that is looking to start a successful blogging business or is looking to increase the knowledge in any field of the online world. The information covered in the Classrooms and Courses at WA cover:
Online Marketing
Affiliate Marketing
SEO Optimisation
Video Marketing
Social Media
Email Marketing
Build Websites / Blogs
Authoring Content
Researching The Market
Web Development
Blog Development
and much, much more
Basically anybody that wants to do anything online can benefit from these components as there is a ton of current and updated information you can learn and leverage!
*WA Fun Fact: There are members aged 7 years old up to 80+ year olds ! All learning and working to one common goal! Now that's a community!
---
Wealthy Affiliate Reviews From Active Members
Following are some testimonials that members leave about Wealthy Affiliate. I blurred out some parts of them to protect the identity of the member but if you want to see all the WA reviews, you can see them here.
If you put in half as much effort as they did in building WA, you're going to be successful at making money online.
---
*Wealthy Affiliate Review: 2016 Update
A lot has changed inside Wealthy Affiliate since I did this review.
In late 2015 and early 2016, a lot of new updates has rolled out but the most major thing that I have seen this year is the new "SiteComments" feature.
This tool will help you get comments on your content and thus would lead to a huge boost in search engine ranking.
Learn more about this update and how it can help your business from the co-founder of WA.
---
Frequently Asked Questions About Wealthy Affiliate
[box]
Q: What Will I Be Doing / Learning At Wealthy Affiliate?
A: Wealthy Affiliate will teach you how to start your own online business from scratch by building a website (blog) on your favourite topic.
Q: Do I Have To Promote Wealthy Affiliate?
A: While there is training (and incentives like the Las Vegas Conference) to promote WA, you absolutely do not have to promote WA. Most of the students there focus on building businesses independent of WA).
Q: How Long Does It Take To Make Money?
A: It all depends on how hard you work. You can realistically start making a full time income within 3-6 months but those who have achieved such a feat put in a huge amounts of work. I personally was making a full time income from WA around a year and a half after joining.
Q: What Do I Get As A Free Member vs A Premium Membership?
A: As a free member, you have access to the first level of training inside WA. You will also be able to ask questions on the discussion board etc…
You will also have 2 free SiteRubix websites to work with, which means you can start building your business with literally $0.
As a premium member, you get access to all the training courses, live webinars, tools, free premium hosting, keyword research tool, and much more. Basically all that I discuss above.
Q: How Do I Cancel My Membership?
A: If you're a premium member, you will have to cancel your automated payment and you will continue to have access until the day it expires.
If you're a free member, you do not need to do anything. Just don't log in anymore. You don't need a credit card to join so there are no obligations or hidden charges.
[/box]
---
Does Wealthy Affiliate Really Work Though?
No it doesn't, YOU DO!
WA will not create your website or business for you, you have to work hard at making it yourself. What WA offers is a safe, scam free place where you can learn the business step by step in a professional manner surrounded by people that are ready to help you.
The information there can only get you to a certain level; I have a gym subscription and all the help and information I need to get rid of my belly fat but it's still there. Why!? Because I don't work hard at the gym. I don't put in consistent effort.
---
How Much Does Wealthy Affiliate Cost?
The starter membership in WA cost $0 and NO CREDIT CARD IS REQUIRED to sign up! You can stay a free member for as long as you wish and there are no obligations whatsoever. You can also cancel the membership at any time you wish.
The premium membership costs $47 per month or $0.98c a day if you pay for the yearly subscription.
Now I know that paying less than a dollar a day for the best education is a steal, I do suggest you try out the free starter member first and then upgrade later.
---
An Offer You Can't Refuse…
If you join as a free member and you decide to test out the premium subscription, I'm going to make sure you get your first month for just $19! A 59% discount on the normal price!
I will also be there to greet you in once you join and I would like to offer you my help as a valued reader of aBlogOnBlogging!
Having a personal mentor online is I think one of the major factors that helped me quit my job 8 months after I joined WA and I would like to pay it forward by helping others do the same.
Let me help YOU: Start A Blog With Wealthy Affiliate!
---
Thank you for reading folks, I know it's quite a lengthy read but I am very passionate about WA and I really want to see you in there working hard towards your blogging success.
If you have any questions please do let me know!
I hope I brought you value in exchange for your time, Thank You!
Chris Lee
READ NEXT: An Inside Look Into Wealthy Affiliate
READ NEXT: 8 Reasons Why You Should Join Me On Wealthy Affiliate
---