So you're interested in joining Wealthy Affiliate? Congratulations, you've made the right choice (and I will be telling you why in a minute).
I've tried (and reviewed) many other training programs that claim they can teach you how to start a blog business but none of them come close to matching the value I get from Wealthy Affiliate.
Today's post is will only show you the different types of membership you can have as a member of Wealthy Affiliate, but you can read my in-depth Wealthy Affiliate review here! 
In this post, I'll go through what you get (and what don't you get) with every level of membership inside WA (Wealthy Affiliate) and I'll also discuss and share with you the benefits of each one.
This might get a little complicated but don't worry; way down at the bottom, I'm also going to tell you which membership type is perfect for you.
Ready to get started? Let's go…

The FREE Membership –

$0
When you join Wealthy Affiliate, you're automatically enrolled in the free membership plan without needing to register a credit card.
As a free member, you won't have access to all the training, but you will learn how to set up a website and monetize it all for free. You even get 2 free websites that you can work on while you follow the entry-level courses step by step.
You can remain a free member for as long as you wish but there will be some limitations, like limited communication and premium training and videos will also be locked.
This free membership is designed to show you what is available for you in Wealthy Affiliate. Of course, if you're serious about going into business online, you're going to need want to upgrade.
That is where the next type of membership comes in.
1st Month Premium Offer –

$19
In your first week of free membership, you'll get offered the premium membership for a discounted price of $19 instead of the usual $49. This is designed to show you what you will be getting into if you fully commit yourself to the training.
All the levels of training would open up to you and you can chat with the other members without any restrictions. You can send messages, comments, and ask questions on the WA platform itself.
Unfortunately, you can't stay forever on this level because this offer is just for the first month. After this first month, you can stay on as premium but for the full price.
As you will see in the next section, premium membership is totally worth the $49, but if you think that is a bit steep, I'll also show you a way you can get it for just $29. Keep reading…
Premium Membership –

$49
This membership is on a month-to-month basis and you'll continue getting total access to everywhere inside Wealthy Affiliate.
Here are just some of the benefits of being a premium member of Wealthy Affiliate. See inside Wealthy Affiliate for more.
Unlimited Community Support: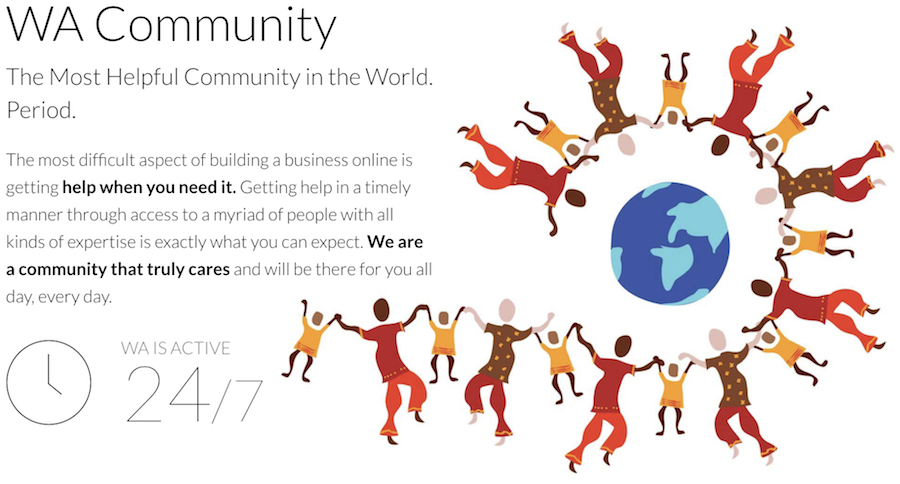 You can talk with anyone, chat at any time and even ask top ranking members for help. This is a big bonus and worth the money alone because any problem you might be facing, I can guarantee it will be solved.
There are a lot of members with a lot of experience that will be more than happy to help you out. Think of it as a "mastermind" group.
Unlimited Free Websites: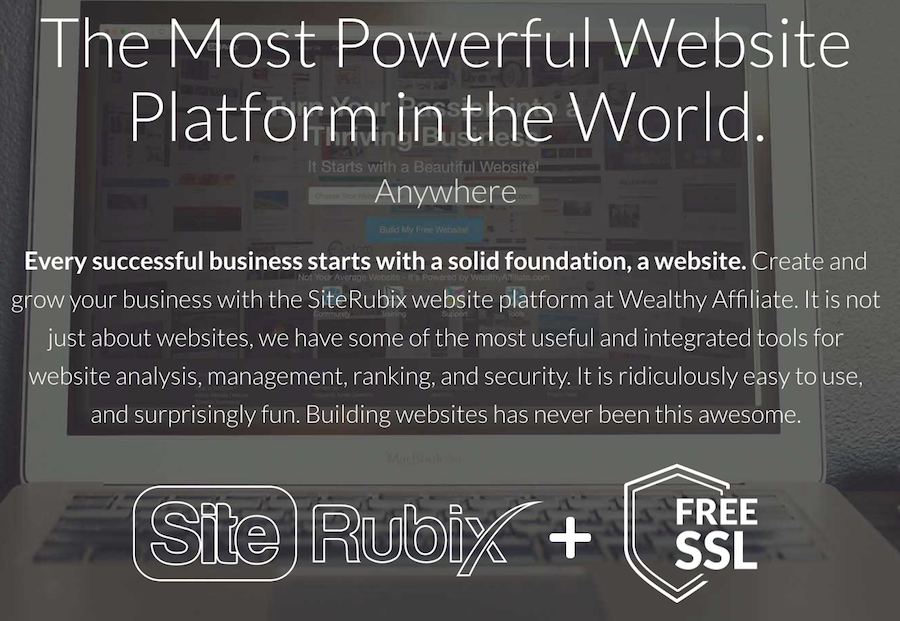 Wealthy Affiliate also allows you to build free websites on their servers using the SiteRubix platform. As a free member you get 2 free ones but as a premium member, you have unlimited free sites.
Yes, you can create as many sites as you wish, all at no extra charge. While this is a fantastic opportunity, I always suggest you do not start your business on a free blog.
Getting your own blog is always the best idea. It doesn't cost much either; $10 and you're in business.
Free Web Hosting:

Hosting is a big expense for somebody just starting out. Basic hosting will cost you at least $12 a month, which is not a lot, but it is an extra expense you do not need.
As a premium member, WA will allow you to host your site on their servers for nothing. Not just for the free blogs provided with WA but also the ones you'll buy yourself.
Just register a domain name and you're good to go.
Again this feature is unlimited so you can host multiple sites on there. I currently have 9 so I'm saving at least $90 in hosting p/month!
Access to All The Training: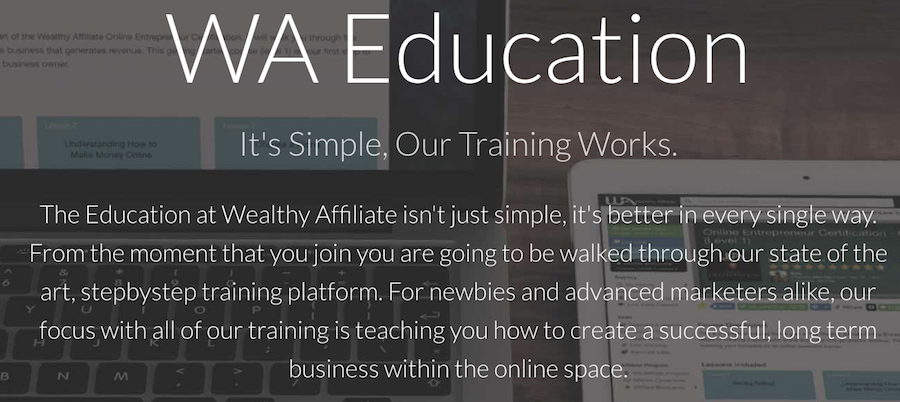 As a premium member of WA, you'll also be getting complete access to all the training.
That is the "Beginner Training Course" where you will learn how to build a site promoting any product you wish and also the "Affiliate Bootcamp" which shows you how to start your business promoting WA.
All the lessons in the "Affiliate Bootcamp" can also be applied to any niche. Apart from that, you also have access to the training created by leading members of the community.
Live Weekly WAbinars:
That is not a typo LOL. We call webinars; WAbinars.
This is an hour or so long weekly webinar hosted by Jay from Affiliate Resources that will cover different topics each week related to starting your online business.
If you're in Europe like me, the webinar is on at about 2am but don't worry; you can watch the replay later whenever you wish. It's always stored in the WA database under "Live Video Classes".
Full Access To The Keyword Tool:
We've talked about keyword research and you should know how important it is when it comes to getting ranked.
At Wealthy Affiliate, you have access to unlimited searches using the WA keyword tool (free members only get 30).
This will be super beneficial to you to help you follow the training and also in building out your blog's content.
Training Classrooms:
There are 12 classrooms inside WA and as a premium member, you have access to them all. Classrooms range from social media marketing, SEO, content writing, etc…
This is where you can go ask questions, see what people are talking about and also view training on the related subject.
Higher Earnings Inside The Wealthy Affiliate Affiliate Program:
As a member of Wealthy Affiliate, you have the opportunity to promote Wealthy Affiliate itself and earn commissions from your referrals.
As a free member, you can also do this but as a premium member, you get 2x the amount. So if one of your referral goes premium; a free member will get $11.25 while the premium member gets $22.50.
If you want to promote Wealthy Affiliate and the "make money online industry" you're more than welcome but you're not required to.
Before I continue on the next level of membership inside Wealthy Affiliate, I want you to see the image below to see how free vs premium compared to each other.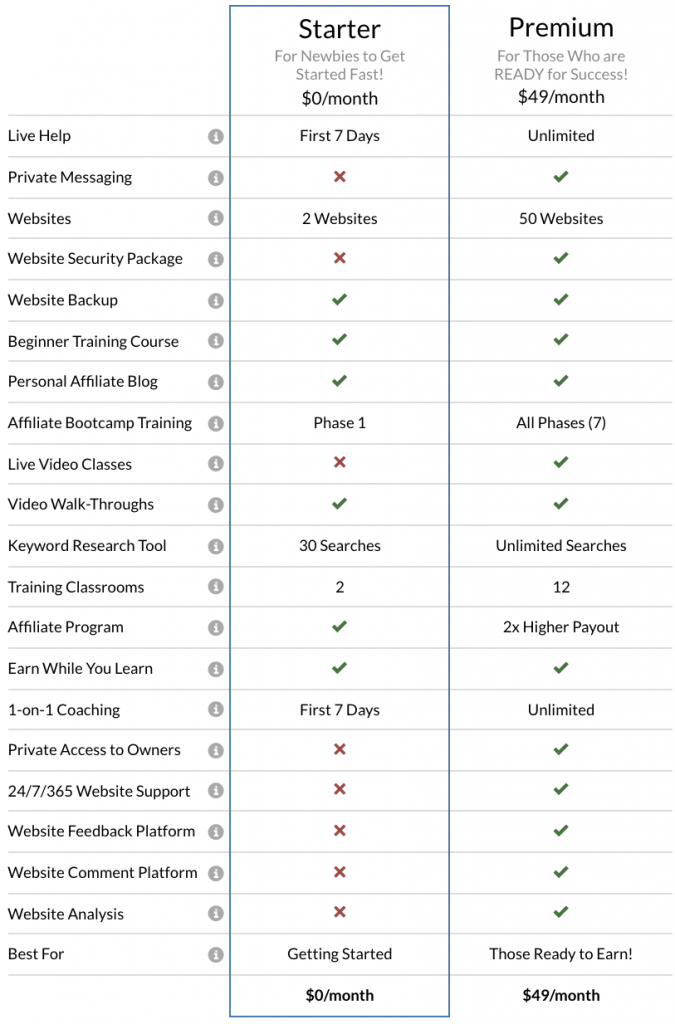 Join Wealthy Affiliate
As you can see, Wealthy Affiliate works best when you're a premium member.
I haven't even begun to scratch the surface on what's available for premium members but from just the components I mentioned above, I guess you agree with me that WA is a good value for money.
Yearly Membership –

$359
Speaking of money, let's talk about the yearly premium membership at Wealthy Affiliate.
If you join WA for a year, you're also going to be benefitting from a $205 discount!
See the premium monthly membership fee is $49 but a yearly premium membership fee is just $359. Which works out to about $29.92 per month; less than $1 a day!
Do you really want to start your own business? Do you want to create something out of nothing online? Do you want to drop your day job and build a business you're proud of? If so, I think you would agree that investing less than a $1 a day is more than reasonable.
Something amazing also happens when people go yearly and it happened to me too. When you go yearly, you're more likely to be successful.
Most people start seeing notable profits at the 6 to 12-month mark so when you commit yourself for a year, statistics show you're likely going to succeed.
I think dishing out such a "huge" fee is a wake-up call that you might as well learn and work hard. It's "use it or lose it" and as we say in WA; if you don't make your $359 back in a year, you must be doing something wrong.
Who Is Wealthy Affiliate For?
Simply put, Wealthy Affiliate is an online community of people that want to do business online. Here are some of the things you will learn with the training inside WA:
How to start/build a website (a must nowadays).

How to write great content.

How to get that content ranked in search engines.

How to promote a product.

How to create a marketing campaign.

How to do email marketing.

How to make a full-time income online.
Anyone who would like to learn all the above and more can learn a lot from Wealthy Affiliate.
You will find members ranging from 7 years old to 89 years old. If you have the will to build an online business, then Wealthy Affiliate is for you.
Which Wealthy Affiliate Membership Is Right For You?
Ok, so you've stuck with this far. I'm guessing you're interested. Let me help you pick the membership that is right for you:
The Free Membership
This is for those that are interested but are not yet sure they want to get into this business. Some are just looking for ways to make extra money and are not interested in building a website and monetizing it. Fair enough. The blog business is not for everyone.
The 1st Month Premium Offer
After trying out the free membership, you liked what you saw and you want to take advantage of the offer available. This is great.
This is for the people that believe they can make their dream come true. Most people shy away from their dream because it requires work (too bad).
By taking this step, it's a sign that you're willing to invest in yourself and your business.
Premium Membership
This is for the action takers. This is for those that are willing to work.
You've now seen how WA can help you and you've decided to start your journey. I love meeting people just as they go premium and 4 months later they report their first sale or first commission. It's such a great thing to witness.
Unfortunately, most people will come in with enthusiasm but "fade away" after a few weeks. If you're going to go for the premium membership, then go into it willing to work hard.
Don't expect miracles to happen just because you spent money. Wealthy Affiliate doesn't work, you do.
Before I continue, here is a short video from co-founder Kyle showing you around WA.
Is Wealthy Affiliate Worth It?
With its many features and tools that you can use, the maximum price you will ever pay inside Wealthy Affiliate is less than $1 per day (if you go yearly).
$1 per day and you have everything, and I do mean everything, you need to build yourself an amazing online business.
I don't know about you, but such a deal is a deal I am willing to make.
I made the plunge to go premium inside Wealthy Affiliate years ago and I am still a part of it because even though I managed to build an online business, it's still worth being a member there and sharing ideas with like-minded people.
My suggestion to you would be to join for free. That is all I am asking you to do, you will see yourself then how incredible the value for money at Wealthy Affiliate is and I am sure you too will be willing to pay the $1 per day fee.
What Should You Be Doing Once You Join?
Once you are a registered member of Wealthy Affiliate, I will be dropping in to say hello and introduce you to the community.
Wealthy Affiliate is a massive website but all will be explained to you once you join.
Join Wealthy Affiliate
Questions About WA?
I've created this post to let you know more about the different types of membership inside Wealthy Affiliate. If I was not clear about something or you'd like to know more about a certain area, just send me a message.
I'm mostly always online so you can catch me on my email. If you want to check out Wealthy Affiliate, then let's head over there and let me help show you around.
Thank you for reading this super long post! I hope you found it informative and helpful.
See you soon inside…..