Creating your own website is simpler than you think.
Even if you don't have any coding skills, you can easily create your own corner of the Internet and get it up and running in a matter of minutes.
That's where website builders come into play.
In this article, I am going to give you my thoughts and impressions on the Ucraft website builder, whose goal is to make the website creation process easier and faster.
If you do not have time to read the full article, check out this intro video to get an idea of its potential.
Why Use Ucraft To Create A Website?
If you're starting a business or want to build your personal brand, then a website is a must-have.
When using the Ucraft website builder, you do not have to worry about the technical part. All you need to do is sign up for an account, browse their website templates, choose the one you like the best and you're ready to start customizing your content.
Thanks to its drag-and-drop feature, you can play around with elements to achieve the desired look and be in control of your site appearance.
In addition, you don't need to stress over your website name. Once you've selected the template, it is time to choose your free subdomain (e.g. mysite.ucraft.com).
Of course, if you already have a domain name, you can just connect it free of charge.
Moreover, their annual plan gives you the option to get a custom domain name.
If you are looking for an online CMS to create and host your website at a lower cost, then you should check out their free hosting offer.
The Creation Process:
Ucraft is an editor that works with blocks of content and features that are dragged and dropped.
There are a number of components with default design that can be changed. Some do not require any editing, except uploading their contents.
Whether it's an image, font or a navigation component, each of the blocks is fully customizable. The same applies to the layout, background images and alignment options.By default, items can be changed individually in Ucraft.
If you want to change the color of all H1 titles, you will have to manually change each one.
In addition, you can also edit every text, heading and paragraph separately as well as customize form fields and buttons if you subscribe to the Ucraft Designer Tools (a one-time payment of $2.99).
Animation of elements:
To help you deliver a dynamic interaction on your website, Ucraft offers a range of effects to animate your design components. This means you can animate elements such as buttons or navigation blocks.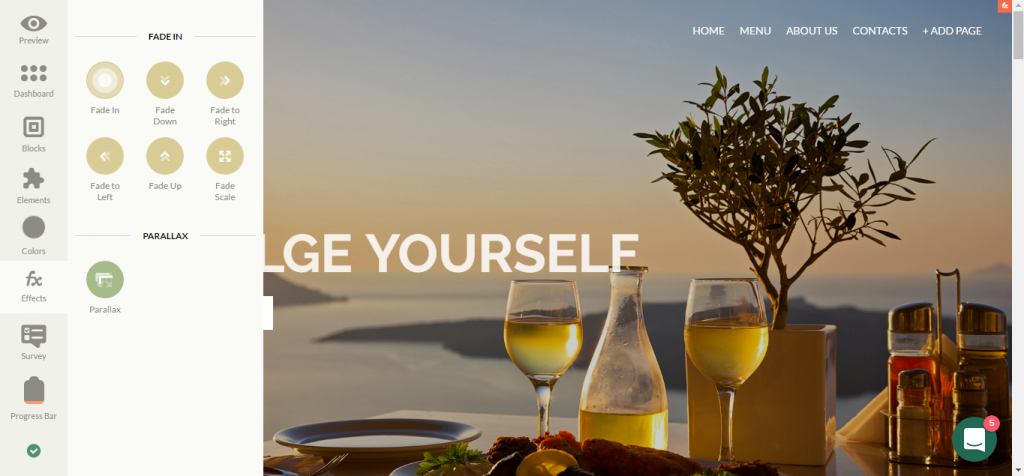 Key features:
Let's see which features of the Ucraft website builder will help you make a successful website:
Free hosting and custom domain name:
When you sign up for an account, you'll get a free .ucraft.com subdomain. Of course, if you already own a domain name, Ucraft gives you the ability to seamlessly connect it to your site by using the Domain Manager app.
If you don't have a domain name, you can buy one directly in the said app. Furthermore, you can have your own custom domain by subscribing to their yearly plan ($77).
As previously mentioned, Ucraft offers free hosting on Google Cloud for all websites created with your account.
Collaboration:
A highly efficient feature that makes collaboration easier comes in the form of the Team app. By using this nifty app, you can create your own team who will work on improving your website. You can give your teammates particular roles and in that way achieve your desired results faster.
SEO:
Having an SEO-friendly website is of paramount importance. When it comes to optimizing your pages for search engines, the SEO app will come in handy. The app enables you to add and edit your titles and descriptions in a few clicks.
Responsiveness:
When creating a website with Ucraft, you don't need to worry about whether or not it will be responsive – your site will look great across a plethora of devices.
Multiple Languages:
Another cool thing about Ucraft is its multilingual feature. This website builder is equipped with the Languages App, which allows you to translate content into various languages.
All translations are done from the main site. Ucraft distributes the right content based on the language preferences of each user.
Creating a blog:
If you love writing/blogging, then the Articles App is just the thing for you. This tool lets you publish a blog or a news section within your site or create a blog. Everything is there – from adding content and images, changing fonts, formatting and colors to social sharing and comment management.
Creating pages:
Ucraft is an online CMS.
That said, you can create an unlimited number of pages including images, videos and, of course, text. Each page has its own identification within the admin.
It is therefore easy to insert a page into your navigation menu. Page URLs can be customized even after publication.
Forms:
Ucraft also has a form generator.
You can add a variety of fields (name, email, checkbox, drop-down menus, file upload, etc.), integrate your form with Mailchimp subscription list or Google Docs and customize the 'thank you' page (or redirect users to your homepage).
Third-party integrations:
To create the best possible website, you should take full advantage of Ucraft's numerous integrations.
Enhance your website by integrating it with MailChimp, Hotjar, Eventbrite, PayPal, Intercom and Typeform to name a few. I would like to single out the integration with Shopify and Unsplash.
Shopify:
Ucraft's ecommerce feature enabIes you to connect your Shopify online store and import products and orders into your Ucraft website.
This integration makes the process of managing your online store seamless, as everything is done from your website.
Unsplash:
What's cool about this integration is that you can access Unsplash's big library of high-resolution images and use them for your website, surveys, forms or whatever you want.
I'm sure your visitors will enjoy these beautiful photos.
Free logo maker:
If you are serious about establishing your brand, you'll need to create your visual identity with a professional logo. You can design your own logo for free with Ucraft Logo Maker.
With thousands of logos provided by the Noun Project at your disposal, you'll be able to craft something truly unique.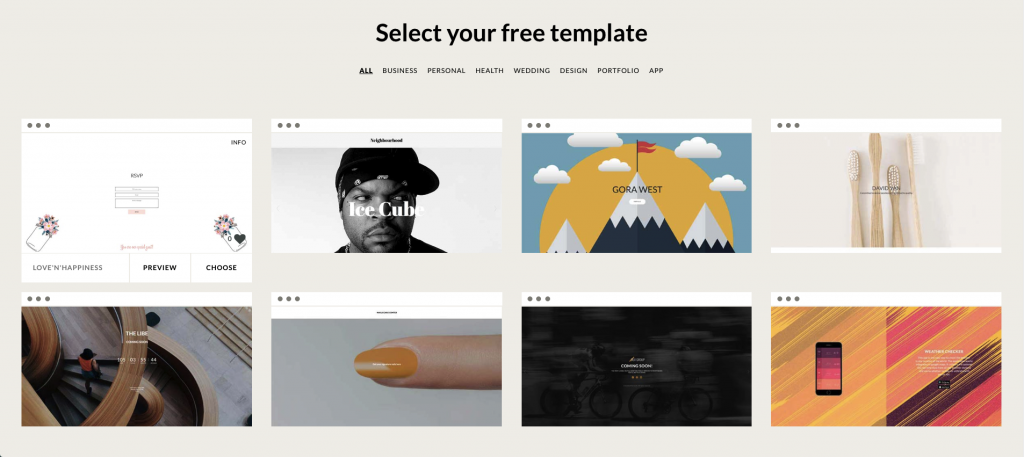 Website templates and landing pages:
Ucraft currently offers more than thirty website templates and a dozen free landing page templates.
The design of the templates is similar to the main web design trends of the moment: large typography, photography in the background, generous space, etc. Moreover, all templates are mobile friendly, which is great.
To wrap up, Ucraft is an easy-to-use website builder that'll help you create your own website in no time.
Whether you're a small business owner, a start-up founder, an artist or a blogger, Ucraft has everything you need to put your website online for the world to see it.
Make sure you watch this step-by-step tutorial on how to create a website with the Ucraft website builder: