For the past 6 years of my blogging and online entrepreneurship venture, there was only one place where I have found to be (quite possibly) the best affiliate marketing training course for bloggers, entrepreneurs, digital marketers and anybody that is looking to make money online.
Today, I want to do (again) my Wealthy Affiliate review (but in a more updated, 2018-ish feel to it).
I have written extensively about Wealthy Affiliate, what it is, what it does and how I make money with it (which we will discuss later) but I think it's time I give my Wealthy Affiliate review an update.
If you are looking for a quick answer about whether Wealthy Affiliate is something you should try, then let me be the first to tell you that yes, you definitely need Wealthy Affiliate if you want to be successful online.
Apart from this website, I also have a review site where I do reviews of online tools for online entrepreneurs and believe me; I tried and reviewed many products but I have no doubt in mind that Wealthy Affiliate is the best option.
There are other ones which are good as well, but as you will see from this review; WA has literally everything you need to get started and make money online.
So yes, if you want to know whether WA is right for you; it is. Go get started now.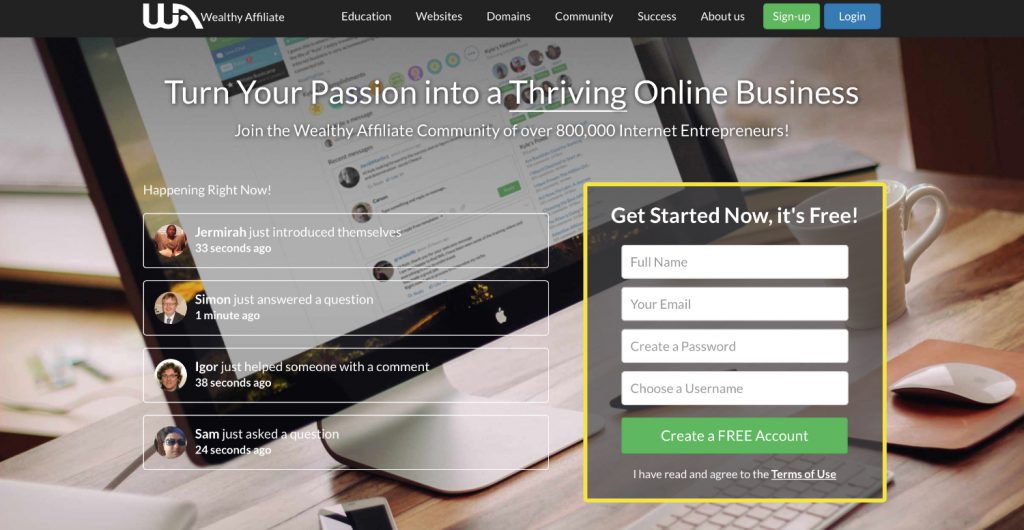 Name: Wealthy Affiliate Online University
Product Website: www.WealthyAffiliate.com
Product Creators: Kyle & Carson (you'll be hearing about them soon)
Product Price: Free introductory course, special offer for 1st month $19, full membership $49 per month, yearly membership $359
My Rating Of Wealthy Affiliate: 09/10
For what to expect from it, what I think of it and proof that it actually works; keep reading this review.
I will also be offering you a special (secret) bonus if you stick around till the end thus making your introduction into WA much, much easier.
Here is my own Wealthy Affiliate review from my experiences with it in the last 6 years.
What Do You Get With Wealthy Affiliate?
Before I tell you what you get as a member of Wealthy Affiliate, I want to quickly touch on what you do not get.
A lot of people that are looking to make money online are looking for a magical system that will make you rich instantly.
Again; I have reviewed many, many products in the make money online industry but I promise you; there isn't one that will make you the next dot-com billionaire.
It just doesn't work that way.
Especially Wealthy Affiliate, and maybe that is why WA is such a respected product online. At Wealthy Affiliate, they make it crystal clear that this is no getting rich quick type of thing.
It requires work from your part and lots of it even.
It would probably be an easier sell if I told you that you will be making money in a few days but that would be a lie and if there is anything that WA has taught me is to run my business in an ethical, professional manner.
Does It Take Long To Succeed With Wealthy Affiliate?
How long does it take to make money with Wealthy Affiliate?
This is a common question that gets passed around on the WA chat room, blogs and comment section and the best answer to what would be this:
I do not know.
It may take you a month, it makes take you 2 years to make money.
While there are some members that quit after a few months and make nothing, there are members that are making $5,000, $10,000 and even $50,000+ a month.
Remember; these people had the same resources and training available to them yet one failed miserably and the other become a success and were able to achieve all of their business (and even life) goals.
It just all comes to down to how much you are willing to work at it.
Are you prepared to devote any of the time you have free to learning and building out your business or do you want to just try it and just do it on occasion?
The latter won't work, and I know because I was one of the many that took my online business "easy". I was so sucked into believing that making money online was easy that once I saw what WA had to offer (which is hard work by the way), I quit after a few weeks of joining.
Yes, I am a Wealthy Affiliate failure, or as I like to say a "Broke Affiliate".
However, I did not give up my dreams of making money online and went on to "shinier things" that kept bleeding me dry until I decided to give Wealthy Affiliate one more go and this time, take it seriously.
The results? My first commission (which I share the story of how that happened here) came in 4 months after I started my project and by the 12-18 months, I was making a full-time income.
Is 18 months too long of a time to wait to be able to make money online full time even while you sleep, travel, and enjoy the life you want?
At that time it did seem like a lot of time but I am glad I stuck with it because now I realize I would've even waited 10 years to have this life I am living now.
Mind you, I'm not making 6 figures either (yet), but I am doing ok and my business is going higher and higher every month which is exciting. And yes; a six figure income now seems possible and I can pinpoint the exact time when it is likely to happen; (in about 3 years time).
Does this mean you have to wait that long too?
No, it's different for everybody. This guy was making $10,000 a month after just 12 months using Wealthy Affiliate training. I haven't asked him yet, but I am willing to bet he was happy he stuck around for 12 months working hard to now be making that kind of income.
So What Do You Get With Wealthy Affiliate?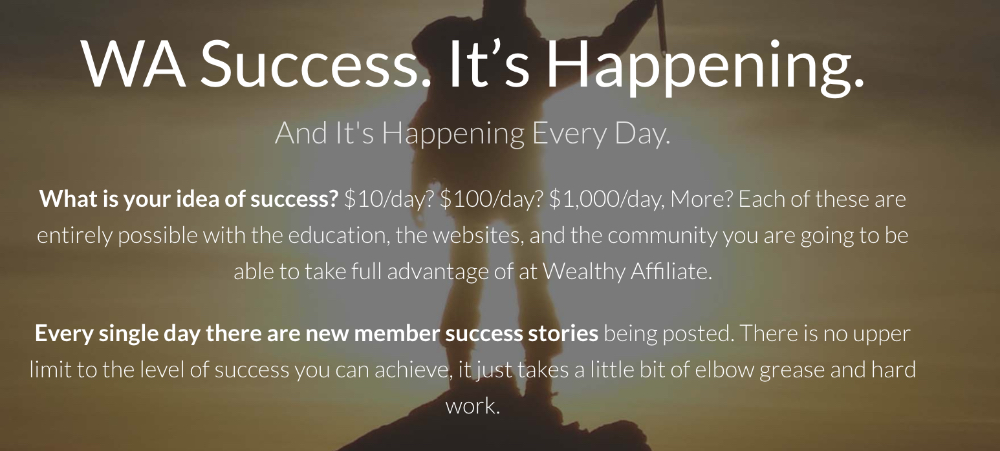 Right, now that the rant is over about what you do not get with WA, let me tell you about the things you will get.
There is a lot offered at Wealthy Affiliate and I am going to try my best to name them all but I'm sitting here thinking it's quite impossible. There's just too much. However, I can try:
The Best Online Marketing Training Platform In The World
I am ready to put my name, my brand, my reputation and everything else I care about behind this and without hesitation, I can easily say that yes, Wealthy Affiliate is the best affiliate marketing training you can get if you want to learn how to build an online business that you can be proud off.
But Chris, What makes it so great?
Well let's see:
2 Main Training Courses
This is where the magic happens and the 2 main training platforms are what I think makes WA the magical place that it is.
As a premium member, you will get access to 2 highly detailed training programs that will take you from starting your blog, picking a niche, creating your website, getting traffic and scaling up to build a real business.
Any hiccup that you might have from first joining, to the day you post about making $10,000 a month yourself, you have the answer to in WA.
Here are what the training courses are about.
Online Entrepreneur Certification Course

Levels: 5
Total Lessons: 50
This course is designed to help you get started with any niche you have in mind. A "niche" for those that do not know, is a blog topic which you will be blogging about and getting readers with.
You will then learn how to take the readers that are coming in, and turning them into a cash revenue stream that has no limit.
No; earning money online has no limit. You can make a $1,000 or $100,000 and more. Again; it all depends on how much you are willing to push it.
Here is what you will be learning in the 50 lessons divided into these 5 lessons:
Level 1: Getting Started
Level 2: Building Your Own Traffic Producing Website
Level 3: Making Money (This is an amazing guide which would should you the potential)
Level 4: Mastering Social Engagement
Level 5: Achieving Maximum Success Through Content Creation
This is the same course I have used to get started and make money with. All the blogs I have and all the businesses I run all follow the same principles and roadmap discussed in this course.
Everything you need is in this course; you just have to make sure you follow every lesson and do your work.
The Affiliate Bootcamp Course

Levels: 7
Lessons: 70
This is where things get a bit murky as people think that to make money with Wealthy Affiliate, you need to promote WA; which is totally untrue.
As we said, in course number 1, you can start your business in any industry (not just WA) and be successful with it.
However, this "Affiliate Bootcamp" course will show you how to promote Wealthy Affiliate if that is what you want to do.
Just remember; the methods described in this course are yes; for promoting Wealthy Affiliate, but there is nothing stopping you from using the lessons in your own industry if you wish.
Here are the 7 levels explained and what you will be learning:
Level 1: Starting Your Foundation
Level 2: Content, Keywords & Conversions
Level 3: Giving Your Site Social Value
Level 4: Get Visual, Get Aesthetic, Get A Brand Through Social Media
Level 5: Knowing Your Audience and Catapulting Your Sales
Level 6: Bing, Yahoo & The Power of PPC
Level 7: How To Scale Successful PPC Campaigns
Who Are These Courses For?
That is a very good question and probably you are wondering whether this is something you'd need or not.
As you can probably see (and will see more) from this review, is that Wealthy Affiliate offers a lot, probably more than any other place online.
So where do you fit in in all this?
If you want to build an online business,
If you are in a digital marketing profession,
If you want to get the cheapest domain registered,
If you want to understand better the "SEO world"
If you want free hosting for your website
If you want the best tools to help you succeed
If you want to network with a group of like-minded people
If you want to build a business you can be proud of
If you want to be in the best position to win;
…..then Wealthy Affiliate is right for you.
Now maybe you've heard all this before, so let me just go ahead and tell you what else you get with a Wealthy Affiliate membership.
As you can see from the titles of the levels, you can easily adapt all the teaching in this course to go along with the lessons you will be learning from the "Online Entrepreneur Certification" course.
Let's go ahead and continue showing what you will get with your Wealthy Affiliate membership:
1 Weekly (Free) Webinar You Can Attend
That's right. Webinars (or as we call them in WA; WAbinars), are a free weekly LIVE class that you can attend and follow at no extra cost to you.
They happen every Friday night and you can reserve your spot to attend or else (if you are in a weird time zone like me), catch the replay the following day or whenever you have a chance.
Here are some of the past webinars that were conducted inside Wealthy Affiliate:
Humanizing Your Brand
How To Promote Your Content
Bringing Traffic Back With ReMarketing
Crafting New Content For Your Existing Blog Posts
Diversifying Your Niche Website
Writing Awesome Reviews For Conversion
and much more.
Here's a screenshot of all the live video training that you can watch. There are 100s of these videos ready for you inside Wealthy Affiliate.
Easy To Use Website Builder + 2 Free Ones
The first thing you need to get started with making your online dream come true is; websites.
This is the 4-step model we use to build our businesses with WA:
Pick A Topic
Start A Website
Drive Traffic To It
Make Money
That simple 4-step formula is what you need to know and do to make money online and as you can see it; having a website is mandatory.
The good news is that you do not have to spend any money on creating your website as Wealthy Affiliate provides 2 free websites for you to use and learn on.
Sure it's recommended you have your own domain and hosting (which you can get both from WA), but for those that want to start off without spending any money, then these 2 free websites should be enough to get you earning.
Your free websites are free to use and will forever be free for you (even as a free member of WA) and you will also get the above-mentioned training to show you how to build them up with that 4 step formula I just shared with you.
I guess you are starting to see now why Wealthy Affiliate is (in my opinion) the best training and the best value for money out there when it comes to online courses.
Probably The Cheapest Domain Registration Available
This is an exciting new era at WA because, in early 2016, they've unleashed another ground breaking product which is the Site Domains feature and in true WA fashion, they have made it cheaper and better than everybody else out there.
I know I've been saying "WA is the best" a few times in this review, but can you blame me? Just look at how Site Domains compares to other domain registrars out there:
Yes, initially you will be paying more for your domain but once you go 1 year or more, there is a huge money saving deal for you.
This is aligned with the WA mentality as online businesses are not built in a few days, it will take some time and you need to plan for the future.
If you're planning on building a real business online, then you need to have a long-term plan and that is what makes SiteDomains so incredibly valuable.
Obviously, with the purchase of a domain, you will also be getting the free levels of the training courses mentioned above, just to provide even more value.
The Interactive, Highly Active WA Community That Is Live 24/7
Another thing that makes WA so wonderful is the surprisingly helpful community of bloggers, experts and experienced marketers sharing their success stories (and failures) on WA for each and every one of us to learn from.
The community is buzzing and growing every day, as a matter of fact; there are over 200,000 people that are WA members!
How's that for an online community? And as a member; you have the ability to learn from each and every one of them.
I'm also online there for long hours each and every day, if you ever catch me in the Live Chat room, be sure to say hello! 🙂
10 Years Of Experience Helping People Become Successful
On my other review site (3HUNDRD.com), I review products that like WA, also claim they can teach you how to make money online.
One thing most people miss is that these type of products only last for a few days online, maybe a week or two but then they die off.
Surely if somebody is telling you they have the "secret knowledge" to make you successful, they would apply it to their own business right rather than have it "fail" after a few days?
Well, that is the case with 99% of the products I review but not with WA; you'd be surprised to know that Wealthy Affiliate has been around for 10 years now and it's constantly growing and improving on itself.
It started off as a keyword site believe it or not but it kept growing and evolving and now it is the giant it is today.
If there is somebody I want to learn internet marketing from, is the guys behind WA; they have survived 10 years online and have more hunger and passion than ever.
These are my gurus!
You will also find them interacting within the community as well so you can reach out to them anytime you wish. They're Kyle and Carson (WA's founders) and you will be meeting them for sure as they do take the time to welcome every new member that joins.
I have had many times where I needed help from these 2 and both of them have delivered 100% of the times.
Last time I had a problem with my business, I contacted Carson and he gave me the best advice I could ever receive to boost my online income.
Thank you, Carson, if you're reading this!
12 Training Classrooms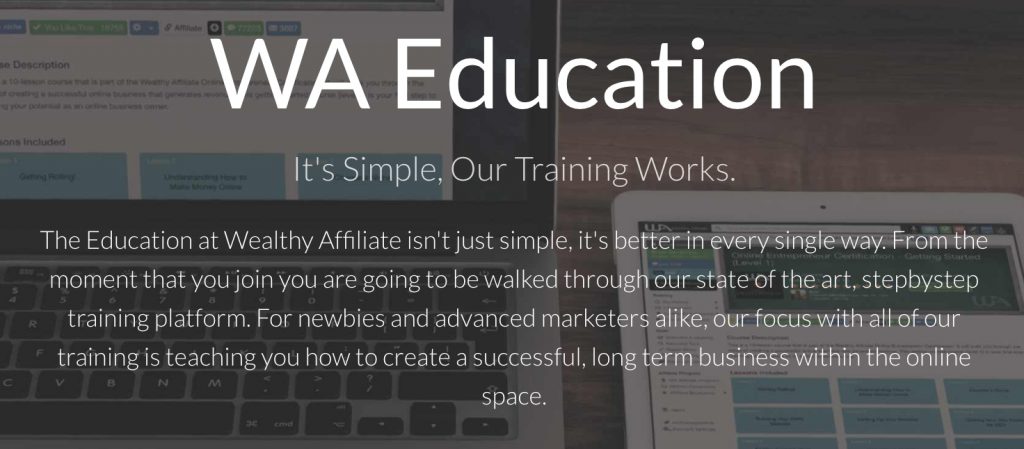 Ok, so we now know that there are 2 main courses, free weekly webinars, successful entrepreneurs that you can network with at any time, helpful owners and even the best price on domains.
What else?
Well; 12 more training classrooms which you can use to discuss issues you're having and helping others with your advice.
How amazing is that?
Here are the classrooms and what they're about:
Getting Started.
The WA Affiliate Program.
Keyword, Niche and Market Research.
Everything WordPress
Authoring & Writing Content
Search Engine Optimization
Social Media Management
Website Development & Programming
Local Marketing
Video Marketing
Email Marketing
The Wealthy Affiliate Platform
Pay Per Click Marketing
WOW!
All these classrooms have 100s of members' questions, tips, advice and success stories to learn from.
These classrooms are well worth the price on their own I promise you, not to mention all that we've discussed already.
Unbelievable Fast Support
This may not seem like something that you should be worried about, but let me tell you;
When 6 months down the line you have a money making website on your hands receiving hundred of visitors a day and for some reason, it goes down; it's time to panic!
Unfortunately these things happen. Even to big dogs like Facebook & Google; sites go down all the time. Servers fail, plugins misfire and you can even get hacked or have a breach of security.
I had this happen to me and after 5 minutes of losing my mind, I decided to contact support and they had my site up and running in… wait for it….. 30 seconds!
Yes. That is how long it took for them to get my email, fix it and reply to me that it's back online.
This is the kind of service and protection I want for my business and luckily, it comes included with the Wealthy Affiliate membership.
You may also be needing instant help and support for many other issues. Maybe you have a quick question that you want to ask? Or even you want your opinion about something?
The Site Support feature + the thousands of active members, tutorials and classrooms are only a few minutes (or even seconds) away in most cases.
You would have to be really unlucky if you encounter a problem that can not be fixed or get help with inside Wealthy Affiliate.
There is just so much quick support that I guarantee you will never have to worry about your site and how it's performing.
It's just there, running 24/7 allowing you to make your money; even while you're asleep. Ohh how I love reading "commission notifications" in my inbox for breakfast!
A Highly Attractive Affiliate Program
I was going to skip this part but I thought that you might like the idea of making Wealthy Affiliate your business.
Yes, you can promote WA and make a nice chunk of change on commission each and every month.
I won't go into specifics about the WA affiliate program because I did that in this post here but it's something you should check out.
As a bonus, you will also be invited for a yearly event in Las Vegas with all expenses paid for if you manage to reach 300 sales a year, which is less than 1 per day if you think about it!
Every year I'm getting closer and closer to this goal and I am sure I'll get there one day. Hey… maybe we can meet up there?
*Please do note that while yes; I am an affiliate for Wealthy Affiliate. My commissions won't come at an extra cost to you. Wealthy Affiliate pays me, not you so do not worry about spending more money just because I would like to be your mentor.
One On One Coaching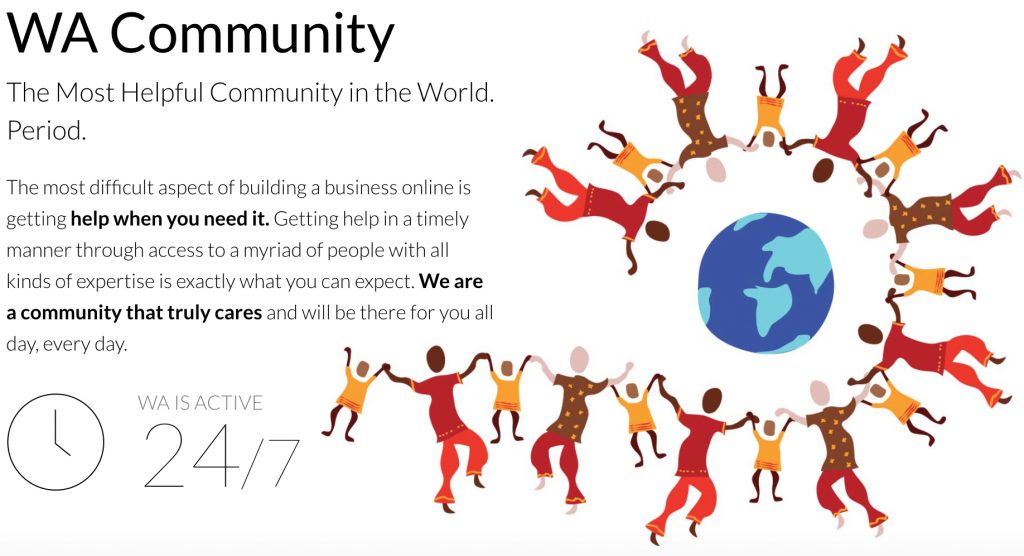 Ok, let's get serious for a minute here.
How would you like to have a one on one mentor that you can get in touch with and help you walk the journey towards success?
That is also available to you and I would be happy to be your mentor as I am to hundreds of other students that have tried WA, like it and stayed on to carry on growing their business?
Yes, I am willing to offer my services for you and help you the same way my mentors helped me in the past (and continue to mentor me)!
This is option is not available anywhere else, well it is but it will typically cost you around $197 for an hour long Skype session.
What I am referring to here is the fact that you can email me any time and I will be ready to reply. I'm online for hours a day on Wealthy Affiliate keeping up with my students (it has become part of my job now) so a reply is only a few minutes away (unless I'm asleep LOL)
Things I LOVE About Wealthy Affiliate
Whenever I write a review, I usually go through all the things I like about a product but seeing as how I've just explained all that Wealthy Affiliate is, I am sure you would agree that I am a huge fan of WA.
Yes I do LOVE:
The free websites
The free hosting
The incredibly fast support system
The live video training classes
My mentors in there that has helped me so much in the past 5 years and also..
I love helping you, the beginner getting started with your business without being scammed by the BS products that are out there promising you riches beyond belief if you buy a $7 product.
However, after having said all this, there are a few tiny details that I do dislike about Wealthy Affiliate.
Although they are not a "deal-breaker" for me, they might be for you so it's only fair to share with you what I have found to be a bit annoying!
Things I Don't Like About Wealthy Affiliate
Too Noisy (Sometimes)
With over 200,000 members, it's safe to assume that the community can get a bit noisy sometimes!
And it does….
Chat is constantly active, there's blog posts being published every second (nearly) and there's also a lot of comments and interactions happening in real time, all the time.
While this may not concern you, and it shouldn't, I can understand how people can get a bit "distracted" with all of this.
I've had a recent student of mine on WA telling me that she has not been following the training (and even cancelled her account) because she was too busy interacting within the community.
You do not have to do that!
The community is there to help you and while it's fun to chat away with other like minded people, you need to focus on the training before anything else.
If you want to join WA, expect a lot of distraction but also know that you need to focus on the training first. If you have an extra few minutes to "chat" then so be it, but work on yourself and your business first!
Some OutDated Training
Remember, Wealthy Affiliate has been around for 10 years now and while the 2 main courses that are available for you (and the ones you should follow) are all updated, there are countless other mini-courses that were created a long time ago by members of the community that are not so relevant now.
As I said though; the 2 main courses are all up to date with the latest information so don't worry about this.
How Much Does Wealthy Affiliate Cost?
Now, you might be expecting Wealthy Affiliate to cost in the thousands seeing how much offer they value to their members but you'd be surprised to know that Wealthy Affiliate is probably one of the cheapest training you can get online.
This is the pricing structure:
The Free Membership
Wealthy Affiliate has a free membership option which you can use to see if Wealthy Affiliate is something you'd like to be a part off.
You're lucky to have this option as this was not the case when I started out with it 5 years ago!
As a free member you will still get your 2 free websites and access to the first levels of training of both the "online entrepreneurship" course and the "Affiliate Bootcamp".
With these 2 courses and a free membership, you should be able to have a website up and running online ready to be turned into a business.
The higher levels is how to get traffic and monetizing that traffic (+ some more tips and strategies).
I would advise you to get started for free here but I'd also encourage you to take up your first "first month offer" as premium member which is this:
1st Month Premium Offer
The month to month premium membership goes for $49 (which I'll be talking about next) as a starter member, you are going to be offered your first (premium) month at only $19
This was introduced so people can try the full power of Wealthy Affiliate and it's many resources without "spending too much" and not knowing what you will be buying into.
This is another great example of how much Wealthy Affiliate values the "customer satisfaction" and user experience of their training.
BTW, you're again very lucky with this as I didn't have this offer when I started out either.
Monthly Premium Membership
After your free membership and the first month premium with a discounted price, you will then be switched to the "normal" membership plan on a month-to-month premium basis which costs $47.
Now if this seems like a lot to you, I'd like to urge you to read back this Wealthy Affiliate review I have for you here and tell me if it's worth it or not.
I have 5 sites hosted at WA with the typical hosting prices going for around $10 per month, that's already a $50 saving a month just from the hosting, not to mention the training (obviously), the keyword research tool, the live weekly webinars, the expert advice and mentorship you'll be getting.
However, if you think $47 is still too much, then how does $29 per month sound?
The Yearly Membership
Yep, if you go for a yearly membership, which is $365 a year, you will be getting access to the full "Wealthy Affiliate experience" for just $29 per month, less than a $1 a day!
Are you willing to invest $1 a day in your business? I am sure that since you've read this post then you do mean business so I am sure you would agree that paying less than $1 a day to have your own business online is nothing compared to what it costs to start a business in the offline world!
You can check out the "yearly membership" deal here, it's highly recommended!
How To Cancel Your Wealthy Affiliate Membership
If you try WA and you find that it's not for you, it will be super easy to cancel your membership and continue on with your life.
If you are a free member, then all you have to do is stop logging into your WA account and that is it.
If you're a premium member, you'd just have to cancel your payment option which can be done with a few clicks inside Wealthy Affiliate itself.
Although I think you're going to be enjoying WA, it's good to tell you how to get out of it if you so desire.
I have reviewed products before that would require you to email the company or get in touch with customer support to cancel but this is not the case with WA.
You either stop logging in or else cancel your payment. Done. Easy.
Reviews & Success Stories About Wealthy Affiliate
Below, I would like to include a few screenshots of people's reviews and testimonials about WA and also some of the "success posts" that get published on the site.
I will also be including a screenshot of my first success post, that is when I made $0.84c lol).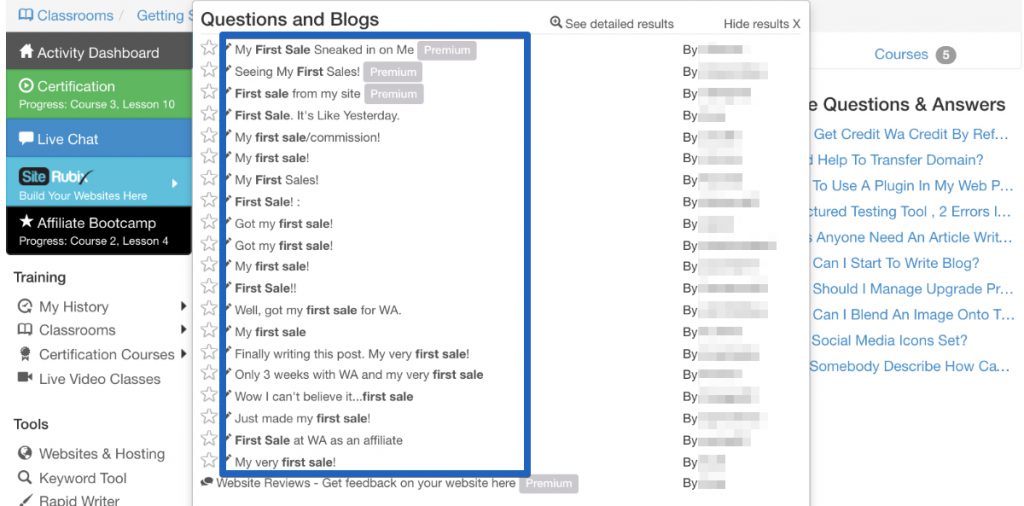 My Post About My First Sale: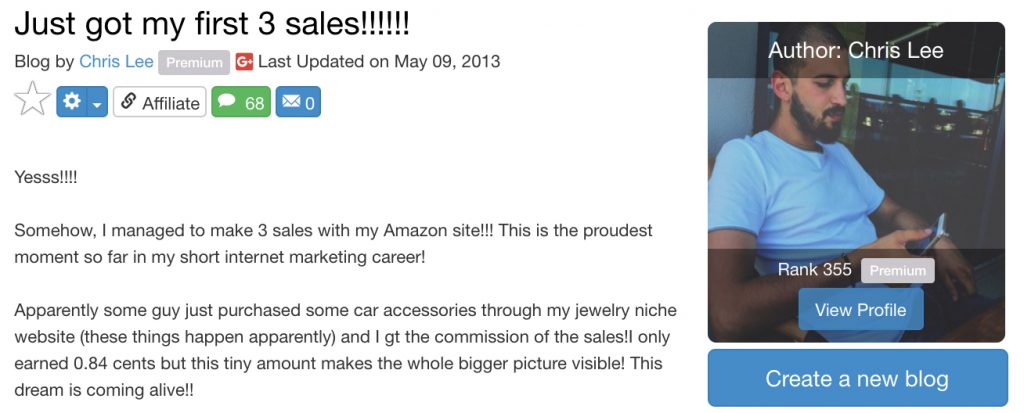 Success Posts You Can Read:
How To Become A Wealthy Affiliate Member
Ready to try out Wealthy Affiliate? This has been a lengthy review and since you are still here reading, then I am sure you're interested in giving Wealthy Affiliate a go.
Here is what you should do next:
Add your bio and a picture to your WA profile,
Start the training,
Learn as much as you can,
Decide if you want to go premium or not and if you do;
I suggest you go for the year option thus you'll be saving around $100 on your membership.
In Closing
Thank you again for reading my Wealthy Affiliate review, I hope this post has answered all the questions you might've had about WA and if I didn't cover everything (which I am sure I didn't), please leave me a comment below or send me an email here.
Alternatively, you can also send me a message inside Wealthy Affiliate which is where I probably am right now for a quick reply.
All the best to you and I hope to see you soon in WA chatting away on the Live Chat. I'll also been looking out for your 'success post" which I'm sure won't be too far off!
Have a great day! Start learning, start earning!
Chris Lee