I have just finished watching a new documentary that chronicles the rise of SEO and affiliate marketing in general.
Obviously, me being heavily interested in both SEO marketing and affiliate marketing, it was a pleasure for me to watch and understand the history behind these two industries that I dedicated my life to.
If you're also interested in watching, you can watch it on YouTube or right below this post.
In this mini-documentary, we see how far SEO and affiliate marketing have come, and how much things have changed.
Affiliate marketing, although just now it is becoming a "mainstream thing" has been around for about 20-odd years already and it doesn't seem to be slowing down anytime.
That is why today, I would like to talk to you about how to get started with affiliate marketing, and more importantly, give you an easy to follow affiliate marketing course for beginners.
If you are new to the world of SEO, digital marketing, and affiliate marketing, then this post was created with YOU in mind.
As an affiliate marketer myself for the past five years, I would like to give you all my experiences, knowledge and more importantly how and where I learned all I needed to know to build myself a great affiliate marketing income online.
Are you ready to learn a new skill? Are you ready to take notes and give this affiliate marketing course a try?
Let's start….
The Best Way To Learn Affiliate Marketing
There are three main ways which I think will be the best for you to learn affiliate marketing and they are:
Trying and failing many times before succeeding.
Doing it
Doing it without failing.
Those three ways will, with 100% certainty, (when given enough time), help you succeed with affiliate marketing.
Obviously, there is one "easy" way which I am sure you've guessed it already, and that is doing it without failing.
Yes, you can try without getting any training, but chances are you will hit roadblock after roadblock because you do not have a clear plan of action to follow.
In time yes you will learn "the hard way, " but according to statistics, over 90% of beginner affiliate marketers quit before they ever make that first $. If you think you have the tenacity to last years without making money, then that choice might be for you.
You can also try doing it on your own (without any training) and maybe even succeed with your first try.
It's extremely rare, and if you manage to make money without knowing how you've done it, chances are you got lucky and in business, luck in not a good thing to focus on.
Then there is the 3rd option, and that is taking an affiliate marketing course and learning how to do it the right way from the start.
The reason I prefer the 3rd option from this list is because that is how I finally managed to nail this thing once and for all.
I have tried going about it in my own way, and I failed. I did get "lucky" once too, but that luck quickly fizzled away as well.
The best way I found, and the way I will be telling you about today is doing it while you are learning it and trust me when I say; out of the three options; this would be the quickest and the one with the least mistakes.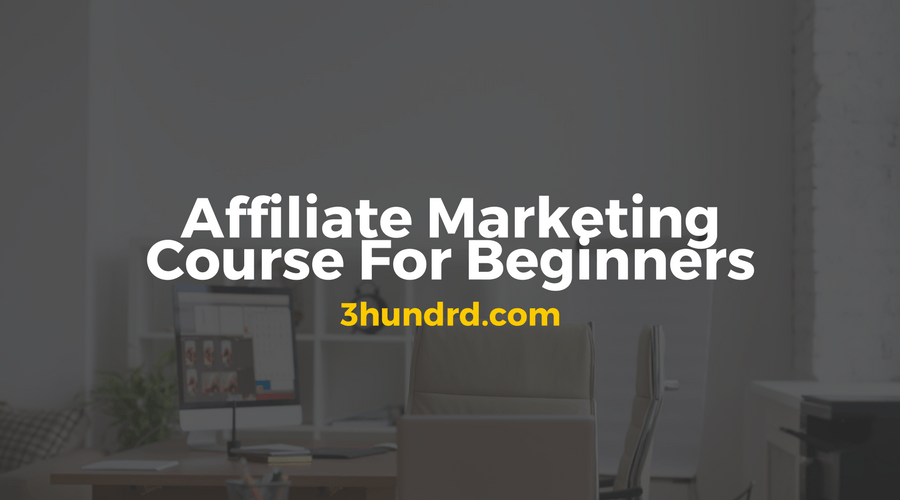 Step-by-Step Affiliate Marketing Training
Now there are many, and when I say many I do mean a whole lot of affiliate marketing courses out there, but after reviewing many of them on this blog, I can say with full honesty that Wealthy Affiliate is the right one for you, especially if you are a beginner in this industry.
What Do You Get As A Wealthy Affiliate Member?
You can see my full Wealthy Affiliate review here for all the benefits and why I think it's #1 when it comes to training, but just off the top of my head, here are some of the benefits of joining:
Free affiliate marketing training videos:
Yes, Wealthy Affiliate is free for beginners (with premium options for more advanced training). All you need to do is to create an account, fill out your profile and then start doing the training lessons which are both text and video based.
As a beginner, you get the first ten lessons (split up in 10 days) for two main training courses (so you get 20 video lessons) and then there's also the communities, the classrooms, and the live webinar replays.
Learn affiliate marketing basics:
Another great reason I chose Wealthy Affiliate as the best affiliate marketing training course for beginners is the fact that they offer their services for free.
A lot of other programs do not provide this, and you will find a lot of people (who really do not know about affiliate marketing) end up paying thousands to get some training only to find out that they do not like affiliate marketing.
Wealthy Affiliate has changed the game here as I said already, they offer their courses for free, so if you're a newbie, you really have nothing to fear and nothing stopping you from becoming a member.
Having a qualified affiliate marketing coach ready to help you:
If you decide to become a member at Wealthy Affiliate, you will also be in the company of 700,000+ other affiliate marketing at different levels of training ready to help you out with all your issues and roadblocks.
There is no problem in the affiliate marketing world that have not yet been explained many times over in the training and inside the community so rest assured that any problem you may have on your road to passive income, is covered and explained well.
What Opportunities Are There In Affiliate Marketing For Beginners?
Before I give you a small parting gift, I would like to bring to focus a question I often get asked, and that is what are the opportunities in affiliate marketing for beginners?
As I said earlier, affiliate marketing have been around for more than 20 years, but it is just now becoming a thing and a force to be reckoned with, hence why you probably are interested in learning about it.
Yes things have changed, and some might say affiliate marketing is harder to do than in the 90s, but opportunities also grew tenfold since the 90s, and today you have the possibilities to audited of billions of people around the world in millions of different niches and industries.
Here is a video from my good friend and fellow Wealthy Affiliate member Alex Sol from Extra Paycheck Blog explain to you the incredible new opportunities available for beginner affiliate marketers.
GIFT: Affiliate Marketing For Beginners (Free Downloadable PDF)
Before I close off this post, I would like to offer you my free ebook which explains my humble beginning with affiliate marketing as well as giving you my absolute best tips on how to make a lot of money with affiliate marketing.
Just to give you a clear idea of how powerful these tips are; I have used them myself on my own business to net over $2,500 in one single weekend.
In Closing
Thank you very much for reading my article.
I really hope this post has given you a clear push in the right direction if you are looking for an affiliate marketing course for beginners.
I will put the integrity of my whole business on Wealthy Affiliate, and that is because I know it is the best option out there and you also have nothing to lose seeing as how it's free to join and get started with.
On a side note, I would also urge you to make the switch to premium once you understand the potential that lies inside Wealthy Affiliate's doors.
It will open up a whole new level of expert affiliate marketing training unmatched anywhere online.
I look forward to meeting you inside Wealthy Affiliate.