I've been contemplating doing an Agnes and Dora review for quite some time now since I don't usually cover business opportunities like this one.
However – after many questions/requests about this and after seeing how popular Agnes and Dora (as a business model) is with the online business community, I've decided to see if it's worth the hype and also see if you can actually make money with the Agnes & Dora Business model.
Is Agnes and Dora legit, or is it yet another pyramid-like scam?
Can you really make money promoting their products?
According to my research, Agnes & Dora seems to be a legit company and not a scam. However, I would not consider this a business opportunity for myself (and I'm going to tell you why below).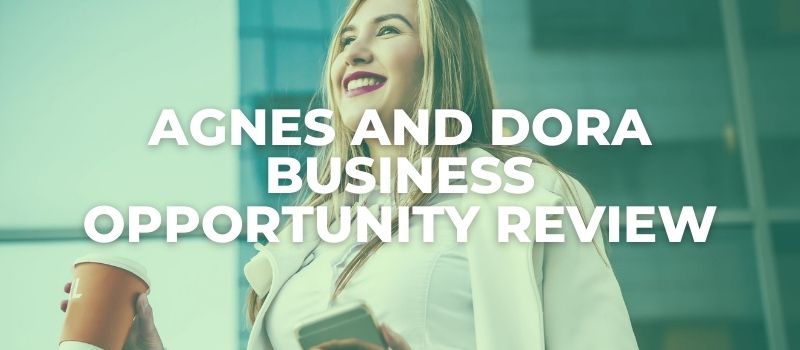 What Is Agnes & Dora?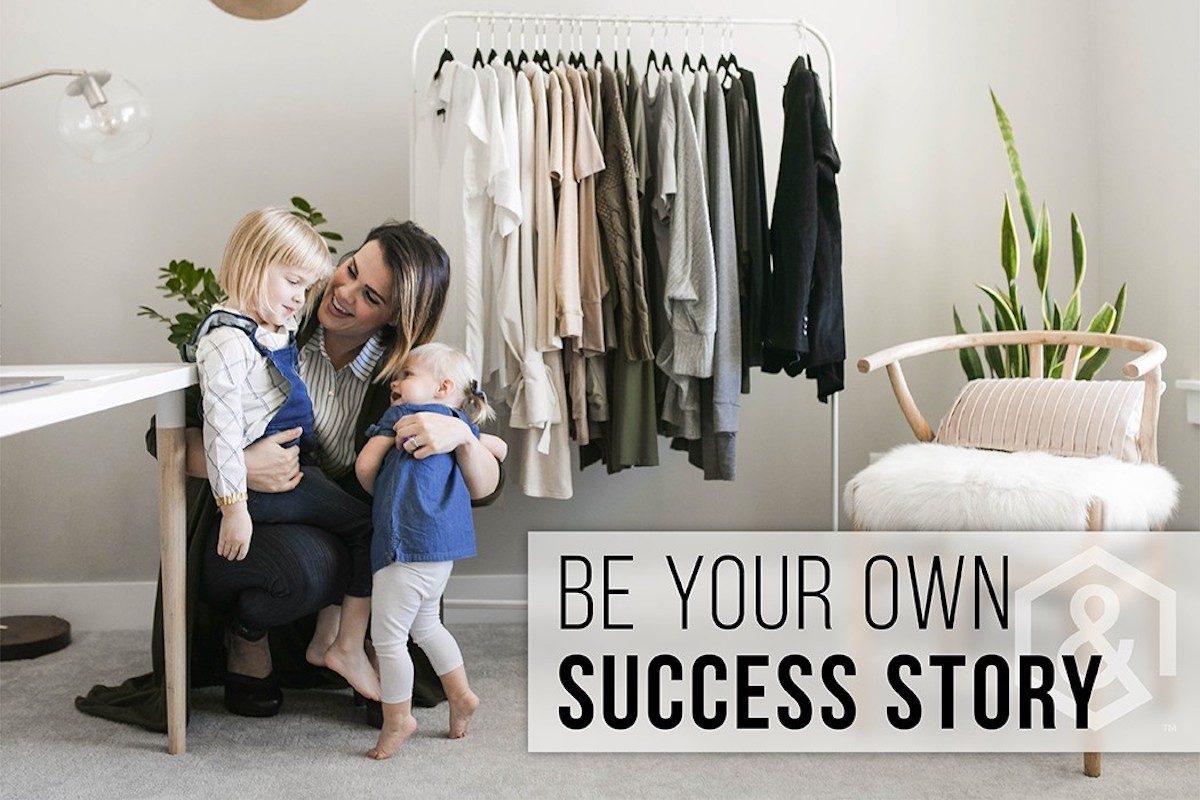 Agnes & Dora is an online (and offline) fashion brand that sells various clothing items all branded under the "Agnes & Dora" brand.
Since Buffy Bandley founded it in 2013, this brand has become one of the most talked-about "overnight successes" in the online fashion world thanks to their business model, which is what I will be focusing my review on today.
To help expand their reach, Agnes & Dora allows people who want to get started in the fashion business to become "representatives of Agnes & Dora" and thus become independent agents for the brand.
As I will explain below, if you decide to become a rep for Agnes & Dora, you will be buying up inventory from the company and then selling it yourself through the various mediums they recommend.
Now many have claimed that the Agnes and Dora business model sounds a lot like an MLM company (or worse, a pyramid scheme).
That is not true.
This is not an MLM company (although it does look like it) and it's definitely not a pyramid scheme (pyramid schemes are illegal).
To explain this better, let me go a little bit deeper here and tell you how the Agnes and Dora business model works:
How Does It Work?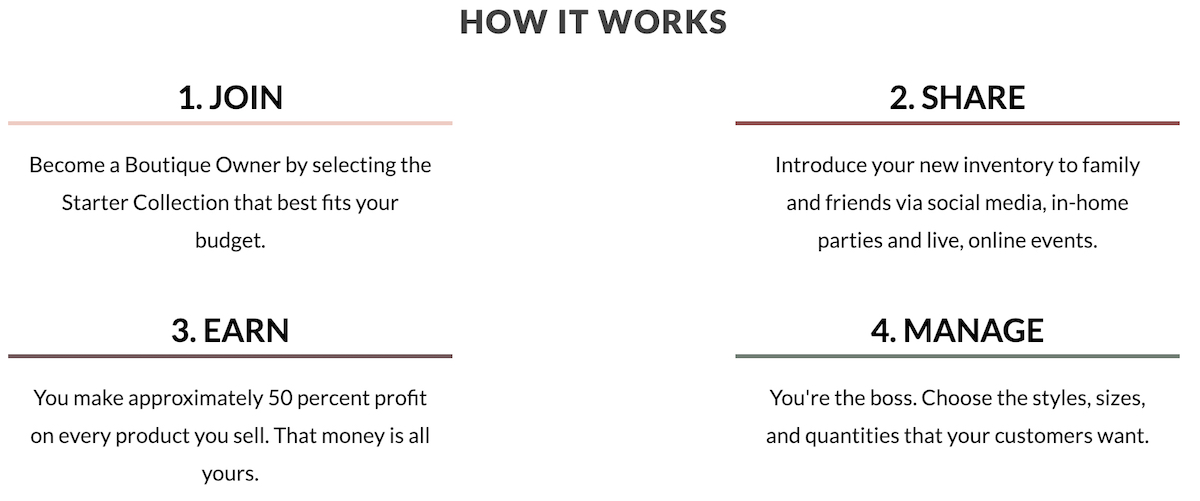 If you decide to become a rep for A&D, you first need to buy in with a small, yet sizeable collection.
Basically, they have three different collections you can buy into and those are:
The Friends & Family Collection
The Launch Collection
The Boutique Collection
Once you buy these collections, you will then receive various clothing accessories from the Agnes and Dora brand which you then have to sell to make a profit for yourselves.
It's good to note here that to become a rep, apart from the price of the collection which I will explain below, you also have a $149 "registration fee" that covers your membership, training on how to sell the brand and they will also build you your very own A&D branded website.
How Much Do You Need To Start Your Fashion Business?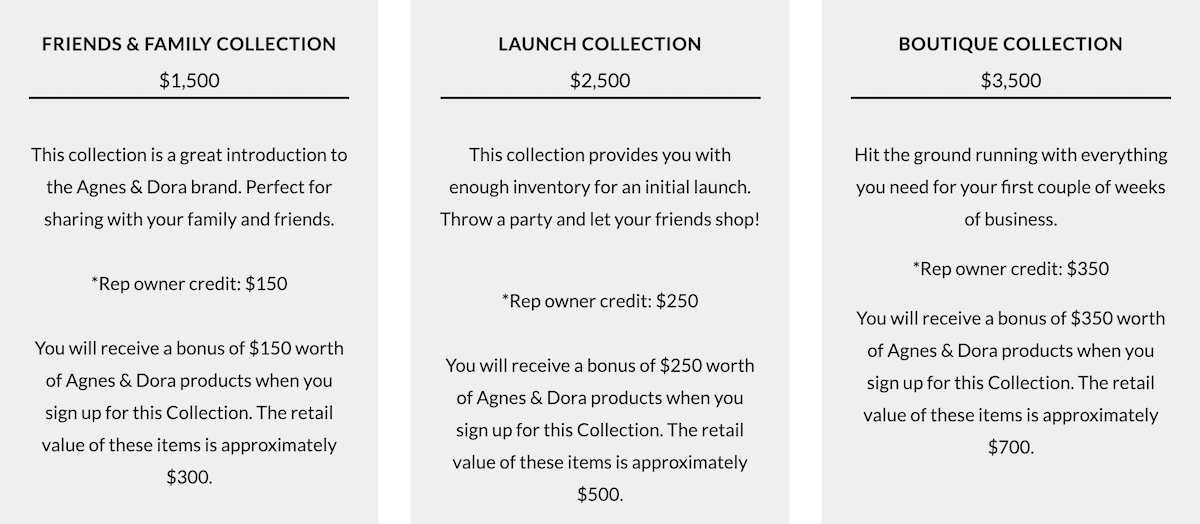 The collections come in three packaging/prices ways, these are;
The Friends & Family Collection – $1500
The Launch Collection – $2500
The Boutique Collection – $3500
If you're just getting started with your "fashion business", my suggestion would be to start with the "Friends and Family collection."
If you have an established social following already (which you can sell to) or maybe you even run your own brick-and-mortar boutique, you can look into getting the higher /bigger collections from the get-go.
Overall, to get started with the A&D, I'm assuming you will need at least a few grand on hand and I would round up that number to about $2000.
That should cover the price of the collections, the rep registration fees mentioned above and also give you some leeway money which I am sure you will need for the random expenses that come up.
How Can You Make Money With Agnes & Dora?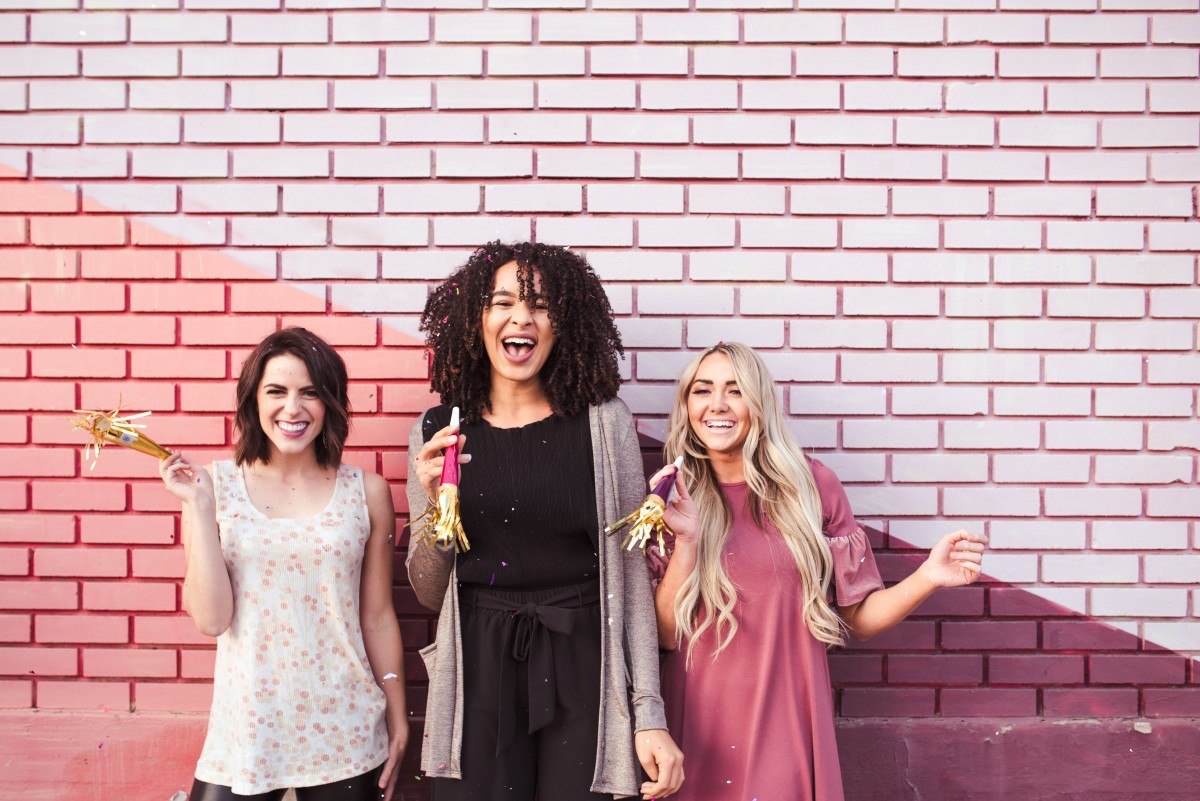 Let's talk about the moolah now as I am sure that's what you really want to know.
Can you make money with Agnes & Dora?
I am sure you can, the thing is that you need to learn how to sell their products.
As I said, it helps if you already have a social following or fashion blog that you can sell to but you don't really need any of that to sell.
You can "set up shop" selling the appropriately titled "Fiends and Family" collection to – guess who – your friends and family.
As I said, you also get training on how to best sell these items, so you are not going to be left in the rain with no idea on what to do and how to do it.
One thing I gathered throughout my research for this Agnes & Dora review, is that they put a lot of effort in making sure their representatives are well-taken care of, which they should since that is (most of) the business model.
How much money can you make?
The markup of these collections is 100%, so; if you buy the $1500 entry collection, you can sell that for $3000, and 50% of that would be your profit.
A Few Pros & Cons About This Company
Let's now share a few pros and cons about this company as I am sure you want to know.
PRO: A Great Brand With Great Products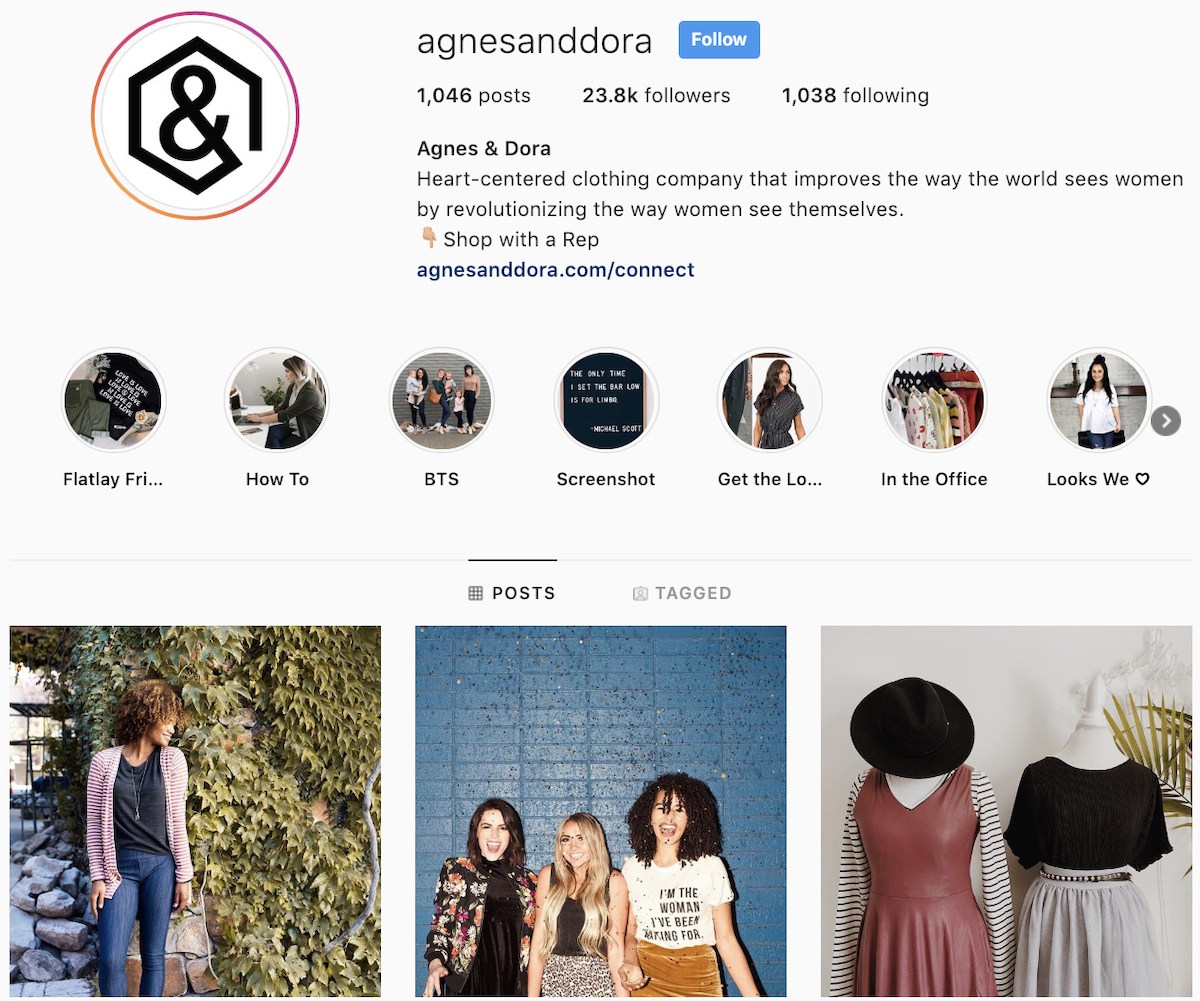 The Agnes & Dora brand may not be internationally known, but they do have a sizable, loyal following, and consumers LOVE their products, which brings me to my next point.
PRO: They Offer
Quality

Products

The fashion items they make have all received positive reviews.

I have yet to come across one negative review of Agnes & Dora that says their clothing is not of the highest quality possible.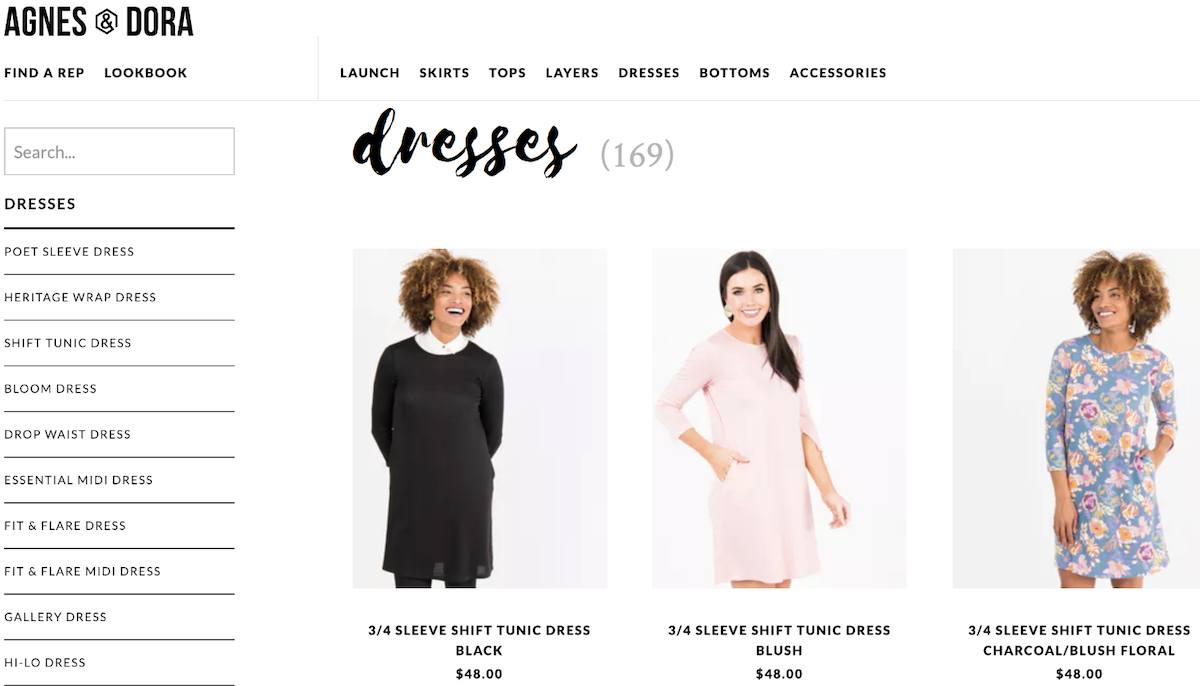 PRO: They Limit The Number Of Reps
Since they offer great one-on-one care to their reps, they often restrict how many representatives they do business with.
This guarantees the market will not get saturated with reps and it also allows the current existing reps to get the attention and care they deserve (smart move).
PRO: It's One Of The Most Lucrative Markets
The fashion industry is brutally competitive, but Agnes & Dora were smart enough to carve out a small niche of their own.
This is why I always say aligning with such a powerful brand that caters to a specific audience is a smart move and a good idea.
PRO: A Lot Of Focus On The Product
The reason I would not list Agnes and Dora as an MLM company is because of one key factor, which is;
They "sell" their merchandise, not their "representative" packages.
Typically, MLM companies focus on selling the "systems" than the actual products; thus their revenue is mostly tied up to how many "affiliates" they can sucker in.
Of course, this usually opens up the door to a lot of scams to sucker people in.
Agnes and Dora – while still taking excellent care of their partners and reps, have their focus on making their products better and the Agnes and Dora brand bigger.
CON: You're Buying A Job
Now even though I love this company and the business model behind it;
I personally would not get involved in something like this.
When you go into this type of business, you still have to operate within certain guidelines and regulations governed by that business (just like buying a franchise).
I prefer to own my business, and I don't want anybody telling me to do and not do with my business.
& just in case you are wondering, yes Agnes and Dora have stringent guidelines on how you should run your business.
CON: The Entry Price Is Not For Everyone
I don't see this as a con since I am sure they set up a high cost of entry to eliminate the tire kickers, but yes;
Agnes & Dora is relatively expensive to start with.
We're talking a $2000 investment here, which I am sure not everyone reading this review would be able to afford from the get-go.
Agnes & Dora is not for everyone, but if you can afford it, then go for it.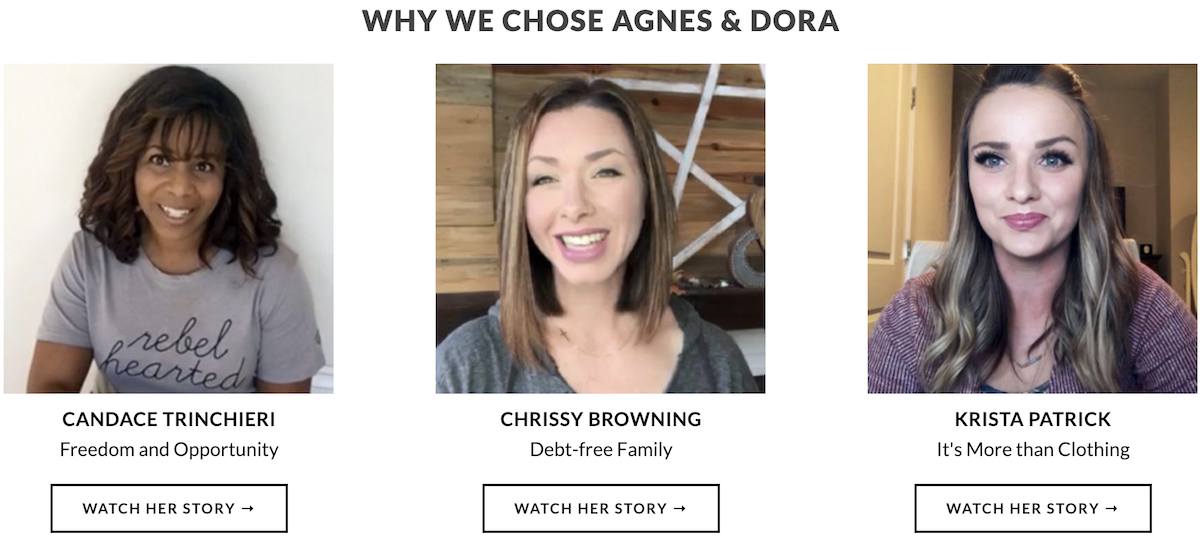 What Are Their Current (& Past) Reps Saying?
Just to give you a different perspective from what I am seeing about Agnes and Dora, here are some video reviews from current and ex Agnes & Dora users which will help you get a better understanding of what to expect.
Is The Agnes & Dora Business Model For You?
Is this the golden opportunity you've been waiting for?
Probably, but as I said; this is not for everyone.
It sure sounds like a great opportunity to anyone serious about making it work, and I do believe that if you take this seriously, you can actually make a great business out of it.
To better understand if Agnes & Dora is for you, I highly suggest you get in touch with them to analyze your specific situation and give you the right feedback on how to move forward.
You can reach out to them via phone or email which you'll find on their contact page.
My Final Opinion On Agnes & Dora
Even though I would not get into a business like this, I really do like Agnes & Dora and their business model.
It's a well-known company with great products and hundreds of positive testimonials from their customers and representatives.
Sure the entry cost may be a bit high for some, but I can assure you that you are most definitely getting your money's worth here.
Recommended Alternatives
I don't do reviews like this often.
The last (and only) similar review I did was of Paparazzi Jewelry, which uses the same business model as Agnes & Dora but for the jewelry business.
If you think you'd prefer to go that way, you can check out my review of Paparazzi Jewelry here.
Related Questions:
Are Agnes & Dora Going Out Of Business?
This is a rumor I've seen circulating online. From what I can tell, it seems like Agnes & Dora is still in business and have no known issues. With that said, I did reach out to the company for some clarifications but as of yet, I have not received a reply.
Is Agnes And Dora Accredited With The BBB?
Yes, Agnes and Dora is accredited with the Better Business Bureau. For a full listing of their business,
you can check it out here
.