One of the first things you should understand when learning about affiliate marketing is affiliate programs (and how they work).
These programs and networks are a very important piece of the affiliate marketing puzzle and without them, you literally do not have a chance of ever being able to get started.
Since affiliate programs are so important, and how every affiliate needs to use them and understand them, today I want to share with you a few things that should help you understand how affiliate programs work, how to join them, and how to make use of them.
Put simply, there's not much to say about how an affiliate program works:
You find one you want to join.
You apply to join (sometimes you will get approved).
You get your affiliate links.
You get paid from the affiliate program once you make a sale.
However, I do know that the above opens up more questions than it answers, which is why if you are brand new to using affiliate programs, I suggest you read this article very carefully.
Here's what I will be covering below:
What Is An Affiliate Program (& How Does It Work)?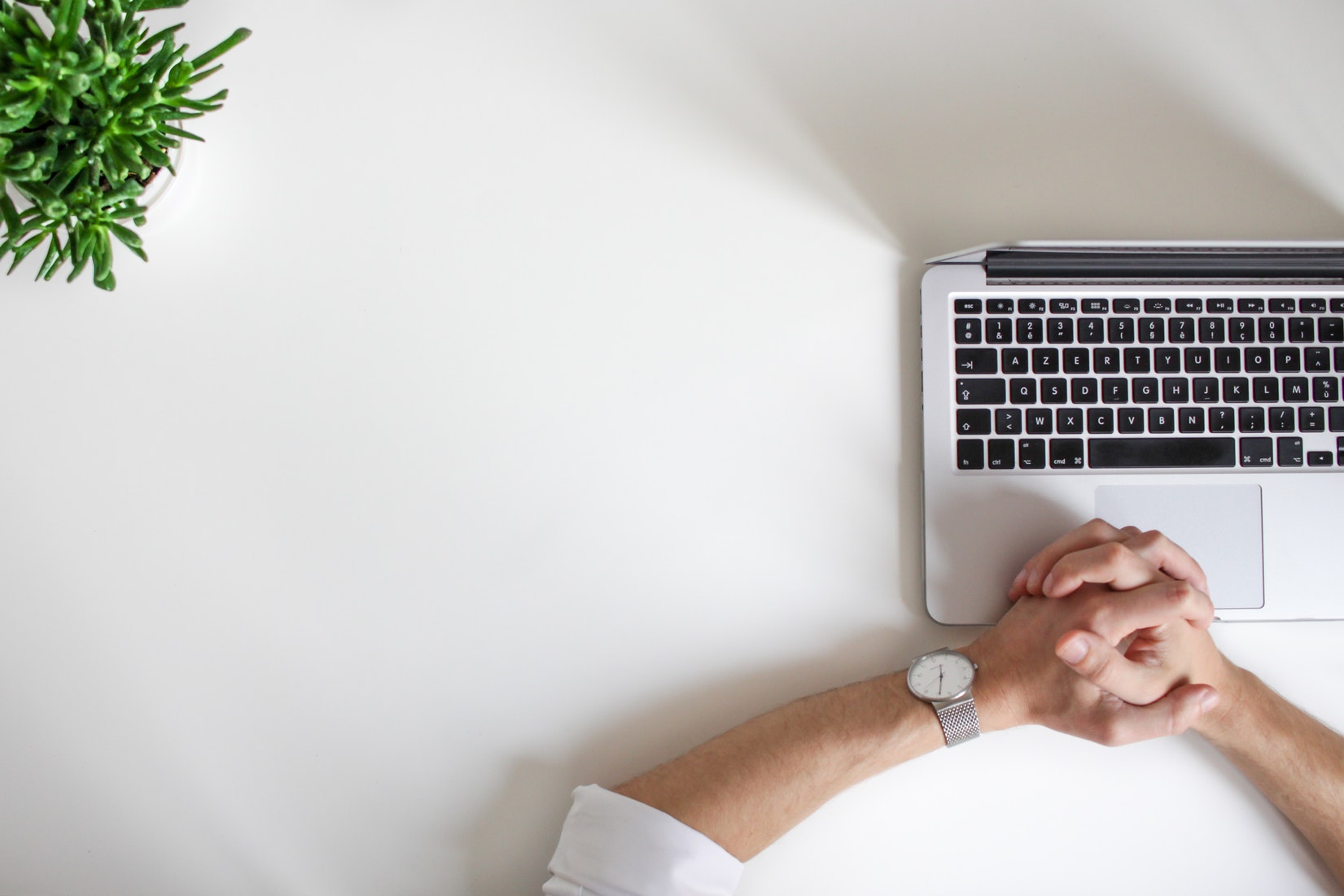 An affiliate program is what will allow you to promote a certain product or service to your customers.
The best way I can explain this is by example so;
Let's just say that you are in the health and beauty niche and you want to start making money promoting beauty products for a commission.
One of the best-known and most used affiliate programs is the Amazon Associates Program, which allows you to sell anything you want on the Amazon marketplace for a small commission (you can see Amazon's commission rates here).
So, once you find the product you would like to promote, you simply need to get your affiliate link, and that is where the affiliate program comes in.
Basically, the program is usually offered on the website itself so all you would need to do is find the registration page of the program and apply to join.
I will talk about using the program and the actual affiliate links further down below, but let me first tell you HOW to find and join affiliate programs.
How To Find Affiliate Programs
I am currently doing a lot of roundup reviews of affiliate programs so if you are looking for something specific, I suggest you take a look on this page and see if I've covered your desired niche already.
The second best way to do so is to look on Google and see if you can find something worth promoting.
Keeping within the beauty/makeup niche, a search such as the one shown below will turn up hundreds – if not thousands – of potential affiliate programs you can join (and remember you can join them all).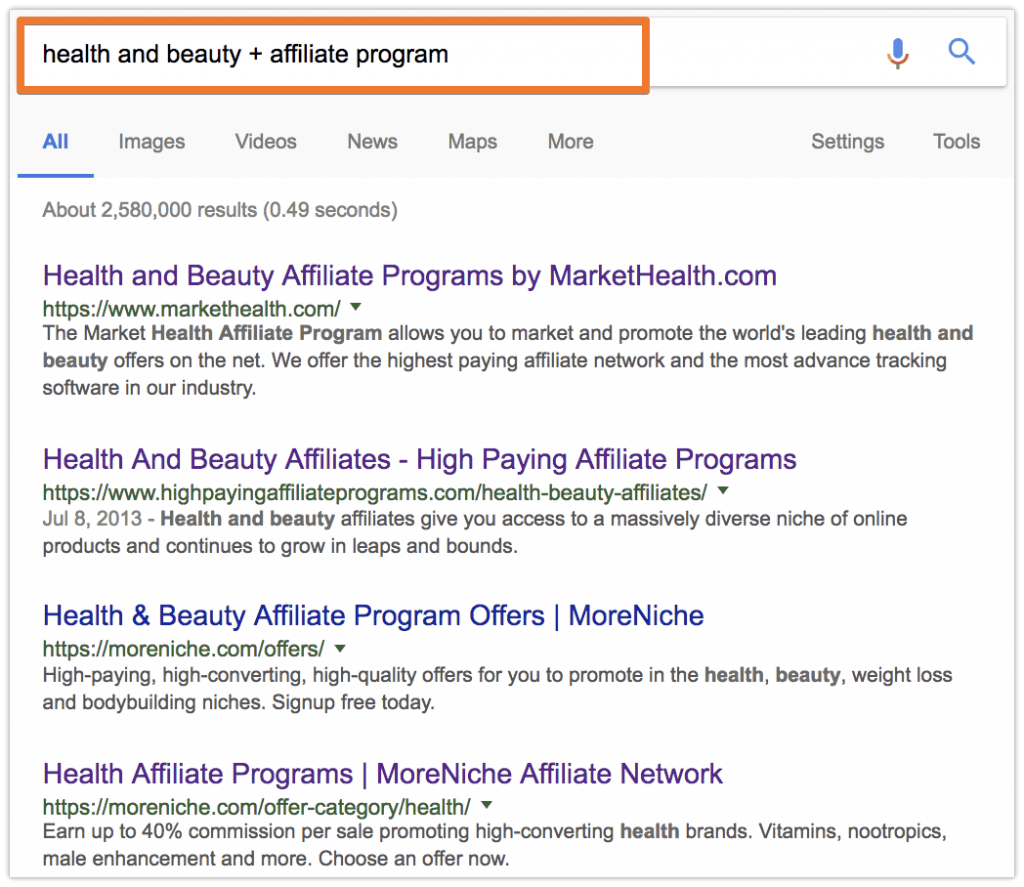 If you have a product or service that you currently use and would like to promote, then you can always check if they offer an affiliate program rather than go looking for something else to promote on Google.
As I said, the Amazon Associates Program has probably millions of products to promote so whatever it is you want to promote, you will be able to find it there.
How To Join Affiliate Programs
Different affiliate programs will have different requirements as to how to join them.
However, there are some common traits which I will list below that I am sure 99.9% of the affiliate programs you'd want to join will ask.
Some affiliate programs may not require anything to join, but some might require:
Your Website's URL:
Don't even think about affiliate marketing if you don't have a website yet.
If you do not have a website ready with published posts, you may risk being disapproved and having your heart broken.
Best way to go about this is to first beef up your website with some content and then apply to join, it will make things much easier.
Struggling with writing content? I have the perfect course for you here.
Your Website's Average Monthly Traffic:
Some affiliate programs may also want/need to know what traffic you're currently getting and they even might refuse you if you do not meet their demands.
(Some would simply like to know what potential your marketing efforts could have)
Of course, it always helps to have a site getting a lot of traffic daily, but do not think that you need it to start joining affiliate programs.
How You Plan On Promoting The Program:
Again, this won't be a right or wrong type answer, but when you're trying to join an affiliate program, some would likely ask you how are you planning on promoting their service/product.
Is it through:
Social media?
SEO?
Email marketing?
All of the above?
Whatever it is, just be truthful about it and you're good to go. There's no need to complicate things.
How Do Affiliate Links Work?
Right, let's look back now at how do affiliate programs work and it all comes down to knowing your affiliate links (and how to use them to make money).
To get paid for your sale, the vendor you are promoting obviously needs to know that it was you who sold the product and not somebody else.
This is done and tracked through what we can an affiliate link, which is why you need to join an affiliate program as that is where to will find your unique links.
Now, once you get your links, you do not want to touch or modify the link in any way shape or form as that will cause a broken link or worst, make the sale and not get credit for it.
I would suggest you make your affiliate links a bit prettier but this is a bit advanced so it's not a must for now.
How To Promote Affiliate Links
That is where you need to learn the most.
Where and how you use affiliate links literally how you will make money from affiliate marketing.
Seeing as how this post is about explaining how do affiliate programs work, I won't go into much detail about that here but as previously noted, you can find my top guides on affiliate marketing here.
I also have a free training course which you can look into if you're brand new. It's where I learned all I needed to know about affiliate programs and how to make money with them.
You can see my story on how I get started here.
How Do Affiliate Programs Pay You?
One query I also want to address here is;
How do affiliate programs pay you?
Some differ from the norm but most of them pay out every month using either PayPal or bank transfer.
Mostly it's PayPal though and you will also find affiliate programs that will pay you weekly or bi-weekly.
The norm – as I said – is per month and you will be getting paid through PayPal so you are going to need a PayPal account to get into affiliate marketing.
You might also want to have a PayPal Business Account if you plan on making a lot of income with affiliate programs.
Are Affiliate Programs Free to Join?
Yes, they are.
100% free.
The reason I am stressing this is that if an affiliate program is asking you to pay money to join, then you are not in affiliate marketing anymore, you are in the network multi-level marketing space.
I have my reservations about network marketing and MLM, but I will leave that up to you to decide.
In Closing
I hope this brief explanation has been sufficient in answering you about how affiliate programs work.
Being a beginner and trying to join affiliate programs can seem a bit techie and complicated but I promise you; there is nothing to worry about.
Once you got the hang of one, they all pretty much function the same way.
Since you made this is far, I also want to remind you of the affiliate marketing training course which I have mentioned above.  
I highly recommend you take a look at that as you will find all the resources and tools you need to build yourself an amazing affiliate business – just like I did.
Let me know if you have any questions below and I would love to help you out.
Talk soon.