If you're a fan of Chinese dumplings and have yet to try make your own at home, now is your chance! There's no need to feel intimidated by these little mouthfuls of heaven, dumplings are both simple and satisfying to make.
The perfect dumpling comprises two key things: silky soft dumpling pastry and a luscious, delicious filling. It's enough to warm you up from the inside, out.
Learn how to make your own dumplings at home in the rest of this blog.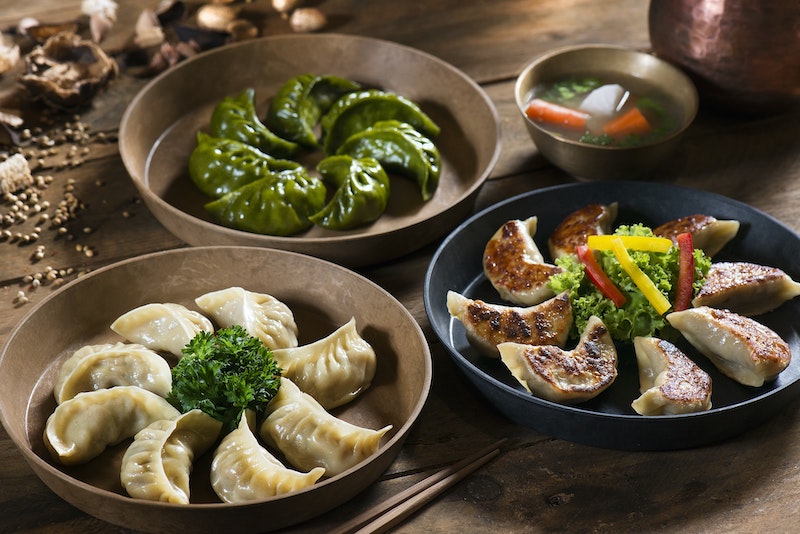 A Quick History on Traditional Chinese Dumplings
Dumpling dough can be used for three types of dumplings: steamed and boiled dumplings or potstickers which are usually fried in a little oil.
Dumpling wrappers should be tender, thin, and have a silky-mouth feel. The wrapper/dough is just as important as the filling.
Traditionally, when Chinese people talk about dumplings they are referring to the boiled kind. This is how they are cooked throughout China, not steamed or fried.
Dumplings are a staple food in China, much like rice or noodles. They are considered the ultimate comfort food. This is because they are moist, juicy, and packed with flavor.
When it comes to flavor, you want to strike the right balance between meat and vegetables. The filling must not be too greasy or wet, either. Dumplings are an important food in celebrating the Chinese New Year (new lunar year), especially in Northern China.
In terms of rituals, it's comparable to eating turkey on Thanksgiving!
The dumpling and its Chinese pronunciation also refer to a turning point between the old and the New Year. Its traditional ingot shape is the symbol of wealth and good luck.
How to Make Your Own Delicious Dumplings at Home
Now, you could make this task all-the-more challenging if you wanted and make your own dumpling dough/wrappers.
But if you just don't have the time for that, you could always buy pre-made dumpling wrappers from your nearest Asian supermarket.
You could also simply order pre-made dumplings online from https://thexcj.com/, but if you want to give this dish a go yourself, here's how to do it:
Filling Ingredients
First thing's first, you need to prepare your dumpling filling. You can use just about anything to fill your dumplings, but this recipe example includes pork and shrimp. You'll need:
1.5 pounds of minced pork
Half pound of peeled and deveined shrimp
1 cup of diced brown/Shitake mushroom
3/4 cup of grated carrot
2 cups of shredded red cabbage
2 cups of sliced green onion
6 cloves of garlic (minced)
4 tablespoons of ginger (minced)
2 tablespoons of soy sauce
2 tablespoons of sesame oil
1/2 teaspoon of pepper
Combine the vegetables, spices, soy sauce, and oil in a mixing bowl. Then add in the pork mince and the deveined, and chopped prawn meat.
Mix well and refrigerate while you prepare the dumpling wrappers. This filling recipe makes enough for roughly 24 dumplings. Check out this recipe for a delicious dumpling dipping sauce.
Prepare Your Dumpling Wrapping Station
You can choose from a few wrapper styles and shapes, but some of the most common are circular or square-shaped which are about 4.5-inches across.
Either style wrapper is ideal for dumplings, wontons, or gyoza. To prepare the wrappers you'll need:
A small bowl with tap water
A tablespoon measure
A baking sheet
Some parchment paper
A skillet with a lid (if you don't own steamer baskets)
It's important to prepare your counter space properly before putting your dumplings together. Clean down the area and set up your equipment.
The water is used to seal the dumpling wrappers, the baking sheet is for holding your dumplings before you cook them. And the parchment is for lining your skillet so they don't stick to the pan.
How to Fill Your Dumpling Wrappers
Your first step is to lay out 3-4 dumpling wrappers on your work surface. Use your tablespoon measure to scoop out your prepared filling and place it in the center of the wrapper.
Once you're a little more confident, you can add some more filling if you'd like.
Your next step is to moisten (not wet) all around the edge of the dumpling wrapper. Simply use your finger for this. This moistened edge seals the dumpling together.
For beginners, it's best to stick to simple dumpling shapes.
You're going to fold your dumpling over on itself into a half-moon shape, or a triangle shape if using square wrappers. You can press down around the edge of each dumpling with a fork, but do so with a light touch!
How to Cook Your Dumplings
As you may already know, there are many ways of cooking dumplings. They don't have to be traditionally boiled if you prefer something else!
Here are a few common ways of preparing your dumplings that are all equally simple and delicious:
Steaming: line a steamer basket with parchment paper, place about 4 dumplings inside, and steam for 6-minutes
Pan sear (potstickers): fill your skillet with a tablespoon of oil over high heat, sear the dumplings when the oil is shimmering for 3-5 minutes
Boiling: use a medium-large pot and bring water to a boil, then add your dumplings, making sure to stir so they don't stick together
If you choose to boil your dumplings, don't take your eye off the pot. Stir the water occasionally so they don't stick together. Your dumplings are ready when they start to float.
You also want to make sure that you cook your dumplings in small batches if you choose to boil them. This is so that they don't stick to the pot or each other and tear open. Dumplings don't usually take longer than 5-minutes to cook through when made fresh.
A quick note on storing leftover dumplings:
You don't want to let them stand for too long after you've made them. Make sure to freeze your dumplings in small batches, right away. This is so that the pastry does not become soggy and when you cook them later on down-the-line, they fall apart.
Get Your Fix of Lifestyle Hacks Here
If this blog on how to make dumplings at home has inspired you to learn more, be sure to check out the rest of this site!
We offer articles on all things lifestyle, recipes, travel, cuisine, home décor, professional blogging and so much more.