A few days ago, I've passed the 5-year mark of making money with affiliate marketing.
However, affiliate marketing was not the first method that I've attempted to make money online with, it was actually Fiverr.com.
Back then – circa 2011/12 – I was desperate to start making money online and I managed to get my first taste of online income from Fiverr.
Today, I want to share with you a few tips on how to make money with Fiverr.
The platform has changed quite a bit since I was using, but the principles still remain and if you want to know how I managed to become a "top-rated seller" on Fiverr and make $3,000 a month using it, then this is for you.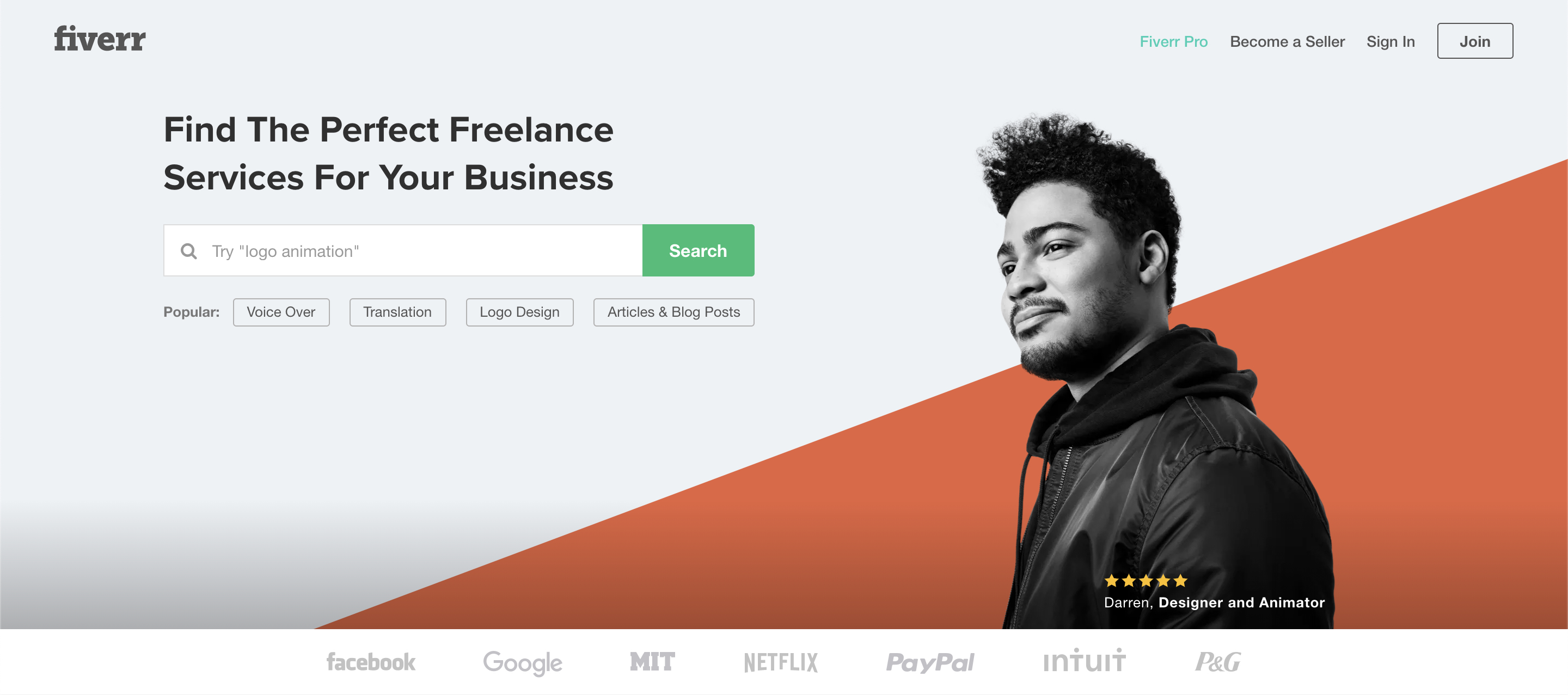 Can You Still Make Money with Fiverr?
The short answer is yes; you most definitely can still make money on Fiverr.
Even though there's a lot more competition today than there was 7-8 years ago, the "customer base" on Fiverr has also increased; it's just a matter of knowing how to make it as a seller on there, which is what this guide is all about.
Before I get into the nitty-gritty details, let me first give the newcomers a brief introduction to what Fiverr is (if you already know, you can skip the following section).
What Is Fiverr?
Fiverr is an online marketplace for freelancers doing tasks for cheap.
It started off as something of a novelty with people selling odd jobs for $5 but it has now evolved to much more than that.
Nowadays, Fiverr has created its own ecosystem for the "freelance economy" with thousands of professional Fiverr sellers making a full-time income and entire businesses outsourcing their work to Fiverr sellers.
Now I have to admit, I haven't made any money on Fiverr in about 4 years, but I am a buyer on there now and I can tell you;
It's now a much better place than when I was a seller on there!
What Can You Sell On Fiver?
You can sell anything you want and/or anything you are good at.
Obviously, the starting price of most gigs is the recommended $5 but you can add extensions and upsells to your service that can bring up your job listing to hundreds and even thousands.
Just think about what you can offer, and go set up a "Fiverr gig" (I will show you how soon).
Before you try to learn how to make money on Fiverr, I highly suggest you first come up with something you'd want to offer on the platform.
Ideally, it's something that can be sold for "cheap" as the entry offer, but also gives you room to upsell more of your services.
To give you an idea, here are a few "popular categories" on Fiverr that you can do:
Graphic Design Gigs
Digital Marketing Gigs
Writing & Translation Gigs
Video & Animation Gigs
Music & Audio Gigs
Programming & Tech Gigs
Business Service Gigs
Fun & Lifestyle Gigs
How To Make Money On Fiverr
Now that you have an idea of what you can offer for $5, let's see how to actually turn that idea into money.
The first thing you must do is set up an account.
Step 01: Set Up An Account On Fiverr:
Go to Fiverr.com and sign up for an account.
It's free to do so and it's the standard "sign up" process.
Don't worry, there's no need to create 2 accounts (as a buyer or as a seller). All you need is to create an account and that alone will give you the option to buy and sell services as you please.
Next…
Step 02: Create Your Fiverr Gig:
Now that you have a solid idea of what you want to offer on the platform, then next thing you should do is create your first "Fiverr gig".
Simply click on the 'Selling" tab and go through the process of creating your first service.
You may be asked to fill out some details about who you are and why you are offering this service but it is pretty much standard stuff and it won't take much time to go through.
Within 5 minutes or so, you should have your Fiverr gig up online awaiting customers.
There might also be some "waiting time" till Fiverr approves your gig but it's not with every gig and even if it's held for review, it's a quick process that will take just a few hours.
Now that you have it set up, the next and final step to making money with Fiverr is of course; getting buyers to buy your gig.
While I wish I can tell you this will happen without you doing anything, I can't; you have to promote your Fiverr gig to get as many eyeballs (and buyers) on it as possible.
How To Promote Your Fiverr Gig (& Make Money)
As I said, Fiverr has grown much bigger than "people doing silly things for $5" era of when I was a seller on there.
It's now a legitimate & far-reaching freelancing platform with a lot of small business tied into its ecosystem.
To help you make money using their website, Fiverr now (they didn't back then) gives you a variety of tools that you can use to promote your "gig".
How To 'Complete" Orders On Fiverr
Whenever a customer uses your service, he or she deposits money into Fiverr's Escrow and once you deliver the work, the funds get released to you automatically so you should not have an issue of a customer not paying.
Be sure to treat customers as best as you can (and you will find some difficult ones for sure) as this will help boost your Fiverr rankings and profile allowing more visibility and more customers.
You can see a great guide on how to become a top seller on Fiverr here.
Fiverr Fees: How Much Do You Owe Fiverr?
With every $5 basic, you only get $4 so that $1 going straight to Fiverr as part of their fees.
20% is a lot of money yes, this is one of the things I do not understand about Fiverr.
However, the top tier level of sales (above $5) will have much lesser fees – I would not know how much as when IU was making money on Fiverr, the maximum was always $5.
Can Fiverr Be Trusted?
Yes, I have never had an issue with payouts and I have never heard about any major issues coming from sellers on Fiverr.
You get paid weekly (or when you reach a certain threshold) and funds are delivered straight to your PayPal account.
A simple, streamlined process is guaranteed.
Do I Recommend It?
Yes, if you want to get started making money online in 2019, Fiverr (or any other freelance platform) is a good choice.
I have used my Fiverr money to fund myself an education in affiliate marketing that now allows me to live life as I please and it was all thanks to those $5 gigs on Fiverr I used to do 4 to 5 years ago.
Any Alternatives?
Yes, there are any freelancing platforms online.
Some of the major ones I have used are PeoplePerHour and Upwork.com.
Is There A Better Way To Making Money?
if you do not need "start-up capital" from Fiverr and want to start learning how to build a sense that does not require you to trade time for money, then look no further than affiliate marketing.
I have a free 10-day training course right here for you that will show you how to build a business you will be proud of calling yours.
In Closing
Thanks for reading my guide on how to make money with Fiverr.
I hope this mini-review and "Fiverr" gigs suggestion gave you enough to go and start selling on Fiverr.
May this be the first step for you to a life of online business and freedom. I'd be proud to know I set you on the right path in life with this blog post.
Let me know if you have any questions down below.