I've recently been looking for some new make-money-from-home opportunities to review for you all, and while there are many (some legit and some not), I may have found something that you probably would be interested it.
This is my TranscribeMe review, an online platform you can use to make money online transcribing audio files into text. While that may sound perfect for you, but as with every make-money-online opportunity in existence, things aren't always as good as they seem.
Is TranscribeMe Legit?
Yes, TranscribeMe is legit and you can make money offering your transcription services on this website, the only problem I have with this is that there is no way for you to be able to make any sizeable income.
To understand what I mean by that last point, but sure to read the entire review below where I will share with you…
What TranscribeMe is
How it works
How to get started as a transcriber,
How to make money with TranscribeMe – and;
How much money you can expect to earn.
Let's dive in…
What Is TranscribeMe?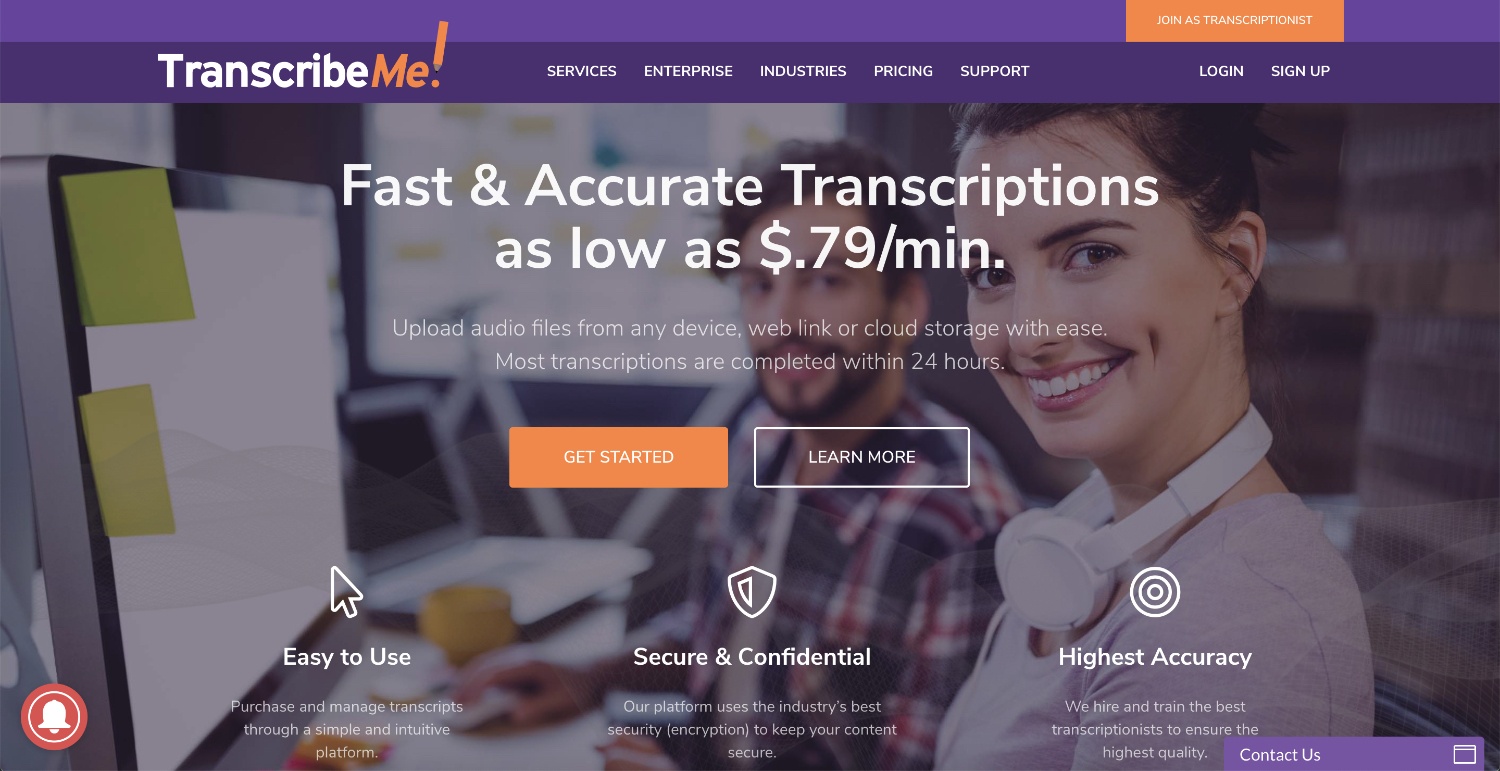 TranscribeMe is an online platform where one can go to and get your audio files converted into text files.
This is usually done by businesses around the world (for various reasons) and many flock to this platform since it's one of the best services you can use for that specific job.
Your job, as a transcribed, would be to transcribe these audio files into text and in turn, you will get paid a sum of money for each one (how much you can make will be discussed below).
What Do Transcribers Do?
As a transcriber, your only job is to turn these audio files into text for TranscribeMe's clients.
It's a very simple and straightforward job and even though it's not as easy as it sounds (some audio files can be tough to transcribe), it's something I believe anyone can do in their spare time to make some extra money.
How Much Money Can You Make With TranscribeMe?

Let's get to the fun stuff now. How much can you earn on TranscribeMe?
TranscribeMe currently pays $20 per audio hour which is not bad but also not great.
Also, some users have reported that the payout is far less than that since most audio files are not anywhere close to an hour-long, it just doesn't add up to enough time to make a decent income out of TranscribeMe.
Another major big problem with TranscribeMe (and other get-paid-to sites which I have reviewed in the past) is the fact that the more people that join these networks, the fewer jobs are there to go around.
The more transcribers there are = the less work you will have available for you to do.
"All work is currently assigned. Please check back shortly for more work and thank you for working with TranscribeMe."
Get used to the phrase above, as you will be seeing it more often than you think.
Is Transcribe Me A Good Way To Make Money Online?
So the question was;
Is TranscribeMe a legit way to make money online?
The answer is YES – it is.
However; the only issue with it is that there are not many jobs to go about, thus you will never be able to make anywhere close to a full-time income with it.
To be fair; TranscribeMe never claims this is a full-time opportunity and they clearly state that this is just another way one can make some extra money online so please; do not get your hopes up.
But can you make some money?
Sure you can – earning an extra $100-$300 a month with TranscribeMe is definitely possible. If that's what you are aiming for, Transcribeme is the perfect choice for you.
How Will Transcribe Me Pay You?
One thing I love about Transcribeme is that they pay through PayPal so you are going to need an account with PayPal for you to get paid.
Also, the minimum payout is only $10 so once you have made that (or more) you can easily and quickly withdrawal your earnings straight to your PayPal to be used as you please.
How To Join TranscribeMe as A Transcriber?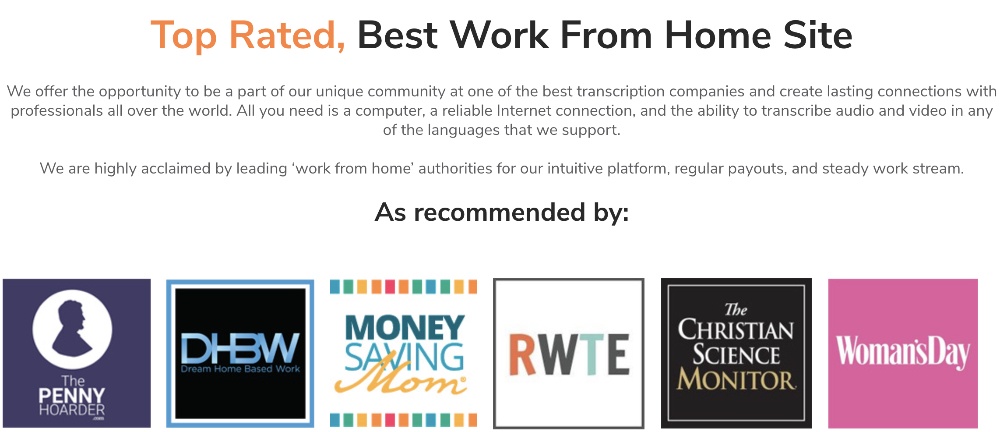 Interested in becoming a member? Here's what you need to do to become a fully-certified TranscribeMe transcriber.
Go to the sign-up page and fill out your details.
Next, you will be asked to do a little bit of an exam to prove that you know how this process works and that you command a good grasp of English and can understand and write it as well.
Please note this process of registering and going through the exam and getting approved lasts 12 business days so you are definitely not going to be making any money soon with this.
Also, once you do start transcribing, your work will also be "proofread" by others to make sure you are delivering the work properly.
If you repeatedly fail to pass these checks, you will not be getting paid for your work so make sure that you know what you are doing and make sure you know your English.
Do you need any special qualifications?
Not really no – just a high-school English diploma or equivalent would do.
Any Complaints From Current Transcribers?
I've done extensive research on TranscribeMe before writing this review and the only issue I have found many are "complaining about" is the lack of work that is available.
One worker claims jobs are incredibly hard to come by, and even if they do; if somebody else claims it before you do, you still would not get it.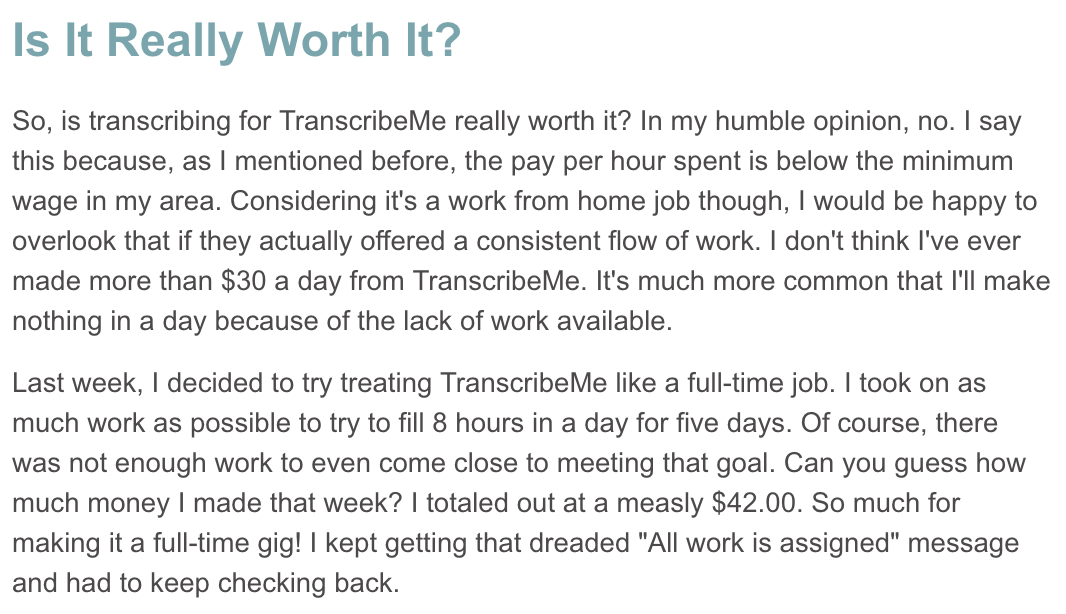 As I see it, the low volume of work issue will only get bigger as more and more people join the platform.
As we said already – if you go in just to make a few extra $$ in your free time, then TranscribeMe is an excellent way to go.
However; there are better options out there.
Are There Better Ways To Make Money Online?
I understand you came to this TranscribeMe review looking for ways you can start making money online so I want to share something with you real quick.
I have been making money online for the past seven years or so and since January of 2018, it's been my only job. I now exclusively make money online.
While I do love the amazing opportunities TranscribeMe and other such platforms provide for us, I do not see these sites as a good way to make money online.
For all the work you'll be putting in (to make cents) – you can use those few extra hours in the day to build an online business that will earn you a whole lot more in the long-run.
Sure an online business doesn't provide instant returns, but if you stay with it and make it work, the opportunities are endless. No more bosses, no more commute, no more doing things you don't want to do and no more of the daily grind.
You may be thinking that starting an online business is hard and complicated and you are right, it is – but only if you do not know what you are doing.
I have many training guides on my site that will show you how to make money online, and you can spend weeks reading my material but I also have an amazing free training course that walks you through all you need to know to start earning money with your own online business.
That course is called Wealthy Affiliate (link leads you to my review). This is the same course I have used to build my online business, and it has helped over one million people find success online!
If you want to have a real chance at making real money online and not be sitting on a computer hitting the refresh button to see if more TranscribeMe jobs came in, be sure to check out that course.
You have nothing to lose and trust me; it's a much better way to make money online.
Good luck. I'll catch you on the next one.