I've been doing dropshipping for the past 3 years now but I've just come across the Spocket app which I believe can be a huge asset to anyone trying to kickstart their dropshipping career.
In this review, I will go through all you need to know about the Spocket App, including:
What it is (& how it works)
How to get started with Spocket
How much does it cost
What can you do with it
How much money can you make with it and
I'll also list some pros and cons of the app which I think you should know.
Interested in getting started with Spocket? 
Here's my review… (as always, feel free to ask me questions down below in the comment section.)
What Is Spocket?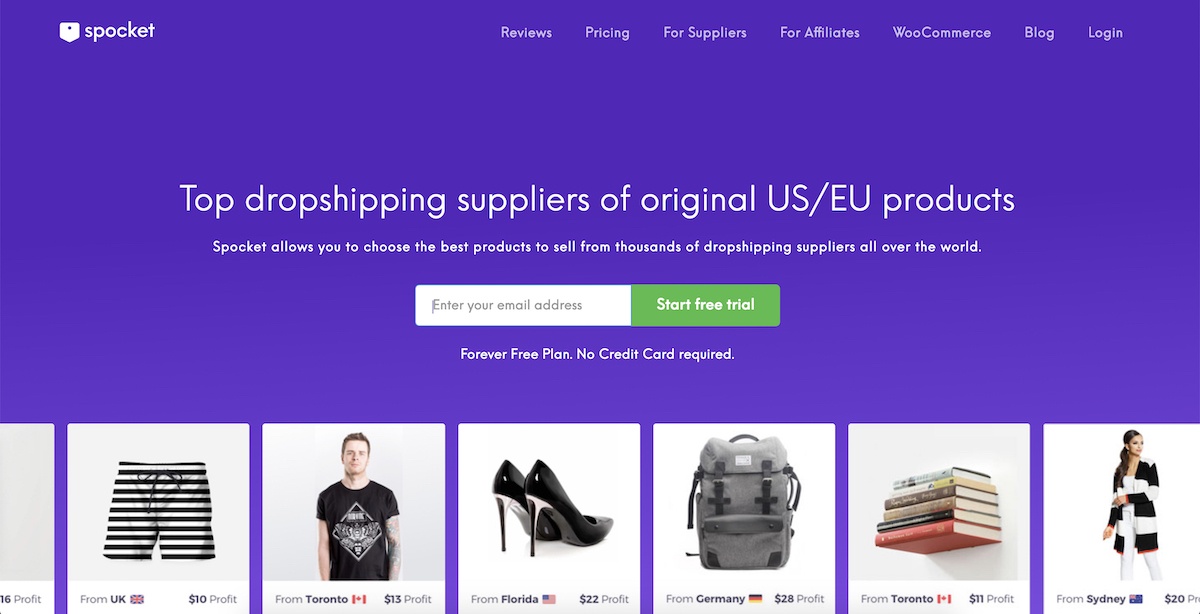 Spocket is a tool that was created by Saba Mohebpour to help business owners find products to sell for their business.
The app was first launched in December 2016 and is currently voted the best drop shipping app on Shopify with an average of 4.7 stars out of 5, they also claim to be working with over 10'000 shop owners.
Spocket Introductory Video
How Does Spocket Benefit You?
If you're looking for a range of products to sell that fit your online shop then this Spocket can be your saviour.
Spocket has thousands of products which you can choose from to start selling straight away.
What makes this stand out further is you can look through products within a certain region so not only can you find quality products that your customers will like that you can also offer fast delivery.
For example; if you wanted to sell certain items on your shop, let's say your looking to sell school shoes for boys in the US, you could find products within the US that are of good quality and ship within that country.
This also works for all countries worldwide so you can find and ship products wherever your customers/audience are based.
After you have manually searched the products you are after you can simply add it to your shop in one click.
How To Get Started With Spocket

If there is one thing I like in the online world and prefer its 'simplicity'.
This tool, as well as its installation process; offer that.
Getting started with Spocket takes a few minutes and like I stated it is a simple process. If you can't set it up yourself and do get stuck they do have instructions on their website with images that you can follow.
I will explain how exactly you can get started here though, there are also to mention two ways to get access to Spocket which I'll talk about now
First things first you will need to find the app, so if you are on Shopify you can download directly from their store by searching for the app.
If you are WooCommerce user you can download the Spocket plugin for WP and connect it to your site.
Different Memberships
If there is one thing I like in the online world and prefer its 'simplicity' and not only the tool itself that but also the installation process is also that.
When you start you are put on a free plan, if you would like to take advantage of additional features and removal of certain restrictions then there are two memberships on offer. There are two ways to purchase these which I will also explain.
Pro membership which costs $29/m but is billed annually at $348 a year.
You can also get it on monthly if you wish however it will cost you more at $49. It contains everything on the free membership plus you have access to:
Up to 250 products at one time

Unlimited Offers

Premium Products

Branded Invoicing
The Elite membership which is the next step up which they claim offers advanced features to scale your business comes in at a rate of $79/m however like the Pro one it is billed annually at $948 a year.
Again you have the additional option to pay every month but it comes in slightly more expensive at $99.
This contains everything on both the Free and Pro membership plus you have access to:
Unlimited Products

Unlimited Orders

Premium Products

Branded Invoicing
Pros & Cons With Spocket?

Pro 01: Simple To Set Up
Whether you are installing on Shopify or WooCommerce both are easy to set up with. There isn't a list of instructions you need to follow either as once you have installed the plugin you are good to go.
You can then go to settings where you can edit different things and also where you can purchase memberships if you wish. But as for getting set up, that's all there is to it.
PRO 02: The Features Excel In Each Area
What I mean by this is if you had issues finding products this is something that is addressed with Spocket. Or if you had issues with shipping to certain areas then this another great area the company have addressed as you can sell products to areas that have faster shipping.
Basically, everything just seems so efficient and the owner as clearly made a product that addresses all the possible issues one might have had with dropshipping before the invention of Spocket
PRO 03: Free Trial To Try Before You Buy
Something that is great about Spocket is the fact that you get a 7-day free trial to try out certain features from the two different memberships. So if you want to get a feel of what you can gain as opposed to just a free account then this is something that is offered to you.
Of course, if you want to try it out but don't want to purchase the membership you will need to cancel it as the payment details you use will be charged automatically at the end of the 7 days.
PRO 04: 24/7 Support
If you ever have any issues with a product you want to know that there is someone you can talk to that can help you out with that. With Spocket they have a 24/7 support line so you can contact at any time of the day, which is great in my opinion.
However you can only contact via email at free membership level, chat is then added when you have the pro and finally; you get support over the phone at empire level.
Con 01: Memberships Aren't That Cheap If You Are New
The good thing about Spocket is the fact that most of the features are free such as the feature of unlimited orders which is cool.
However, for the free plan you only get up to 25 unique products so if you wish to scale up your business you are kind of forced to purchase either the Pro or the Elite subscription.
Like I mentioned earlier these cost from $348 so it's not the cheapest if you are new. What you get access to does depend on which membership you opt for as they do have
So if you are new to this kind of opportunity and have downloaded this plugin in conjunction of you starting out a Shopify store, you may or may not be able to fund one of these memberships straight away.
If you have some money saved up already then that's great, but with making money with an opportunity like this it can take time to pick up
It's not exactly a bad thing though as it is a quality tool and like when starting most ventures online you will need to invest something to get going.
For example; if you wanted to do affiliate marketing (which is my favorite way to make money online) you could start a website and start promoting products online through affiliate programs from as little as $10 a year, which is very cheap in my opinion.
Through hard work you could then make $10 a year so you are getting your money back, then $100, $1000, $10'000 a year and so on, the earning potential is endless.
One thing that does stay consistent and that goes for this example, dropshipping opportunities and others is that they all require hard work and persistence. 
Can You Make Money With Spocket?

I have to admit I haven't delved into e-commerce as of yet but with what I have researched about this company and the positive reviews I have heard, I haven't got anything but good things to say about it.
In fact, I enjoyed reviewing Spocket that It made me want to read more into e-commerce and how I can get started myself as it is simple
Let's make it clear though Spocket doesn't make you money exactly they do, however (which is why I like them) give you all the tools you need to help you make money with your e-commerce shop.
Something I like is when products are created by people who had issues within that industry and so decided to create a product that would solve these issues making it easier for others trying to do the same thing.
This goes for the owner Saba himself who was someone who wanted to start his own e-commerce shop but struggled due to many things, so he launched Spocket a tool that would solve all those issues and stop people having the same problems he had.
That is something I do admire!

Spocket Review: Final Words
Thank you for reading my Spocket review.
I'm a big fan of dropshipping and also a big fan of Spocket.
They have solved one major issue in the marketplace and I am glad to see them have so much success.
Try out Spocket by visiting the Spocket website here.
If you'd like to know more about getting started with drop shipping, be sure to read my "get started with dropshipping" guide.
Talk soon.