Lockdown has been a difficult time for all of us, and it has caused many of us to spend the most time we have at home in a long time.
If you have been stuck at home for a few weeks and have been struggling with the same four walls, it is time for us to make a change and spruce up our space. 
Whether you live in a small terraced house, a condo, or a flat, it is time to think about ways to spruce up your small space and make it feel like a palace during these uncertain times.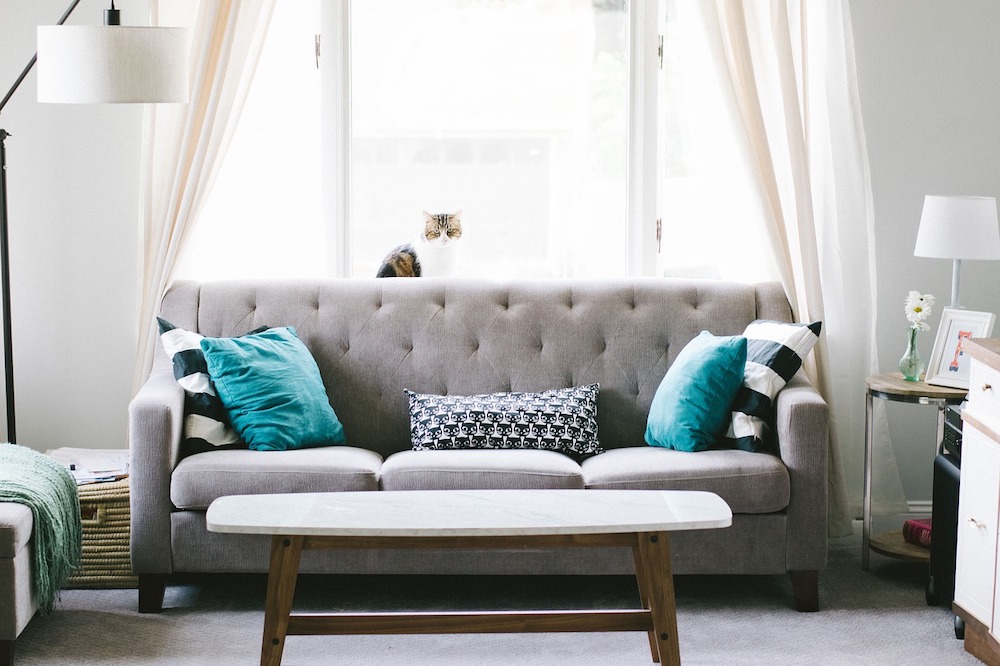 Hang some art
If you have a blank wall to stare at day in and day out, or your home just feels a little boring and bland you need to hang some artwork.
Artwork is a great way to make the most of your home during lockdown and you can find some beautiful pieces online that will brighten up even the smallest space.
If you can't decide on one piece you can even think about filling a wall with a collage of artwork of different styles and sizes. 
Mirror mirror on the wall
For small homes and condos, finding that balance between too much and too little furniture is difficult.
One way to help make a room feel larger as well as brighter is to place a large mirror or two on the wall.
A mirror can make a huge impact on your home and it will allow the reflection of light throughout your space. Use mirrors all over a small house to give the illusion of size and space. 
Go vertical
If you are sure faking at home with having too much stuff, one of the best things to do is use vertical storage and decoration.
Shelving can be a great way to store things such as books, or even to display photographs or plants and candles.
Using your walls as a storage space in the house will free up floor space and allow you to enjoy the space of your home. 
Plants
A lot of the time, smaller houses, condos and flats will not have much of an outdoor space, If they have one at all. If during this lockdown period you have been struggling with little outdoor space, now is the time to bring the outdoors in and enjoy some fresh air and colour.
Plants such as succulents, herbs, and shade loving plants are ideal for your home and they will make a huge difference to the atmosphere of a small home or flat.
If you have a balcony space, you can even hang a trough over the balcony with flowers and bring some life and colour to your home.
Sitting on your balcony and watching bees feeding on your flowers will be amazing and it will make this time go much more smoothly. 
See-through
One of the greatest tricks in the book to make a small home feel bigger is to invest in some translucent furniture and accessories.
If you fill a room with see-through materials, they will allow more light through to the walls of your room and therefore the room will feel bigger than it really is.
Translucent furniture is also very stylish right now and will bring a modern touch to the home. 
Add legs
Legs can transform any piece of furniture from looking chunky and overwhelming to elegant and sleek.
If you have a small house the best thing you can do is install some furniture with legs into the space such as the sofa, chairs, bookshelves and tables. Legs allow light to travel through from outside to the walls below and give an illusion of a more spacious place. 
Wallpaper strategically
When trying to make the home look larger it is important to think about patterns and how you use them. Wallpaper can make a room look small if not done correctly and you need to try not to overwhelm a room with a dark busy design.
One good method is to only wallpaper one wall. By having a feature wall, the eye is drawn to that part of the room and it can make it feel bigger. Another thing to do is to wallpaper the ceiling. By having a pattern on the ceiling it draws the eye up and makes the room feel larger.
You can also be strategic and wallpaper the back wall of a bookshelf to match the wall behind, giving the illusion of a hollow bookshelf. Any of these ideas can make a big difference to the home. 
Update the curtains
Curtains are a funny part of the house. For years and years you might cyclic through difference colour schemes for your rooms without even touching the curtains.
Now is the time to make a change. If you have old, manky curtains in your house it is time to make them new and update them.
Changing boring white curtains for bright ones can make the whole room feel different and will brighten your home. 
A lick of paint
Paint is a tool that totally changes your home for the better. There are many ways to use paint to bring space into a small home.
By changing darker colours for lighter hues, you'll reflect more light around the home and make it feel bigger.
As well as this, by painting the walls white and the ceiling a bright colour such as yellow or orange can draw the eye upwards giving the illusion of a bigger home.
Have fun with paint and discover new ways to change the look and feel of your home. 
Light it up
For a small home, the most important thing you can do is make it light and bright.
Light is important for the home, and natural light from outside can make even the smallest room feel bigger.
Take the opportunity this month to make windows bigger, add mirrors to reflect light into the house, and install more lights througout to brighten it up.