What is StudyPool Tutors all about?
Studypool is an online tutoring platform that connects students with tutors and allows them to get tutoring help on educational content and academic-based questions.
With Studypool, students have access to multiple tools like note banks, study guides, and a homework Q&A section that assist them with their homework.
A note bank is a category where students can pay for study materials such as homework notes, sample quizzes, and additional documents. The prices for these documents typically range between $5 – $10.
The study guide section contains more in-depth guides on specific subjects such as book reviews or subject deep dives.
An example of a typical study guide a student can find on Studypool would be a summary of final or midterm exams that can be purchased for a small fee.
The last tool provided by Studypool is the homework Q&A section. This category allows students to post their questions for tutors to answer.
[wp-review id="9226″]
How To Make Money As A StudyPool Tutor?

Studypool accepts tutors for their programs, however, there are two important requirements to consider before you apply.
You either need to be enrolled in a college or university or have a higher-education degree in order to be considered.
Once approved, you can search through the questions students have posted about their homework and if you think you are able to answer the question, you can bid on the job.
So let's take a look at how to get you started:
Bidding On Questions.
Once you become a tutor, you can browse questions on Studypool and find the ones you think you can answer. Once you find your question, you can set your price and bid on a job.
Another pro tip for new tutors to land their first job is by bidding on questions with smaller budgets. This will help you dip your feet and develop a track record on your profile students can see.
Students will give you a time limit and budget for you to see when placing your bid. This can potentially give you the best chance of successfully winning a bid within these parameters.
If a student thinks you are the right fit to get the job done and they like your bid that means you have the job. On the other hand, you can always place another bid/s on different jobs. You can do this as many times as you want.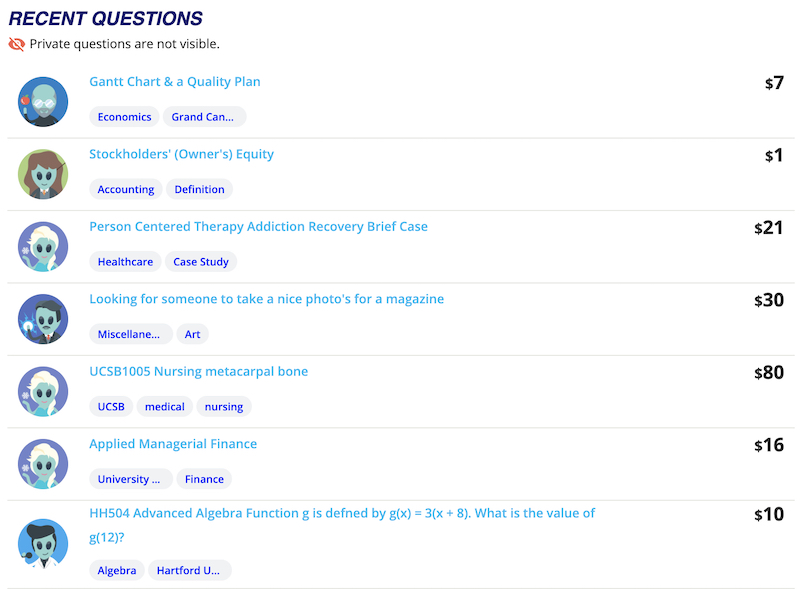 Introducing Yourself.
After you have been selected by a student, it is now time to start your tutoring session, therefore, you will need to give the student a thorough introduction.
It's always recommendable to tell them more about yourself and explain why you're suited to give them adequate help.
This part is also a chance for you to ask the student whatever questions you may have before getting started with your job. It is important to know how knowledgeable the students are on the subject of matter in order to provide the best help possible.
And if a student likes you, the chances are high they'll come back to you for more help in the future.
Answering The Questions.
When answering the questions, you should always make sure to be as detailed as possible. Providing your students with a thorough answer and detailed explanation before the time limit expires will definitely earn you good ratings and more future jobs.
When submitting your answers, make sure there aren't any typos, misspellings, or mistakes. Studypool has a live messaging feature that you can use to ask for clarifications, check-ins, or collaborations.
Once the student is happy with your answer, your job is done. You will then be added to each other's friend list for potential future questions.
After this is done, it's now time to get paid.
How Will You Get Paid With StudyPool's (Payment Details)
How much tutoring you do through Studypool will be directly correlated with how much you bid on jobs. If you win the bid, you will receive the agreed-upon amount after the questions have been answered satisfactorily.
While "the pricier the job – the higher you can bid – the more money you can make" is the standard rule when doing a tutoring job on Studypool, the company charges a default commission rate is 32,5% for every tutoring session.
However, new tutors have the luxury of only having a 15% commission rate charged by Studypool. The 15% commission rate will last until the tutor withdraws money from their account for the first time.
After that happens, the 32.5% commission rate will go into effect. This is their cut for the platform and service they provide to both tutors and students seeking academic help or income source.
Some Studypool tutors use the site for extra cash here and there, while others make a full-time income there, some earning between $300 – $500 a week.
Additionally, tutors who are avid users and answer more than 100 questions are eligible to be charged smaller commission rates.
When a student accepts your bid, payment will be sent to Studypool and held until the question is answered. When the student is satisfied with the answer, the payment will then be transferred to the tutor's account or PayPal.
Tutors can withdraw their earnings from Studypool whenever they are ready to get paid, and the payment typically gets processed within several business days.
Is StudyPool Tutors Legit (Or A Scam)?
So after explaining the process of how to land yourself a tutoring job and have a side or full-time income through Studypool, let's take a look into one of the most important questions:
Is Studypool legit? 
While Studypool often offers monetary sponsorships in exchange for a review and the sign-up process seems pretty easy and straight to the point, I did thorough research and landed on TrustPilot where I read several comments that didn't sit right with me, so take a look:
What StudyPool Tutors Are Saying…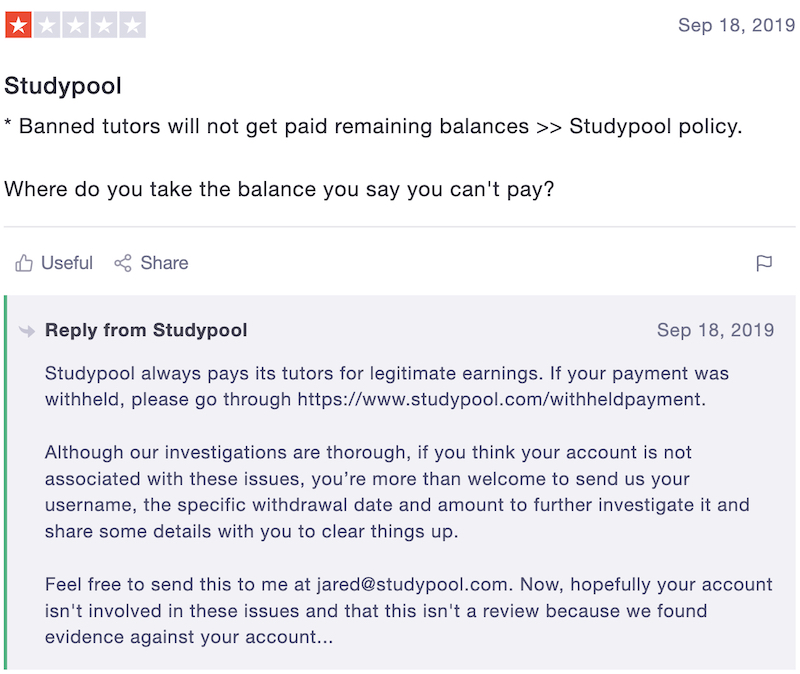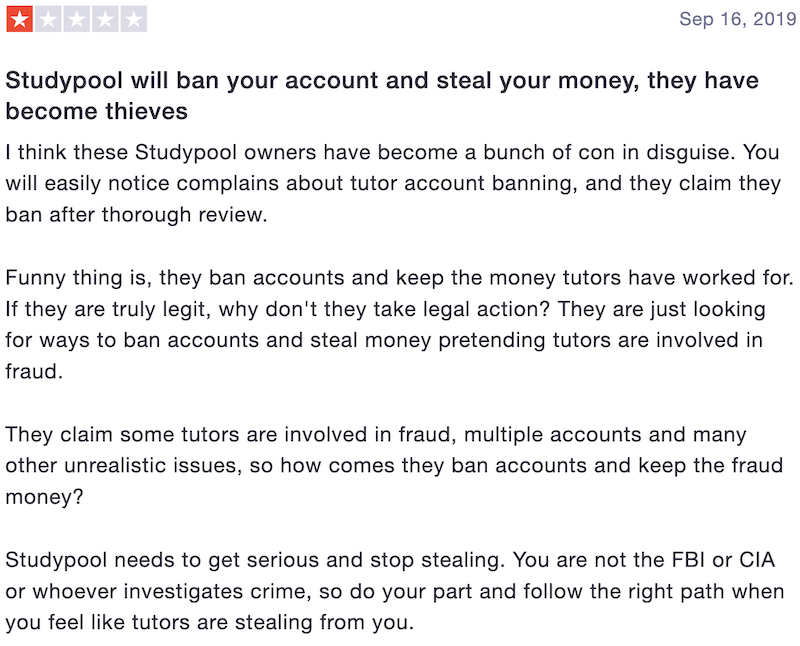 While Studypool has good ratings on some other websites such as Better Business Bureau, the main few complaints seem to be regarding account cancellations and tutors not getting paid fairly.
A common problem seems to be that students are able to review the tutor's performance and decide whether or not to choose you when searching for an adequate answer.
This can be highly frustrating, especially if a student refuses to pay but then takes the tutor's answer anyway.
However, Studypool has a performance review process set up in order to look deeper into these complaints and resolve the issues.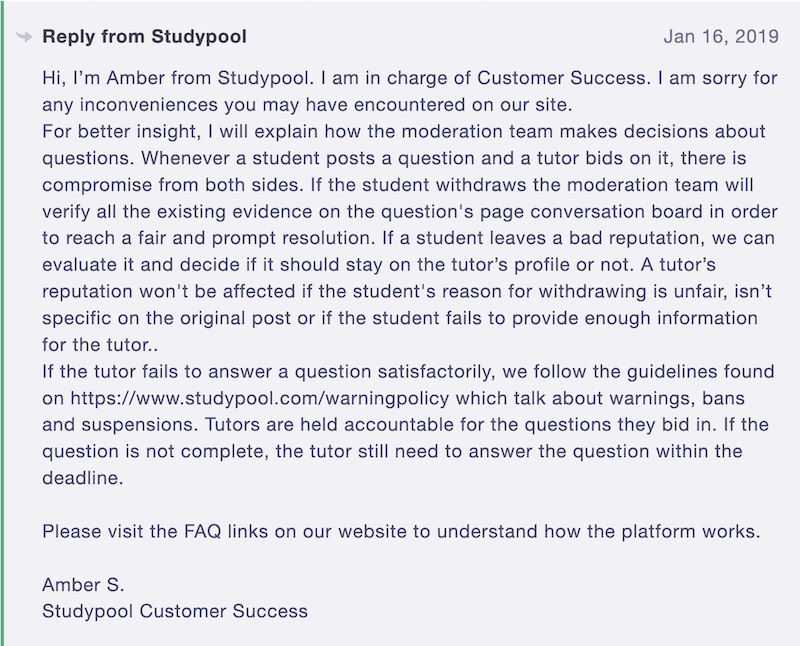 Additionally, there have been multiple other complaints where tutors were unable to receive the money they already made due to their accounts being canceled.
Some of the reviews on TrustPilot raise several concerns regarding Studypool's poor customer service and difficulties to get your problems resolved and receive your earned money.
Obviously, not getting paid is a huge concern, therefore, make sure to carefully consider whether you want to take the risk and give this platform a shot.
On the other hand, there are also plenty of positive reviews, so the decision is entirely up to you.
Any (Better) Alternatives To Make Money Tutoring Online?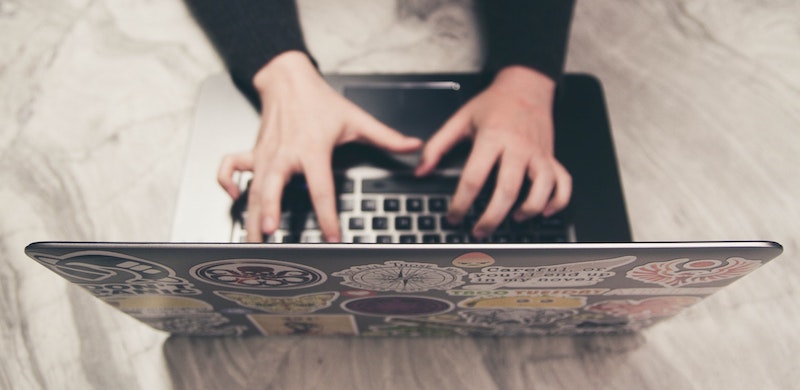 Here are several other platforms to take a look at if you are looking for a tutoring job:
Tutor.com offers one-to-one learning solutions for students and professionals.
All of their services are live, on-demand, and online and they offer anything from homework help, tutoring, peer coaching, professional development, training, career help, etc.
The company was started back in 1998 by a small group of passionate education and tech professionals that had an idea to use the internet to connect students to tutors for tutoring at any time from anywhere.
Today, their services are available 24/7 around the world and signing up with them will get you the highest quality help as well as personalized experience that doesn't end until your problem is solved.
Their tutors are teachers, professors, adjuncts, Ph.D. students, and industry professionals who are passionate about their areas of expertise, so if you think you have what it takes to help students learn, you can apply here.
TutorMe.com is a revolutionary online education platform that provides on-demand tutoring as well as online courses.
They believe there are many teachers in the world that can help out people with subjects they're experiencing difficulties learning so they want to empower more people to learn from each other.
Their easy-to-access platform enables thousands of tutors to share their knowledge with students across the globe.
Whether you are a student that needs help with high school chemistry or algebra, or you simply want to learn how to program in Python, TutorMe.com has the perfect tutor for you.
On the other hand, if you are a tutor looking for a tutoring job online that offers a decent income and a flexible working schedule, you can apply here.
Skooli.com is an online tutoring platform that helps students learn difficult concepts and get better grades by connecting them with professional teachers in a digital classroom.
Whether you're a student that needs help understanding a complex topic or want to take your knowledge to the next level, or a tutor who is looking for an online job that offers good income and a flexible working schedule, you should definitely check out Skooli.com. 
The platform was created by the team behind Teach Away and they have been hiring top teachers and creating innovative e-learning programs for over 10 years now.
Is There A Better Way To Make Money Online?
Actually there is.
In this post, I share with you a few ways you can make an extra $100 per day online, but one thing I want to suggest you do is to look for ways you can build a business online.
The reason I started looking for ways to make money online is that I was tired of having to sell my time for money.
I'd much rather build a business, that can then pay me semi-passively.
I have a list of 8 online business ideas you can check out here, but my absolute favorite way to make money is (and always has been) affiliate marketing.
If you'd like to learn more about that, you can see my "get started with affiliate marketing" guide but I also have a free 10-day video training course which you can join right now – no credit card required.
Check that out, and if you have any questions; be sure to let me know.
Final Words
Thanks for checking out my StudyPool review.
I hope this post has answered any and all questions you may have had about StudyPool and about how yo make money tutoring online.
If you'd like to learn more about online tutoring, you can see this guide covering the 8 best online tutoring jobs currently available.