Cosy-ness is now more attainable than ever!
Ah, winter. Many people are winter fanatics but it's hard to argue that frigid temperatures, shorter days and snow slush can take a toll on some.
So, what are the best ways to combat the adverse effects the season can have? One word: hygge.
By now, many have probably heard of this Scandinavian philosophy and made it a point to incorporate it into their lifestyle.
Scandinavian countries (Norway, Finland, Sweden and Denmark) are renowned as being the happiest in the world.
With their vast geography and harsh climate, it's easy to wonder why. But, for whatever reason, they seem to have mastered the harsh elements at hand.
Hygge is best described as enjoying the simple things through the art of coziness. This Scandi decor trend values minimalism and making the most of your space.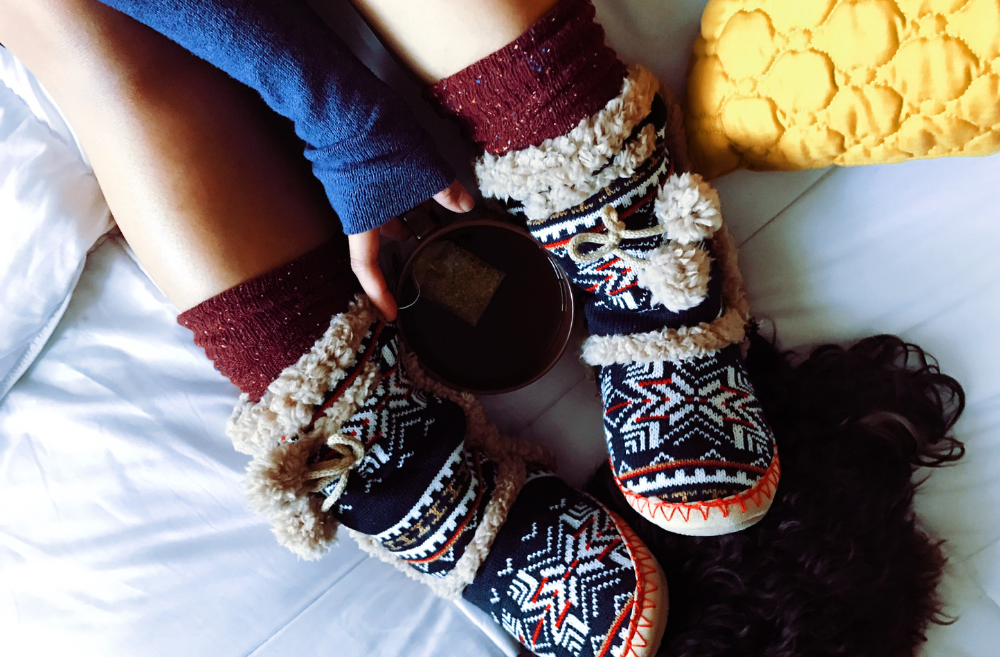 There are also several principles to keep in mind when considering hygge. They include:
Comfort: Fill your space with pieces that promote coziness! Indulge in self-care to fully relax and appreciate your surroundings.
Contentment: When decorating a hyggelig home, make sure it fits your unique vibe. Loving things in your house will make it a home.
Companionship: Create a space that encourages interactions with your favorite people. Have open space for conversations and chats.
Simplicity: Keep things simple and appreciate all that you have. Embrace minimalism to bring your life balance and sweet, sweet satisfaction.
How exactly do you incorporate hygge in your home? Use these helpful tips and tricks to bring cozy to the next level.
Let the Light In
Whether you're a fan of natural light or a more dim lit setting, make sure to keep yourself where the light is.
Lighting adds ambience to your space and creates a feeling of calmness which is important when dealing with hygge.
Adorn your home with unique and interesting lighting features. Scandinavian design often boasts minimalism so think about this when referring to hygge decor's true aesthetic.
Luckily, minimalism has been a popular trend recently so there are plenty of options if you're looking for lighting fixtures to focus your space.
Candles and twinkle lights are also some great additions! The scent is an effective way to tie in comfort, lighting and even nostalgia.
Fill your home with your favourite smell – you may end up never wanting to leave!
Keep Things Comfortable
Comfort is key so load up your space with cozy furniture options and accents.
Make sure there is plenty of seating space and consider incorporating plush rugs and throw pillows. Keep textures soft and subtle so as not to distract from the rest of your home.
Unwind in other ways as well. Promote self-care by indulging in a toasty bath. Towels can bring in hygge textures to your everyday life.
Choose fabrics that are soft and snug. Ramp up the comfort level with your favorite luxurious robe.
You can't go wrong with having comfort at the forefront when choosing pieces and experiences in your home.
Then, all that's left to do is curl up on the sofa with a mug of tea or hot cocoa and allow yourself to fully succumb to the relief of hygge.
Wrap Yourself in Warmth
Blankets, pillows and more blankets. Soft textures are an essential way to bring hygge into your home.
Hop into your favorite sweats and swaddle yourself in your favorite fabrics. Faux fur and chunky knits are popular right now, so keep them in mind when thinking about your space.
Don't forget to have extra throws around to ensure that anyone entering your home can reap the benefits of relaxation.
Heated throws and blankets can help you take advantage of warmth.
Keep in mind, there are other approaches to promote heat such as electric fireplaces or heaters. Home improvement is another option to consider to keep the warmth in.
There are plenty of small fixes to make in your home in order to ensure spaces are properly insulated. These elements can add a completely different feel to your space and even save you a little money on utilities in the process.
Kick Back and Relax
There's no better way to take part in hygge than relaxation! Different people have different preferences when it comes to relaxation so make sure this tip is specific to you.
A good book can be helpful to decompress after a long day. A favorite T.V. show or movie can also be exceptional techniques to get lost in leisure.
Whatever you decide, make sure to unplug from electronics that may cause stress and frustration. Distractions often sneak up on us so set aside this time to really treat yourself to whatever you truly love.
Enjoy hygge moments to their fullest!
Share Your Hygge Home
Companionship is often overlooked when considering hygge, however, it can be an exceptional method to unwind.
Fill your home with pictures and portraits of loved ones. This will help you feel their presence even when they are not around.
Special relationships are valued and appreciated in Scandi culture so highlighting them as a feature in your decor will surely bring warmth to your heart.
Whether you're spending time with loved ones or your favorite four-legged friend, make sure everyone is as comfortable as possible.
There are awesome ways to bring people together. Start a book club, have a game night or host a popular new movie screening.
The choice is up to you but one thing is for sure: sharing your experiences with those you love will bring hygge into your life each and every day!