In my experience of starting and running business blogs, I have grown to understand what makes a piece of content stand out. People think that a great blog post is all about using correct spelling and grammar but the truth is, it's more than that.
No matter your marketing message to your target audience, effective posts share certain qualities that make them stand out. They're not only correctly structured but also convey ideas in a way that appeal to a reader's emotions.
Most of all, they are well-optimized for search engines so online searchers can easily find them.
If you're new to blogging and want help creating powerful content, I've prepared this simple guide for you. You don't have to outsource your content needs because everything you should know is right here.
How To Write A Great Blog Post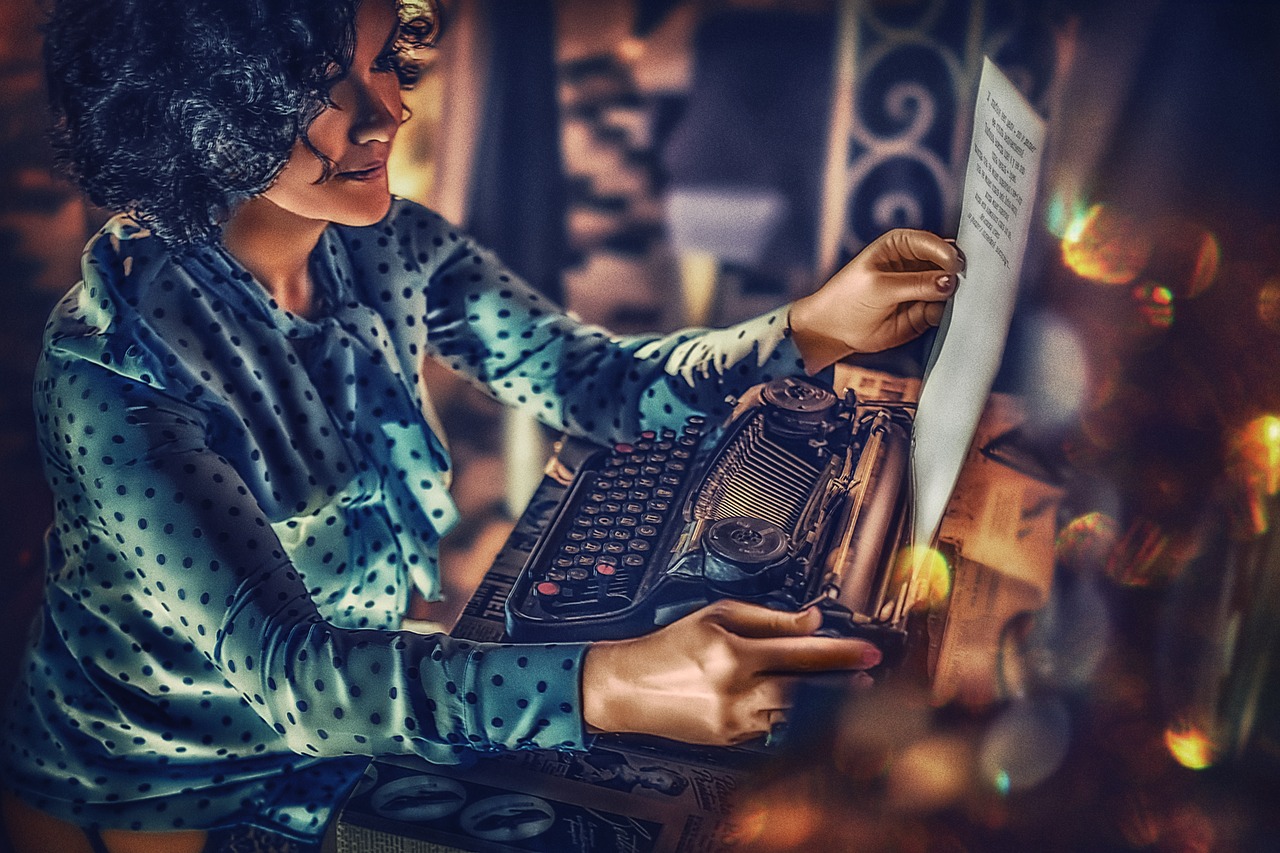 #1: Research your audience's interests.
Do you consider the interests of your audience each time you write a blog post? If you want your content to hook readers and drive them to take action, you should know what they want.
Doing this will also help you make every blogging effort worthwhile.
So, how and where do you find inspiration?
If you're looking for trending ideas to write today, enter your niche or any keyword on BuzzSumo. It will show you a list of published pieces on those topics with the highest engagement and social media shares.
See my sample screenshot below.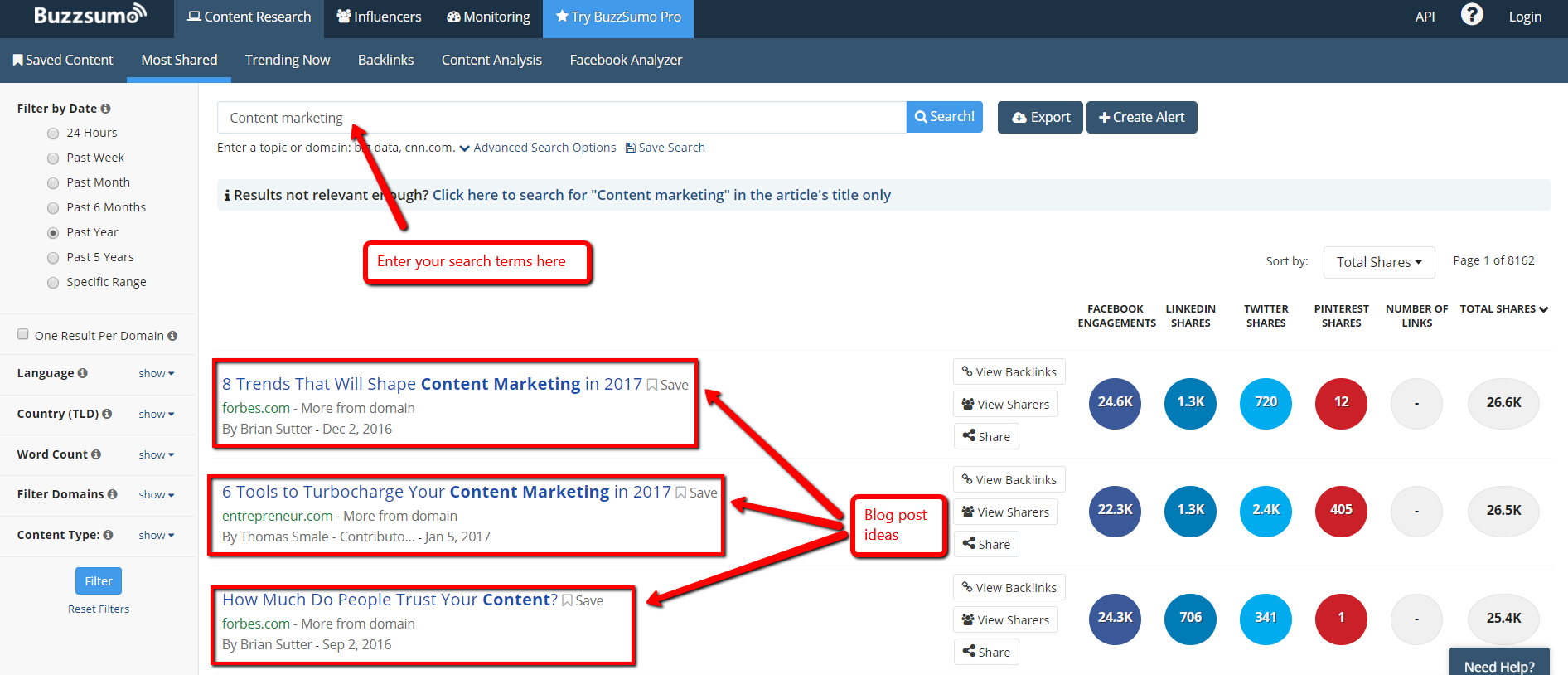 A Q&A site like Quora makes an excellent resource where you can discover problems that most people are concerned about. Again, enter your topic of interest in Quora's search box. You will find a list of discussions on that topic. Pick a pressing concern that you can tackle in your blog post.
Amazon Kindle e-books have a free preview so you can check their individual chapter titles. Surely, these titles will help you come up with your own version.
#2: Craft an interesting title.
A compelling title makes readers believe that a piece of content is the best source of information. The moment people read titles, they make instant decisions. How you write your title can either convince them to stay a little longer or leave.
What I've found to be true for all highly converting titles is that they're benefit-driven. A benefit-driven headline clearly conveys what people are going to get after reading a blog post.
So, if I create a headline that reads, "5 Simple Exercises That Help You Lose Weight Fast," health-conscious people are more likely to click through since the article promises the benefit of losing weight.
Remove your uncertainty in crafting post titles by using headline analyzer and generator tools. I personally recommend CoSchedule Headline Analyzer and Tweak Your Biz.
#3: Incorporate keywords in your blog post.
If you're following SEO practices, you already know how important keywords are to increase the visibility of your content. Keywords are the one of the reasons online businesses make money since they drive website traffic for free.
As soon as you complete the steps to create a site, start doing keyword research. Use Google Keyword Planner (most businesses use this) or SEMrush. I have to warn you that keywords with a high volume of traffic can be hard to rank for these days. Give them a try if you think you can compete with other blogs.
Also, consider going after long-tail keywords. These are long, very specific phrases that searchers usually enter whenever they're ready to buy. Also, don't forget to incorporate LSI keywords or related keywords (see the screenshot below) anywhere in your article.
#4: Use proper spelling and grammar.
Spelling and grammar are among the technical aspects of your copy that you must never ignore. According to many experts, readers judge a piece of article in less than one second.
So, no matter how compelling your blog post title is, a missing word or letter in the opening sentence of your post kill your entire copy.
Grammarly conducted a survey which Harvard Business Review published. In that survey, they found out that professionals with fewer grammar mistakes were more likely to attain higher positions. Now, what does this information have to do with you as a blogger or online business owner?
The same study revealed that good grammar predicts career success. We can safely say that this also applies to spelling. Make sure that you know the difference between "your" and "you're," and "its" and "it's."
Use grammar and spell checker tools like Grammarly and Ginger.
#5: Incorporate internal and external links.
Another way to boost the SEO of your blog post is through adding links. Internal links are links that point to another page of your blog.
On the other hand, external links point to another authoritative resource outside your blog (which means a different domain).
While incorporating external links might seem counter intuitive, they actually help Google better understand what your content is all about. Also, external links help you build relationships with other bloggers in your niche.
Internal links are even more important if you want your blog to be navigable and crawlable by search engines.
They help readers find out more about your topic by checking out relevant posts.
Also, the more links that point to a page of your blog, the more likely that page will rank on search.
#6: Add relevant and high-quality images.
Can you imagine reading a piece of article that's void of visuals? In this online age where nearly everyone skims web pages, images are becoming more important. It's no secret that humans process images faster than text. This means that you need to use images if you want to people to stick around longer.
Images influence the percentage of views an article gets as well as people's decisions in purchasing a product. Moreover, they increase the engagement of your posts especially when you share them on social media.
I suggest that you add a relevant and high-quality featured image for each of your blog posts. If you can, add some more in the body of your article. Screenshots are also an excellent way to show clear examples to your readers.
To reduce your image size while retaining quality (for website speed concerns), use a photo editing tool like PicMonkey.
#7: Make your blog content skimmable.
Even avid readers skim web content and bounce if it doesn't grab their attention. I do this a lot myself, and I'm sure you do too.
Remember that online searchers, especially on mobile devices, do not have all the time in the world to search for specific information in huge blocks of text.
Can you imagine reading a blog post from your smartphone that looks like it was taken from a newspaper?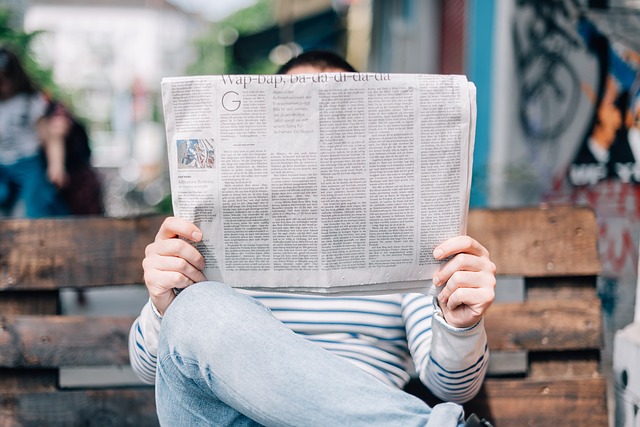 Ease people's reading experiences. Help them easily find exactly what they're looking for. Doing this boosts the ability of your blog post to convert readers into customers.
Use or add the following in your content to make it skimmable:
Headings and subheadings
Images and screenshots in between paragraphs
Write in shorter sentences
Shorter paragraphs
Bulleted points and numbered lists
Bold and italics
#8: Add social sharing buttons that feature share counts.
Social sharing buttons serve a primary purpose. They amplify a compelling piece of content by increasing its likelihood to get shared over and over. I have to admit, writing a single article is time-consuming.
The last thing I want is to undermine my efforts by allowing that masterpiece to gather dust!
That is the reason why I make sure to add sharing buttons to my blog posts. I use the plugin called Social Warfare. It's a paid tool but personally, I believe it's better than a free version.
I tried free ones in the past and found out that they don't display my share counts. Share counts boost a blog post's social proof, thereby inviting more shares.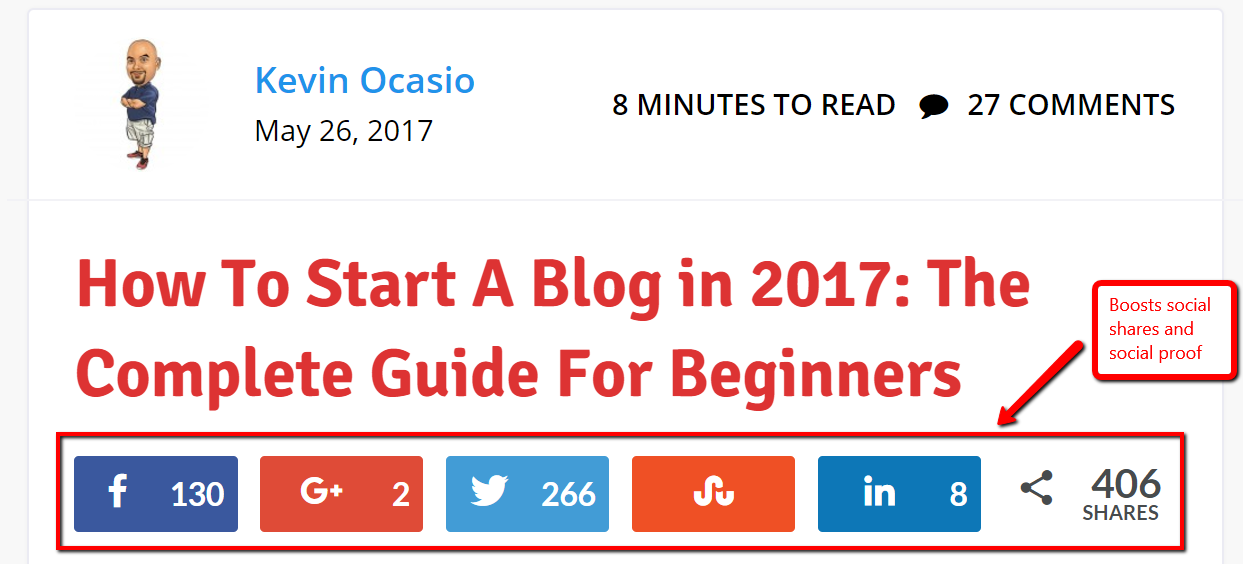 #9: Add a strong call-to-action.
A call-to-action (abbreviated as CTA) is an essential ingredient that skyrockets your conversions and revenue. It is basically an invitation in the form of a text or button that compels people to take a specific step.
Whether you want to invite your readers to check out your other blog posts, sign up for your mailing list, join your webinar, or download your free e-book, a CTA is your chance to meet your marketing goals through a blog post.
Here are a few things to remember when creating a call-to-action:
Use actionable language – an "active" instead of a passive voice.
Communicate the benefit that people will get by taking action.
If you choose to add buttons, make sure their colors stand out.
#10: Examine your blog post carefully before you click publish.
Proofread your content before it goes live. However, do this after you finish up everything – not in the process of writing. It will help you maximize your productivity and avoid getting distracted.
What I do after I write a post is that I take a break away from it and come back for a review once I feel refreshed.
Checking for mistakes ensures that your message is clear and conveyed in a way that is easily understood. When you review your piece, apply the previous tips we've previously discussed.
If possible, invite a friend who is willing to proofread for you. Having a second set of eyes helps a lot in refining your content.
Over to You
I hope this 10-point checklist improves your daily blogging experience.
Make the most out of it by optimizing every part of the content creation process. Got more tips to add? Let me know in the comments below.