As everyone who bought at Bitcoin's ATH is struggling to understand why they are not yet the new batch of crypto rich kids, behind the scenes; the Bitcoin, crypto and blockchain space is moving faster than ever.
Of course, this is not financial advice, I'm in the red too, however – in my mind, I have 0 doubt the cryptocurrency markets will be back in full swing and back to all the time highs (and beyond) in no time.
If you've yet to invest in cryptocurrencies, then believe me when I say this would be the best time to buy seeing as how the market seems to be bottoming out and the worst of the worst of the 2018 bear market is over.
Again; this more wishful thinking that it is financial advice.
Today I am reviewing a new how-to guide for cryptocurrency trading and that is the CryptoNerd guidebook.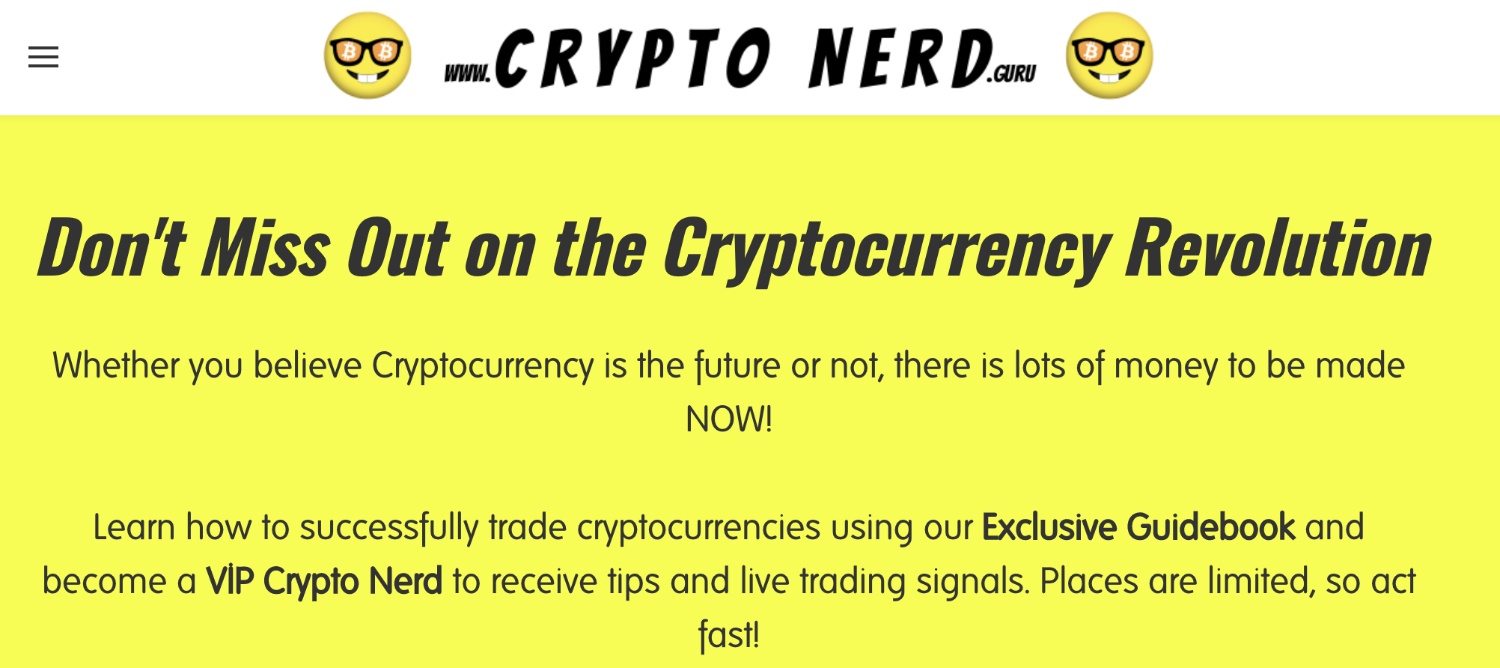 In this review, I am about to give you all the deets about this new ebook and see if it's a good investment to make if you want to learn how to invest and trade cryptocurrencies.
How To Become A Crypto Nerd (The Exclusive Guidebook)
This is an ebook which sells for £29.99 (~$40) and it's available on the CryptoNerd.guru website.
It teaches you all you need to know about:
The cryptocurrency markets and their limitless possibilities

The concept of compounding (a little-known yet highly-profitable investor secret made famous by Warren Buffet himself.)

Key crypto-trading strategies

How to manage your risk in the highly volatile crypto markets

Do's and don'ts of Cryptocurrency trading

How to trade the cryptocurrencies (including what exchanges to use, how to get started, etc.).
Overall, I like this guidebook; it's quick, to the point, fluff and bluff free and it gives you a clear pathway on how to go about learning how to trade cryptocurrencies.
Note I am not saying this book will teach you how to make money with cryptocurrencies.
Of course, that is the aim of it since we all want some gains from this market, but making money in cryptocurrencies is not as easy as most make it out to be.
It requires patience, skills, the right mindset and a lot of experience.
The CryptoNerd guidebook can set you up for success, but eventually, you are going to have to be the one that invests their time and money into it.
And remember; any investment involves a lot of risks – so while you can make money, you can also lose money.
What Will You Learn In The CryptoNerd Guidebook?
As I said, this will give you a clear pathway on how to get started trading.
In case you are brand new to cryptocurrencies and how to trade them; then you are going to be learning all about the different strategies, and methods of how to trade cryptos successfully while also minimising the risk.
While it won't teach you much about cryptocurrencies and the underlying blockchain tech that runs it, you will get a much better understanding of how the markets work and how to ride the swings that have the potential to make you some fantastic returns.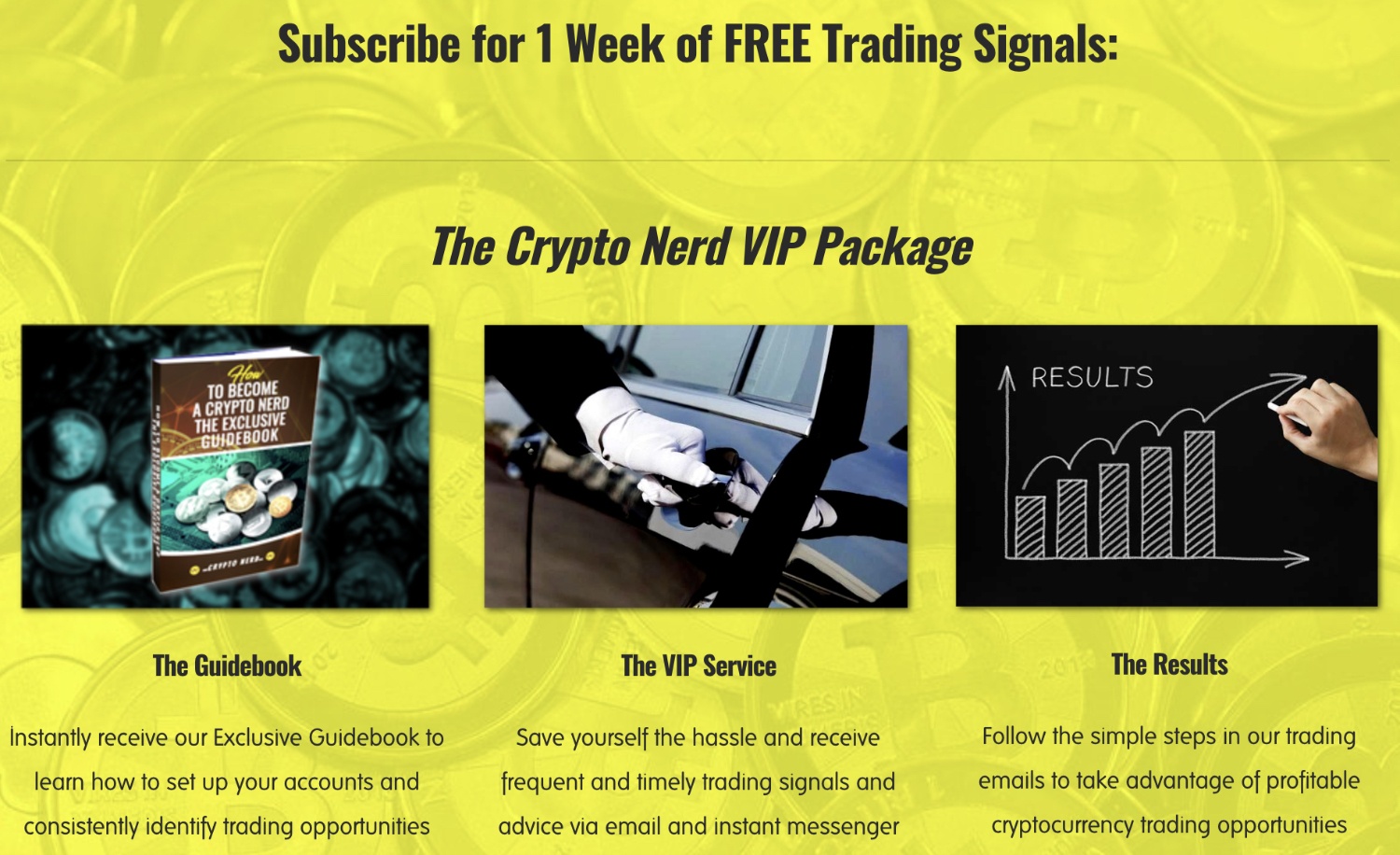 The CryptoNerd's Guidebook + VIP Membership
The guidebook also comes with an upsell of an additional £9.99 and once you join the VIP monthly-plan, you will also receive daily trade signals from CryptoNerd signalling you on the best buys of the day.
I can not comment much on this though as I have not joined the VIP memberships so I can't honestly tell you if the signals actually are profitable or not.
I'm currently a member of another VIP telegram and that's the Cryptonary VIP course and I am super happy with the results I get from there.
BONUS: Crypto Tracking Sheet
As a bonus, you will also receive a cryptocurrency trading tracking sheet.
This will help you keep track of your growing portfolio and how your trades are going.
I myself will not be using this template much as I quite honestly do not need to track my holdings.
I have all my main bags secured in my Ledger Nano S and I just keep a small portion of funds on a trading exchange just to play around with – that in itself provides all the tracking I could ever want.
Should You Buy The CryptoNerd Guidebook?
If you're new to the whole cryptocurrency trading thing and have no idea what you are doing and where to get started, then yes:
I would suggest you get this guidebook as it will at least give you a proper strategy and how to get set up.
Whatever you do, don't go into crypto trading without a plan and without knowing what you are doing.
Going into this blind is financial suicide as this market is brutal and would wipe you out in a heartbeat if given the chance.
Sure £29.99 may be on the expensive side when it comes to an online ebook, but it's best to know what you are doing as I promise you'd lose a whole lot more than that if you go into the markets without a proper strategy in place.
CryptoNerd Guidebook Alternatives: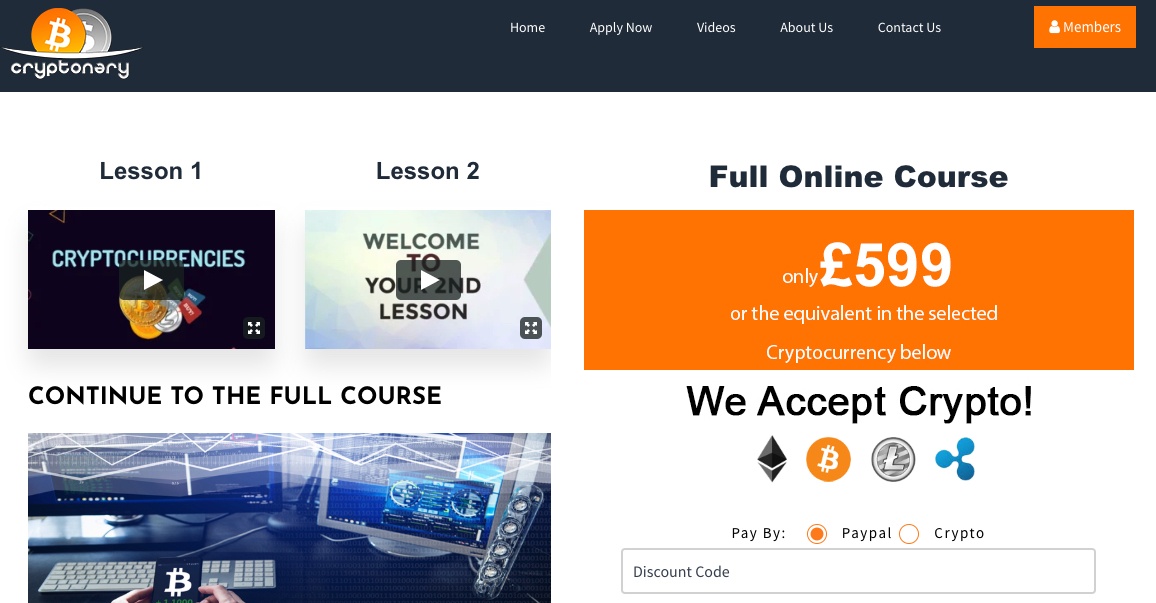 Some may argue that the information that is in this guidebook can be easily found for free online and yes;' you are right; it most definitely can.
However; investing in an all-in-one guide like this buys you time.
You do not want to spend countless hours researching information online, jumping from one advice and one strategy to the other when you can easily have all you need to know in your hands with just a "small" payment.
If you would like to learn all the information about cryptocurrency trading for free, then go ahead and do that but as I said; it will take you an obscene amount of time (I'm talking months here) to curate all the information and formulate it into your own strategy and trading plan.
With that said; I also have to tell you about some other alternatives to this as I have been reviewing a lot of cryptocurrency courses as of late.
I've also reviewed Crypto Compare which, to be honest, is a complete waste of time and I have also reviewed the Cryptonary course – which I have to say is by far my favourite.
If you want to find out more about that, you can read my Cryptonary review, but I have to warn you; it's incredibly expensive (but well worth it).
Should You Invest In Cryptocurrencies?
You already know my opinion on this but yes; you should definitely get involved, especially right now when the worst seems to be over (hopefully).
With that said, I have to advise you yet again to go into these markets with a level head and with a proper plan and strategy.
Do not trade currencies if you're not sure what you are doing as that will lead you to ruin.
In fact, you're much better off buying and holding (HODL) for a few years than actively trading.
For that, I suggest you get yourself a hardware wallet (here's my Ledger Nano S review), load it up with your chosen coins and just forget about it for a few years.
Closing Thoughts
Thank you for reading my CryptoNerd review.
If you have any questions be sure to let me know, and if you'd like to check out CryptoNerd's guidebook and VIP service, you can visit their website here >>
You can also visit their FAQs page for more information.
Talk soon and good luck.