Today I want to share with you my experiences using the Ledger Nano S crypto wallet.
But before I do that, let me just tell you a classic-dumbass experience I just had and why it's a must that you get something like ledger if you are planning on investing in cryptocurrencies in the coming years.
The first time I invested in cryptocurrencies was in a "token" called $IOTA.
At that time, I bought a few hundreds worth of it at the cost of around $0.20c.
At its all-time high of $5+ or so, that initial investment had made me a return of around ~$15,000.
Not bad from just a few hundreds.
Anyways, as you may know; the crypto markets have been taking a hit this year and IOTA is now trading back at around the ~$0.50c region.
But that's not the disaster I am talking about.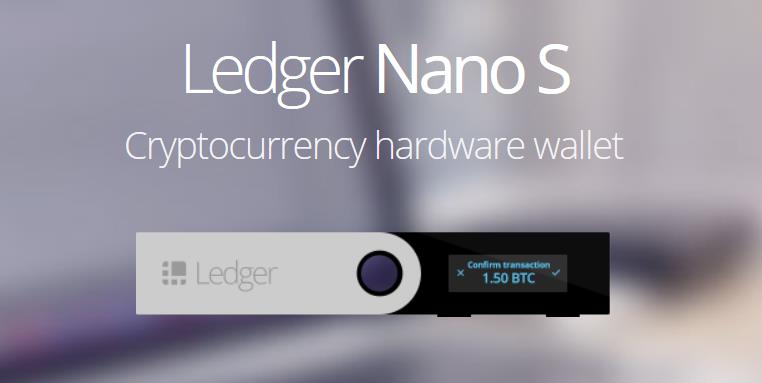 What I'm talking about is the fact that due to one little simple oversight from my end, I lost access to that money because like a fool, I forgot to write down my seed when I tested out a newly released IOTA wallet.
So, somewhere in the ether of the world wide web, I have ~3000 lost IOTAs which are still there, but I can not access.
Now it is not bothering me so much right now, but when the price starts booming again, it's going to hurt like a bitch knowing I potentially have "hundreds of thousands" which I can not access.
This is where the Ledger Nano S wallet comes into the picture.
Now, unfortunately, the Ledger Nano S currently does not support $IOTA but it does support plenty of other currencies so if you plan on investing, my advice to you would also to get one of these hard-wallets (as they are so-called).
What Is A Ledger Nano S?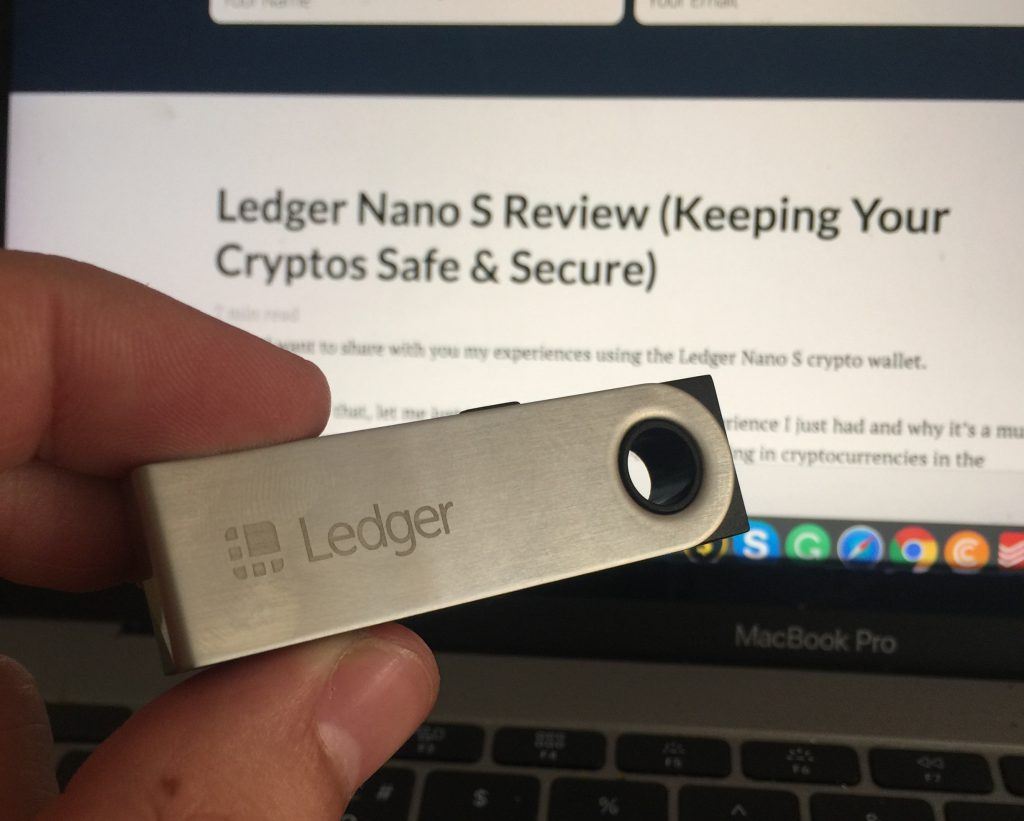 The "Ledger" (as we'll reference it in this review) is a hardware-wallet for cryptocurrencies which you can see what the exact meaning of it is here but in simple terms;
It's a little device that connects to your computer which allows you to open up your crypto wallets – only when plugged in – do your transfers and then immediately take it "offline" far away from hackers and other security breaches.
The device, which resembles a USB stick is small, compact and comes with a password seed that only you know and that you must keep safe as the owner of the wallet.
If you ever were to lose or forget your passwords + the recovery phrases which you'll find out more below, then yes; you will lose your funds – forever.
What Is The Ledger Nano S Used For?
The Ledger's primary use case is simply to keep your online crypto holdings as safe as possible.
By taking it offline and storing your keys "physically," you are dramatically increasing your security – damn near making sure that your funds will be safe for as long as you plan on keeping them.
How To Use The Ledger Nano S
While it does take a few steps to set it up correctly (and I encourage you to make a note of everything you're doing), once it has been set up, it's actually relatively easy to use it – although you won't be using it much since the coins you throw in there should be coins/tokens you do not want to touch in a short while.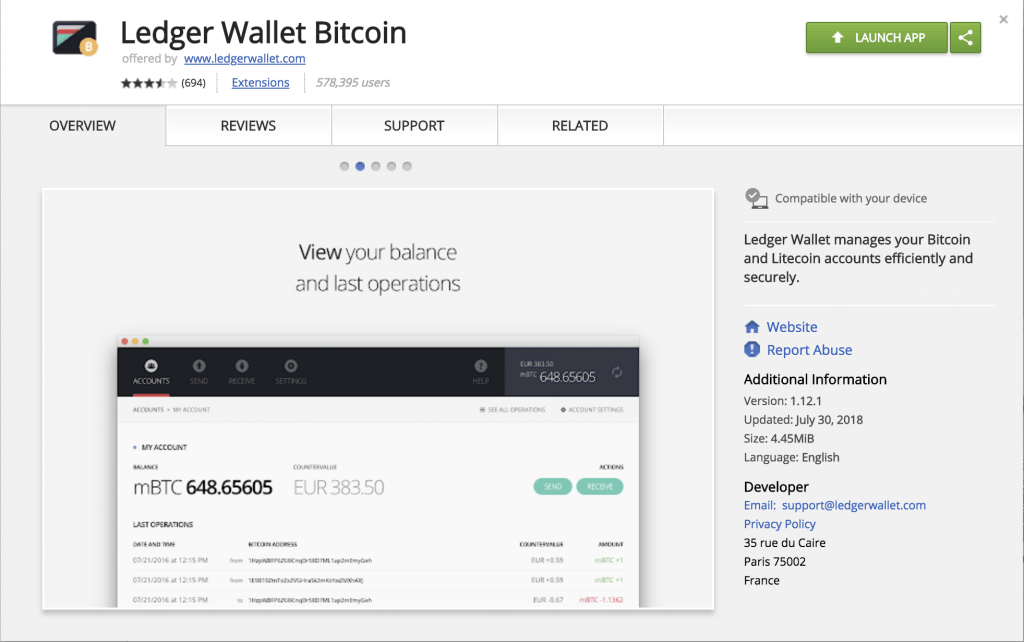 Once you have it all set up, you are also required to download the Ledger Nano S desktop wallets which you can get from Google Chrome and whenever you need to access those wallets (and the tokens and coins in them), you would need to have the Ledger connected (via USB) and access the codes.
When you are first setting up the wallet, you do get access to great how-to videos from Ledger themselves but to give you an idea what to expect, you can check out this tutorial here:
What Coins & Tokens Does Ledger Nano S Hold?
There is an ever growing list of tokens that you can keep inside the Ledger.
At the time of writing, it can hold up to 30 coins and you can see the whole list here.
I myself use it to store Ethereum, Ripple and Bitcoin as those 3 are my main long-term holdings.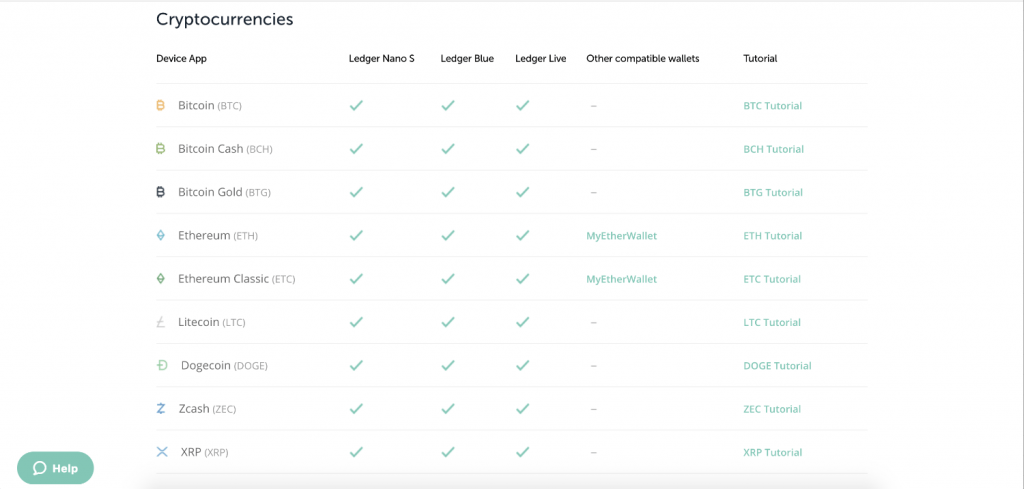 How To Store Safely Your Nano Ledger S
As I said already, you absolutely must keep your Ledger Device safe and sound.
I have thrown mine in the safe-box, secure with all the information and passcodes/seeds I need to access it and I suggest you do the same.
I can't stress enough how important it is to keep this device safe and away from things such as:
Fires
Flooding
Burglary and
other such things
Assume the worst and then plan for that.
I believe Ledger is now offering devices that also come with an indestructible steel cover for your passwords, which I suggest you get if you want to buy one for yourself.
The best way to store it is in a safe drilled inside your wall hidden from view.
Depending on the size of your portfolio, this little USB-looking device can be worth millions in the near future – I know mine will be so please; be sure to keep it safe!
What Happens If Your Ledger Nano S Breaks?
If in some extreme case you end up damaging your Ledger (maybe you drop it) – you can still access your funds if you know the security phrase and keys you entered when setting it up.
This is why it's important to keep track of all the passwords and seeds you use.
Also, it would be ideal to keep a copy in different locations and always know where they are at all times.
Myself I have them written down in a hidden notepad, in the safe, encrypted online and also in a password-protected document in a password-protected USB.
I learned my lessons after losing those 3000 $IOTAs and I hope you realize how important this is.
With crypto, you are basically your own bank so that comes with a lot of responsibility.
Where Can You Buy The Ledger Nano S?
I bought mine from the Ledger Nano website.
I believe they are also sold on Amazon too and I believe you can also find them from re-sellers in physical stores – which I do not suggest you do.
I would never risk buying something as important as this from a re-seller or from a third party as you would never know if the wallet has been compromised.

How Much Does The Ledger Nano S Cost?
Currently, the Ledger S retails for €99.99 on the Ledger website.
If you plan on investing soon, I would suggest you secure one of these as when the last crypto market bull run occurred, there was so much demand for it that there was a one-month waiting list.
Before that happens once again, get yourself one so once your coins start MOONING, you know that they are safe and sound inaccessible to the rest of the world.
Any Ledger Nano S Alternatives?
I have only used the Ledger Nano S as a wallet, but there are also two other popular ones which are:
Both links lead to their own respective reviews on other websites.
In Closing
Thank you for reading my quick Ledger Nano S review.
I am a big believer in crypto and since my $IOTA incident I have been taking security a hell of a lot more seriously and I suggest you do as well.
This is a wild market we're in and we're in for a wild ride.
Do not add any more worries and stresses to what already is a pretty stressful market.
I'll see you on the moon.
Christian Lee.